In a surprise announcement ahead of its Autumn 2021 British Railway Announcements, Bachmann Europe Plc today revealed that it has developed all-new models of the iconic Brush Type 4, Class 47 Diesel Locomotives for its Bachmann Branchline OO scale range.
Owing nothing to its predecessors, development of the new Bachmann Branchline Class 47 began several years ago and, using original drawings, diagrams, site visits and surveys of real locomotives, Bachmann has created an unrivalled model of British Rail's most prolific first generation mainline diesel locomotive. In a comprehensive video presentation, Bachmann Europe's Production Development Manager, Dave Parsons joined Richard Proudman, Communications Manager, to discuss the project in great detail, showcasing the extensive suite of tooling that has been developed in order to produce accurate models of the majority of the 512-strong fleet throughout their working lives – a breath-taking endeavour considering the Class has been active for 59 years and counting.
Bachmann have long led the way in bringing new innovations to the British market and the Class 47 continues this trend with the introduction of a motorised fan system – the first of its type ever seen on a British-outline, OO scale model. The twin radiator fans, a prominent feature of the Class 47 when viewed from above, are operated by a dedicated motor, with fan rotation configured within the DCC decoder to provide rotation of both fans when the model is operated on either DCC and analogue control.
This ground-breaking feature adds to the already impressive specification which includes a new Dual Fitted speaker system for authentic sound reproduction and extensive lighting features including engine room lighting, all of which can be controlled independently when operated on DCC. Movement is provided by the five pole motor which is fitted with twin flywheels, driving all axles and with electrical pickup from all wheels. Each axle runs in a pair of separate metal bearings, located in the diecast metal bogie towers which are fitted to the diecast metal chassis block, resulting in a total weight for the finished model that is some 10% greater than its predecessor.
Every Class 47 offered will be produced in three formats, with standard versions ready for use on analogue control out of the box and with a Plux22 DCC decoder socket for those consumers wishing to fit their own DCC decoder. SOUND FITTED models will also be offered and these versions are pre-fitted with a ESU Loksound V5 DCC Decoder, whilst a new SOUND FITTED DELUXE format has been introduced for those models that feature the new motorised fan system. In addition, the SOUND FITTED DELUXE specification includes windscreen glazing that has been treated with a specialist technique to replicate the tinting seen on the prototype.
Like all Bachmann products, SOUND FITTED and SOUND FITTED DELUXE models will operate on both DCC and analogue control straight out of the box. When used on analogue control, a range of authentic sound effects can be enjoyed when power is applied, including a convincing engine start up procedure before the model moves – along with randomised rotation of the motorised fans on SOUND FITTED DELUXE versions.
David Haarhaus, Managing Director of Bachmann Europe Plc said: "We strive to ensure that our customers, your local retailers, continue to purchase contemporary Bachmann models manufactured to the highest definition available today. We shall always review our existing portfolio, revisit previous subjects and where commercially viable invest in an updated Branchline or Graham Farish product. This is a well established policy here at Barwell, illustrated by the complete retooling of our N scale range and the replacement of many elderly OO scale items such as the J72 and Jubilee, alongside complete ranges of coaches and wagons as witnessed with the Thompson coaches to name just one."
David continued: "The 2021 Class 20 and Class 24 are completely new models in every detail. We hope our brand new Class 47, with the backing of the Bachmann Branchline brand, will light up the shelves and display cases of our customers around the world for many years to come."
The Complete Package
The all-new Bachmann Branchline OO Scale Class 47 Diesel Locomotive features an unprecedented level of detail and technical features, details of which are as follows:
Mechanism:
Five pole, twin shaft motor with two flywheels providing drive to both bogies
All axle drive
Electrical pickup from all wheels
Separate metal bearings fitted to each axle
Diecast metal chassis block and bogie towers
Diecast metal gearboxes, with gearing arranged for prototypical running speeds and haulage capabilities
16.5mm (OO gauge) wheels to NEM310 & NEM311 standards with authentic profile and detailing
Detachable coupling pockets to NEM362 standards fitted to each bogie
Designed to operate on curves of second radius (438mm) or greater
Detailing:
Brush-built and Crewe-built locomotives portrayed
Options for Original or Cut-Cab body style
Bogies constructed from multiple components featuring full relief detail
Rotating radiator fans, driven by an independent motor and gearbox, operated via a DCC function, or randomised when operated as part of the sound project on DCC and Analogue control (SOUND FITTED DELUXE models only)
Tinted windscreen glazing (SOUND FITTED DELUXE models only)
Separately applied metal detail parts, including grab handles, windscreen wipers and etched fan grilles
Sprung metal buffers
Each model supplied with a full set of decorated, model-specific bufferbeam pipework and accessory parts
Lighting:
Directional lighting, switchable on/off at either end on DCC or Analogue control
Cab lighting, assigned to two DCC functions for separate switching of each
Separately switched Engine Room lighting
Authentic light colours and temperatures selected for each model based on era and application
DCC:
Plux22 DCC decoder interface
Sound:
Two quality speakers employed for optimum sound reproduction, fitted to every model as standard
ESU Loksound V5DCC Sound Decoder fitted to SOUND FITTED and SOUND FITTED DELUXE versions
Sound files produced specifically for the Bachmann Branchline Class 47 using recordings from real locomotives
SOUND FITTED and SOUND FITTED DELUXE models operate on DCC and Analogue control as supplied. On Analogue, an authentic engine start up sequence, including the momentary dimming of all lights during engine start up, and running sounds are produced when power is applied
Livery Application:
Authentic liveries applied to all models
Multiple paint applications employed on each model using BR specification colours
Logos, numerals and text added as appropriate using multi-stage tampo printing using authentic typefaces, logos and colours
Etched metal nameplates, symbols and plaques included where appropriate
Detail Variants:
Countless variations are catered for to allow accurate models to be produced depending on the locomotive being portrayed, options include:
–  Headcode panel arrangements from as-built to current-day
– Radiator Grilles
– Roof exhaust cover
– Steam Heat Boiler Ports/blanks
– Cab roof vents
– Cab mounted aerial
– Windscreen Wipers
– Cab Door Kickplates
– Headlights, both Scottish 'Car' and High Intensity versions
– ETH Equipment
– Multi-operation jumper sockets
– TDM jumpers
– Class 47/7 multiple working jumpers and cooling pipes
– Fuel and Water Tank arrangements
– Water Tank fillers
– Buffers
– Bogie-mounted cab steps – Speedo Drives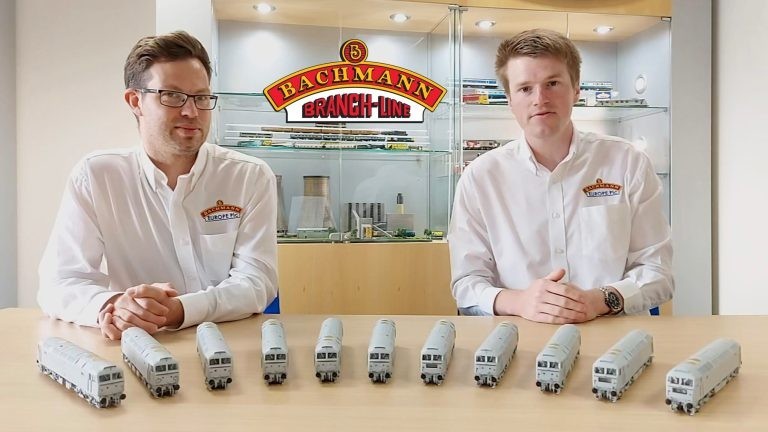 Bachmann Europe Present | A Brand New Brush