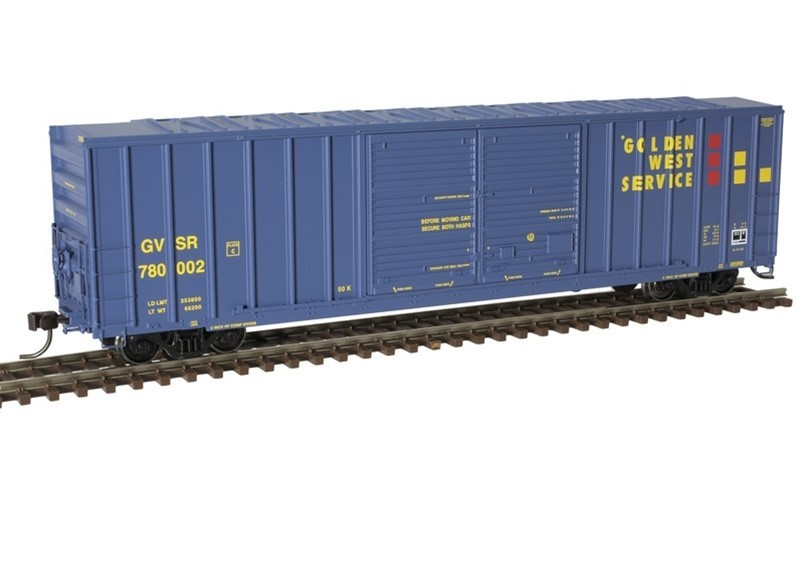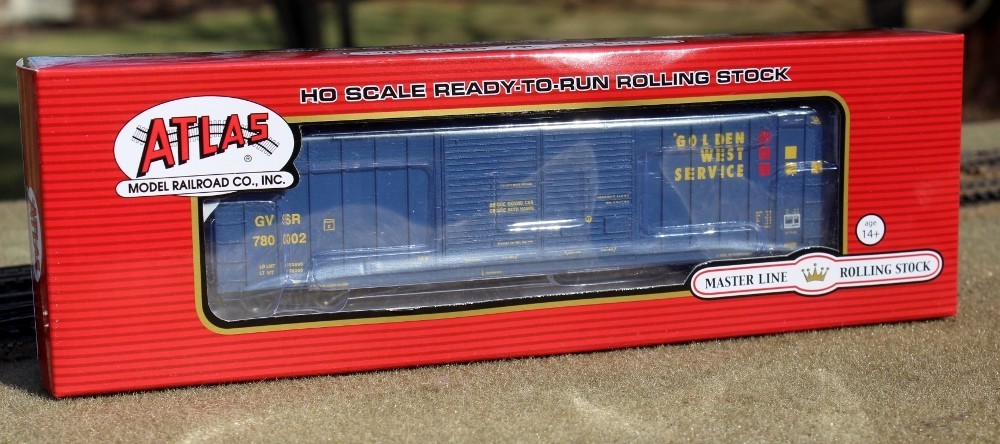 Inttroduction
Atlas has released two runs of their HO FMC 5503 Double Door Box Car.  This review looks at ITEM# 20006294, Golden West Services No. 780002, part of their Master Line range.

Master Line is the mid-upper tier of products, boasting enhancements such as individually applied parts and photo-etched pieces.  Atlas writes of this model's features:
 •     Double Sliding Doors
 •     Wire grabs
 •     Etched parts
 •     Plate C Box Car
 •     X-Panel Roof
Brief Histories

Golden West Service first caught my attention about 15 years ago along Interstate 10 around Lordsburg, New Mexico.  Dozens of covered hoppers sat idle along the track; it was a company I had never heard of but the name and color scheme appealed to me.   Apparently, GWS was a partnership between the Southern Pacific Railroad and the Greenbriar and Gunderson companies to rebuild SP freight cars.   These sites have interesting information about GWS:
The Golden West Service Freight Cars Page
Atlas writes of this FMC box car;
Box cars in the past fifty years have generally fallen into one of five distinct frame lengths, 40-, 50-, 52-, 60- and 86-foot. The least common of these is the 52-foot box cars. Although not as numerous as its shorter and longer companions, the 52-foot non-insulated box designs have provided an important role in the lumber industry.

The car is essentially a "stretched" 5277 with one-foot added outside the bolsters giving the car its distinctive overhang. It is equipped with double sliding doors and a cushioned underframe. Southern Pacific was the sole original operator of this design and ordered 700 of these unique looking boxcars split between Southern Pacific (525 cars), Amador Central (75 cars) and the Longview, Portland & Northern (100 cars).
Let's knock around this model.
The Model
Atlas packs these models in an end-opening carton with a plastic window that shows off the model.  Inside, the car is securely contained in a form-fitted cradle, held in place with a tight fitting top.  A thin sheet helps protect the model from scuffing.   Instructions for the optional parts, and warranty and registration cards are provided.

A packet of optional parts is included.  Those parts are for replacing the Accumate couplers with Kadee whisker couplers: draft-gear boxes and bolsters.  Also included are extra cushioning units and uncoupling levers.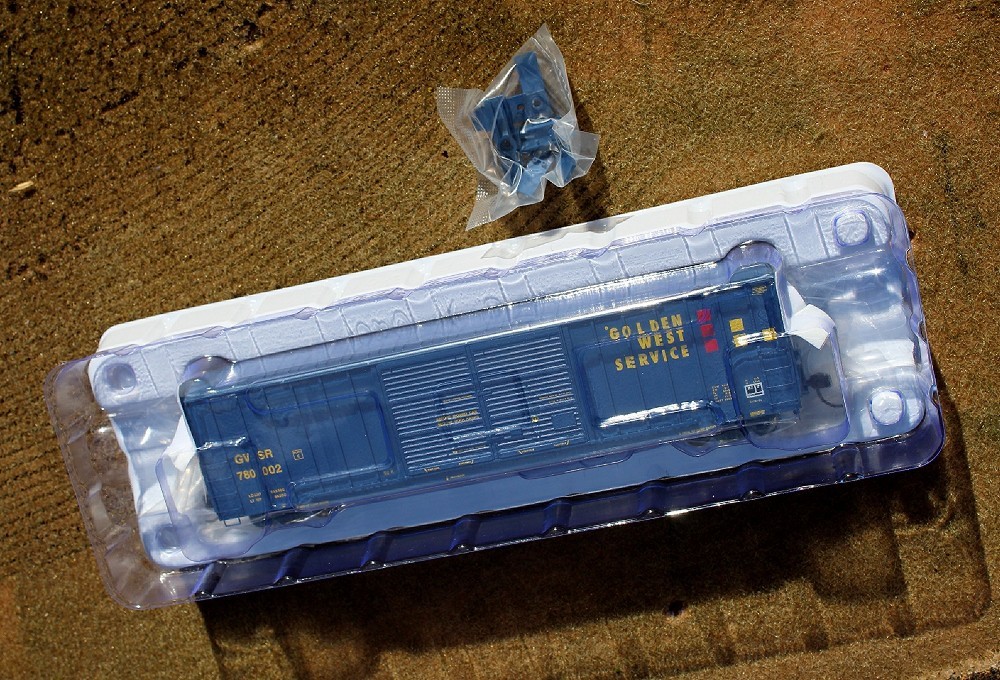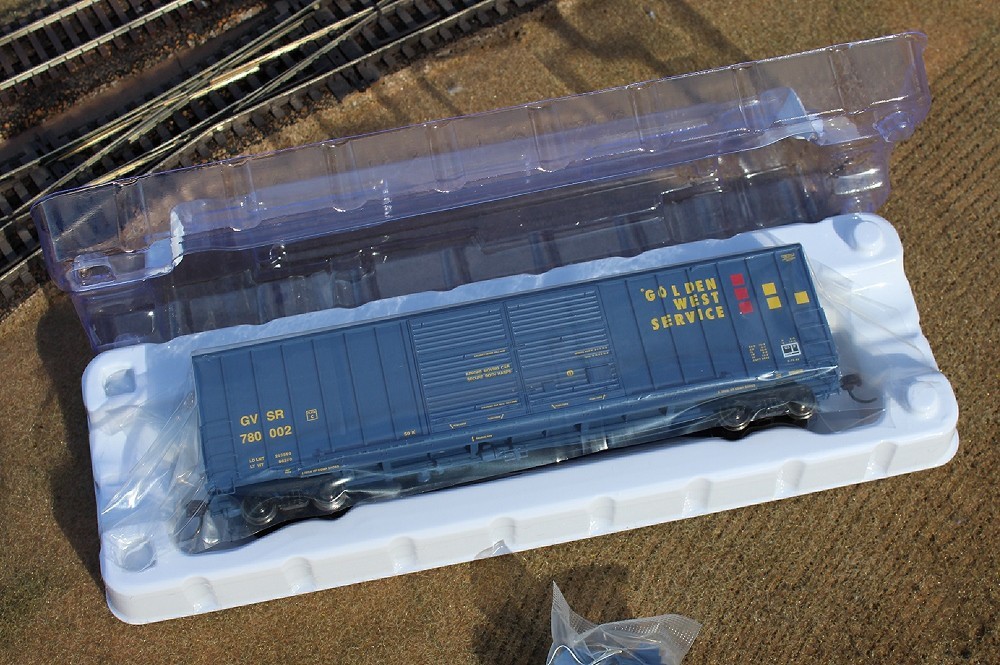 Looking at the model though the box window, one can see the crisp molding, sharp printing, and attached ladders and grab handles.  Such has enticed me to buy more than one model over the years.
Molding is crisp and clean.  I found no flash, sink marks, ejector pin marks, or noticeable mold seam lines.  I spotted no excess glue anywhere.  The body is molded as a single part with seven exterior posts on each side of the door, an  X-panel roof and 3/3 non-termination ends, with a stepped side sill.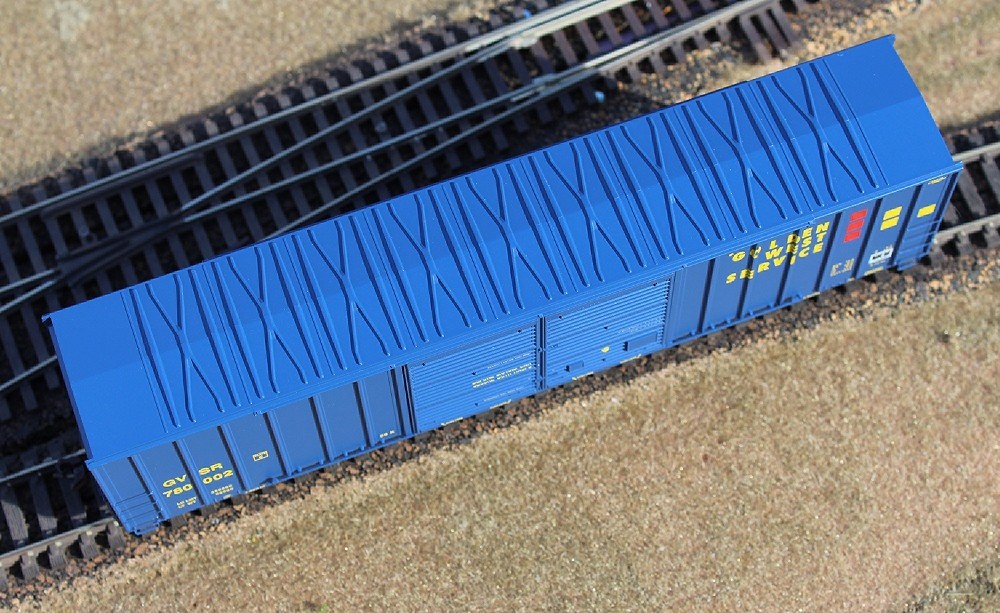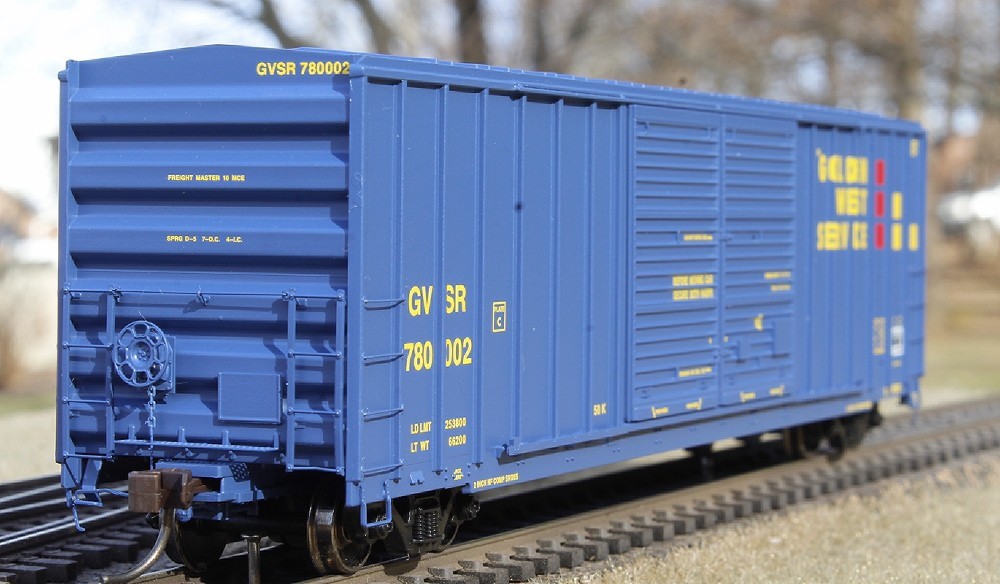 Detail
Plenty to see.  Step stirrups, grab handles and ladders are individually applied.  So are cut levers, a fine hand brake wheel and connector, tack and routing boards, and lower door track.  Notice the etched crossover boards above the couplers?
Underneath the car is a detailed floor showing a molded wooden floor, an attached center sill with crossbeams, and separate piece holding he air brake components: triple valve; reservoir; cylinder; brake rod levers and supporting brackets.  Piping between the components appears molded as part of the piece, and separate wires simulate brake rods and piping.   Draft gear cushioning gear is attached between the couple boxes.

For all the detail, I am surprised Atlas did not add air hoses.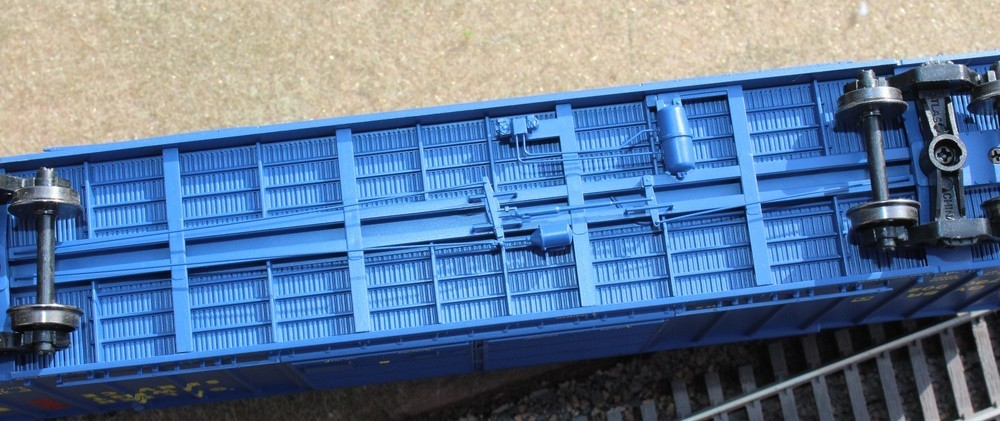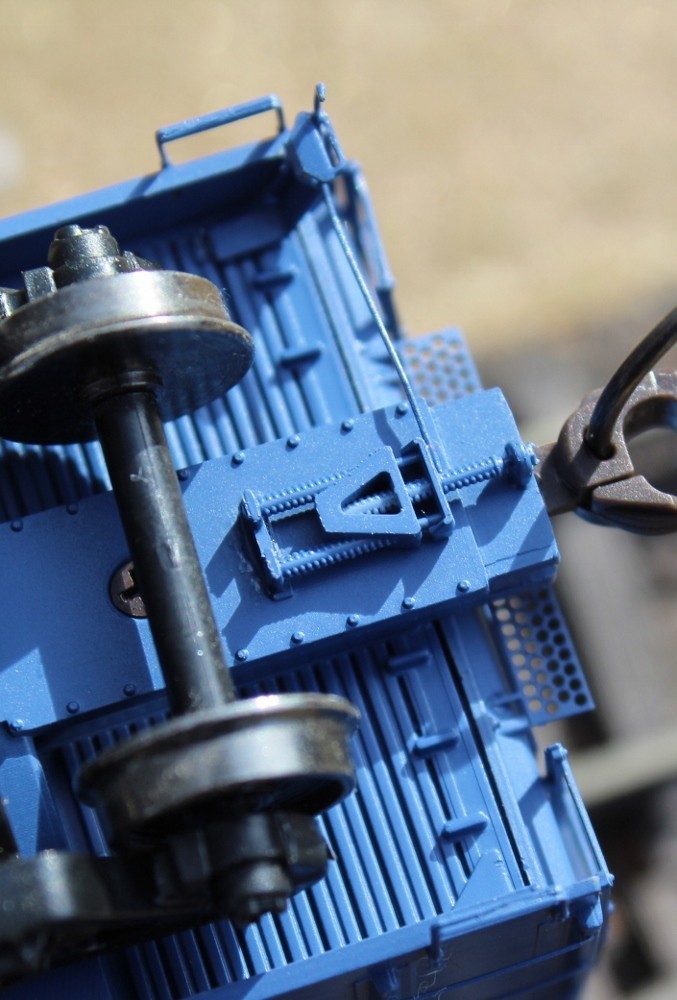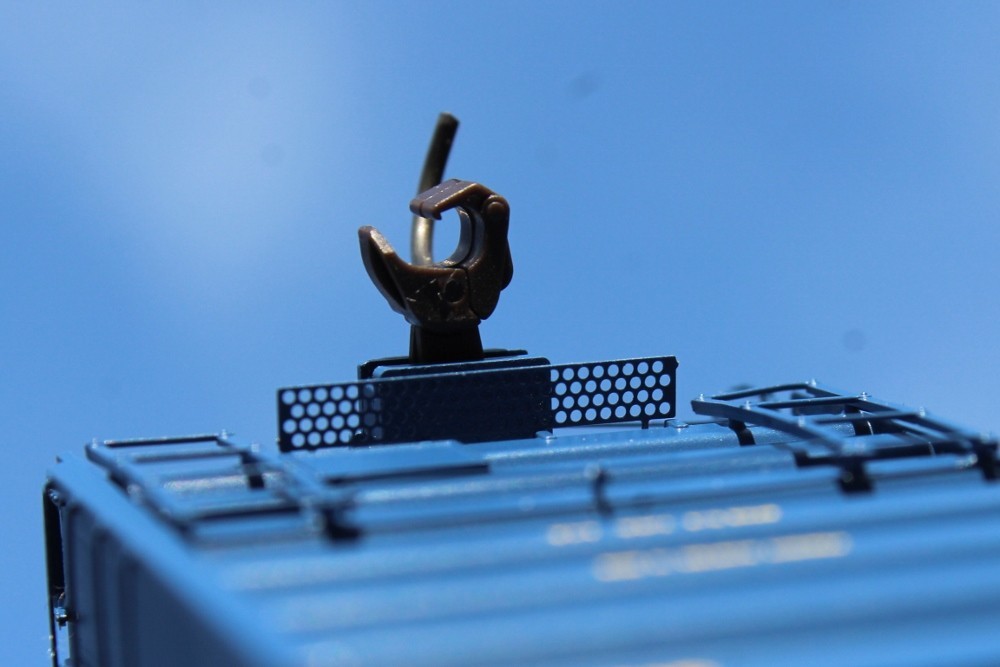 Livery and Markings
Atlas' paint and printing is first-rate.  Look at the photos and you can see the sharply printed lettering for technical and informational data, i.e.,  stenciling on the ends show the car is equipped with Wabtec's FreightMaster™ hydraulic cushioning unit.  You can read that this car was rebuilt by Greenbriar.  The consolidated panel and other dimensional data is clear, too.
This run of FMC 5503 cars includes an undecorated model and seven road names:
1. Amador Central (Blue/White)

2. Golden West Service (Blue/Yellow/Red)

3. Minnesota, Dakota & Western (Green/White)

4. Southern Pacific ex-GVSR (Blue/Yellow/Red)

5. St.Maries River Road (Orange)

6. Southern Pacific (Brown)

7. Longview,  Portland & Northern (Orange/Blue)

Each road name has three road numbers.
The metal wheels are supposed to be blackened but they look shiny and steely to me.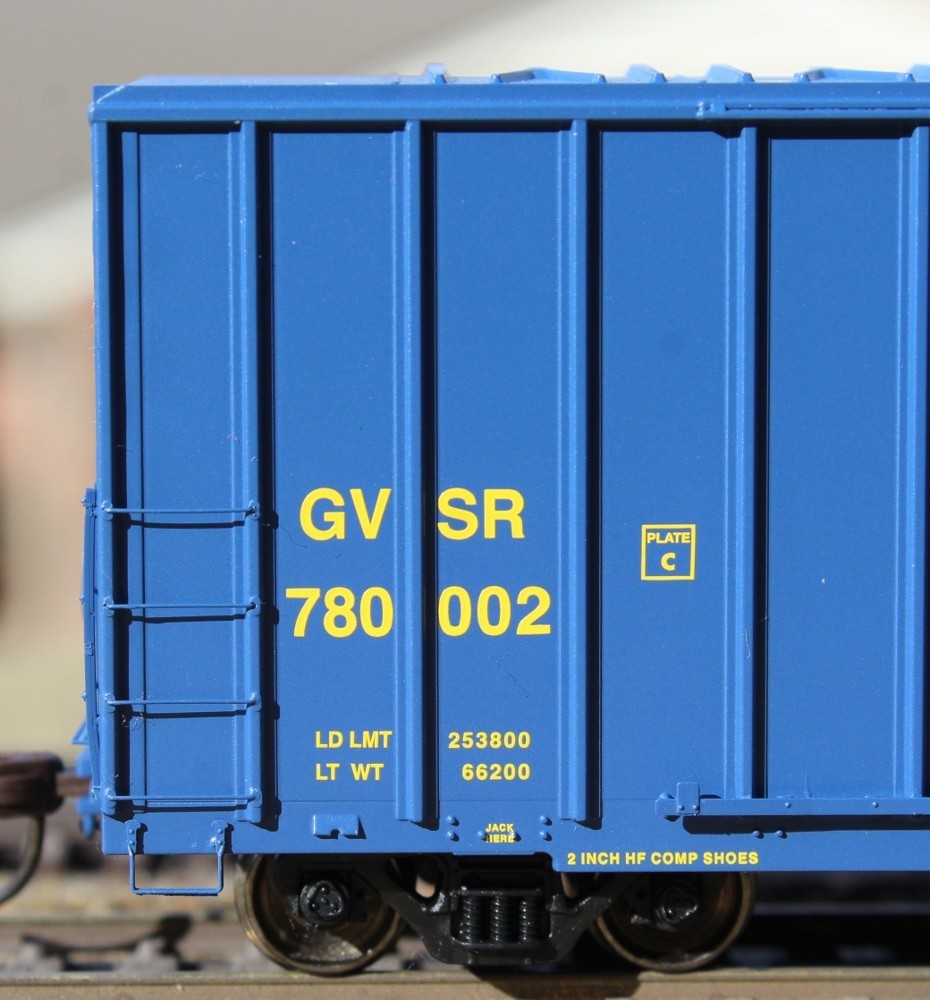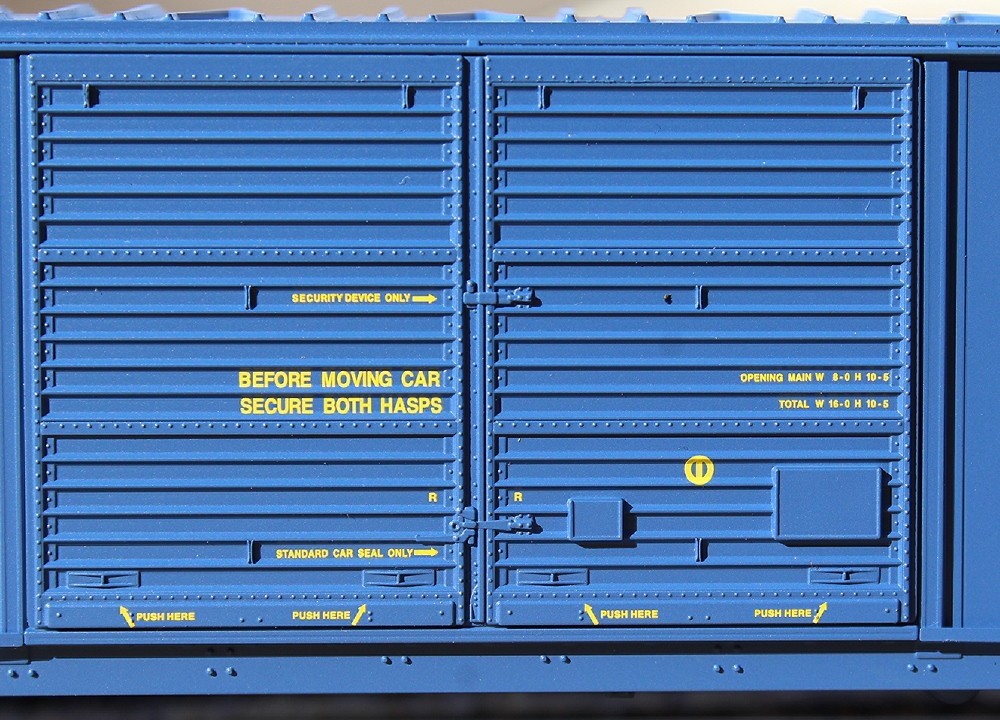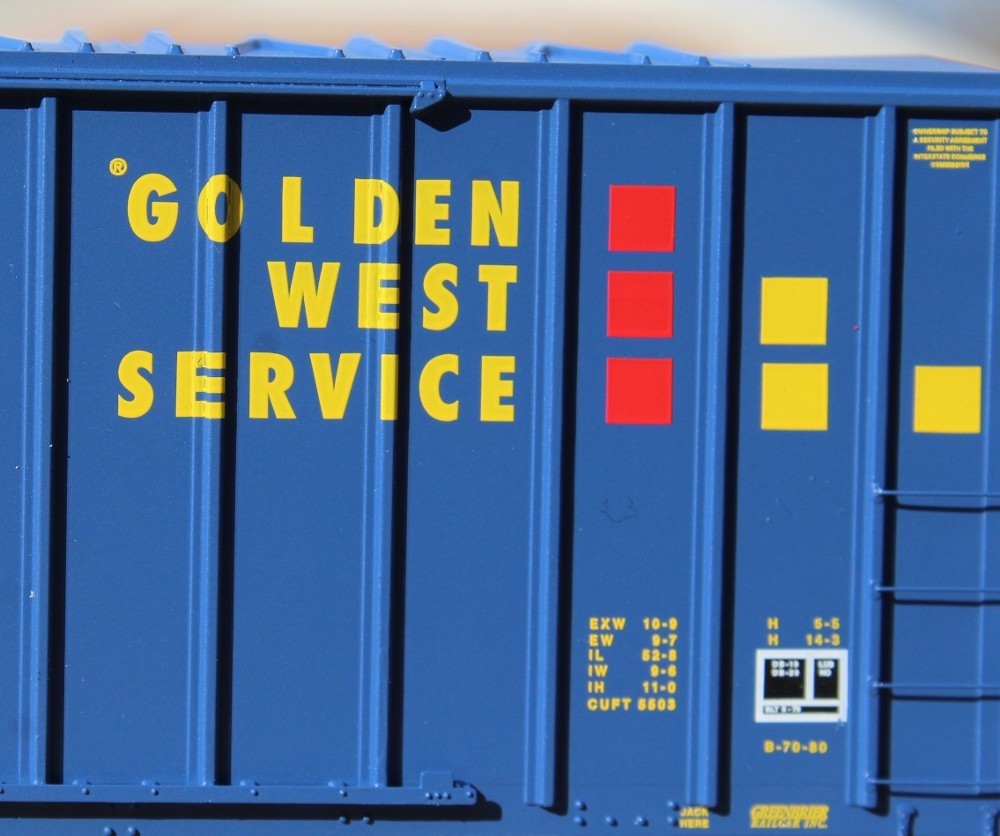 Performance
Measurements show the model is very close to prototype. To be honest, I did not check the wheel gauge because I figure that unless the car hangs up on a curve or in a turnout, the spacing is good.
I set the test track on a slight incline and let the car roll. No problem along Atlas code 83 track and a switch, or though a Peco code 80 single-slip switch.
Verdict
With this HO FMC Double Door Boxcar, I think Atlas has provided railroad modelers with a top-notch model of a FMC 50-footer. Molding and assembly of parts is crisp and without blemish. The level of detail may not be 100% - no air hoses - but I do not think there is much more to add without making it fragile to handle. Paint and printing leaves nothing to be desired.
Modelers of the 50-foot boxcar area now have another good looking well running model to add to their roster. Recommended.