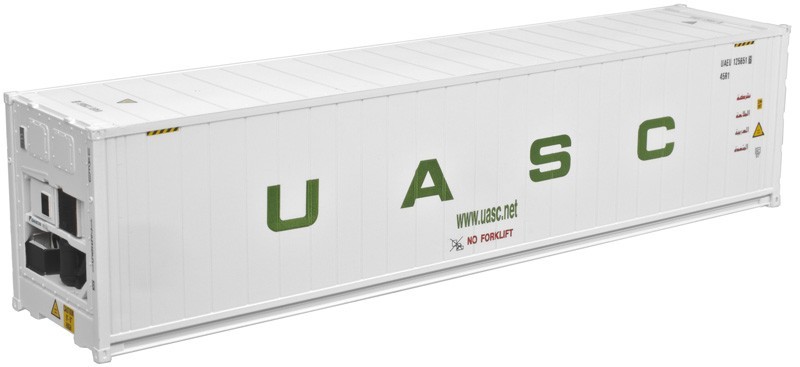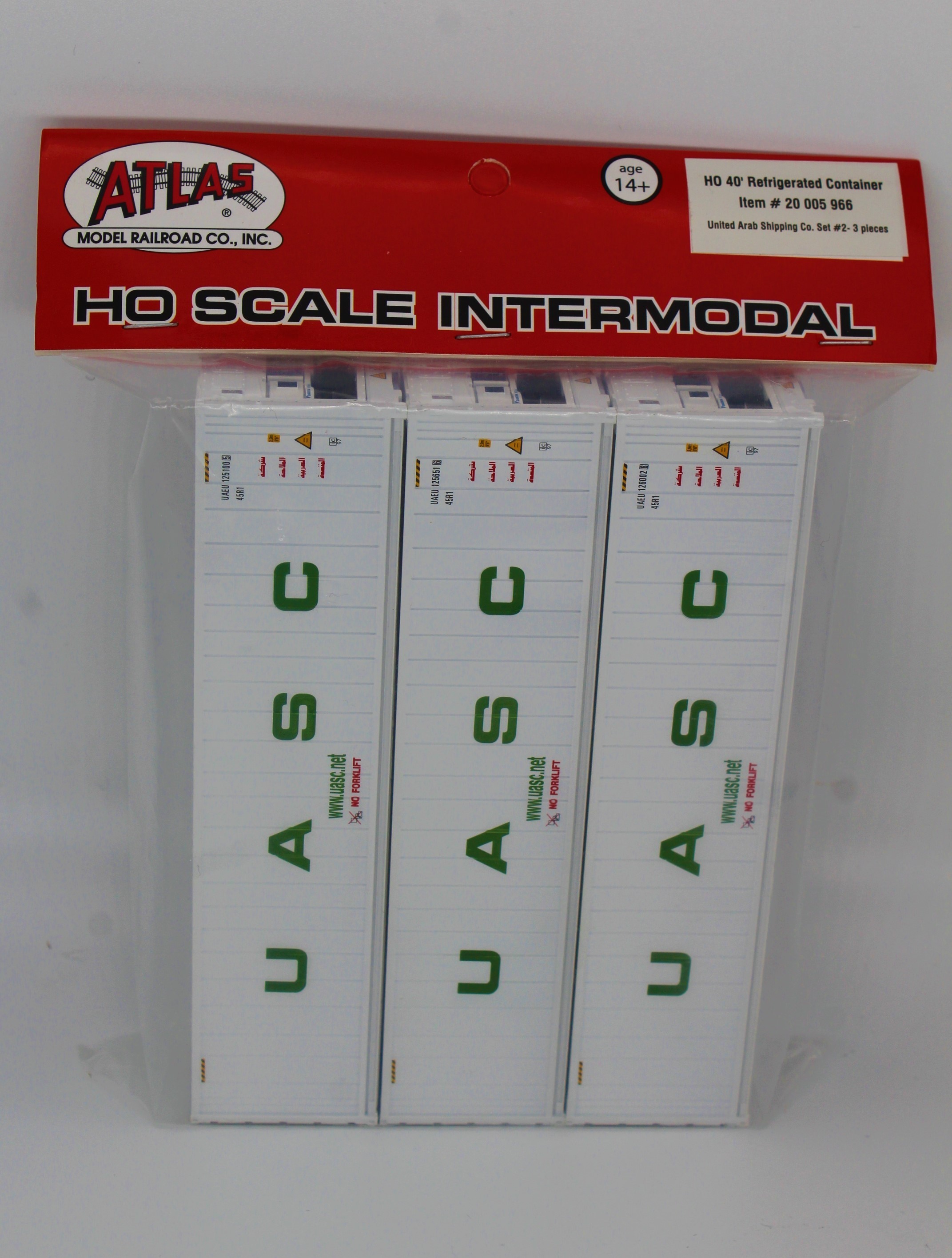 Background
Atlas released their first run of  40' Refrigerated Containers models in October, 2013.  Two sets of three container are available per road name/shipping company.  This review sample is set two, ITEM# 20 005 966, lettered for United Arab Shipping Co. UAEU 125100, 125651 and 126002.
Atlas describes this subject as:
Since the 1970s most international freight has been shipped by standardized 20- and 40-foot containers. Some of this huge flow of cargo between countries needs to be refrigerated for the transit. The second most common type of ISO* container in use is the refrigerated container. Today's refrigerated container design uses high tech composite (plastics and metals) construction and a "picture frame"type refrigeration unit. Atlas' model represents a standard 40-foot high-cube refrigerated container (ISO Type Code 45R1) found in many shipping and leasing fleets.

*ISO is the International Organization for Standardization.
Features:
40-foot High-Cube Refrigerated Container
Composite materials sandwich-sides design
Detailed picture window refrigeration unit with separate parts
ISO Type 45R1
Five hinge / four bar doors with OUT style handles
The Model
Atlas packs this model as a triple set in a plastic bag with a card label.
Molding is crisp.  There is no flash, sinks, visible ejector marks, or seam lines.
Detail
All detail is molded on: door locking bars,  handles,  latches, cams and retainers attached to the door.   The seal is painted on and the doors do not open.
On the other end is the refrigeration unit.  Good detail here - a fan, compressor, condenser fan, tubing.
Paint and Markings
Paint and printing are excellent.  Sharp and opaque.  A good deal of printing and stenciling is on the car.  We see the yellow triangle categorizing the container as SUPER HEAVY, the UAE flag,  weight and dimensional data, etc.   Look at the photo below.  Fifteen company names have been released:
1.      CSAV (White/Blue/Red)
2.      EVERGREEN (White/Green)
3.      ONE Set(White/Pink)
4.      CROWLEY (White/Black)
5.      ZIM (MONITOR) (White/Blue)
6.      CP
7.      Hamburg
8.      K-Line
9.      NYK Line
10.  United Arab Shipping Co.
11.  Cosco
12.  Maersk Sealand
13.  Mediterranean Shipping Co.
14.  P&O
15.  Safmarine
With six containers per company name, you could model a train of 90 containers.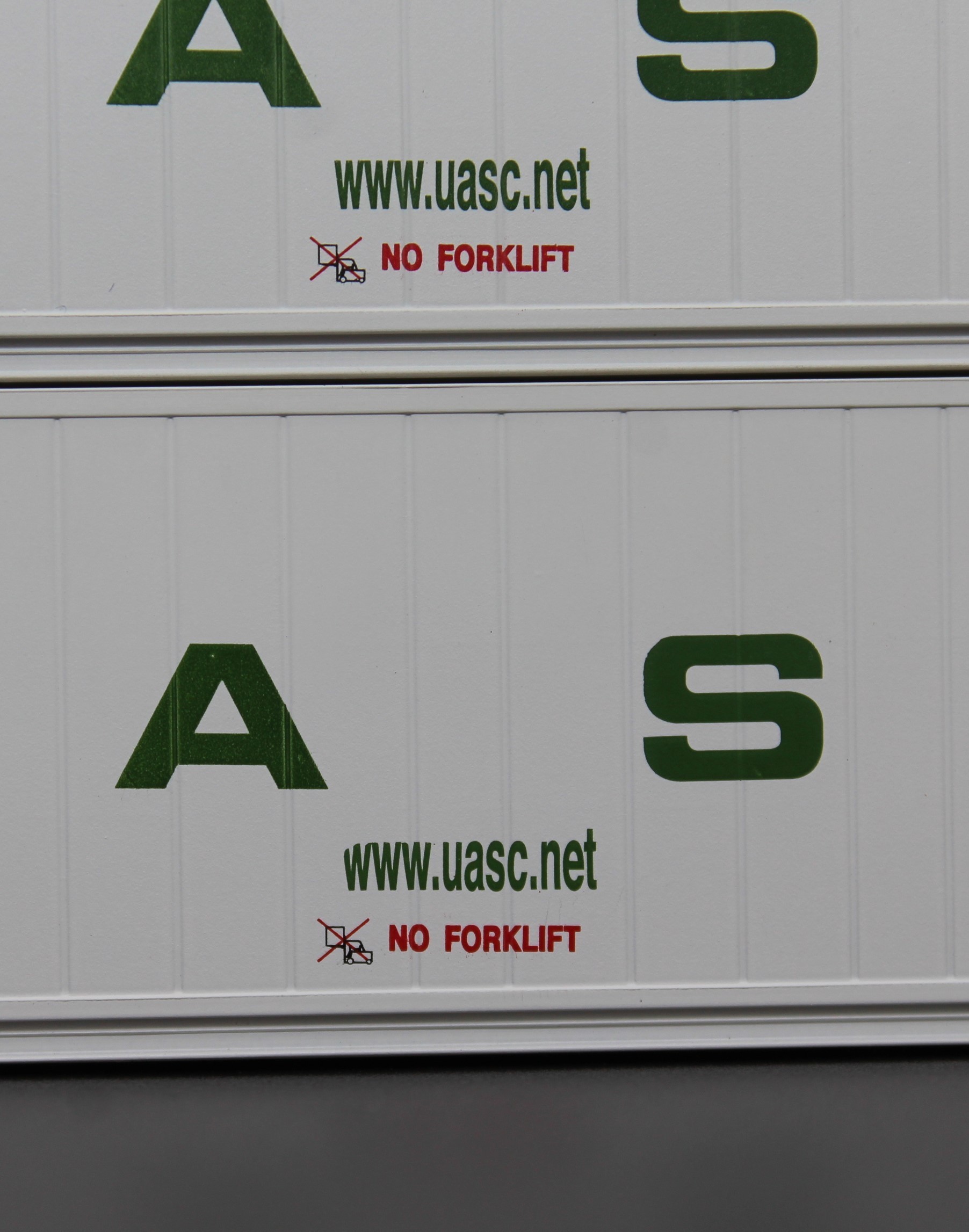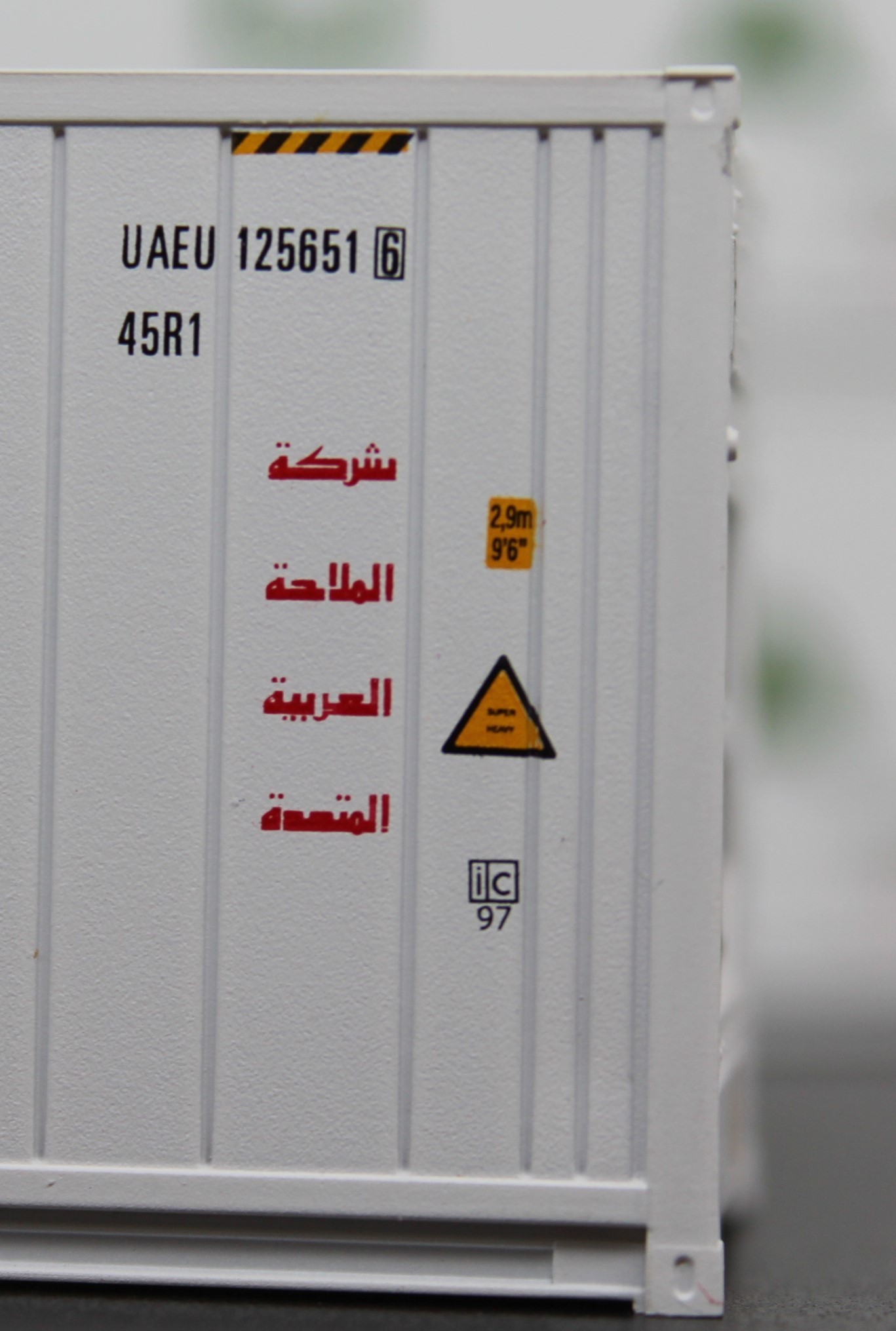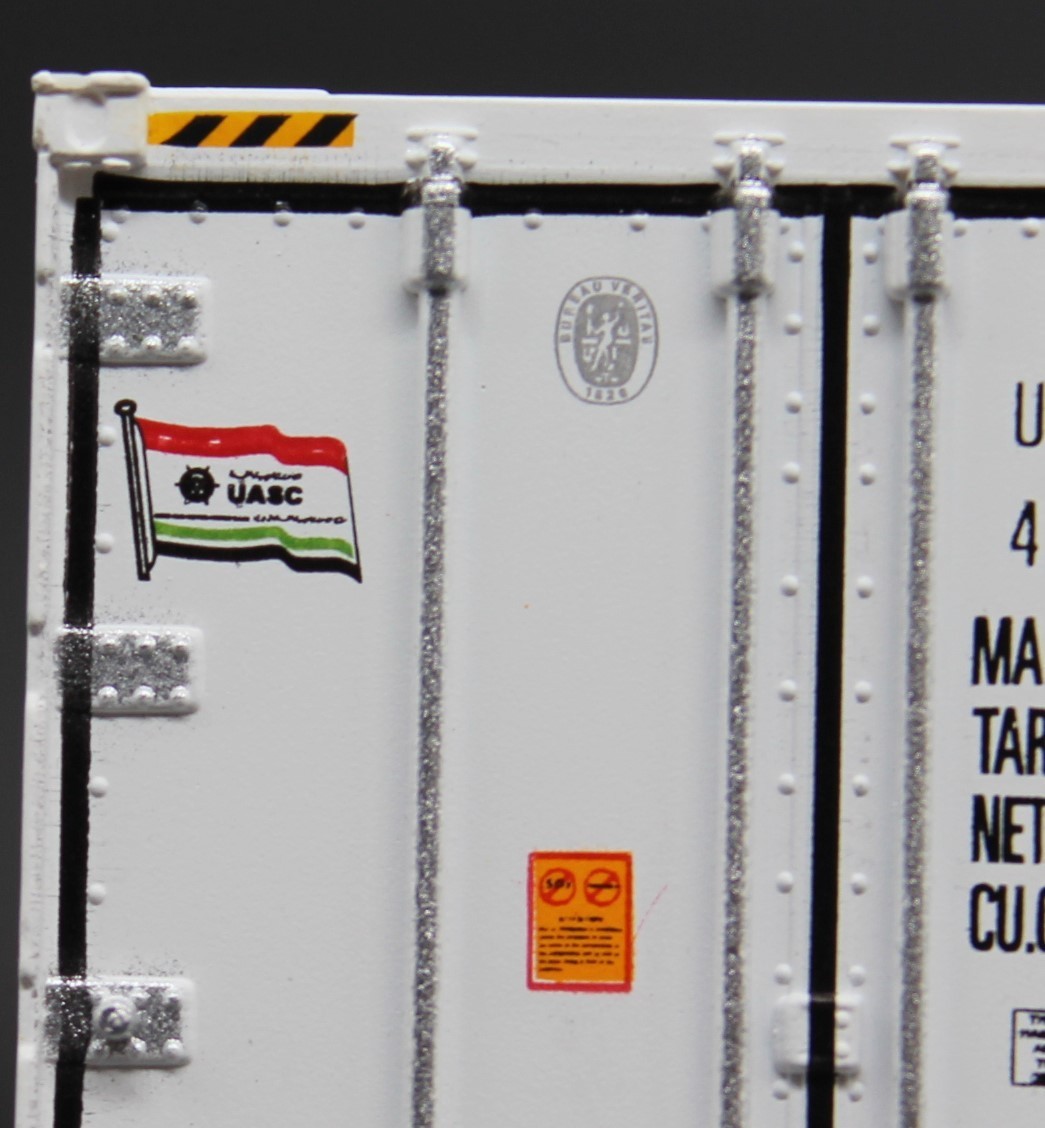 Conclusion
HO modelers of the modern railroad world have a great model to fill their well cars thanks to Atlas' 40' Refrigerated Container. Molding and assembly are top notch. As is the paint and printing. Impressive detail includes the door locking bars and refrigeration unit. This is an impressive looking model and is recommenced.
Please remember to mention to vendors and retailer that you saw this model here - on RailRoad Modeling.