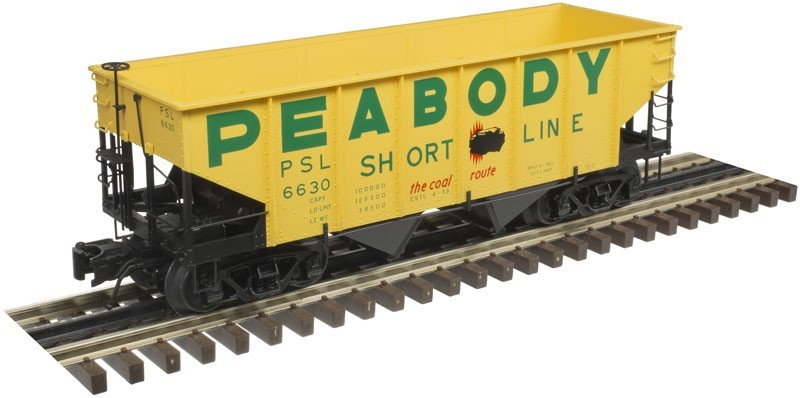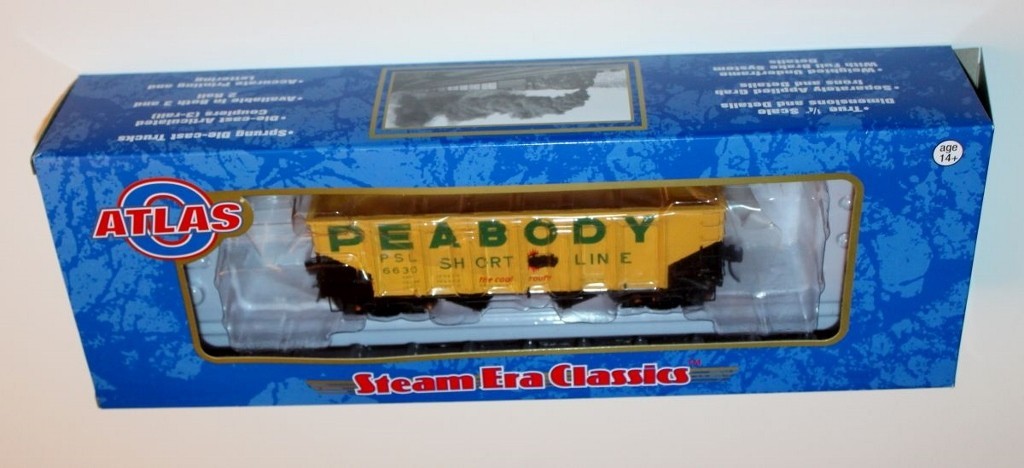 Atlas O Steam Classics 55-Ton Coal Hopper
This fully assembled model is securely packed in a form-fitted 2-piece plastic cradle, protected from scuffing by a thin plastic sheet.   The cradle has indents for your fingers to grip for removal from the card carton, which has a clear plastic viewing window.

55-Ton Hopper Archive
Atlas RailRoad Modeling Reviews Archive
Peabody Short Line Coal Company
The model is free from mold marks, ejector marks, and glue stains from assembly. There is a bit of flash or seam lines along some parts but not to the extent of being noticeable without magnification.  Scale rivet detail enhances the surface.   Atlas released it for both 2- and 3-rail operation.  Atlas "O" scale couplers can also be used on both 2-rail and 3-rail versions.
Four road numbers are available per road name, except for Data Only and the Limited Edition road names which have one.
Quarterscale military modelers of the era may be interested in the diorama potential of this model, as it is scaled to 1/48 military models.
History
During World War I, the US railroads experienced a meltdown due to increased traffic needs. This lead to the nationalization of the railroads from 28 December 1918 through 1 March 1920 under the United States Railroad Administration (USRA) to relieve the crisis. Working with industry leaders USRA standardized the design of a dozen locomotives and dozens of freight cars. Many were very successful and built long after the railroads were returned to the private sector. USRA built 1,856 steam locomotives and over 100,000 railroad cars.
This 55-Ton Hopper Car was one of the body types designed by the United States Railroad Administration (USRA) to relieve this shortage. Built in 1918, 25,000 of these cars were primarily assigned to the great coal-hauling roads of the east and mid-west. The car design was very successful and later became one of the standard cars of the American Railway Association. These versatile and soundly designed hoppers fed the Roaring Twenties, suffered The Great Depression, soldiered through World War Two, witnessed the diesel supplant steam through the '50s, and suffered the derailing of America's railroads through the '60s. Some may have even lasted into the catastrophe of Penn Central.

Features:
Die-cast centerbeam and chassis

Wire grab irons

Die-cast stirrups

Opening, sprung hopper doors

Die-cast Andrews trucks

Prototypical painting and lettering

Die-cast articulated couplers with trainline detail (3-Rail)

Scale die-cast couplers and 33" wheelsets (2-Rail)

Minimum diameter curve (3-Rail): O-31

Minimum radius (2-Rail) : 24"
Detail
In addition to the items listed previously in features, Atlas equips this model with plenty of individual separate parts:
• Air Brake detail
• Air hose and angle cock detail
• Retaining valve
• Brake hanger gear
• Brake wheel
Performance
This hopper weighs 9.9 ounces, significantly shy of the NMRA RP-20.1 Car Weight target of 12.5 oz. The blackened metal wheels are in gauge.  Measuring the model finds it scaling out properly.

Paint and Printing
Atlas offers four road numbers per road name. Road names available in the last two releases are:
Lehigh Valley (Black/Yellow)

Nickel Plate Road (Black/White)

Public Service of New (Black/White)

Ford (Black/White)

Peabody (Yellow/Green)

Boston & Maine

Canadian National

Kansas Oklahoma & Gulf

Virginian

Westmoreland Coal Co.
The Peabody hopper is offered with these road numbers: 6601, 6609, 6616, 6630.
Atlas even offers this model in Data Only, and an undecorated version. The paint is smooth and does not obscure detail.  Razor sharp printing of the road name, logo, and data stenciling is amazing; sharp and clear as it is I had to use a magnifying glass to read that information! Its stenciling tells that this car was built in June, 1923, and outshopped 4-9-57 from the Peabody in East St. Louis.
Builder's Photo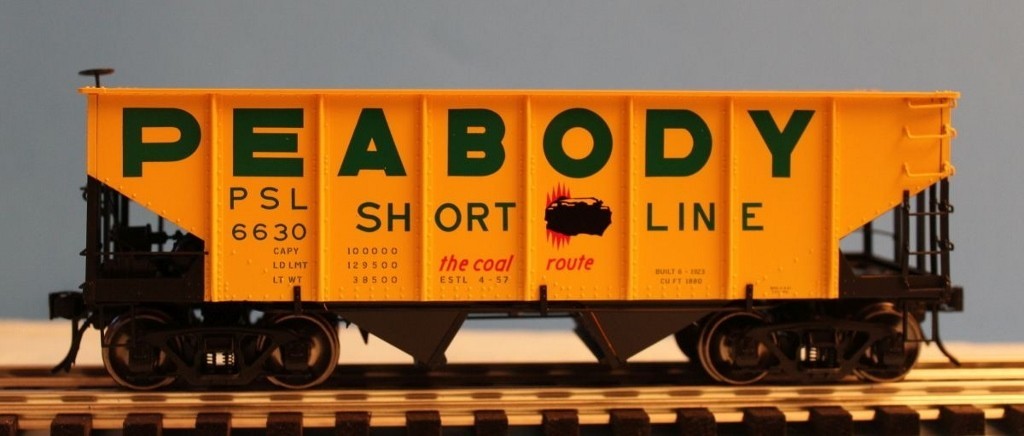 Conclusion
Atlas O Steam Classics' 55-Ton Coal Hopper is an impressive USRA hopper. It features excellent molding and finish, with impressive detail, and crisp printing.  If you buy an undercoated model and want to freelance or kitbash, it should not be troublesome to do with the many model railroad companies issuing aftermarket parts and decals. There were many designs very similar to the 55-ton USRA design.

I am curious how such a large model can weigh less than a pound, but it weighed lass than 10 ounces.

Whether you plan to use this on an O scale layout or in a 1/48 diorama, this is an impressive model. Highly recommended.
Air brake gear in the porch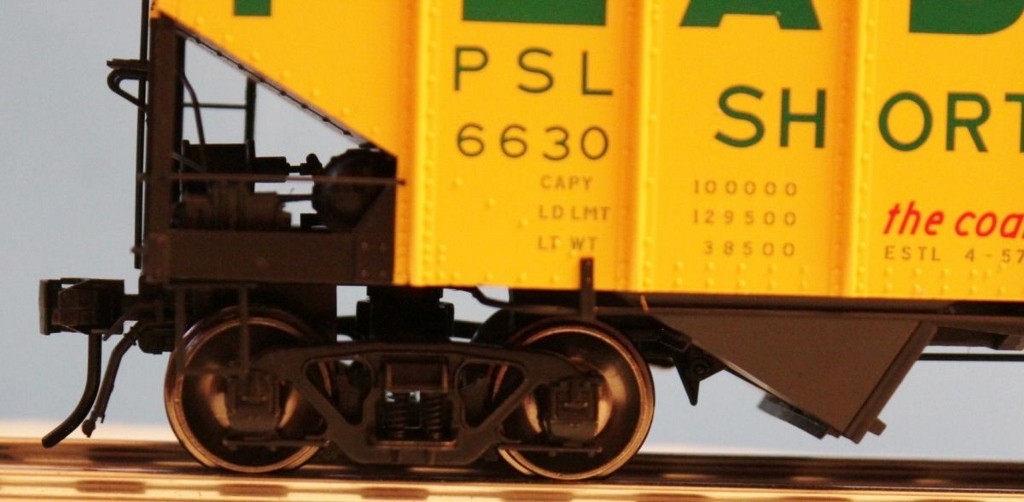 Air brake gear in the porch (illuminated)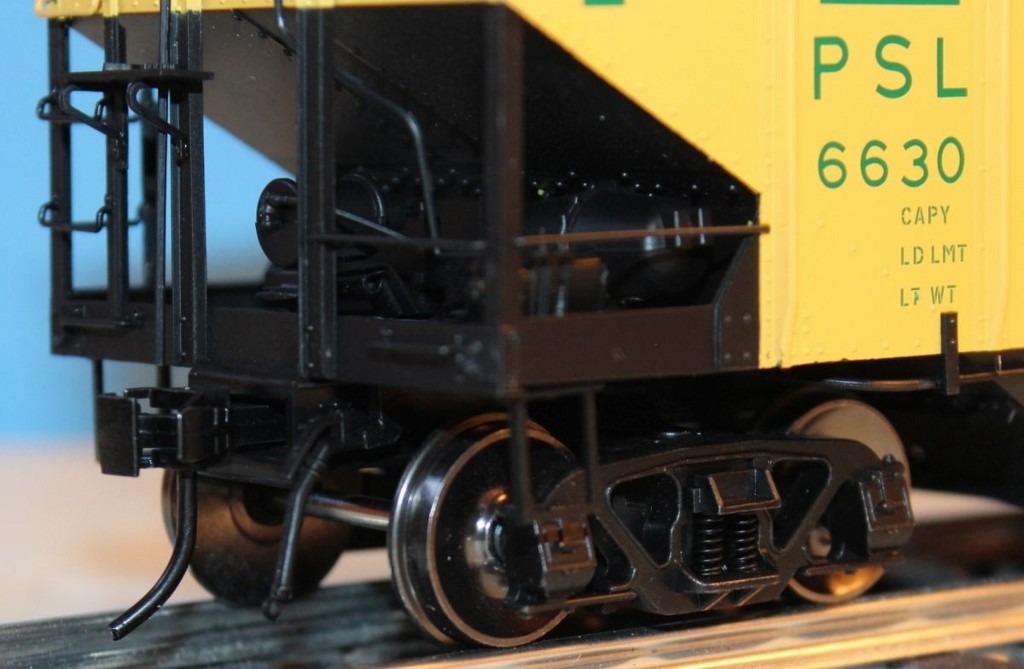 Air brake gear in the porch (ambient light)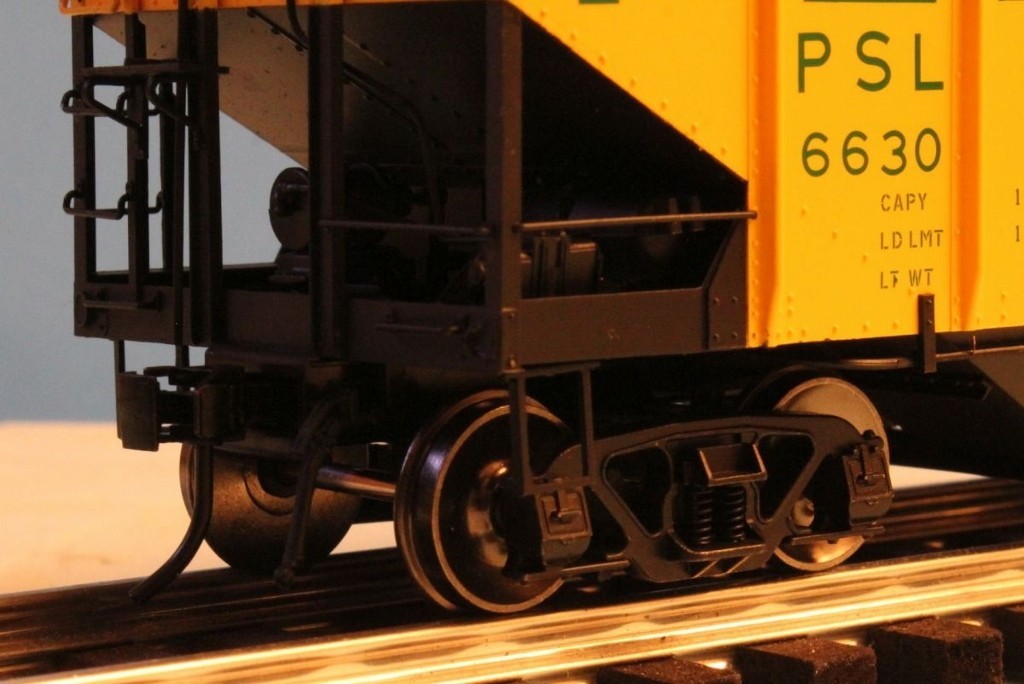 This is the most accurate presentation of "Peabody yellow."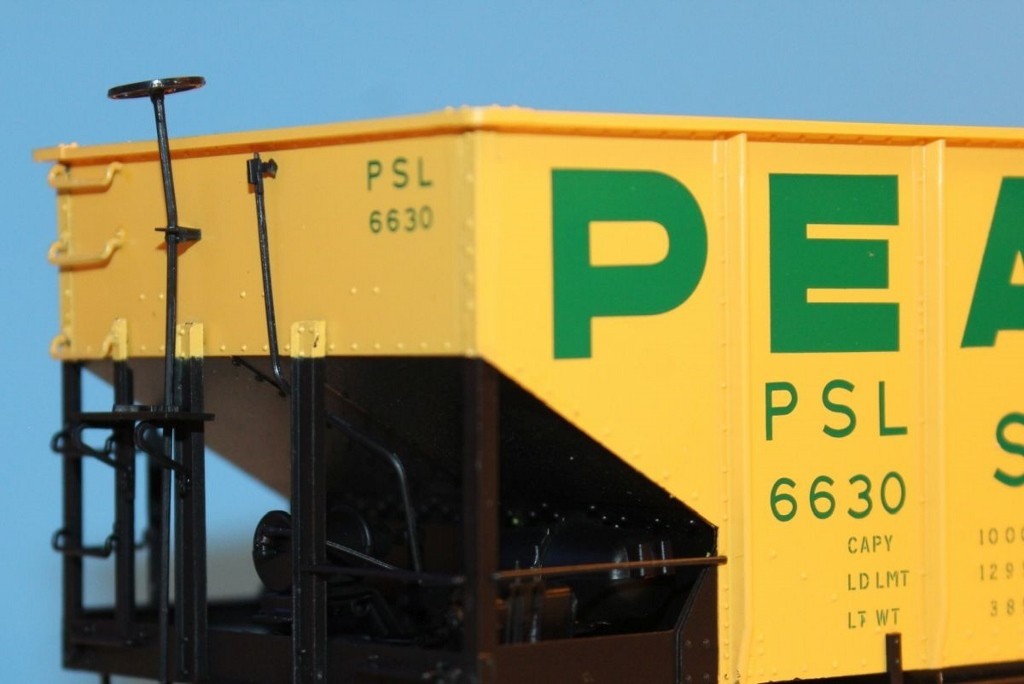 Train line and brackets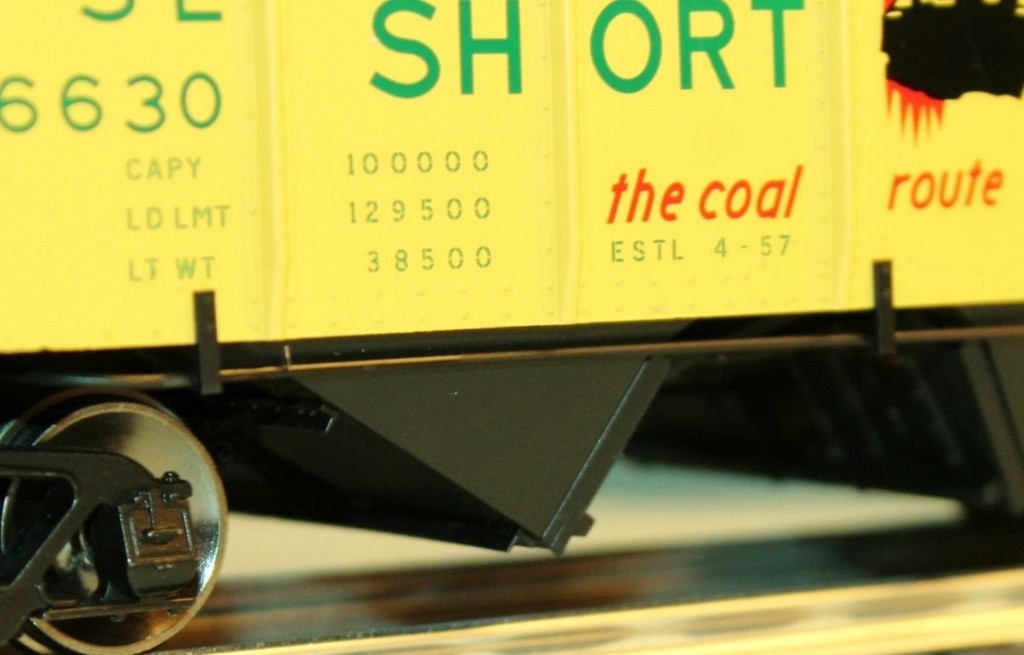 Truck close-up
Draft gear and air hose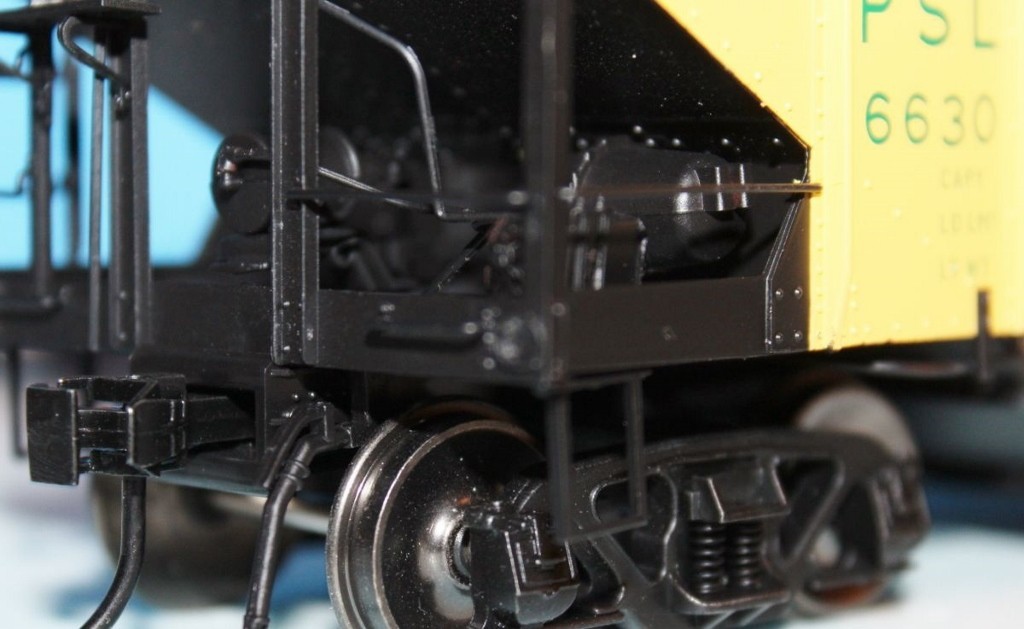 1/48 figure (I really need to repaint him)