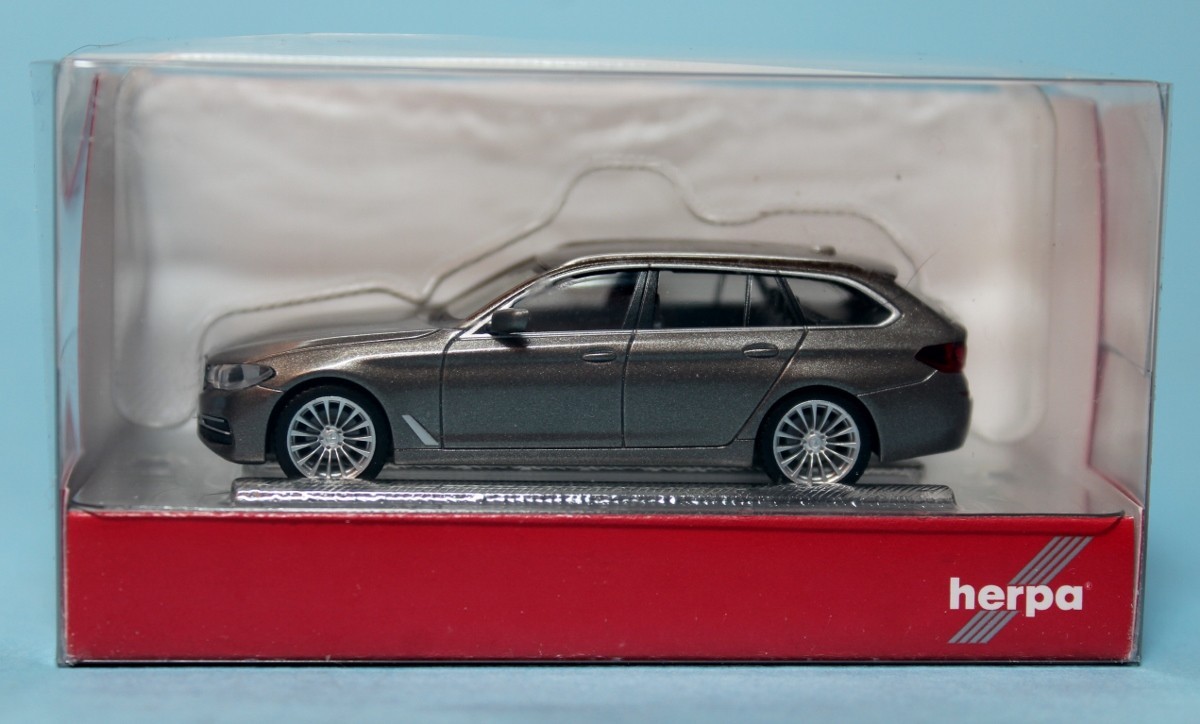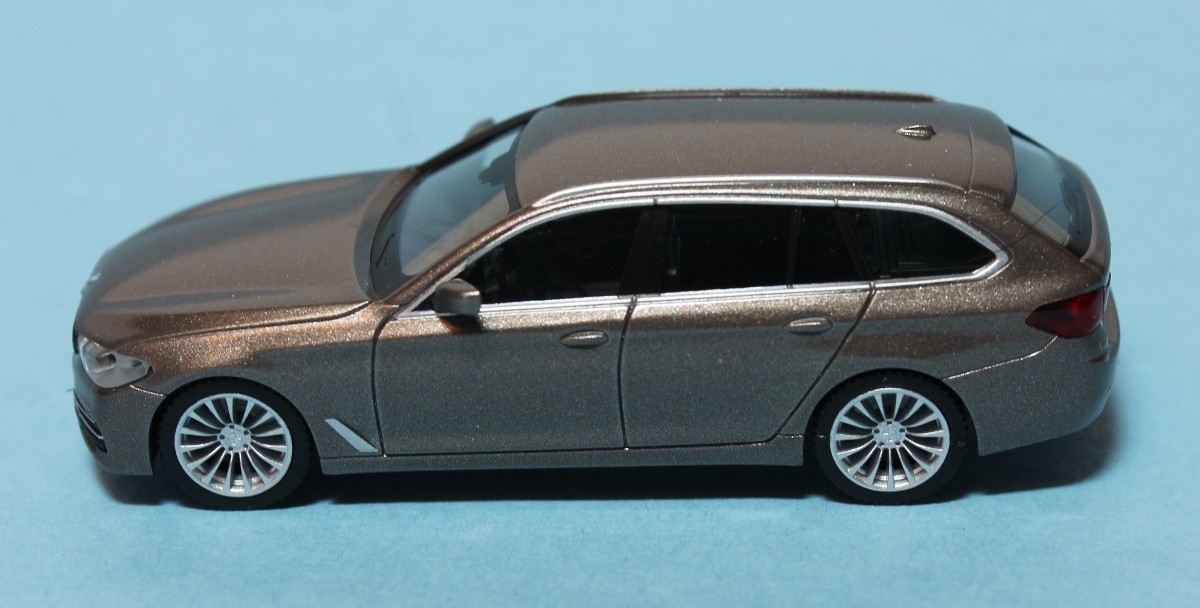 Introduction
Herpa has released a BMW 5™ Touring car, this one in Atlas Cedar metallic finish. Herpa currently catalogues 307 BMWs and fifty-five 5er series BMWs. This model is item 430708.

Luxury coupes and sedans have evolved into touring cars, and touring cars are evolving into luxury showcars. Into this class BMW includes their 5 Series.
The BMW 5 Series is a mid-size / executive car manufactured by BMW since 1972. The car, now in its sixth generation, is sold in sedan and touring body styles. It is BMW's second best selling model after the 3 Series. The 5 Series is powered by a number of engines including the single-turbo diesel I6 producing 245 PS, by a single-turbo I6 producing 306 PS and a twin-turbo V8 producing 408 PS; the latter will give the car a 0-60 mph time of 5.5 seconds. This is the first BMW to receive the new ZF 8-speed automatic transmission, along with a new Brake Energy Regeneration system.* Herpa tells us:
On its own initiative, Herpa has expanded its BMW passenger car fleet in the 1/87 scale by the current BMW 5 Series.

Herpa's BMW 5er™ Touring
Your BMW 5er is factory assembled. It's securely packed in a form-fitted tray held inside a clear plastic carton with end opening flaps. A holographic licensing label confirms this is a legitimate reproduction.
The model is skillfully molded and assembled with any blemishes or flaws. Doors, hoods and panels lines are defined with fine recessed lines; the grille intentions are much deeper. The door handles are slightly raised. Underneath the car is a single piece chassis with very basic molded detail. Soft plastic-rubber hybrid tires, with no tread detail, are pressed upon hubs to support the model.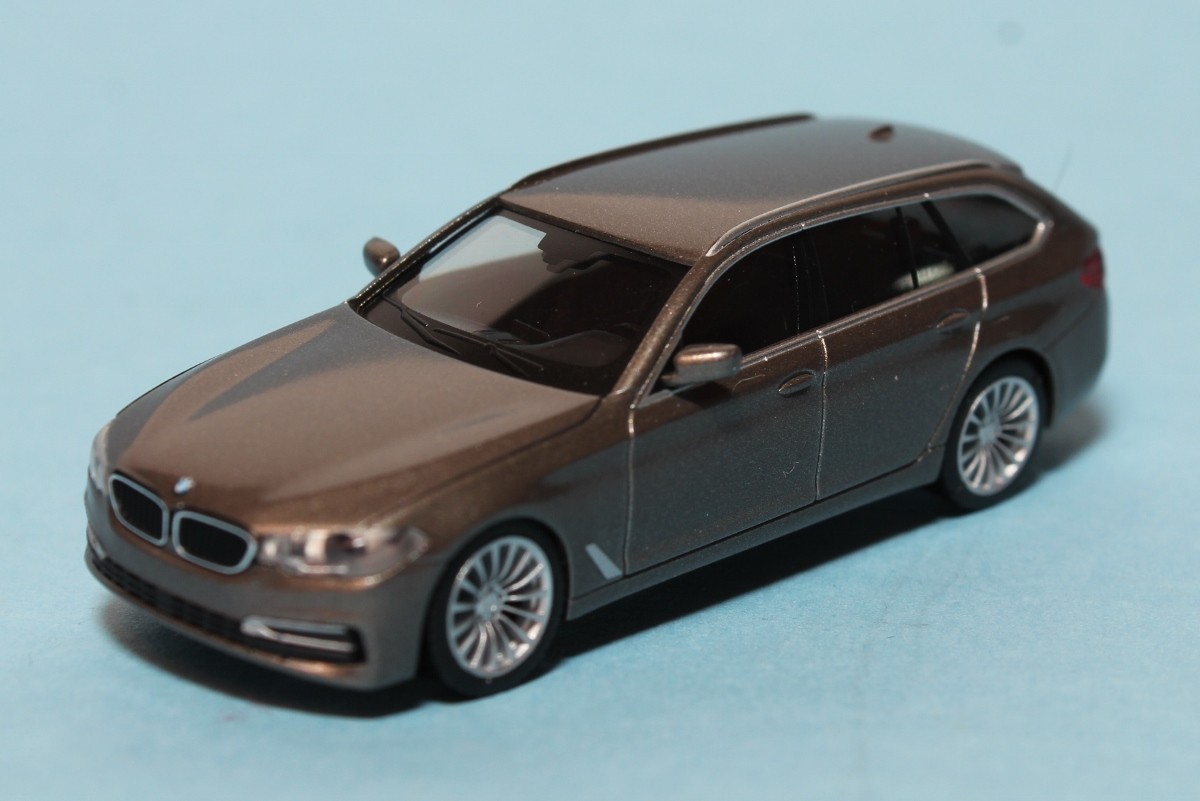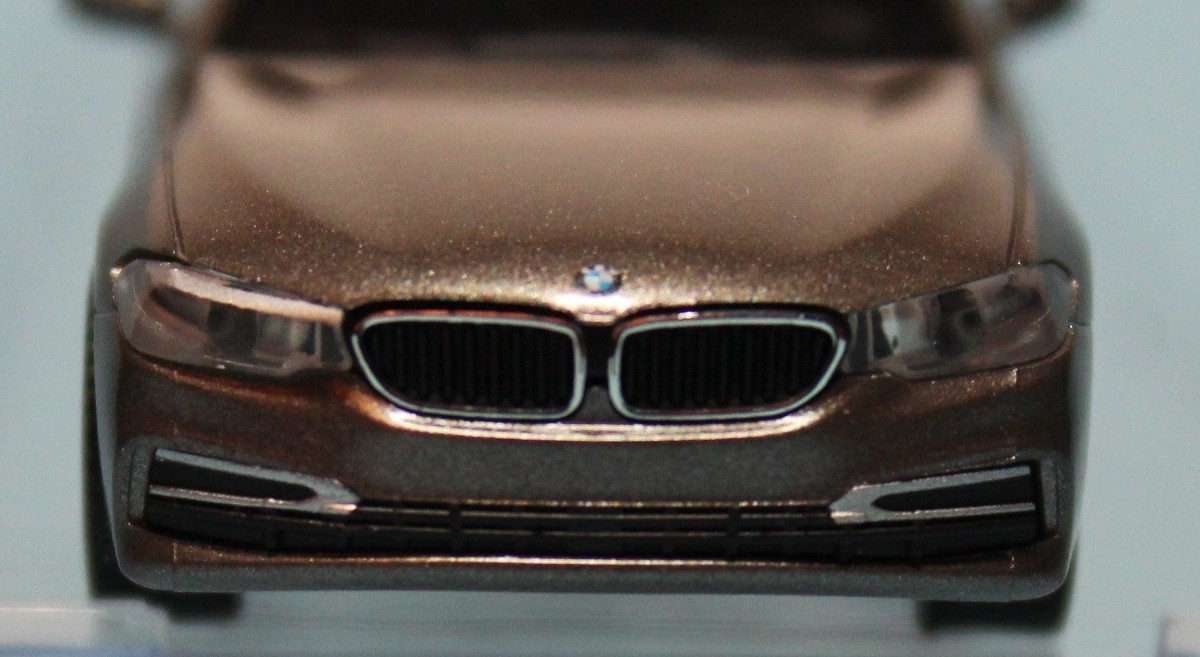 Protective Cradle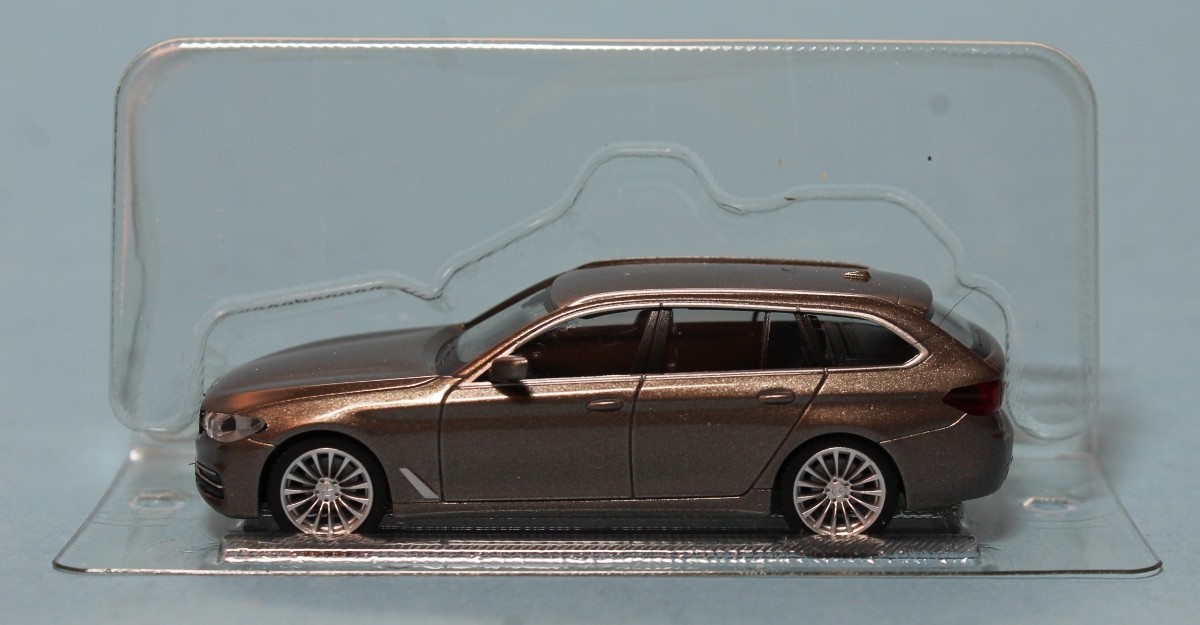 Detail & Finish
Detail and Trim

Your model features headlights of clear lenses. The tail lights are red-tinted clear lenses. Detail inside the passenger compartment includes a dashboard, steering wheel, gear shift, and bucket seats. Herpa even attached a thin rear view mirror to the windshield. This detail is easiest to see through the front and rear windshields, and can be seen through the side windows. Those windows are crystal-clear and without distortion.
The underside is a token low-relief representation.
This automobile is trimmed with silver chrome around the windows. The black grille also sports chrome detailing. Wipers are molded into the windshield chrome. The model features separately applied side view mirrors. Two exhaust ports peek out from underneath the rear bumper.
Finish

The model is painted Atlas Cedar metallic and the finish is smooth. It is also available in a white finish, and in atlas cedar metallic. The rims are molded in color. The BMW emblems are painted on the nose and rear; Herpa does not use decals. Despite the photos, they are completely legible!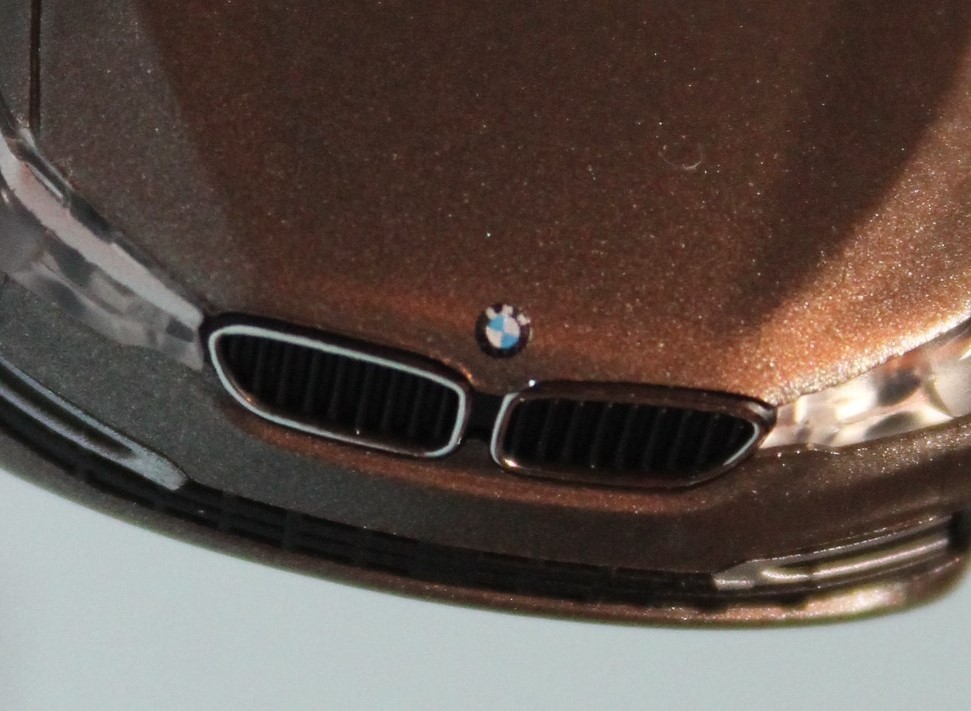 Conclusion
Herpa's HO BMW 5er Touring is a marvelous model of a modern luxury car. It features sharp molding and finish, and separately applied side mirrors. The nice interior can be seen through the clear windows.
Each one you add to your modern model railroad or diorama will enhance it. Recommended.
Please remember, when contacting retailers or manufacturers, to mention that you saw their products highlighted here - on RailRoadModeling.
______
Source
* BMW. BMW 5 Series Sedan. [http://www.bmw.com/com/en/newvehicles/5series/sedan/2010/showroom/technical_data/index.html] 2019.
Wikipedia
Halographic Licensing Label