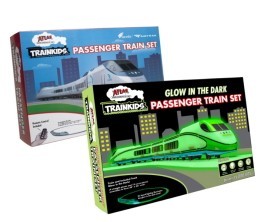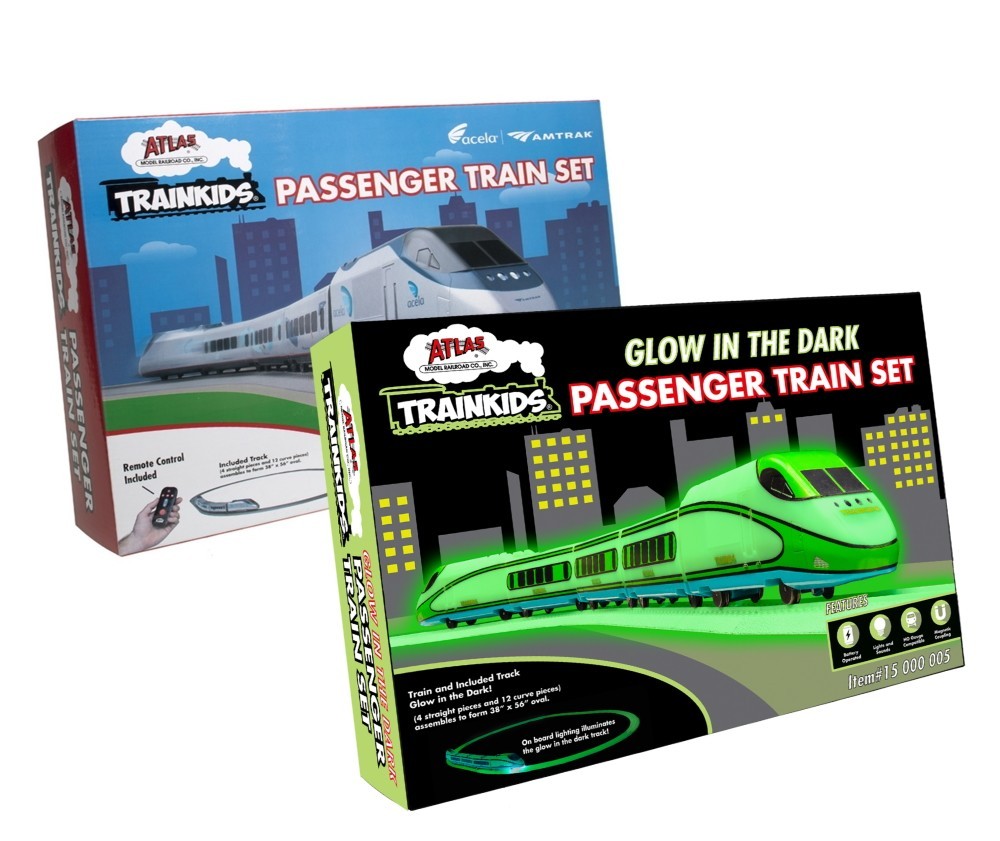 Atlas Trainkids® Passenger Train Sets
It is good to see model companies appealing to younger generations.  With their Trainkids sets Atlas fills the gap between Thomas and Brio, and electric model trains.  It also gives dad a way to share the hobby with the "new hires."   With a peek at DCC, we have sound and lights:
headlight
horn
bell
"Welcome Aboard" announcement
You remember what it was like with glow in the dark paints and items. don't you?   Who doesn't want to see a phosphor Amtrak® Acela® racing across a grade crossing, or flicking through the trees? 

Trainset includes:
• Amtrak® Acela® Powered Locomotive and First Class Battery Car
• Cafe Car, Business Class Car and Unpowered Locomotive
• 38" x 56" oval incl. 12 Pieces of Curved & 4 Pieces of Straight Track
• Remote Control operated headlight, horn, bell & "Welcome Aboard"
announcement
*Battery Requirements (not included)
• 4 "AA" Batteries for the Train
• 2 "AAA" Batteries for the Remote Control
Not enough train for you?  Individual cars and locos are available, as are track extension packs.

Atlas Trainkids® Passenger Train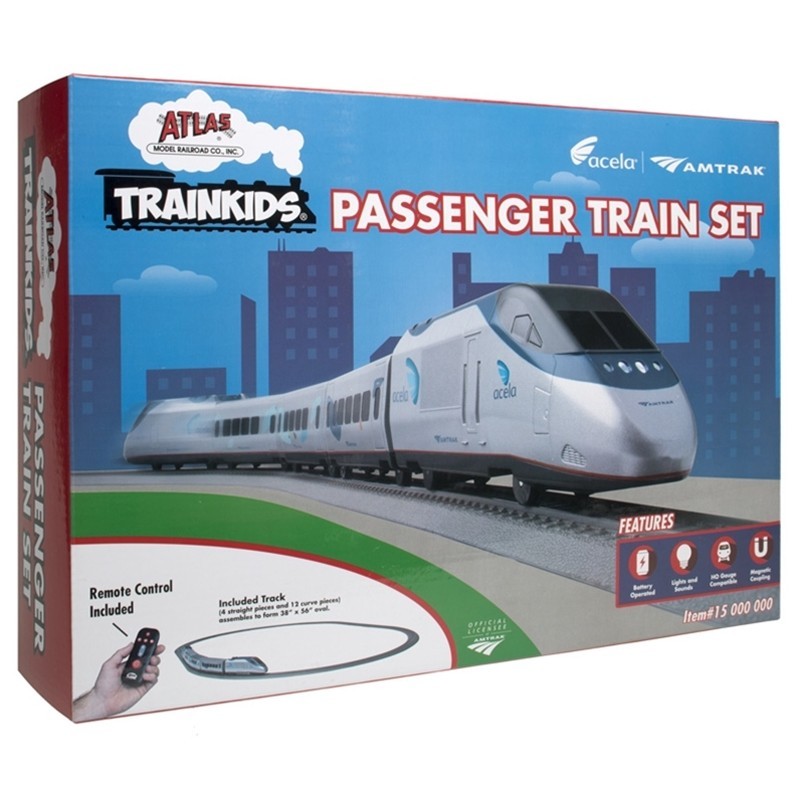 A Bright Idea
Atlas has released a Trainkids® Glow in the Dark Passenger Train Set.  It has all of the above and it also glows!

Want to go beyond the loop or the figure 8?
For both the Glow in the Dark set and the regular set, Atlas has track sets to expand your kid's layout and imagination.    Switches, crossings, and re-railers.  These are available as separate sets or in packages.  Eighteen different track packages are available and you can see them through this link.

Figure-8 Expansion Set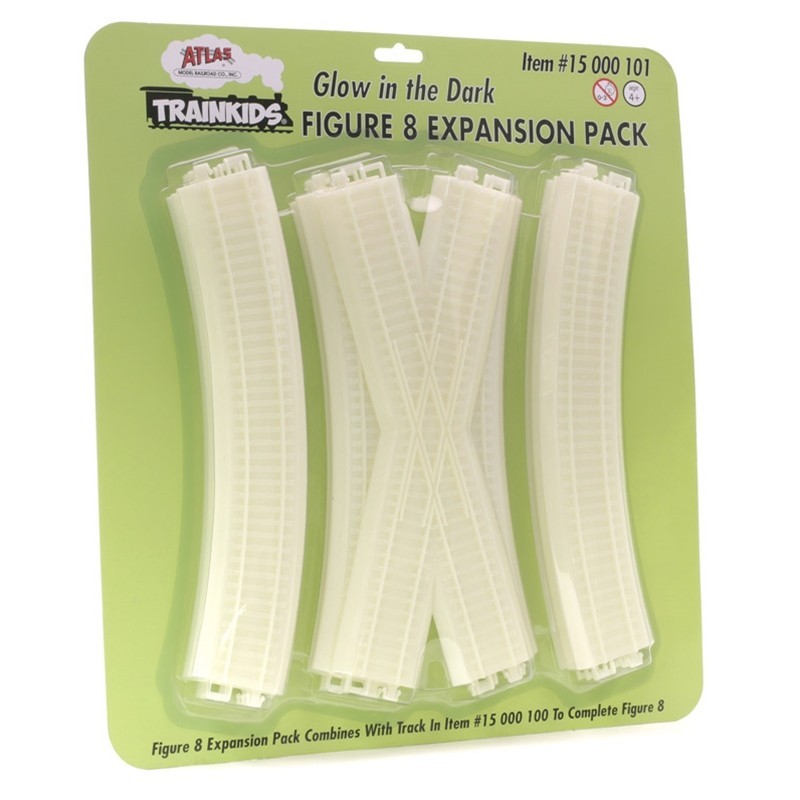 Left & Right Switch Set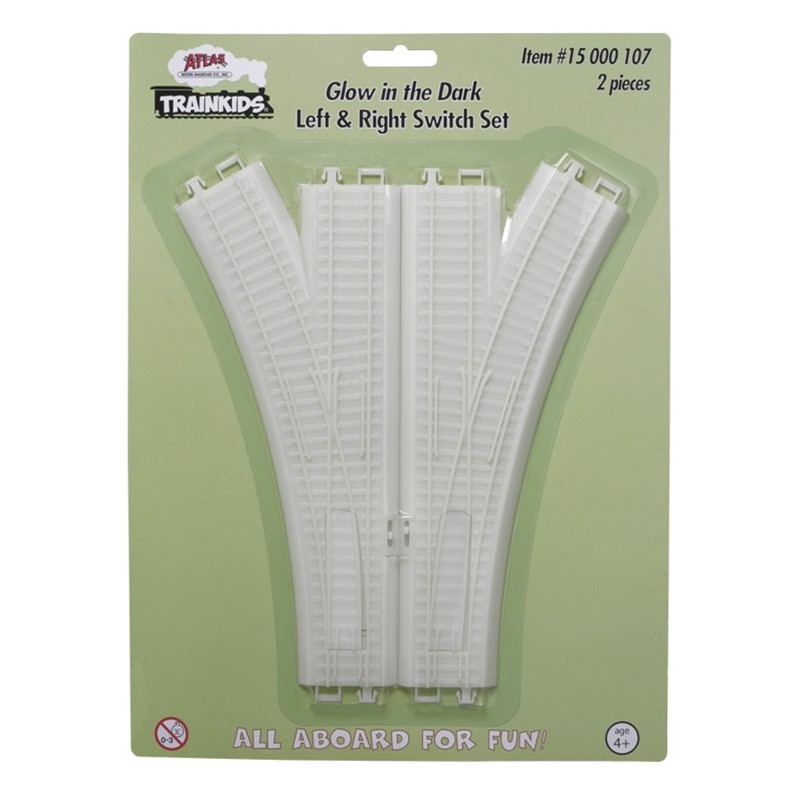 Atlas Trainkids® Train Set