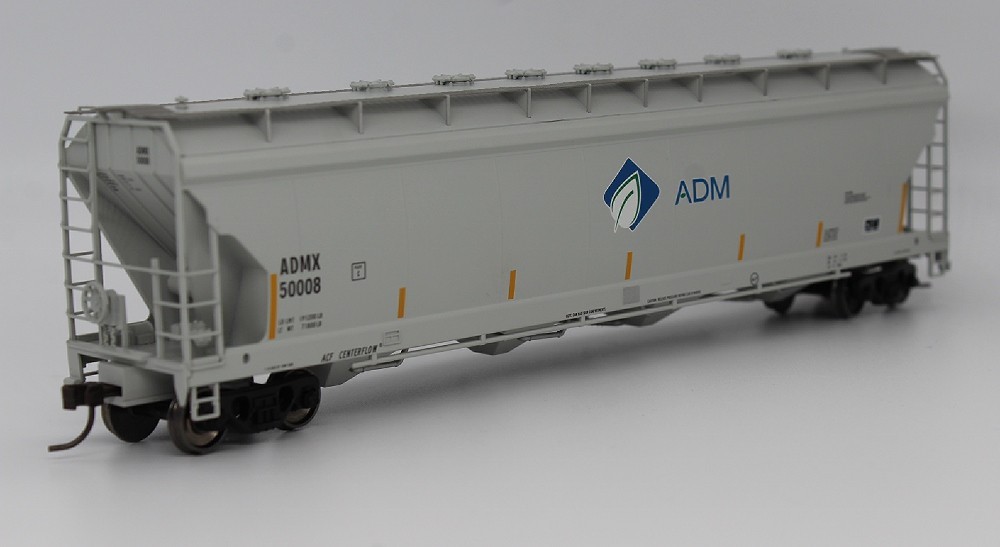 Introduction
Atlas' sixth release of HO ACF Pressureaide Covered Hopper adds eight new road names and even more road numbers  to the range.   Two of the road name designs are ADM, this subject being  ADM  #50008, with the leaf logo, ITEM# 20006269.  Atlas writes of the design;
Atlas' Center Flow Pressureaide Car is modeled after ACF's freight car designed to handle dry, powdered commodities for fast, efficient unloading.

Covered hoppers are ubiquitous across North American railways.   They can be found as solid unit trains of nothing but covered hoppers, in clusters of covered hoppers, and as single elemnts of a consist.   American Car and Foundry designed Center Flow covered hoppers in the early 1960s and debuted the Pressureaide model in the late 70's.  A Pressureaide hopper used 15 psi to assist with unloading light powder loads like flour.  They are conspicuous by the extra piping along the sill and broader stiffener along the upper sides.
American Car and Foundry (ACF) began in 1899 by combining over than a dozen rail car manufacturers.   ACF built freight and passenger cars, and railcars.   Today it is ACF Industries.
Interested in technical and bureaucratic trivia?    According to Railroad Picture Archives, a covered hopper AAR Class is:   

LO: A permanently enclosed car, other than a box car, regardless of exterior or interior shape, for handling bulk commodities, with or without insulation and provided with openings for loading through top or sides with weather-tight covers or doors. Car may be provided with one or more bottom openings for unloading, with tight fitting covers, doors, valves, or tight fitting slide or gate to prevent leakage of lading. Car may be provided with facilities for discharge of lading through openings in top or sides and may have one or more compartments. Mechanical or other means may be provided within car to expedite loading or unloading.

AAR Type:    C614

Detail Info:      Covered Hopper, Pressure Differential, Permanent Roof, Greater than 5000 cu ft capacity

Plate:      C

Max Gross Weight:      263000

Load Limit:      191200

Dry Capacity:      5000

Ext L/W/H:      59' 5" / 10' 8" / 15' 6"
Atlas HO Pressureaide Centerflow Hopper
Atlas secures this model in a form-fitted light plastic cradle, enclosed with a snap-tight clear top.  A soft  sheet protects the model from scuffing.  That ensemble is packaged an end-opening carton with a viewing window - the model is its own box art.  Enclosed paperwork includes the warrenty card and registration material.  I miss the days of an exploded diagram of the model with part numbers.
The viewing window presents a striking model that only looks better when I removed it from its packaging.    The model is cleanly molded and assembled.  Looking it over I did not see any flash, mold seams, ejector marks or sink marks.  There are no visible glue smears or de-spruing burrs, either.   I did notice gaps between the end ladders and body.   Atlas simulated the vertical weld lines joining the nine panels that build the hopper body, and other surface details.
I did not try to disassemble the model, which appears to be a one-piece body (sides and ends) mounted to a bottom/frame, with a separately attached roof.  Ladders that frame the end cages are a separate part.  As are the air brake components, pressure piping, and load hatches.  Atlas boasts of the following Features:
Etched metal roof walks
Detailed brake gear with scale piping
Blackened metal wheels
Accurate painting and printing
100-ton roller-bearing trucks and body mounted AccuMate® couplers with screw-attached coupler pockets.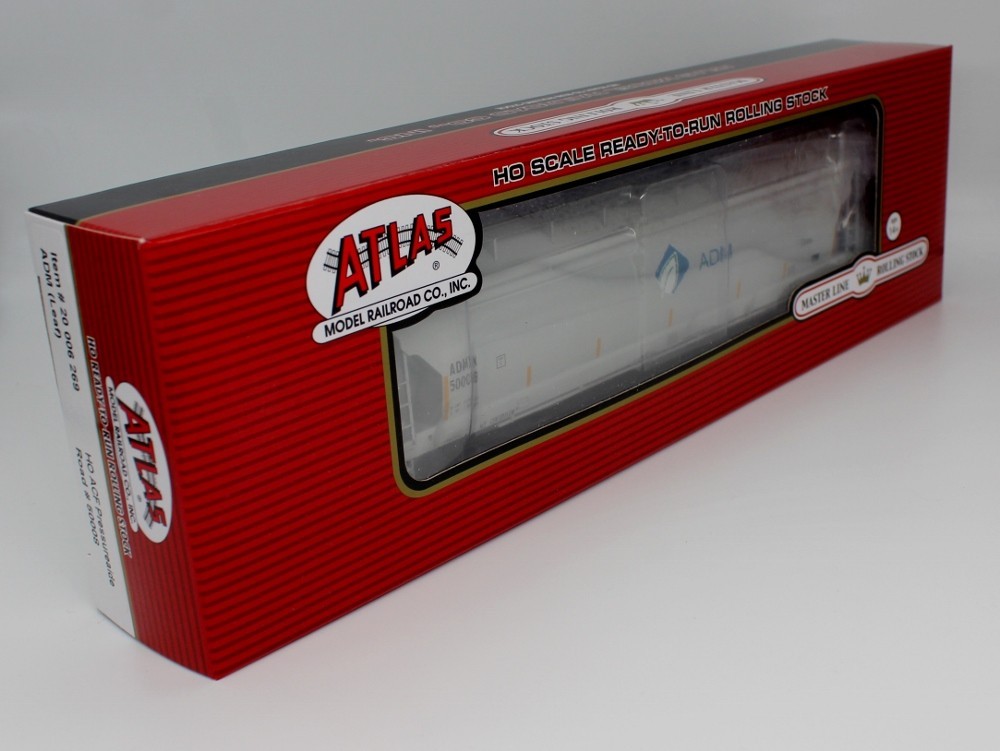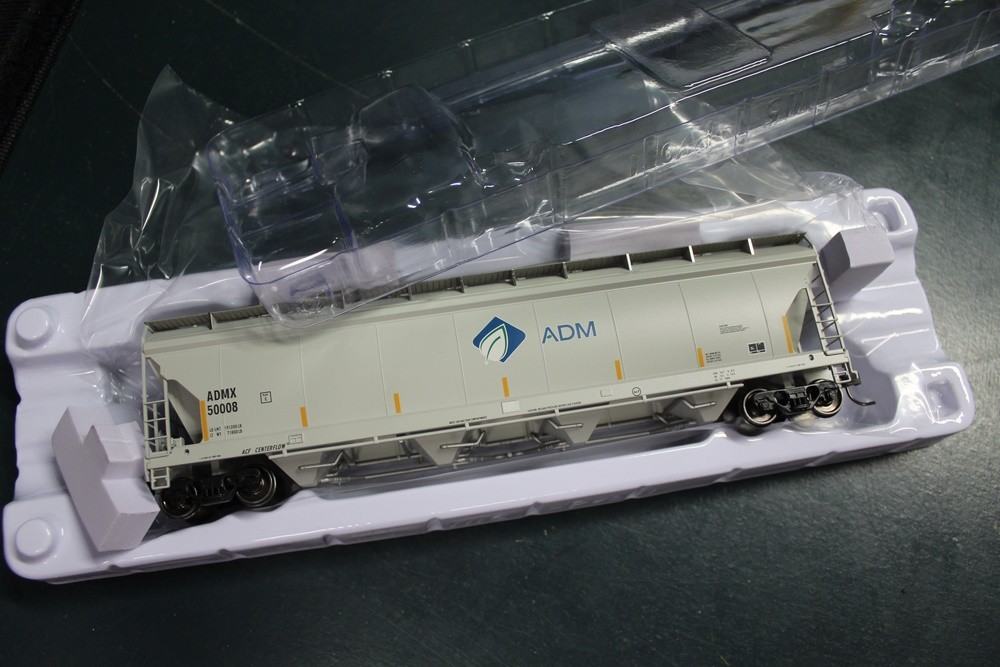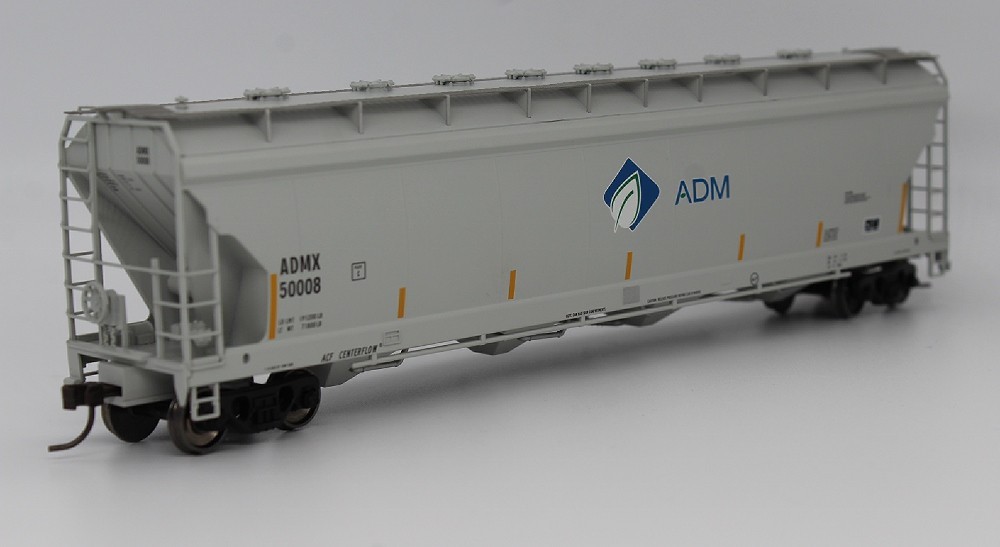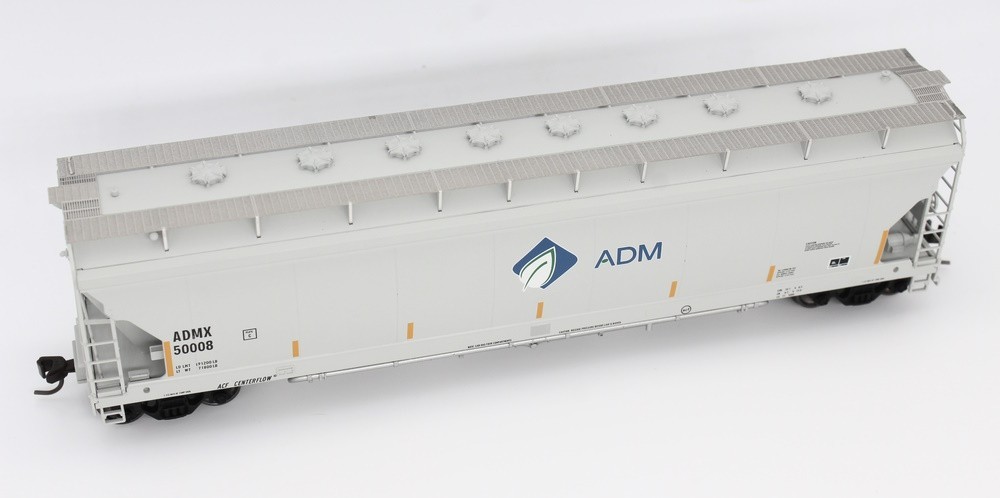 Detail and Performance
An appreciable amount of detail is molded or attached to this model.  The pressure piping, different hatches, brake apparatus.  The metal roof walks kick it up a level.   To bump the model up to another level of detail, three items immediately come to mind - cut levers, an etched metal step over he draft boxes, and piping to the air brake components in the B-end cage.  Atlas equips some Master Line cars with such items.
This car has metal wheels and rolled well along Atlas code 83 track and across an Atlas switch, and through a Peco code 80 slip-switch.  Dimensional, I only checked the length, which measures 59' 3", just two inches short of the prototype, and within my margin of error.  Coupler height is good.   NMRA RP.20 recommends this car to weigh 5.09 ounces, and it weighs 6.5.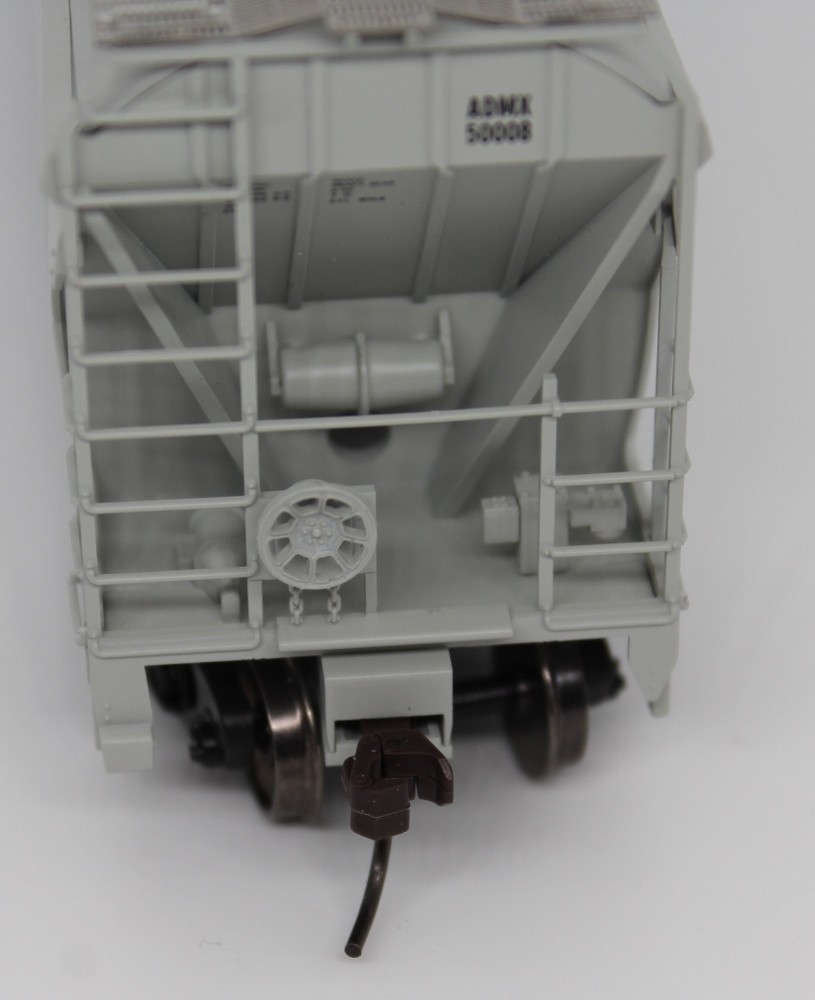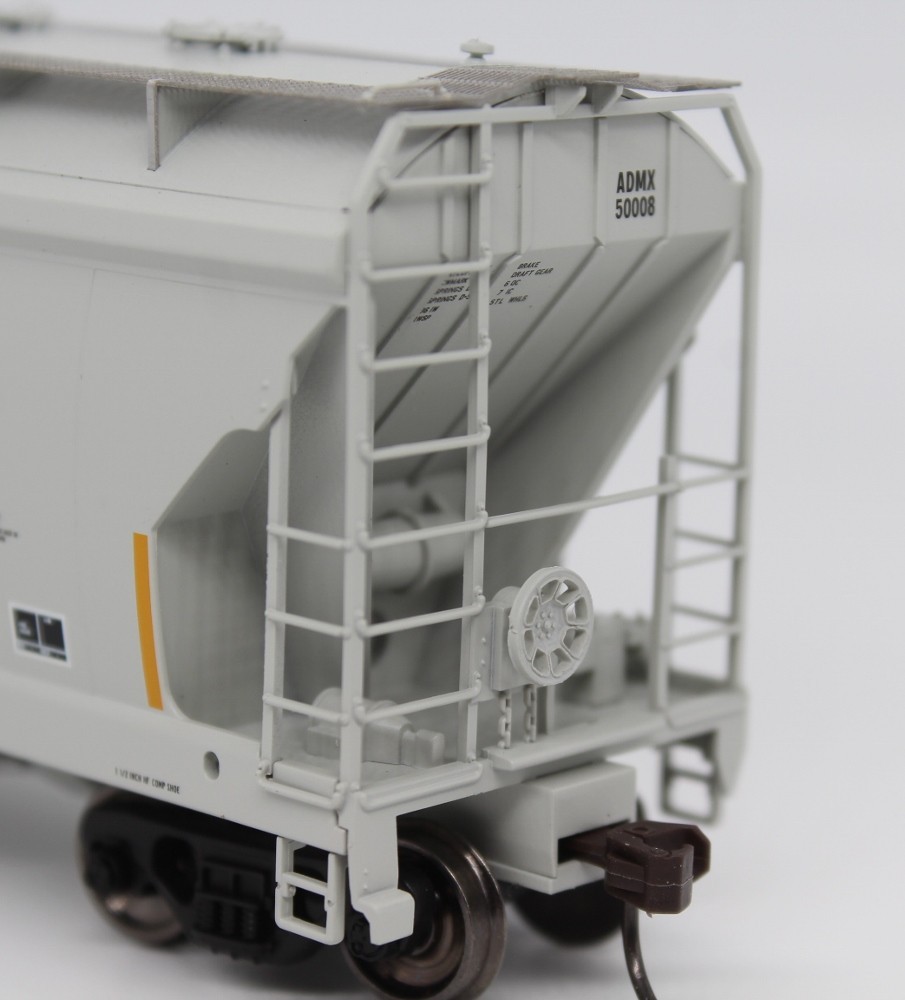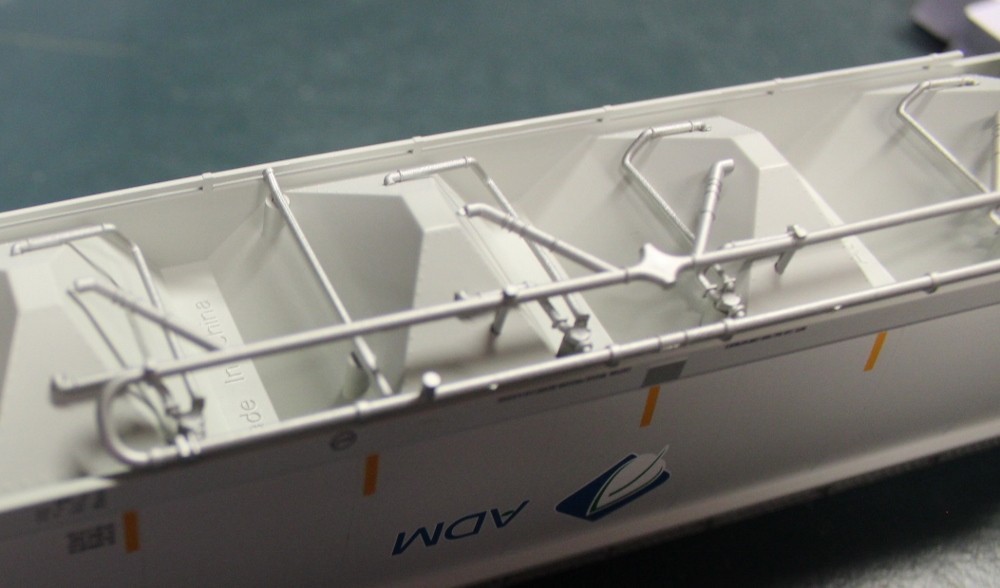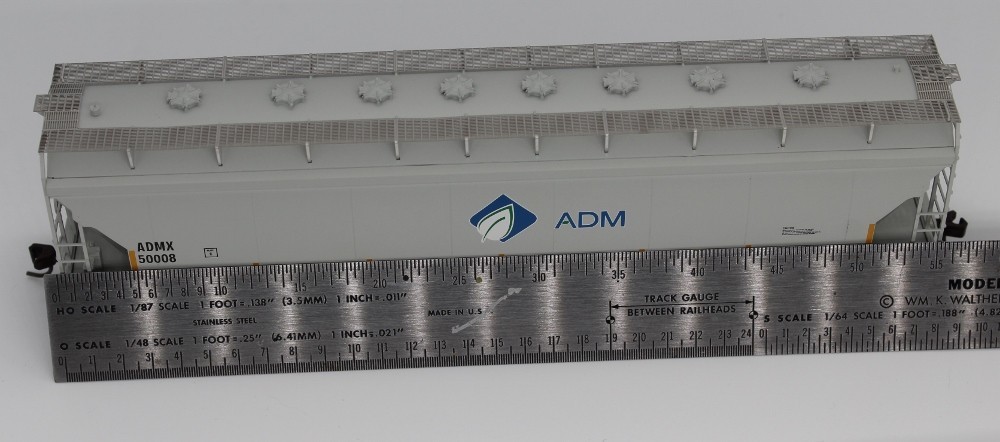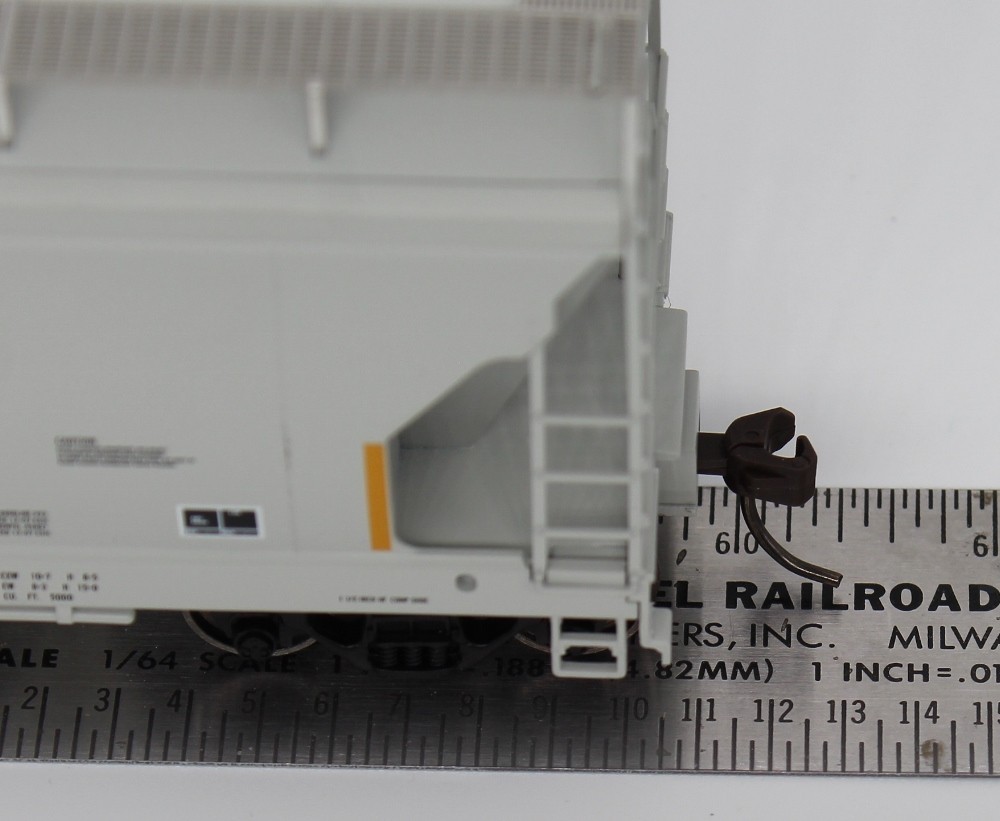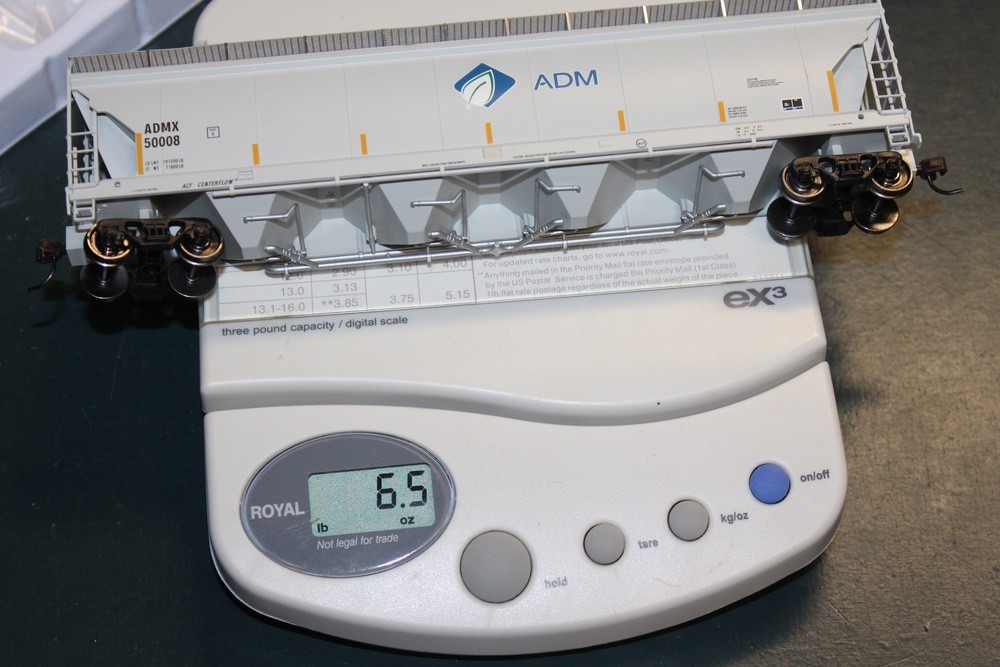 Paint and Markings
Atlas puts a lot of effort into creating superior finishes on their models.  The paint is opaque but does not obscure detail.  Printing is sharp and fine and legible.  On this model one can read the consolidated stencil and other equipment data, i.e., 2 Inch Compressible [brake] Shoes.  Look at the photos to see what I mean.  This run of ACF LOs include nine new road names, each with multiple road numbers, and even an undecorated model.  This model is decorated for ADMX 50008, two images of which are available to view via this URL. 

1. ACFX (Venturi) (White/Blue)
2. ADM (Molecule) (Gray/Blue)
3. ADM (Leaf) (Gray/Blue/Green)
4. Luzenac America (Green/Orange/White)
5. Grace Davison (Green/White)
6. OMYA (White/Blue)
7. Solvay Chemicals (White/Black)
8. ACFX (Venturi) Orange Sill (White/Blue)
9. Penwest (White/Blue)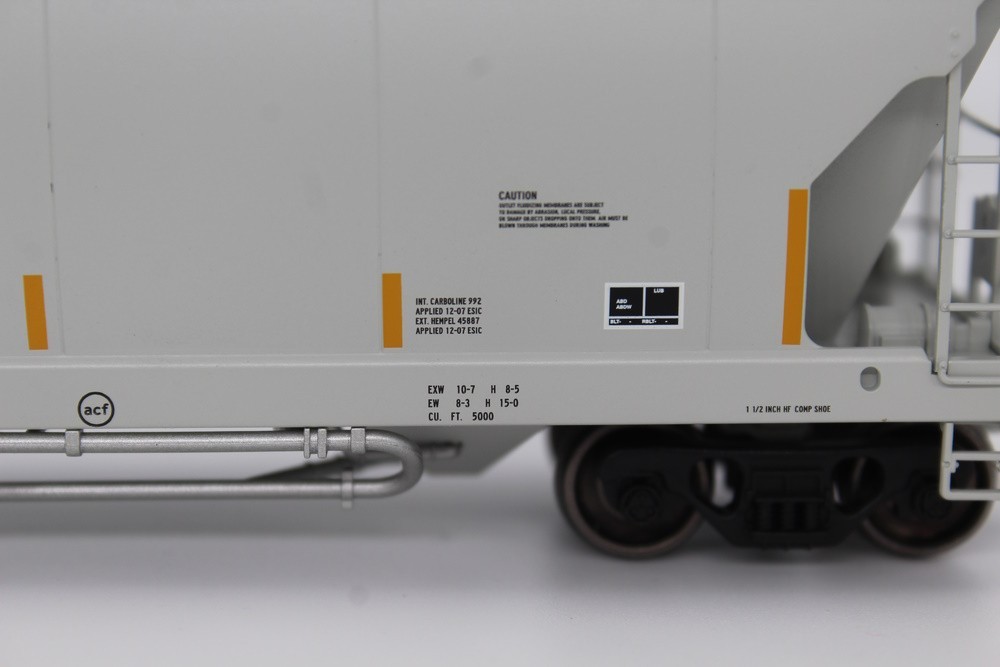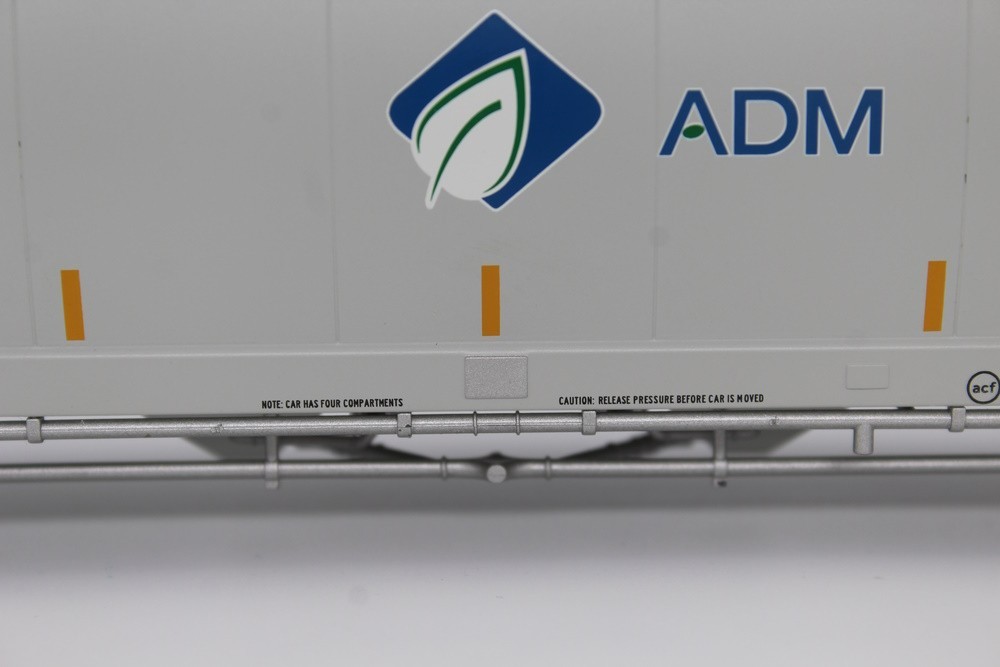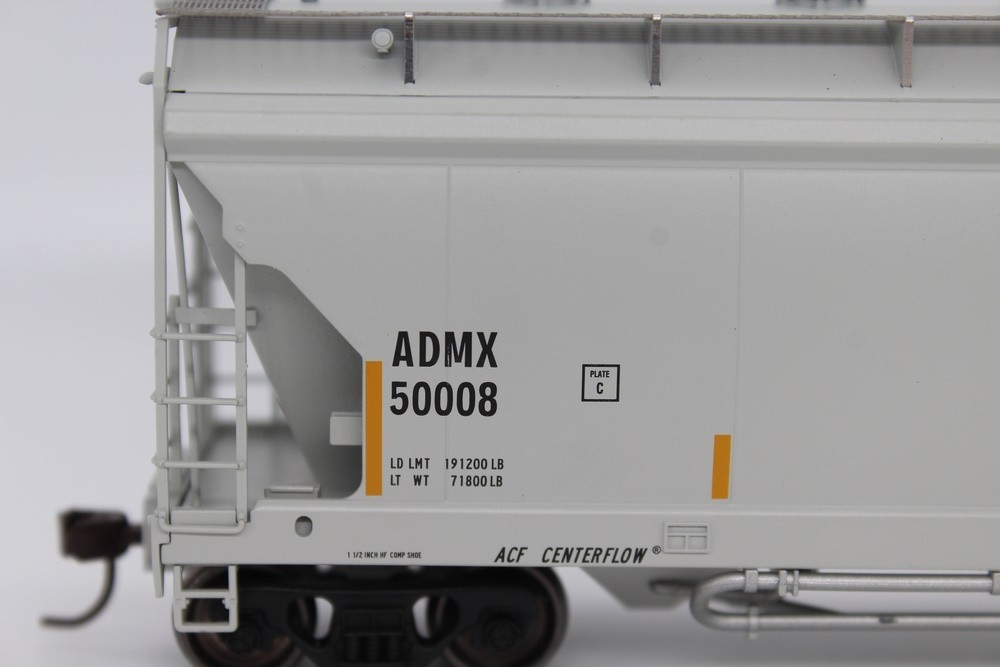 Conclusion
With this ACF Pressureaide Covered Hopper, Atlas offers a nice model for modern era freight railroading. It performs well. The paint and livery is second to none. Etched metal roofwalks are impressive. I would like to see the metal etches walkways installed across the couplers, and cut bars and piping.
Regardless, I am impressed with this model and think modern railroad modelers might enjoy several of them on their layout. Recommend.