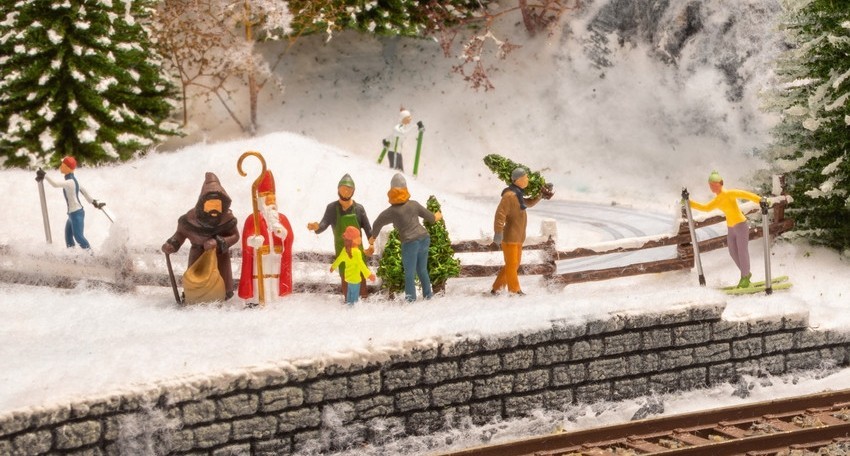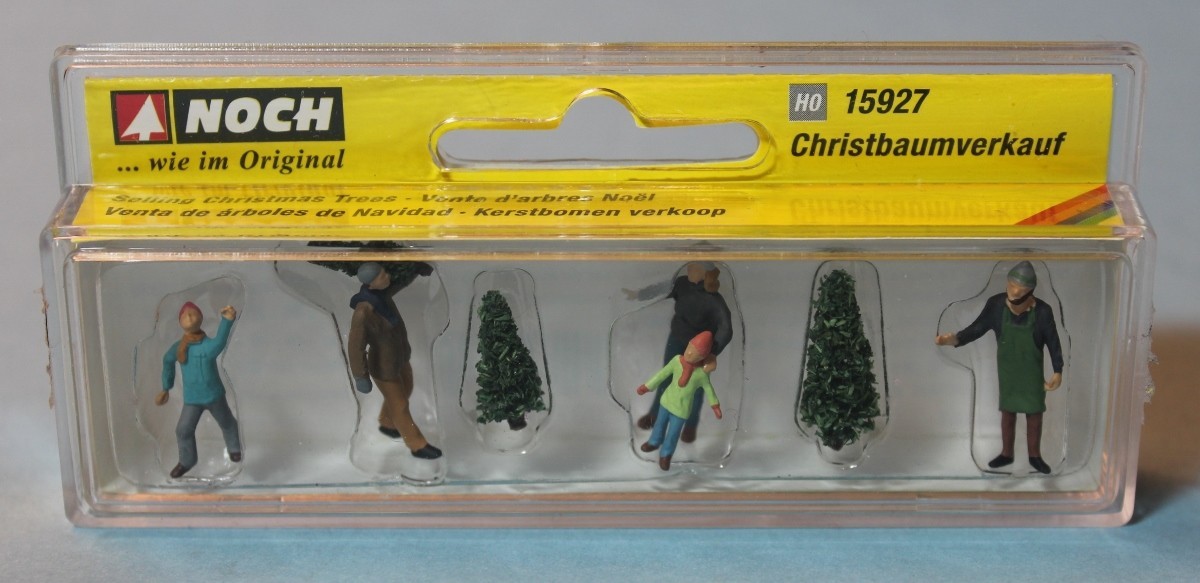 Browsing the Lot
Selling Christmas Trees, item/Ref. 15927, is a set of seven (7) pieces - five figures & two Tannenbaums.  These are part of NOCH's themed sets for the Wintertime series.  This review is the HO offering, and NOCH produces this set in TT and N scales.

NOCH describes the concept of this set thus:
Without a Tree, There's No Getting into the Christmas Spirit.   In order to create a realistic NOCH winter landscape, winter figures are perfect for enchanting every diorama into an even more realistic wintery nature scene. An illuminated fir tree should not be missing from any model landscape at Christmas, because it really brings the Christmas spirit with it. The »Christmas Tree Sale« is thus indispensable to designing great decorated model fir trees. Secure your own Figures Set and design a great Christmas tree for Christmas.
NOCH offers many models and accessories for Advent, including laser-cut buildings, as can be seen here: NOCH Advent

NOCH currently catalogues 10 model Christmas trees, several equipped with LED lights.  These models are a variety of heights, 5-40cm, scaled for Z through G scales: Illuminated Christmas Trees.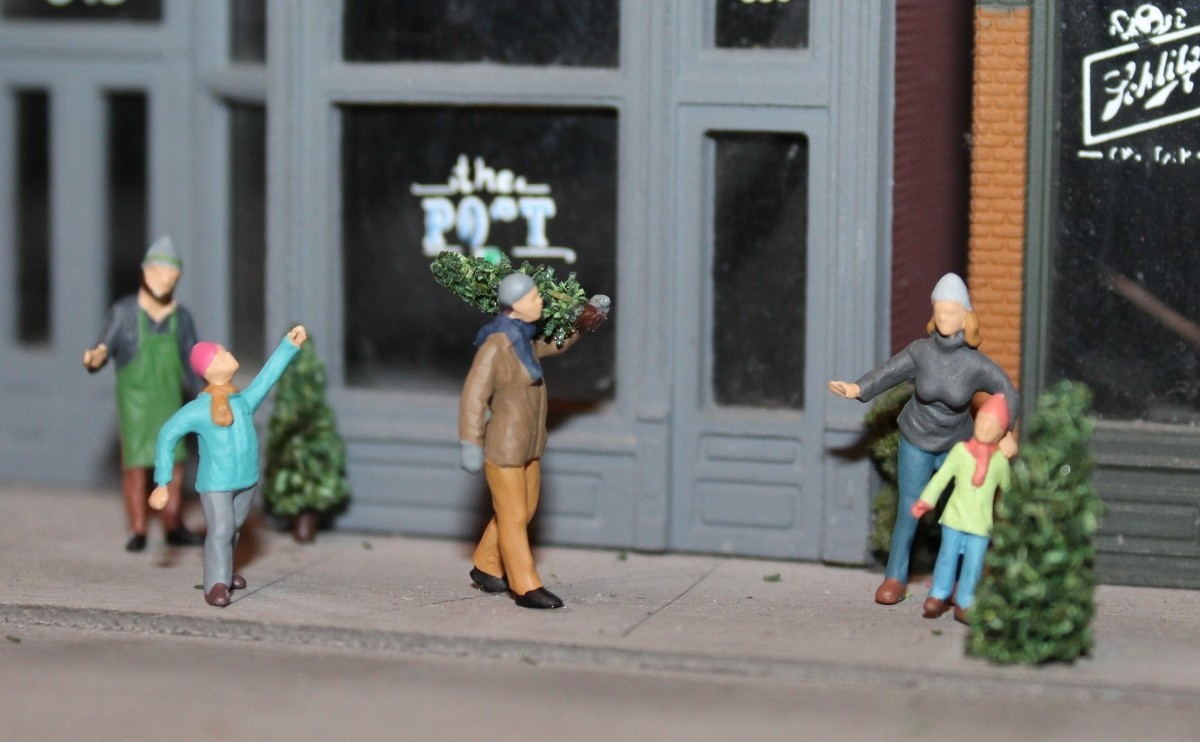 The Set
Selling Christmas Trees is packaged in a hard clear plastic top-bottom case. It is designed to stack on other such cases or hang from a post, a feature many modelers appreciate. The figures are securely ensconced in a form-fitted cradle. The only "box art" is the yellow paper NOCH uses for labeling.
NOCH's sculpting and tooling created fine detailed injection-molded figures. I found no flash, sink marks, noticeable seam lines, nor ejector marks on them.
Aside from a pair of Christmas trees waiting their forever home, the figures are:
Man with his prize over his shoulder

Youngster "helping"

Mom & daughter in awe of trees

Salesman
All of the figures balanced on the surface except the salesman, and the man carrying the tree. Both of the trees will need adhesive.
After posing and photographing this set, I realized that the right arm of the lady and child figures is meant to touch the top of the small Christmas tree, and the raised hand of the youngster reaches to the top of the larger tree.

Detail
Each of the figures are nicely detailed for 1/87.  You can see some facial features, and the clothing is well represented.  Poses look natural.  I did not notice until enlarging my photographs that the trees are detailed with flock!
The figures were painted at the factory.  This enhances the detail as the quality of painting is good.  Under magnification one might find some wild brush strokes but unless you look for it, there is none to see.
Modelers can use these figures as-is, or can add further painted enhancements for even more detail.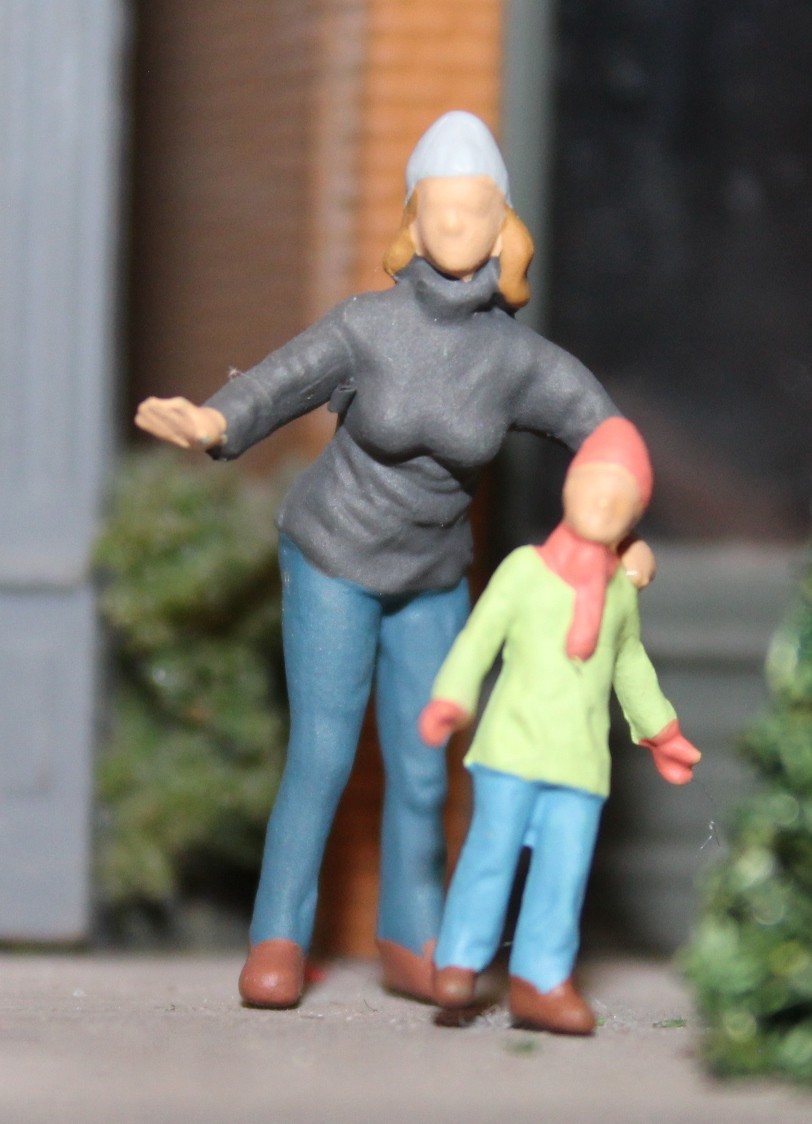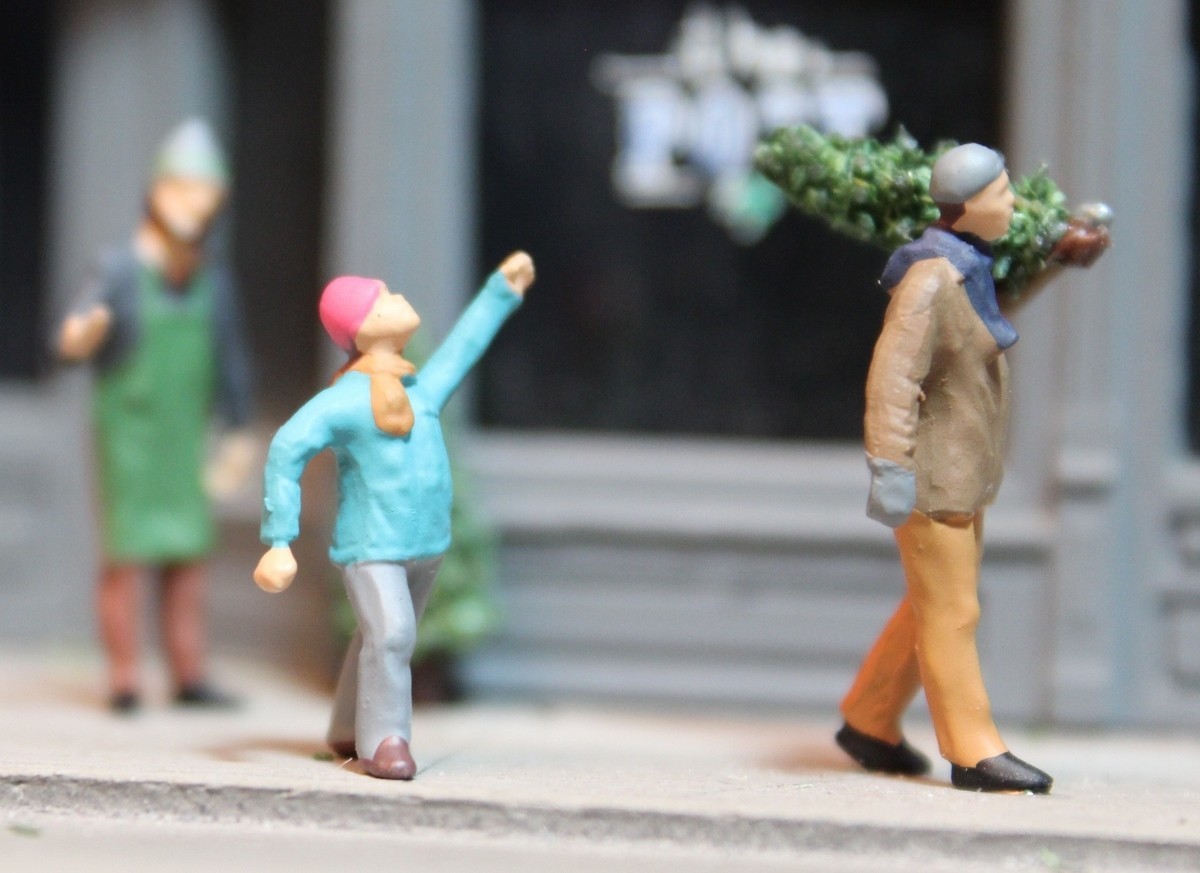 Conclusion
This NOCH set of Christmas Tree Shoppers is very good.  It will strengthen your holiday winter HO diorama or layout ambience .  Each figure features remarkable detail, both sculpted and painted-on.  The trees are flocked.

No objective complaint can I level a toward this set.  I am satisfied with how they look on my display and recommend them.
Please remember, when contacting retailers or manufacturers, to mention that you saw their products highlighted here - on RailRoad Modeling.