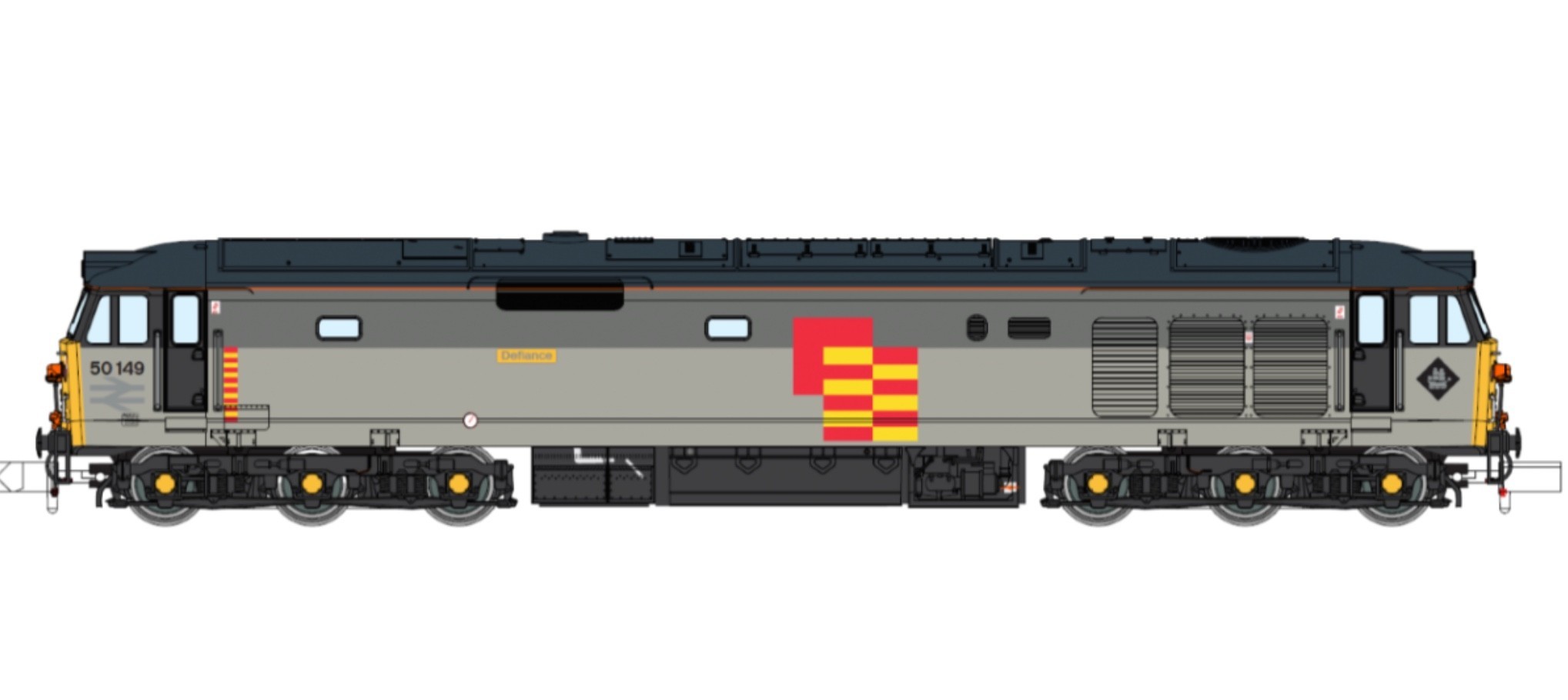 The BR Class 50 is a type of Co-Co diesel locomotive built by English Electric at their Vulcan Works in Newton-le-Willows. Fifty locomotives were built between 1967-68 and initially leased to BR (fully purchased in 1973) to haul express passenger trains on the (then) non-electrified West Coast Line between Crewe and Scotland. After the West Coast Line was electrified, these locomotives were transferred to the Western Region, working from London Paddington to the South West, Oxford and from Birmingham to Bristol. In the late 1970s the fleet was refurbished and named after Royal Navy Warships. These newly refurbished locomotives, with their simplified electrics, high intensity headlights and new BR Blue large logo livery worked out of Paddington and Waterloo to Salisbury and the South West. The Class was slowly withdrawn from the early 1990s with the last one being decommissioned in 1994. More than 20 survive into preservation including class pioneer D400 (50050).
Our second Next Generation Diesel model, with entirely re-designed chassis and electronics. This model will also incorporate our new iron cored 5 pole motor offering excellent slow running and exceptional pulling power with reliability and robustness.
The Dapol Class 50 will include the following features:
Smooth running 5 pole next generation motor
All wheel pickup
All wheel drive via re-worked smooth drive low maintenance mechanism.
Die-cast chassis
DCC Sound ready, Next-18 decoder socket (recommended 6 function decoder)
Independent directional front/rear main lighting control
Independent directional front/rear cab lighting control
Main lamp and cab lighting override switches for DC users (Independent front/rear control)
Removable self-centring close coupling mechanism with NEM pockets
Standard NEM fitting N Gauge couplers
RP 25 wheels
Detailed body and fittings
Printed name plates
Accessory bag with etched nameplates and detailed buffer beam fittings
Clip-fit body for easy DCC fitting
All Factory fitted DCC Locomotives will be fitted with Dapol's new Imperium Next 18 decoder
RRP: £255
Link to the vendors webpage 
https://www.dapol.co.uk/shop/preorder/N-Gauge-Preorder/N-Gauge-Class-50-Sound-Fitted%20/2D-002-005S-N-Gauge-Class-50-Defiance-50149-Railfreight-Grey-Refurbished%20-DCC-Sound-fitted
Please remember, when contacting retailers or manufacturers, to mention that you saw their products highlighted here – on RailRoad Modelling.