Introduction
GP-38-2 Kansas City Southern No. 2034 from Atlas Model Railroad is a HO locomotive equipped for the Gold Series, item 10 002 383.  The Gold Series features a dual mode DC and DCC control system with ESU "Essential Sound," which enhances it above the analog Silver Series.
 This model is particularly exciting as it is decorated for perhaps my favorite of the "big six" railroads in the U.S., the bold Kansas City Southern (KCS).
Two KCS locos carried the road number 2034, the first being an AC44CW, until c.2005. Photographs of the GP-38-2 prototype KCS 2034 can be found via the link KCS 2034.

Atlas HO Trainman® GP-38-2 Locomotive
Atlas packages this model in a telescoping lid-tray carton. The lid has a clear sheet viewing window to display the model. Inside, the model is secured in a very effective three-piece plastic cradle; the third piece is a hard plastic base to which the locomotive is secured by two screws. Foam blocks buttresses the top of the body. Thus, it cannot shift about and scuff. It is also unlikely to topple out of the cradle if one handles it clumsily. (Don't ask how I know.) The screws hold the loco where the fuel tank is located, and two plugs are included to plug those holes.
A parts sheet of exploded-diagram line art is included. It shows all parts and components, most with its part number. However, while well detailed, it provides no guidance as to how to attach or detach anything.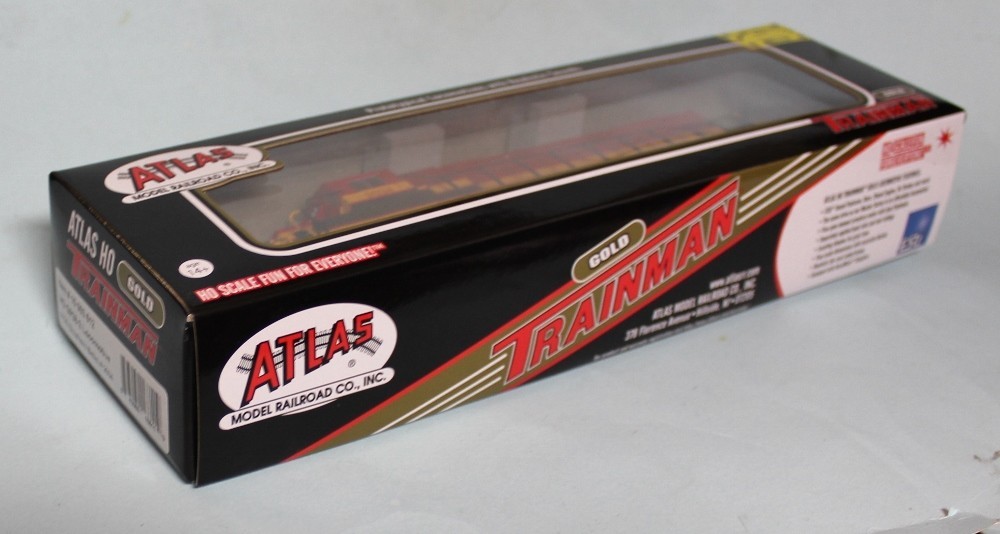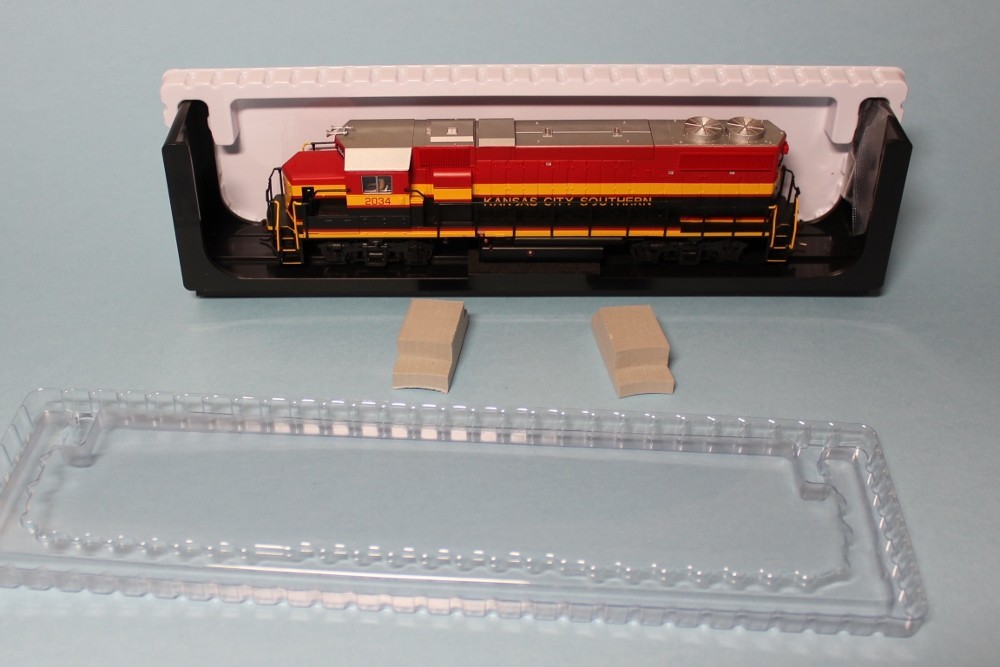 The box window allows for a good first impression. I immediately noticed a crisply molded and beautifully painted model. The styrene shell is crisply molded and detailed with molded-on/in hood access doors with hinge and latch detailing, a radiator cooling vent, rivet detail, hand grabs, lifting lugs, and such.
The model is engineered with plastic frames on metal trucks and wheels, a cast metal chassis frame for weight, an injection molded body shell and a sill, detailed with plastic and metal parts. It is further equipped with AccuMate® knuckle couplers. Inside the body is the same drive and five-pole skewed armature motor with dual flywheels as found in Atlas' Master Series™, in an affordable model.
The body shell is modular for equipment-specific details. It has a cutout for the dynamic brake roof. These snap into place, as does the single-piece cab. Two sizes of fuel tanks are available.

Details
Options for the Atlas GP-38-2 model includes a hood with or without dynamic brakes and an underframe with 2,600 or 3,600 gallon fuel tanks.

FEATURES:
•    NMRA 8-pin plug for DCC
•    The same drive as our basic Master Series™, in an affordable locomotive
•    Five-pole skewed armature motor with dual flywheels
•    Separately applied hand rails and end railings
•    Locating dimples for grab irons
•    True scale dimensions with accurate details
•    Realistic die-cast underframes
•    Equipped with AccuMate® Couplers
•    As with our Master Series™ GP-38, this model features either a 2,600 or 3,600 gallon fuel tank, depending on the prototype.
DCC OPERATION FEATURES:
•    Supports all DCC-programming modes
•    Flexible mapping of function keys F0 to F28.
•    A total of six DCC function outputs are available
•    Follows all NMRA DCC standards and recommended practices.
ANALOG (DC) OPERATION FEATURES:
•    The LokSound Select Dual-Mode decoder allows your Atlas Gold Series locomotive to be used on DC as well as on DCC layouts.
• Please note that the Atlas Quantum Engineer will NOT operate an Atlas Gold Series locomotive equipped with a LokSound Select decoder on an analog (DC) layout. However, the sound and lighting functions of the LokSound Select decoder in the Atlas Gold Series locomotive can be controlled by an easy-to-use basic DCC system
•    Also note that on a DC-powered layout, a DCC and sound equipped locomotive (such as the Atlas Gold Series GP38-2) CANNOT be consisted with another locomotive that does not also have both DCC and sound. (This statement does NOT apply to DCC-equipped locomotives operating on a DCC layout.)
•    Silver Sound Ready™
Atlas Silver Sound Ready models are equipped with a speaker for easy conversion to sound with the addition of a decoder. If you need assistance with the upgrade of a Sound Ready model, please contact Atlas Customer Service at 908-687-0880 or csdept@atlasrr.com
SOUND FUNCTIONALITY FEATURES (Gold Models with ESU "Essential Sound"):
•    4 function outputs with brightness control by CV
•    14, 28, 128 speed steps
•    Dual mode DC and DCC
•    4 air horns changeable by CVs
•    2 bells changeable by CVs
•    Full 8-notch prime mover sounds
•    Compressor
•    Dynamic brake
AccuMate® couplers are made under license from AccuRail, Inc.
This model is equipped with golden-white LEDs for illumination. Headlights, number boards, and cab lights illuminate.  The lighting is directional. A few individual pieces detail the superstructure and fuel tank.  The cab interior contains an interior wall, control stand, an engineer, a fireman, and seats.  The crew is painted and in different poses.  Atop the cab is a Leslie 3-chime air horn.  Each detailed truck side frame has a separately applied brake cylinder, piping, and spring hanger.  The AccuMate couplers are mounted to the frame instead of the trucks.  The cab is shielded from headlight and number board illumination.  Those separately applied hand rails and end railings are molded with a springy plastic to resist bending and breaking by ham-fisted hobbyists (like me).   A minor ding I have is that the throats of the air horns are not hollowed out.

What this Trainman model lacks are windshield wipers, sun shades, and most noticeably, MU and air hoses on the pilots.  Such details are found on Atlas Master Line models.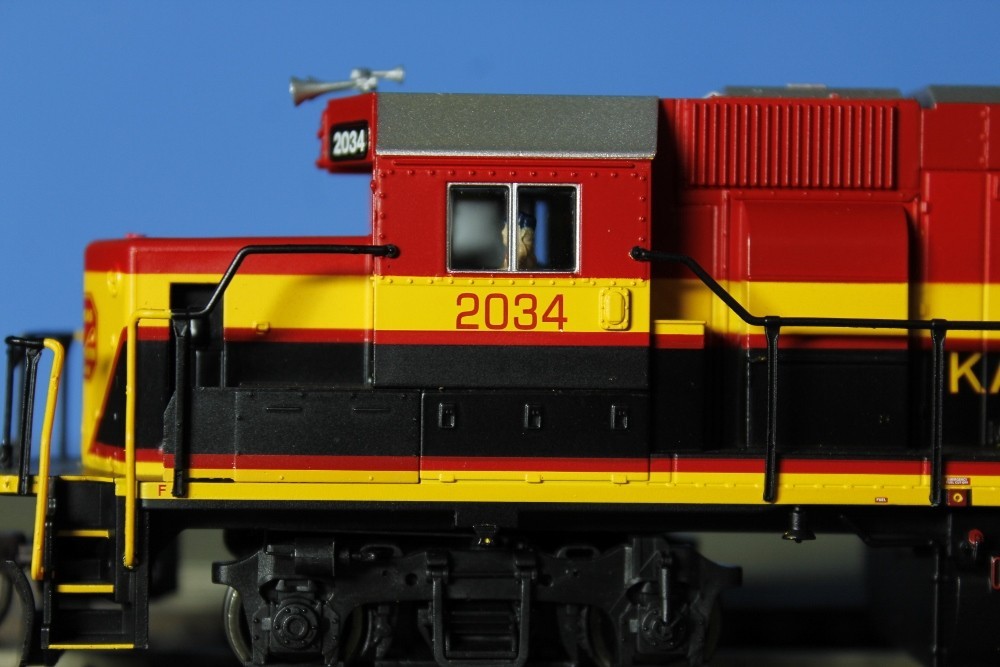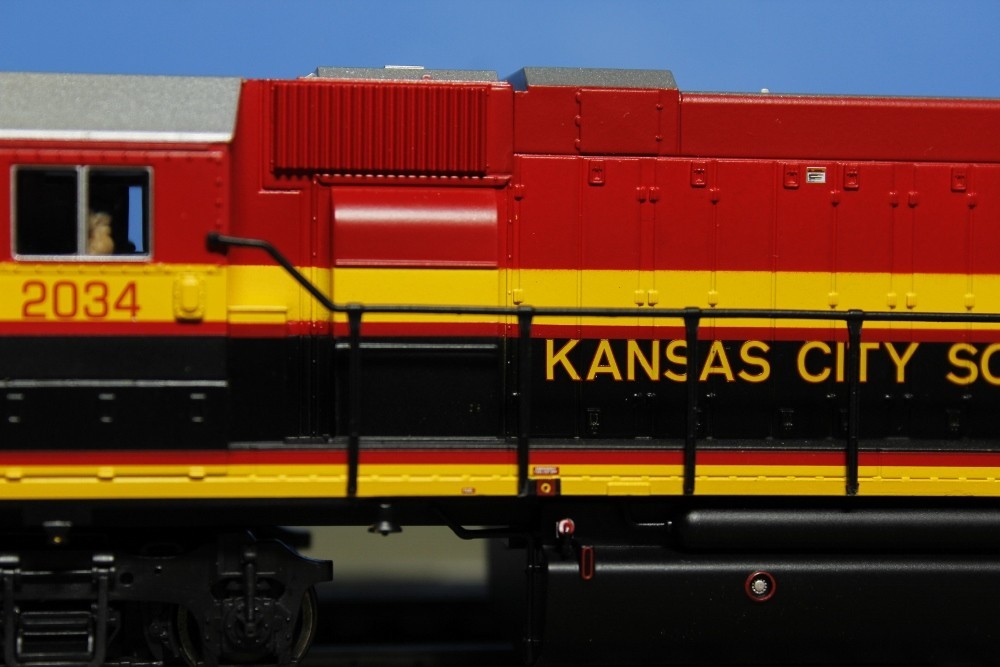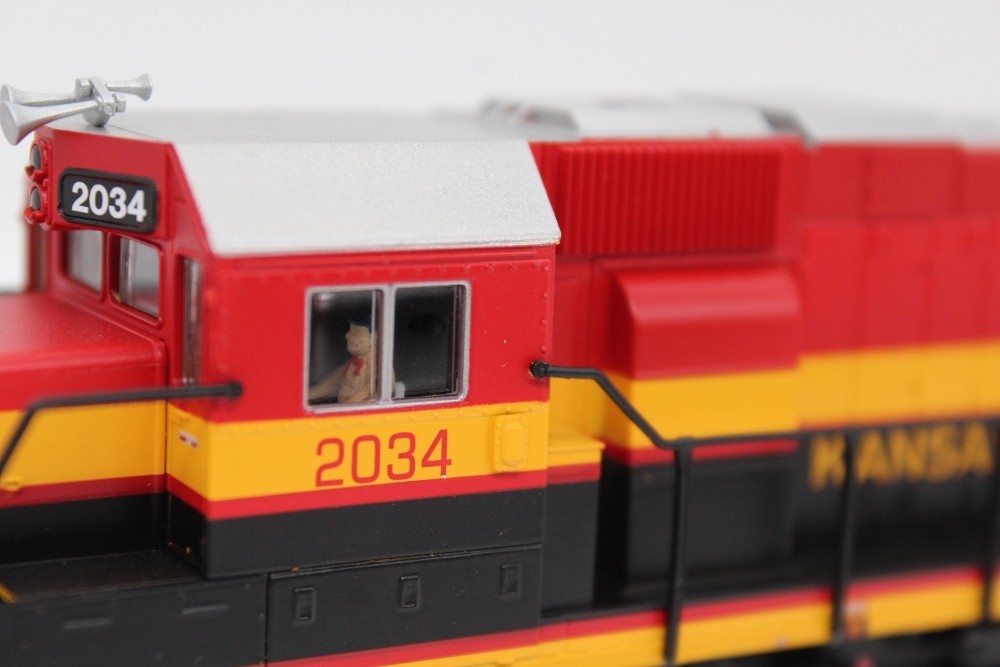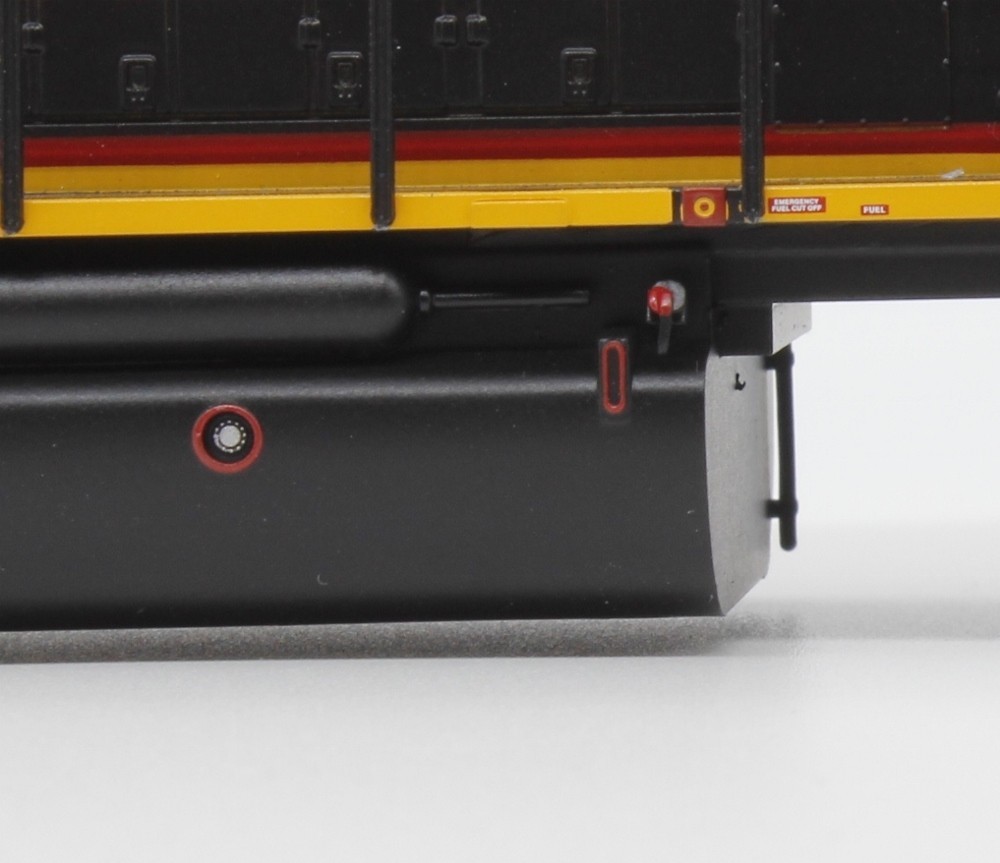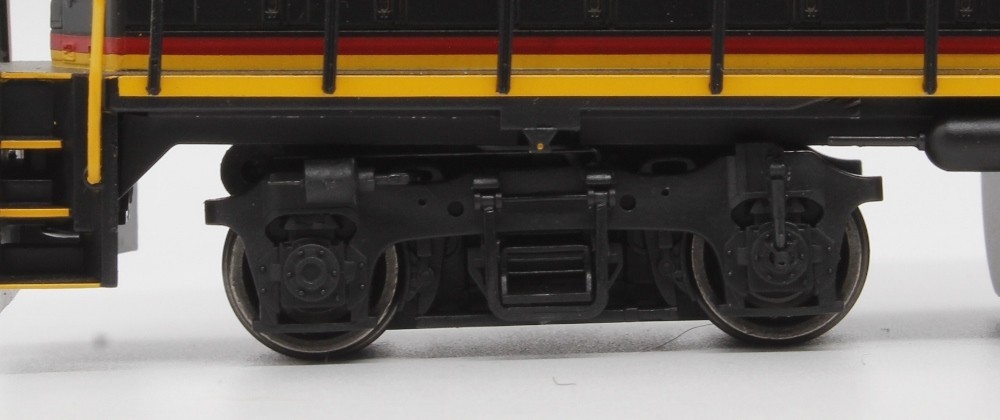 Paint and Markings
The first quality of this model that I noticed is the smooth, sharp, painting and markings. There are a few stencils on the unit.  All seem legible, even those smaller than my camera's resolution can display. You can see those markings in the photos.
Atlas provides more than one road number for a given railroad; this run offers KCS 2031 and 2034.
Other road names for this release include:
1.      Reading Northern (Green/Yellow)
2.      GMTX (Black/Blue)
3.      Providence Worcester (Brown/Orange)
4.      KCS (SouthernBelle) (Red/Yellow/Black)
5.      New Hampshire Northcoast (Green/Black/Yellow)
6.      Norfolk Southern (Black/White)
7.      Rock Island (Blue/White)
8.      Chicago South Shore (Orange/Brown/Silver)
Each road name comes with two or three road numbers.  Over two dozen other road names have been released over the years, and each body style of GP-38 has an undecorated model.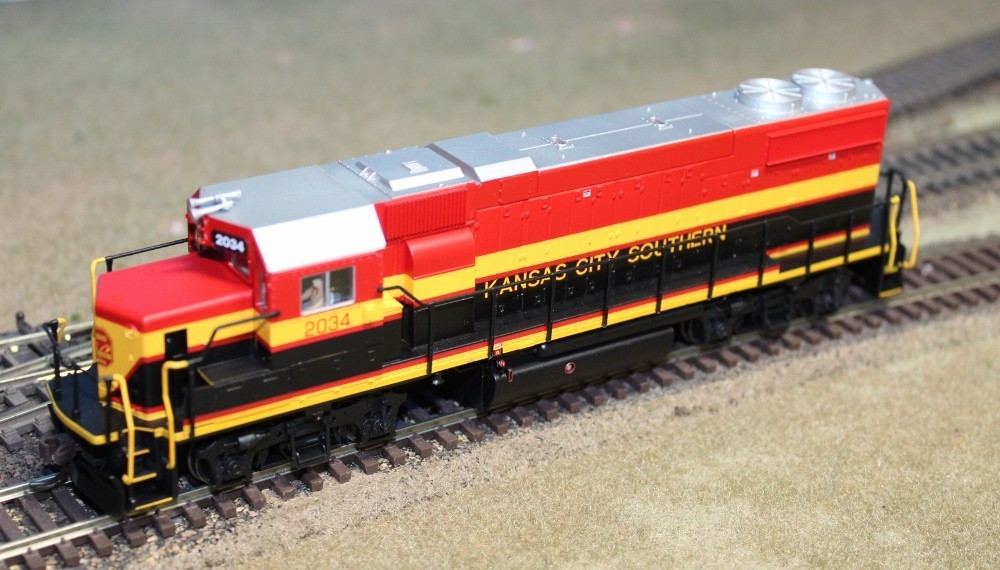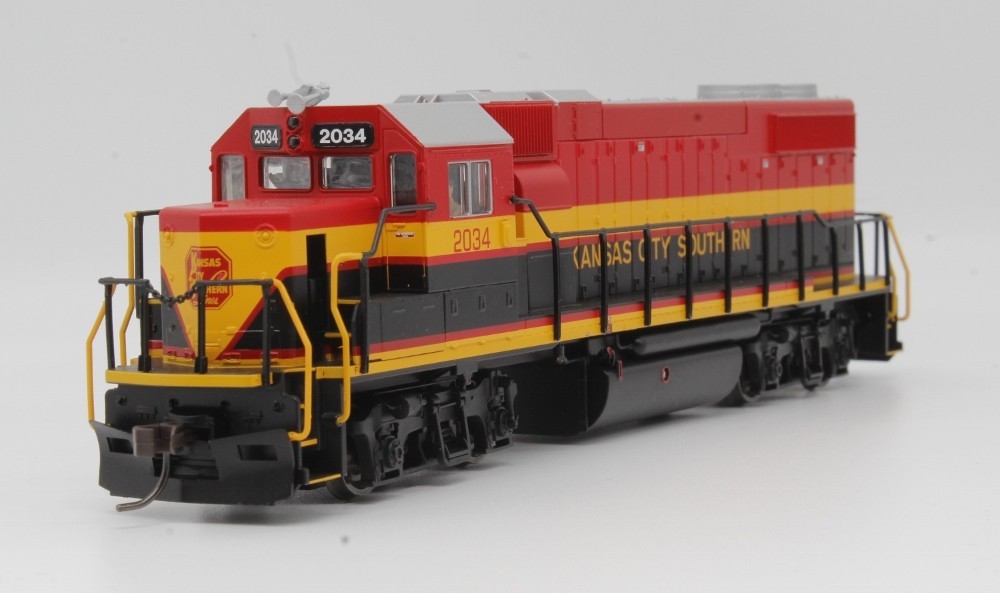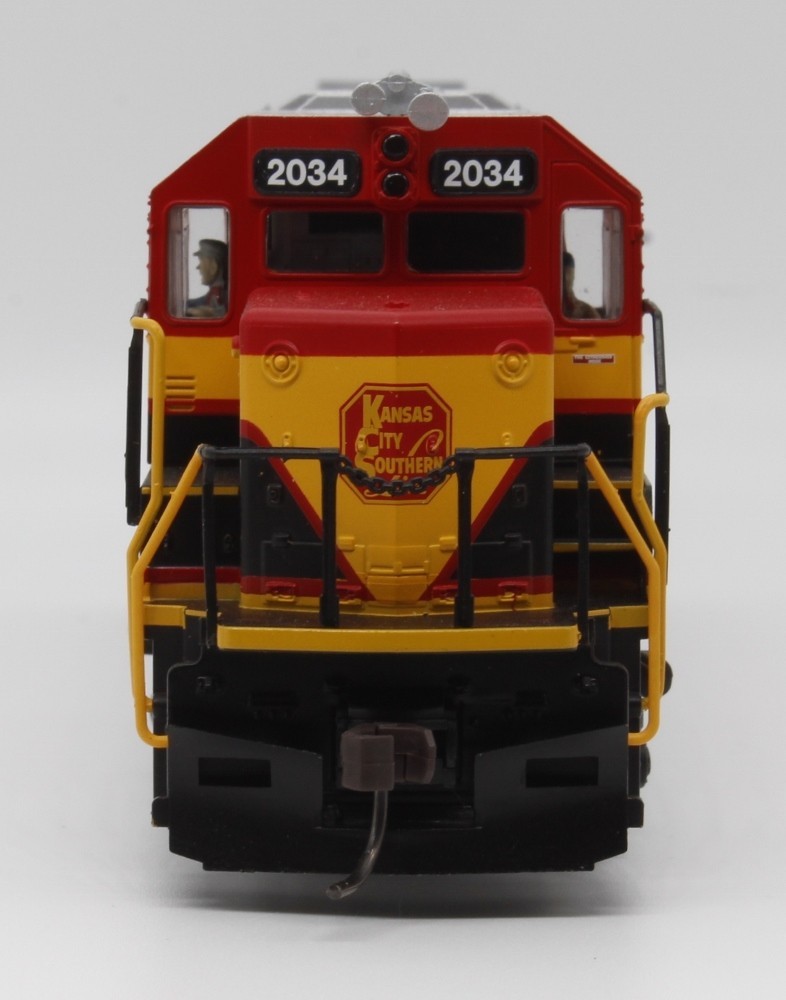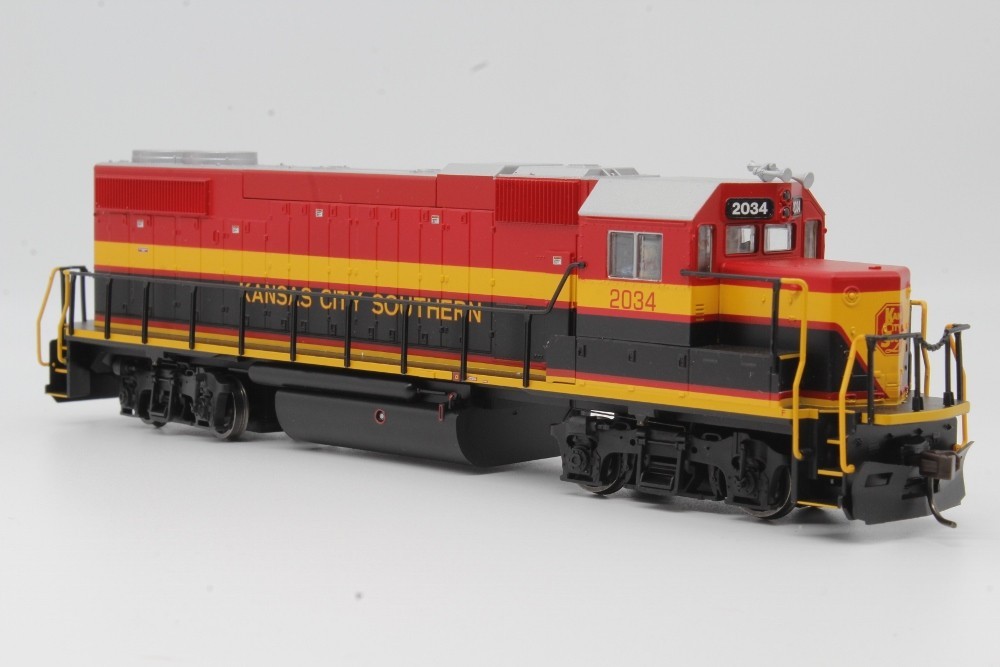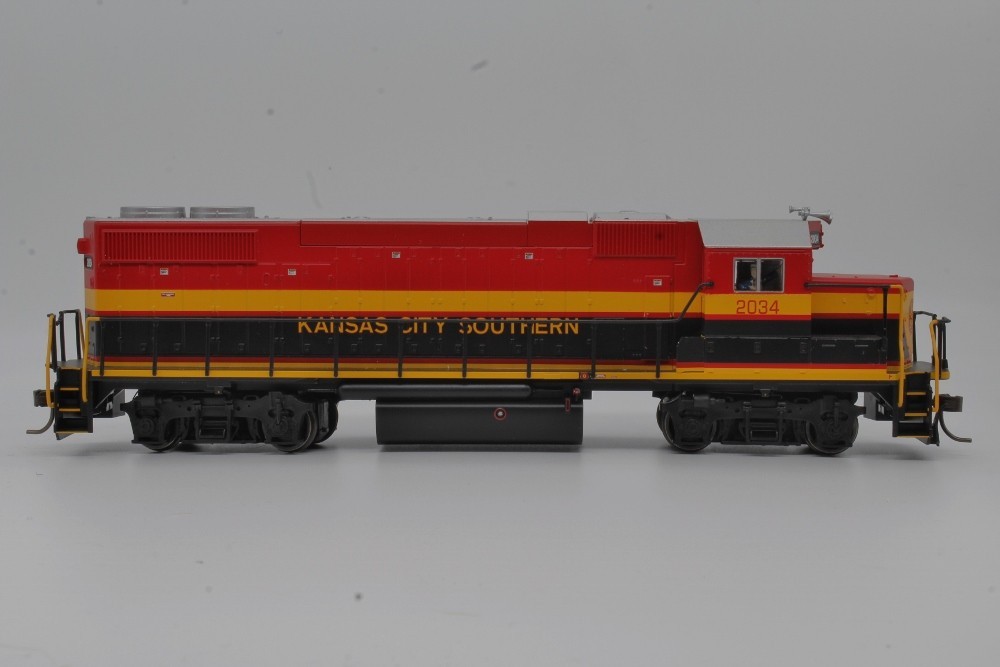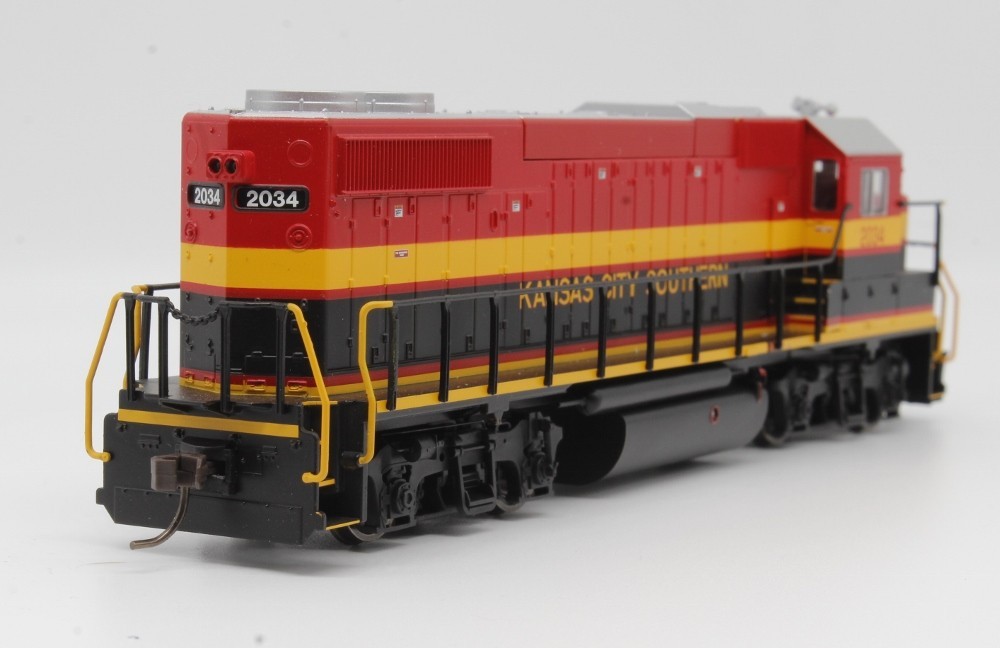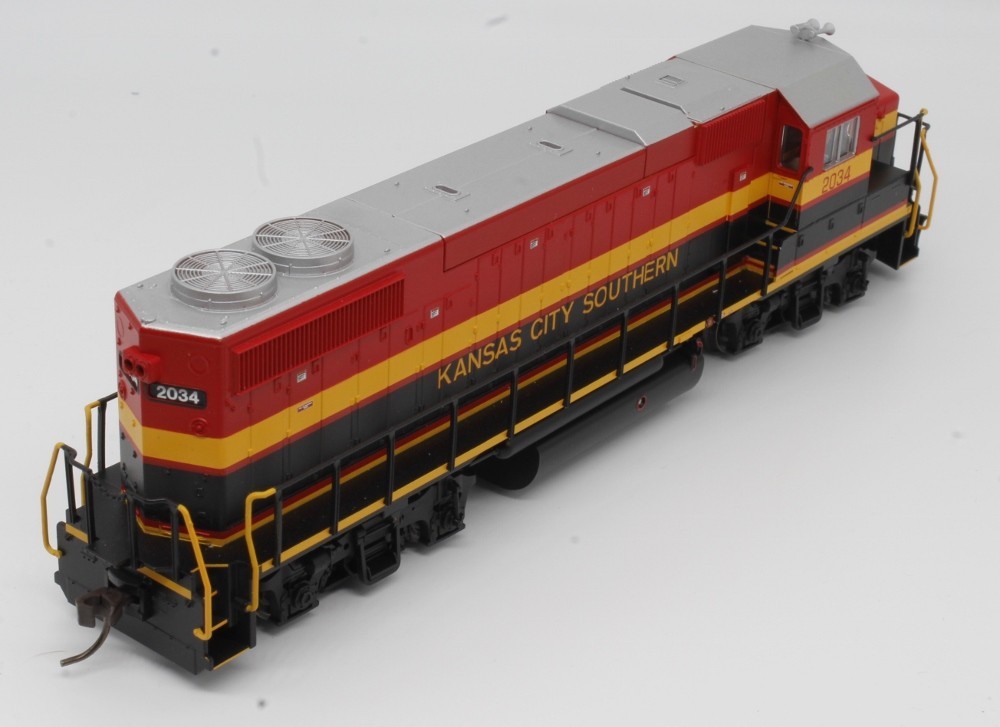 Technical and Performance
EMD GP-38s are 59 feet 2 inches long.  This model is 60 feet 3 inches from couple to coupler.  The model weighs 13.2 ounces.
Throttle Up!

This model is ready to go straight out of the box.  With the weight of the die-cast frame, this loco can pull a respectable consist. The can motor and flywheel assembly, transmission linkage and gearing gives a smooth and quiet performance.  If I did my math properly, she creeps along at 1.5 mph at step 1 on my NCE Power Cab.  I have not tried to adjust the CV for slower speed.
ESU LokSound equips this model with these sounds:
1.    Air compressor pump
2.    Air horn
3.    Bell
4.    Brake squeal
5.    Coupler coupling, and pin pull
6.    Engine increase with more throttle
7.    Prime mover starting and shutdown
Dynamic brakes and ditch lights are available for models so equipped.  I am no expert but to my ear, the horn sounds like a Leslie RS3K.  I found the sounds satisfying to my ears.
Electro-Motive Division GP-38-2
EMD launched the non-turbocharged GP-38 concurrently with the turbocharged 3,000hp GP-40.  Both used the 16-cylinder 645-series prime mover, although the GP-38 had less horsepower.    As Atlas tells us;
The four-axle GP38 was rated at 2,000 hp and had the advantage of costing less than the GP40. A total of 727 units were produced between 1966 and 1971 when the model was superseded. The wheelbase of the GP38 was identical to that of the GP40. Both units shared the same EMD road-switcher style body that was introduced with the GP35 in 1963. A desire for standardization caused the GP38 to share the same wheelbase, frame and many external components as the GP40. The GP38 was purchased by large and small roads alike. It was routinely found in local and road freight service throughout the US.

The Dash 2 locomotive series, unveiled by EMD in 1972, featured significant changes, such as a solid-state, modular electrical control system and improved engine components designed to increase traction and reduce exhaust emissions. A reliable work-horse, the GP38-2 remains one of the most successful locomotives ever built. Most are still in service today.

Summary
Atlas' Trainman™ Gold Series GP-38-2 is an impressive model.  The fidelity and amount of detailing, molding, engineering and quality, ease and smoothness of operation, all combine to make this an exceptional model. The number of railroads available means few modelers will not have the choice of a GP-38-2 for their layout.  Trainman models are not as detailed as Master Line models and yet they have been upgraded with the same motor and transmission, and now with dual DC/DCC sound capability.  It performs well and sounds good.

Model railroaders modeling the past 55 years have a great deal of choice with this impressive GP-38-2.  I think model railroaders of the late 1960s and later will be happy with, and well served by, this model.  Recommended.

Thanks to Atlas for sending this model for review.
Please remember to mention to Atlas and retailers that you saw this model here - on RailRoad Modeling.
Atlas HO GP-38-2, Trainman Gold Series