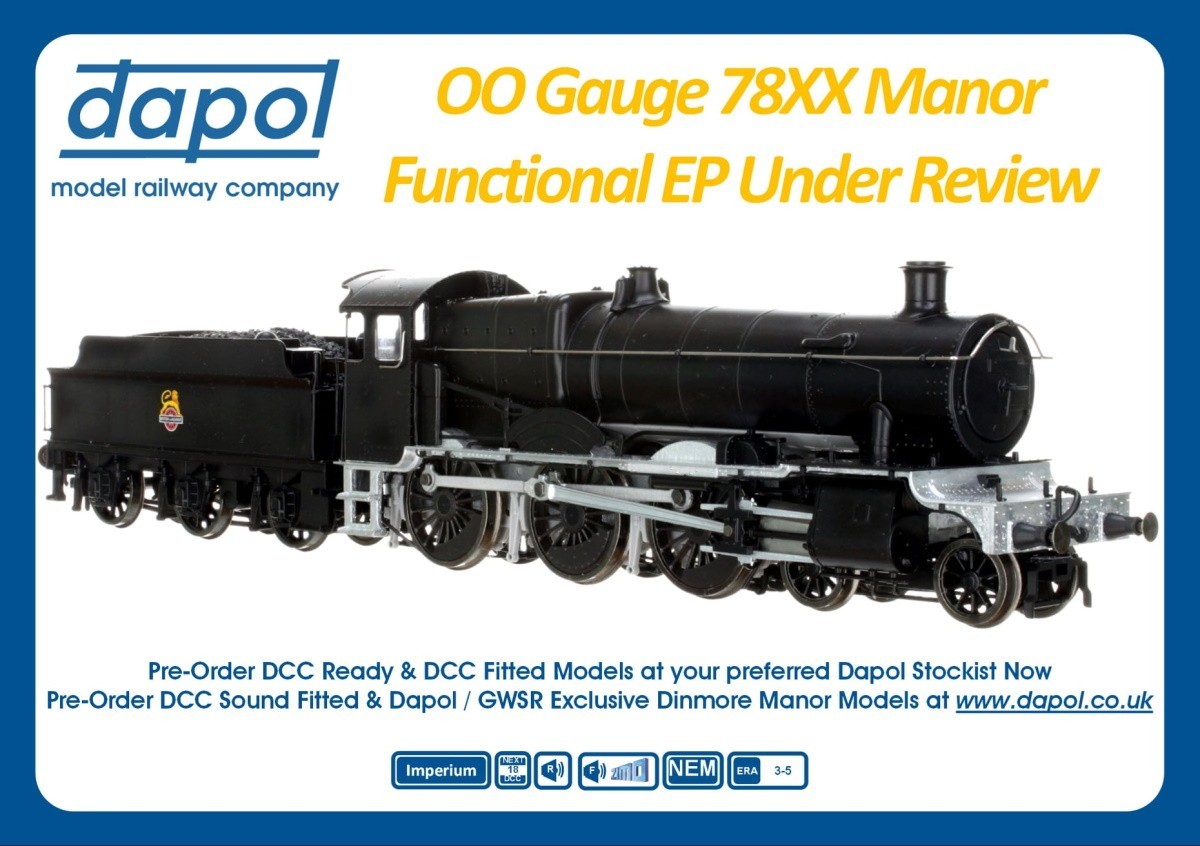 Dapol are delighted to unveil a fully functioning engineering prototype of our OO Gauge Manor Class 4-6-0 locomotive. The model is motorised and has all of its electronics installed. When the Design Engineer and Technical Manager have finished their evaluation of the model it will be shipped to our Sound Engineer to help tweak the sound profile to the aesthetics of this specific model.

The tooling package for the Mogul from its very inception was designed to allow us to produce the Manor Class. The model incorporates many of the features and benefits first showcased in Dapol's very popular OO Gauge Mogul. As well as Dapol's, customary, excellent aesthetics the model will feature Dapol's award winning slide out PCB and the tried and tested easy connect, wire free, tender to locomotive electrical draw bar. The inclusion these two features makes converting your model to DCC or DCC and sound very easy indeed.
In line with Dapol's philosophy of continual improvement and in conjunction with listening to customer feedback, potential areas of improvement were identified with the Mogul. We have addressed these opportunities in the new OO Gauge Manor tooling and they will also be incorporated into future production runs of the Mogul 2-6-0 and in the soon to be released Prairie 2-6-2. Some of the improvements we are making are listed below:
Dapol has adjusted the gearing being in the Manor and the Prairie to a 30-1 ratio, this will provide excellent slow speed running as well as an accurate top speed.
The cross head has an enhanced level of detail, along with the accurately portrayed die-cast motion bracket and slide-bars. A working representation of the vacuum pump is fitted as standard to the Manor Class model.
There have also been improvements made to the firebox glow to better showcase this feature of the model. This modification will also appear in future releases of the Mogul and also in the new Prairie.
General Specification
Many original GA drawings were used in the development of these accurate and authentic models. The locomotive will have all of the usual refinements that are expected to be found on all Dapol models including:
A die-cast compensated chassis
Detailed cab interior with screw reverse
Full profile cylinder – no cut away
The front Bogie is also sprung and operates on a cam so the model will negotiate R2 curves with ease.
Brass plated safety valve casing
Original (with capucheon) and redrafted chimneys fitted as appropriate.
Exquisite detailing on the buffer beam and footplate with prototypical overhang
Technical Specification
A slide in PCB offers simple 'tool-free' installation of a NEXT-18 DCC decoder and a 'no-solder'speaker connection. This board slides through the smoke box door and connects directly to the locomotive mother board.
The tender to locomotive draw bar includes reliable electrical connections moulded within the close-coupling push-fit coupling. This eliminates wired plugs and unreliable wiper style connections.
A total of 12 wheels split between the locomotive and tender have electrical pick-up, this is enhanced by the sprung centre driving wheel.
A sugar cube is mountable on the slide out PCB board and a Base Reflex speaker can be housed in the tender. An audio frequency filter is integrated within the main locomotive PCB to ensure each speaker responds within it's ideal frequency range.
Improved firebox glow (synchronised with DCC sound)
Dapol's proven slow speed mechanism and high torque five pole skew wound motor
Enhance your driving experience with our feature RealDrive*
Factory fitted models only*
DCC Ready – £159.95 DCC Fitted – £185.95 DCC Sound Fitted – £259.95
Please remember, when contacting retailers or manufacturers, to mention that you saw their products highlighted here – on RailRoad Modelling