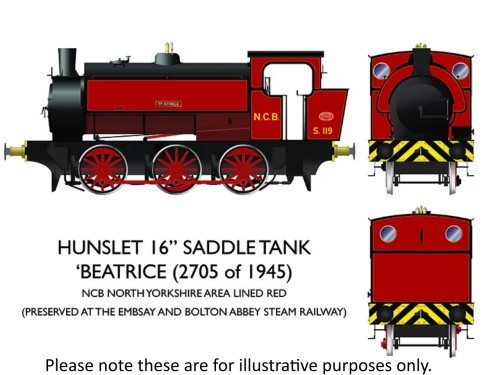 "More and more modellers have been calling for industrial locomotives in 'OO' so we've answered the call with this, the Hunslet 16in0-6-0ST.These cheeky locomotives were the largest of a range of'standard' locomotives offered by the Hunslet Engine Company of Leeds.Customers could buy similar looking locomotives with 12, 14 and 15in diameter cylinders.Andy loves these locomotives and can testify that they'regreat little machines to drive. He's already been out to measure them. Sadly,Jason declined his idea for a field trip to sunny Australia to study PWD79.Instead, Andy went to Peterborough."

What liveries are we making on the Hunslet?
903001: No. 3716/1952, Alex,Oxfordshire Ironstone lined red
903002: No. 3782/1953, Arthur,Markham Main Colliery lined green
903003: No. 2705/1945, Beatrice, NCBlined red
903004: No. 3783/1953, Holly Bank No.3, NCB lined blue
903005: No. 1953/1939, Jacks Green,Naylor Benzon & Co lined green
903006: No. 3715/1952, Primrose No.2, NCB lined black
903007: No. 3714/1951 Thorne No. 1,plain green
We fully intend that our model will be as good looking,powerful and reliable as the real thing. Andy and Richard have been poring overthe first round CAD images to check that everything is spot on!
We've already had some preliminary artwork produced toshow off the seven liveries we intend to make – and you can see just how prettythis little model is going to be.
Visit Rapido Trains for the Hunslet page on our website.You'll be able to reserve yours soon!
Please remember, when contacting retailers ormanufacturers, to mention that you saw their products highlighted here – on RailRoadModelling