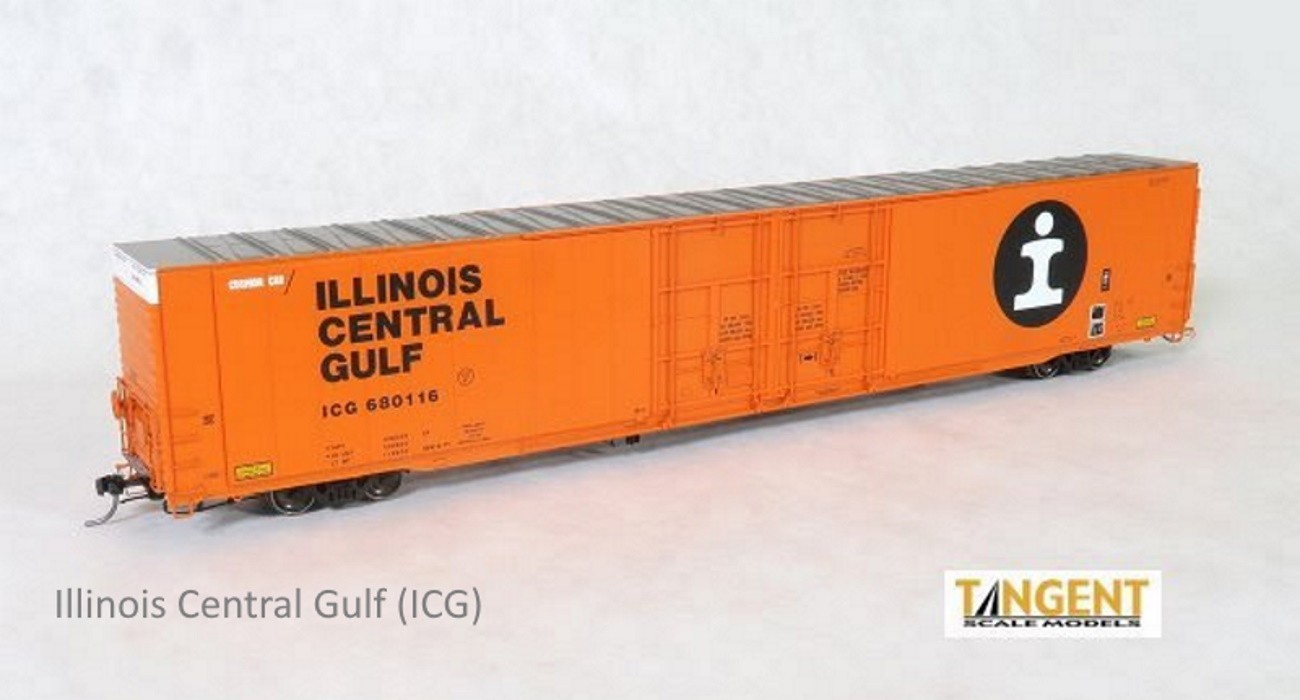 Tangent Scale Models is happy to announce the fourth release of our Greenville 86' High Cube Double Plug Door Box Car!  This is not just a single box car model, but instead a system of 86' High Cube Double Plug Door Box Car models.  Today, we are releasing six all-new paint schemes – plus one rerun – and 7 varieties of kits - for the industry's first "high-detail" 86' auto parts car model in HO scale.  This is not a pre-order announcement -- the cars are available right now!
Atchison, Topeka, and Santa Fe (ATSF) Bx-106 "Delivery 1965"
Illinois Central Gulf (ICG) "Delivery 1977"
Norfolk Southern (NW) B20 Repaint 1989+
Pennsylvania Railroad (PRR) X60B "Delivery 1964" 1965+
Conrail (CR) Ex-PRR X60C Patch 1976+
Union Pacific (UP) BF-90-5 "Delivery 1969"
SP "Original 1969" Re-Release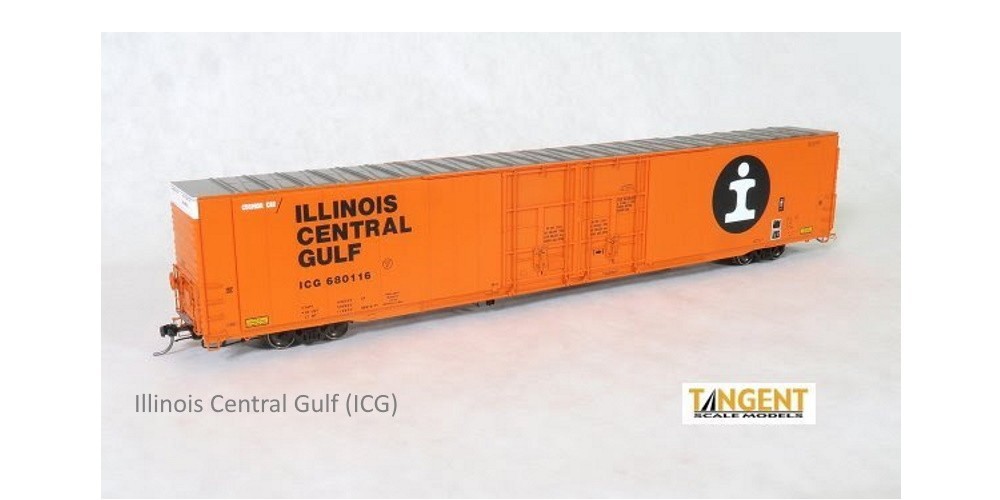 This release also includes a restock of our 7 different kit options.
Undecorated Version A: 1964 Center-of-Car Cushioning with lowered B-end appliances 1965+ Era (ATSF, C&O, DT&I, L&N, MKT, NW, NYC, PRR, WAB, WP)
Undecorated Version B: 1965-66 Center-of-Car Cushioning (ATSF, EL, GBW, L&N, NW, NYC)
Undecorated Version C: 1968 Center-of-Car Cushioning (CPAA, IC, MKT, MP, SOU, SP)
Undecorated Version D: 1968-1969 End-of-Car Cush. (B&O, CB&Q, DT&I, D&TS, EL, GTW, L&N, PC, UP)
Undecorated Version E: 1969-1970 Center-of-Car Cushioning (C&EI, CPAA, D&RGW, MP, SP)
Undecorated Version F: 1969-1971 End-of-Car Cushioning (CB&Q, CPAA, DT&I, L&N, PPGX, SOU, UP)
Undecorated Version G: 1977 End-of-Car Cushioning (C&O, GTW, ICG, L&N, MILW, SCL, SOU)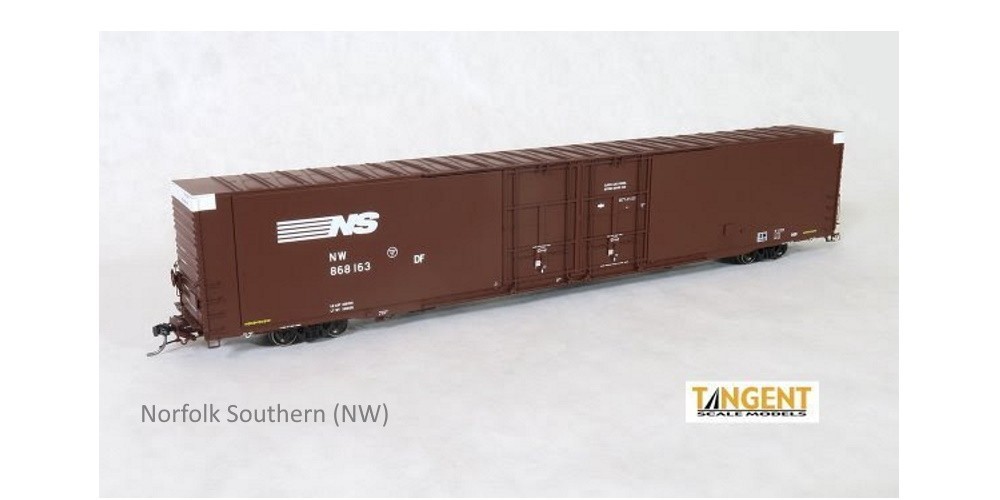 This fourth release of our Greenville 86' Box Cars includes 5 of our 7 possible different build variations!  We have more body variations in progress, including the quad-door cars.  Please keep in mind that quad door cars represented 8% of the overall Greenville Steel Car production.  This is why we are continuing with this system of double-plug doors – in order to satisfy the greatest fleet and paint scheme percentages!  These are the statistically-relevant cars from a prototype production standpoint, both door type (double plug doors) and builder (Greenville).  Please be assured that quad door cars will indeed be offered in the future!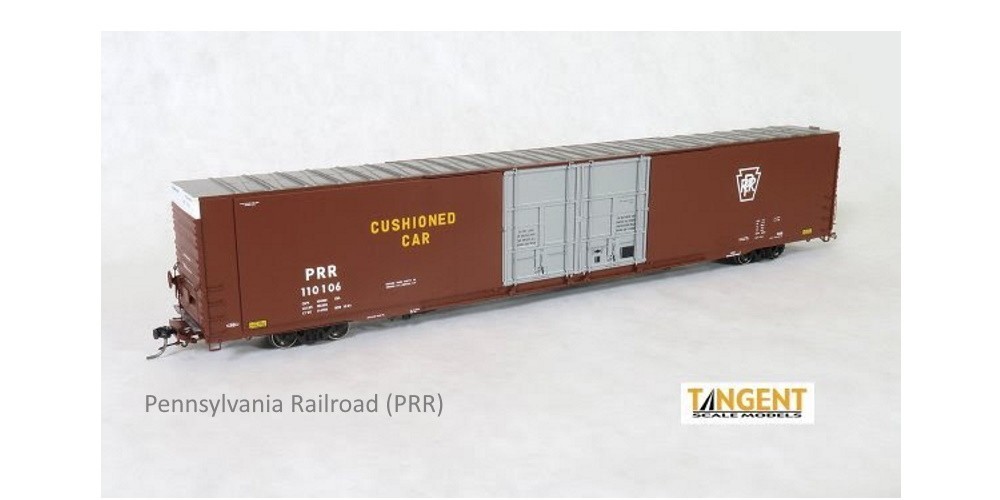 A quick synopsis of our era and railroad-specific detail variations include:
 Body shells with or without overlapping side panels
EOCC (end of car cushioning) or COCC (center of car cushioning) "near scale" draft gear variations with genuine Kadee® scale couplers
Separate flexible rubber air hoses
Roofs with running board supports remaining in place (1965+ appearance since the running boards were gone by 1966) and roofs without running board supports (1965+ Greenville production)
Under car brake system variations
"See through" etched metal end crossover platforms in three possible options: Gypsum, Apex, or Morton
Side tack board types/sizes and locations
Ten prototypically-accurate brake stands (Ajax, 2 Universal versions, Equipco, 2 Miner versions, Champion-Peacock, Elcon-National, Peacock 850, Klasing 1150)
Two possible handbrake "brake wheel" options
Optional 3rd door arm hinge parts to be configured one of three ways
Two truck sideframes: 70-Ton Barber S-2A Roller Bearing Truck or a 100-Ton "Low Profile" Barber S-2-C Roller Bearing Truck (outlined at the end of this press release)
33" or 36" wheels, as applicable to each model
Two truck brake beam part options
Three "rotating" roller bearing truck cap options
Recommended age 14 years and older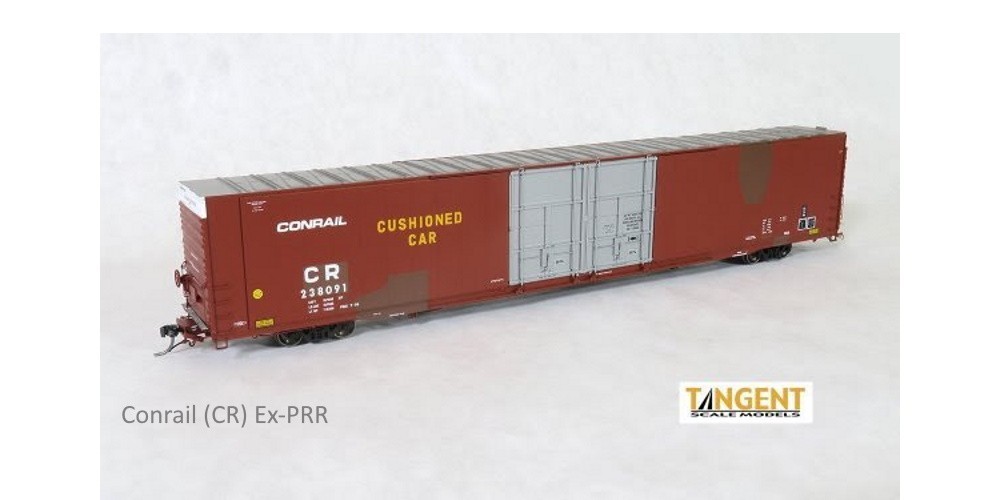 Please remember, when contacting retailers or manufacturers, to mention that you saw their products highlighted here – on RailRoad Modelling.