Rosebud Kitmaster
Rosebud Kitmaster Ltd was a model company in England that produced 34 model locomotives and freight and passenger cars between 1959 and 1962. Kitmaster models had - and have - quite a following. In fact, they are so beloved that some are currently reissued through Dapol Model Railways. Airfix took over the range in 1962 but only released a limited number (nine) of the kits, although Airfix also originated and released nine freight cars, a turntable, a rail crane, rail bus, a Drewry diesel shunter (switcher), and a series of structures. Eventually, Airfix went bust and Humbrol took over. In the early 1980s the available Kitmaster tooling was bought by Dapol. Dapol also acquired Airfix-originated railroad models. The story of Dapol's search for missing Kitmaster tooling could be an Indiana Jones sequel, including ferreting out forgotten and ill-stored items in dank warehouses in different countries.
I had a detailed feature about the Kitmaster on the original RailRoad Modeling of the former KitMaker site, but it has not yet been restored/archived. (Hint hint, Webmaster.)

Back to Kitmaster: a thorough history of Kitmaster railroad models can be found at Kitmaster Model Railways and at the Kitmaster Collector's Club. Mr. Stephen Knight penned two high-quality glossy page books about Kitmaster, 1999's Let's Stick Together: An Appreciation of Kitmaster and Airfix Railway Kits, and Let's Stick A Little Bit More: A further Appreciation of vintage plastic kits, released in 2012. My brief history is that Kitmaster was started by Rosebud Doll Company. They made railway models to the constant scales of OO (1/76) and HO (1/87), and a few in TT (1/100 or 1/120, depending on which side of the English Channel you are standing.) The range consists mainly of UK rail subjects but included American, French, German, Italian, and Swiss rolling stock. These subjects were locomotives and passenger coaches, mainly of British types. Kitmaster even created a motorized wagon to allow these models to run like conventional electric trains. This B4yge German Coach and a French coach are the two Continental subjects. One of the complaints about the company is their mixing of HO and OO. Their German steam locomotive, Kit No 19 - German 2-6-2 locomotive "Baureihe 23" is OO scale while this German coach is HO.
Until I can recreate some Kitmaker reviews, I point you towards a coupe examples on this site, their Pug switcher, and my Airfix cattle car.
All aboard this B4yge German Coach, kit No. 27.

B4yge German Coach
Kitmasters were packed in stout top-bottom telescoping box halves with bright box art. Black polystyrene was the norm although other colors were used for certain pieces. The body of this model is molded in a green. This kit is built with 42 black or green parts, 10 clear parts, a metal bar for weight, and decals.
Molding is not a crisp as today's standard but the parts are good. The parts are thick and that makes cleaning up the limited flash and seam lines easier. Surprisingly, there are no visible sink marks or ejector marks when the model is assembled. Assembly and fitting of pieces is achieved with pegs and ledges. Thick attachments hold the pieces to the sprues.

Detail
Hand rails and other surface items are molded on, except for the diaphragm frames. Disappointingly, despite their presence on the box art, no signal nor brake hoses are provided.

Roof, truck with steps, diaphram frame,, underbody box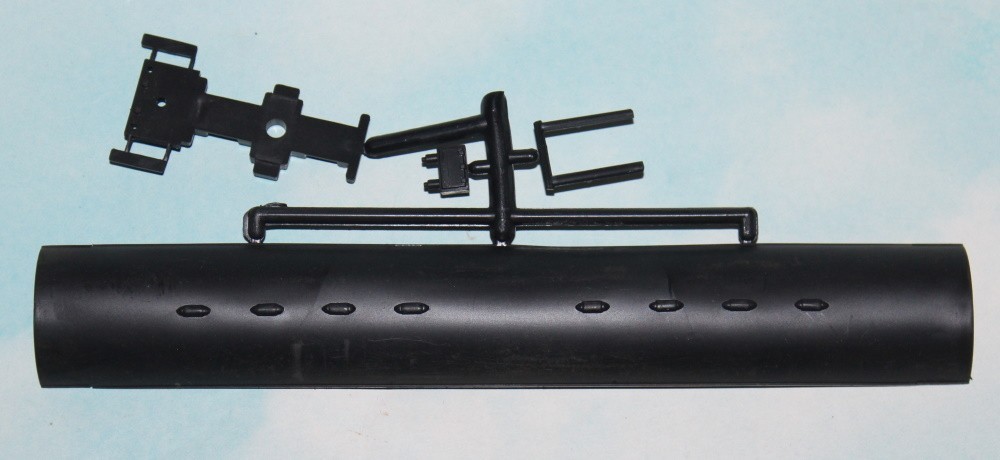 Frame/floor, truck with steps, diaphram frame,, underbody box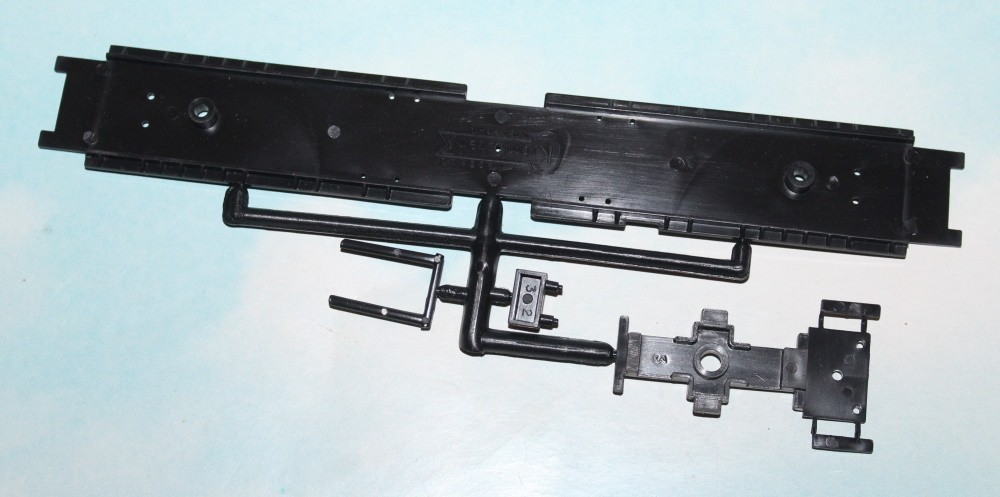 Wheel sets, mounting pins, buffers, a tool box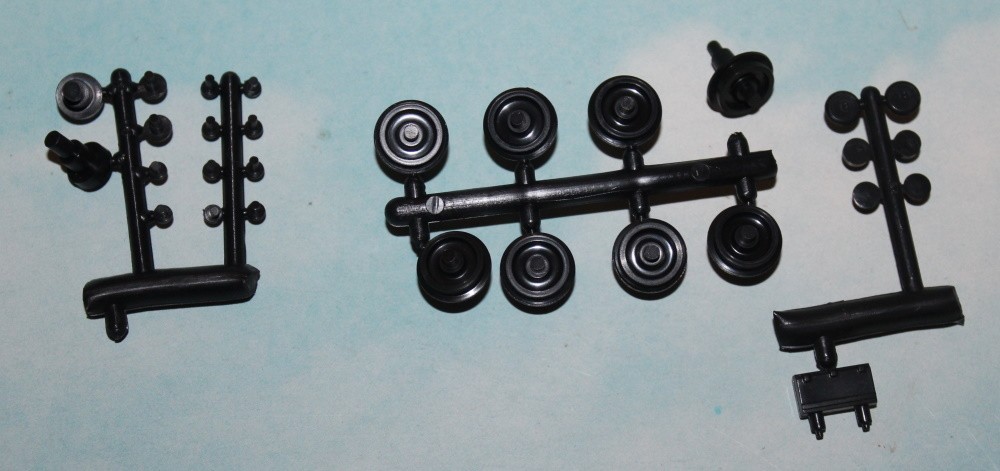 Truck frames, buffer sills, couplers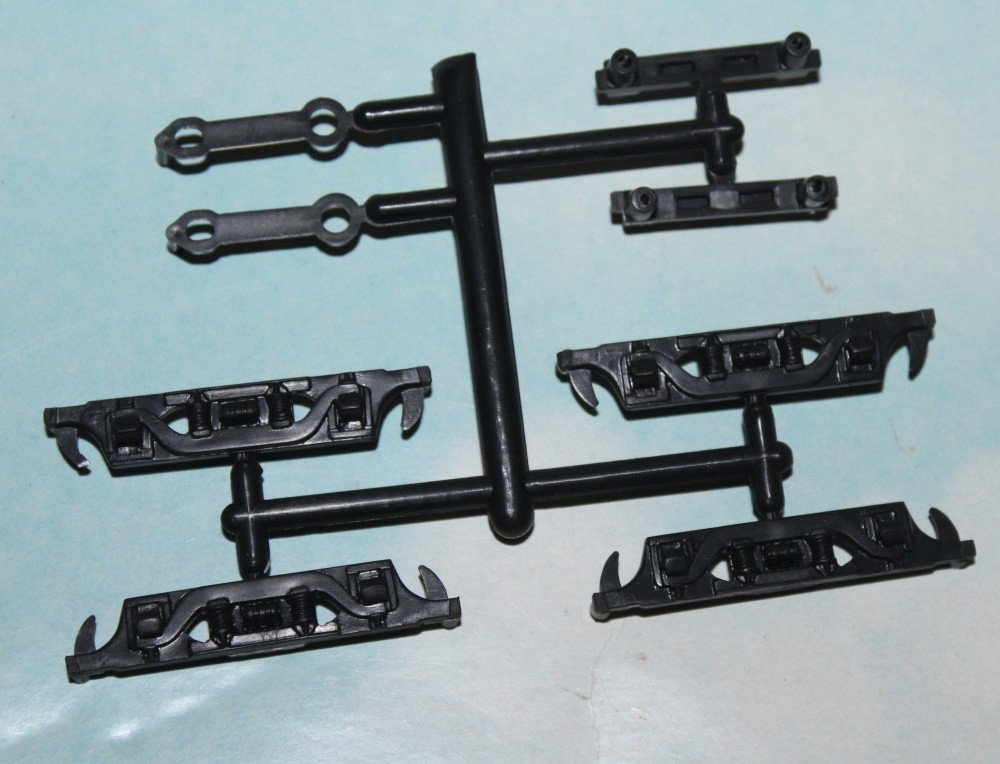 Sides

Ends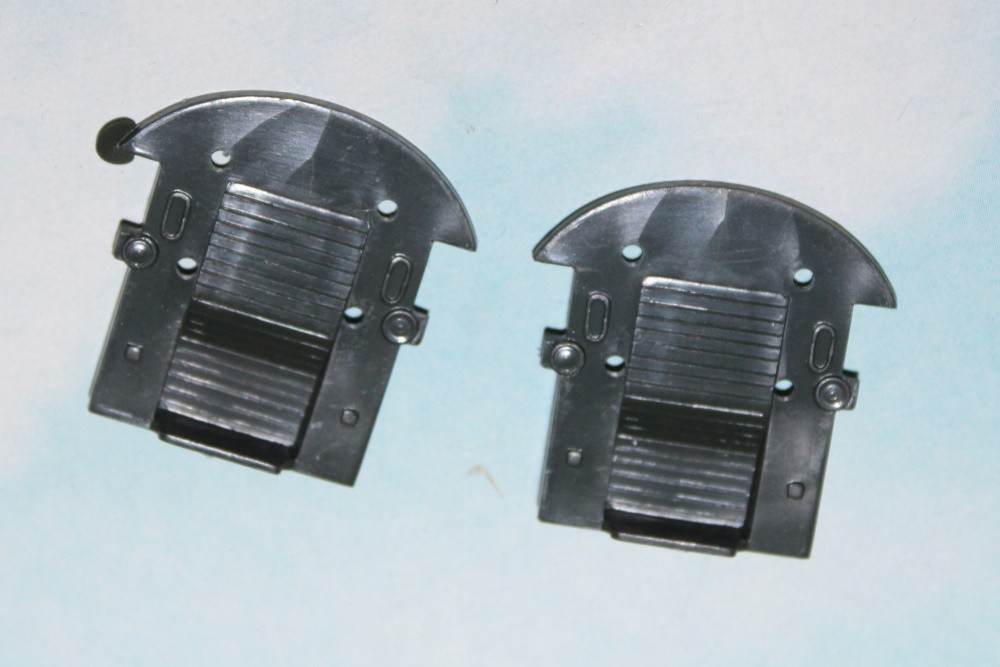 Body sides and ends, weight, underside box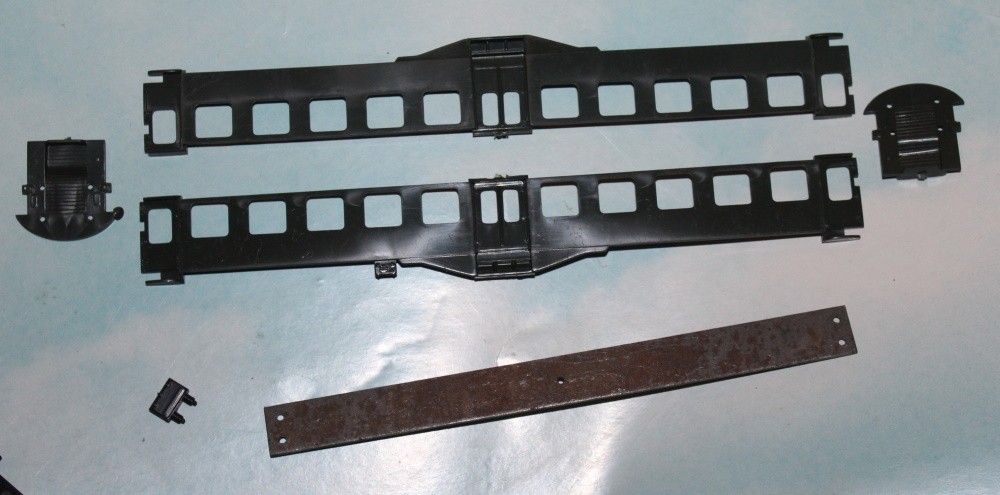 Instructions and Painting
Kitmaster instructions are clear and simple exploded-diagram line art.  Except for a small amount of red showing where to apply glue, it is all black-and-white.  Four steps - figures - are illustrated, each with varying amounts of written instructions.  Two sub-steps show how to mount Triang or Peco couplers.
The text includes painting guidance, and a basic history, which includes interior color information.
The decal sheet includes three choices of route boards.  Those decals had excessive clear film surrounding them and the seem thick.  You can judge their quality yourself.

Assembly
At the time of this writing the wheel sets and both trucks where assembled, as was the car body, sans roof and windows.
The sides are aligned with the floor with a mere two pegs at each end, and a pair of ledges. The ends fit to the floor more securely, and mate to the body sides with a notch and tab. The roof is slightly warped.
Regardless, fit is surprisingly good.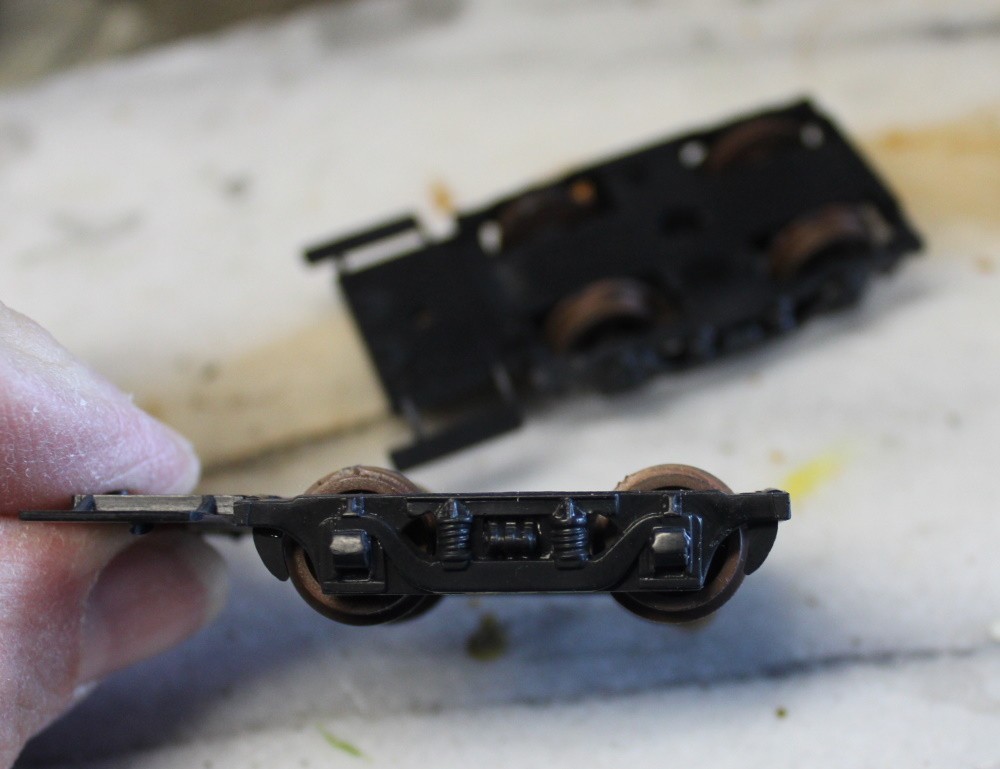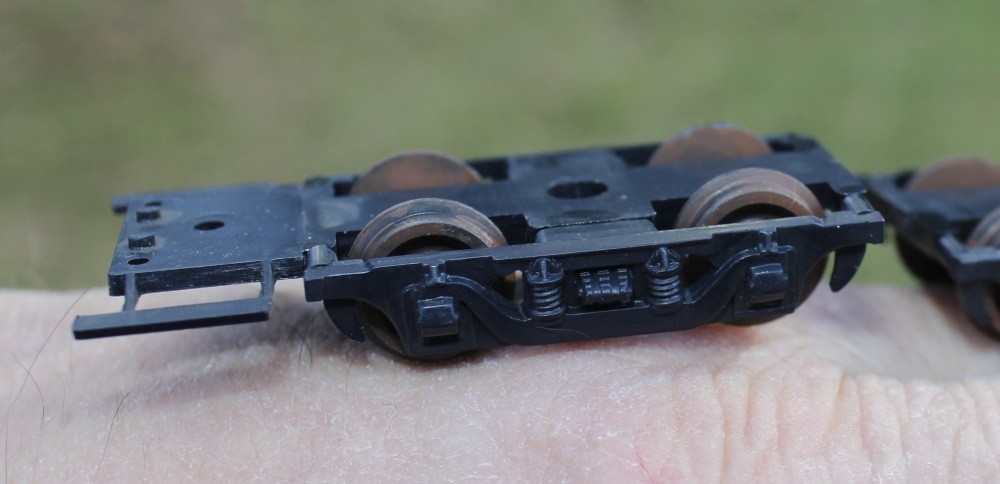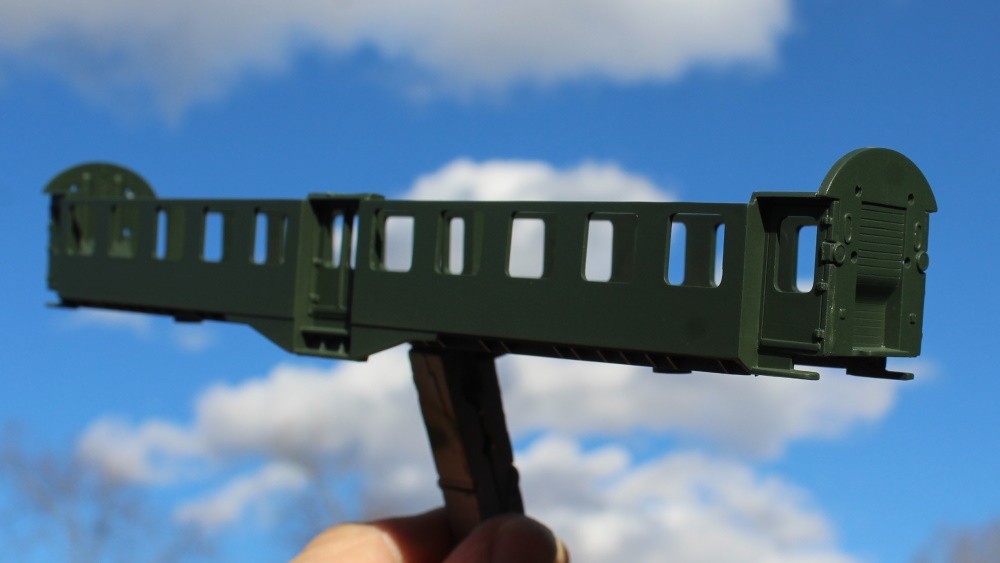 Conclusion
This in-box review is expanding as I have the opportunity to work on the model. Overall, it is a decent model. Parts are thicker and less crisp than later models and yet superior to what was being produced by some mainstream model companies into the late 1970s.
Kitmaster Kit 27 German Coach is a respectable model considering its age. Good molding and instructions. Disappointing detail due to lack of brake and signal hoses. I suspect the decals are thick and regardless, have too much film.
I am happy with my Kitmaster German coach. They appear on online auctions now and then, and may be hidden and forgot at your local hobby shop. Recommended to fans of older kits and Rosebud Kitmaster models.