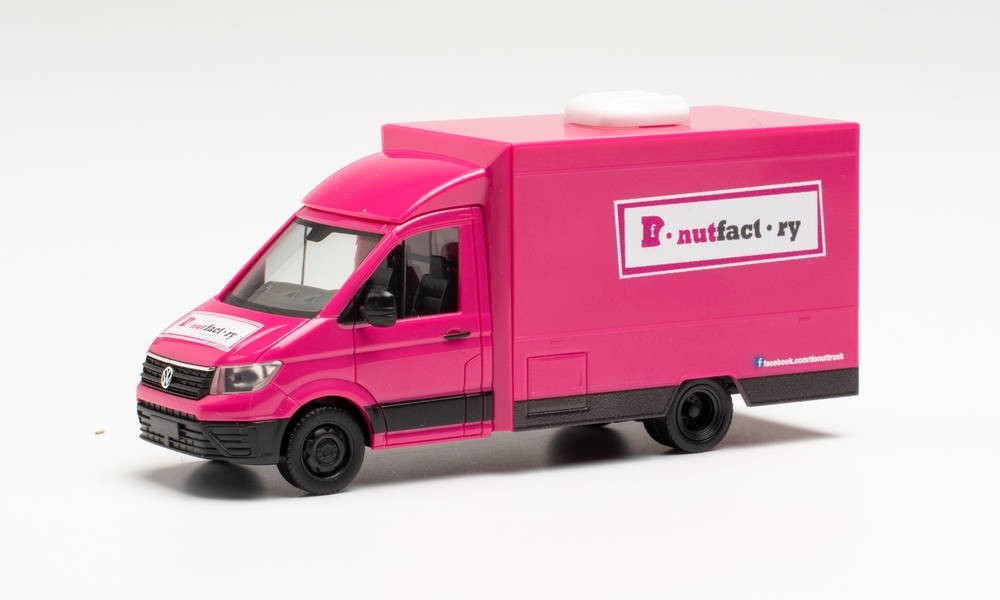 VW Crafter body decorated Foodtruck "Donutfactory."
This particular model is Item 095990. Herpa introduces the model with:
The Donutfactory is located in Heilsbronn in Middle Franconia, which uses several food trucks at events nationwide. New in the fleet is this VW Crafter, which is also kept in the striking color Telemagenta. The model is equipped with an opening side flap and appropriate interior design.
At the time of this review Herpa catalogues 427 VW and 75 Crafter models.
The Model
VW Crafter Foodtruck Donutfactory is packaged in a form-fitted cradle held inside Herpa's red carton with a clear display window. It features a holographic license for Volkswagen on one end.
The model is completely assembled except for a small sprue holding two separate optional mirrors. Assembly is first rate, as is the molding of the parts. The parts are crisp with no flash, sink holes, mold seam lines, or visible ejection circles.
The plastic of the body is smooth and featured raised and recessed detail, as appropriate.  Most of the surface detail is molded on. Transparent plastic for the windows is crystal clear with no distortion.
Herpa models ride upon tires of a hybrid plastic-rubber material.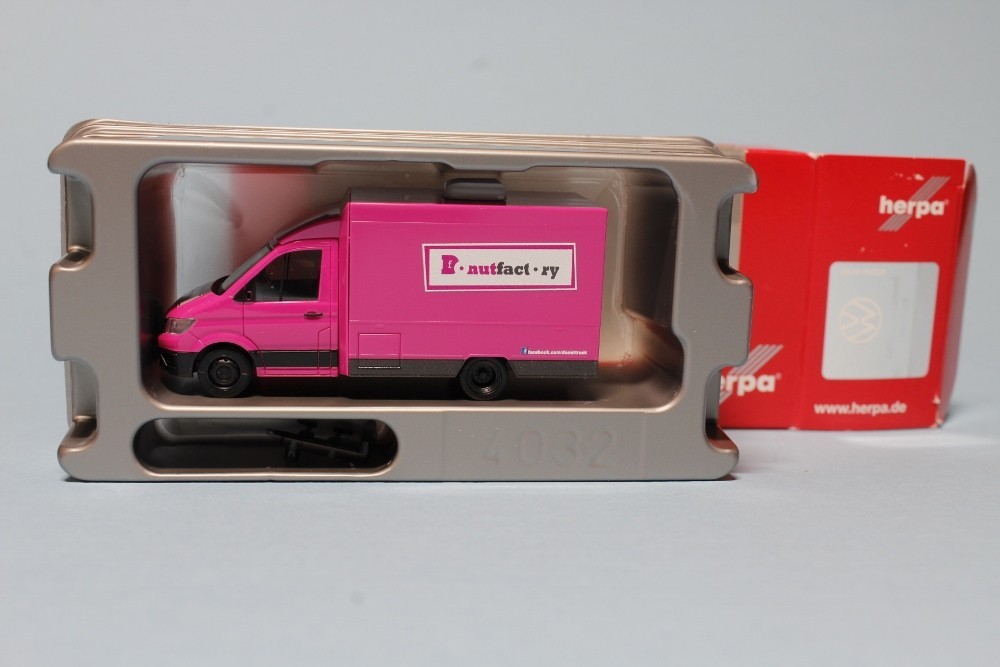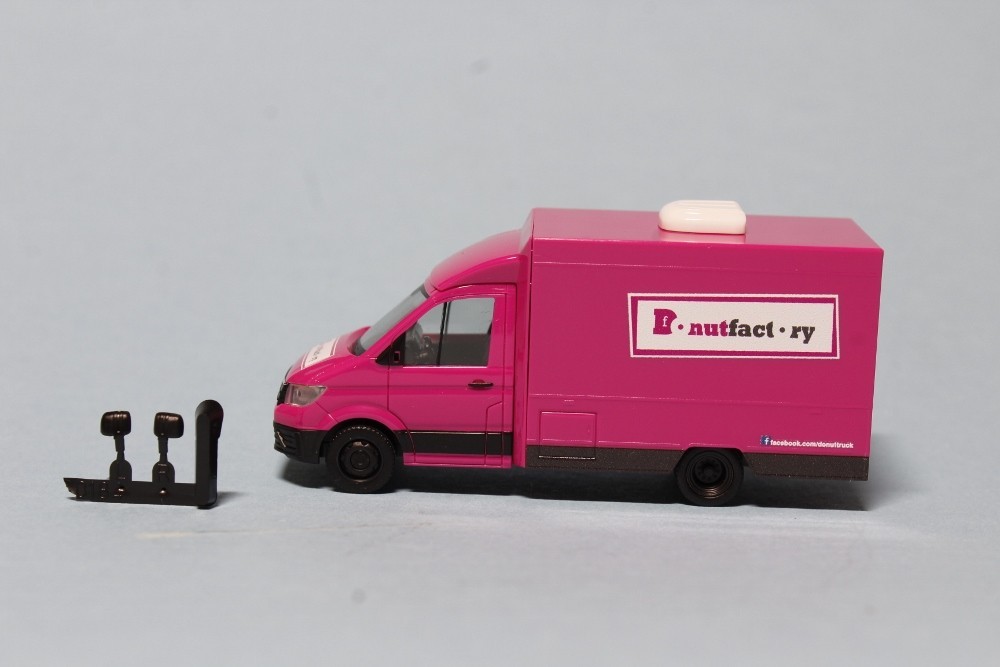 Detail
Headlights are simulated with clear lenses while brake lights are completely ignored – not even simulated with paint.

Cab interior detail consists of seats for passengers and the driver.  A steering wheel is inserted into the dashboard.  I can't see if any side consoles or other items are present.  The food serving area has an interior with shelves and a box.  No foodstuffs are included.

The rear tires have full tread detail, while the front tires only have detail on the shoulders but none on the contact surface.  Herpa makes a steerable axle kit for trucks (item 4013150052559, or just 52559) but I cannot find one for a model this size. The hubs feature good detail.

The underside features a mix of detail. Under the cab almost everything is simulated with low raised molded components while the rear is much better: frame; driveshaft; springs; exhaust; other underbody components.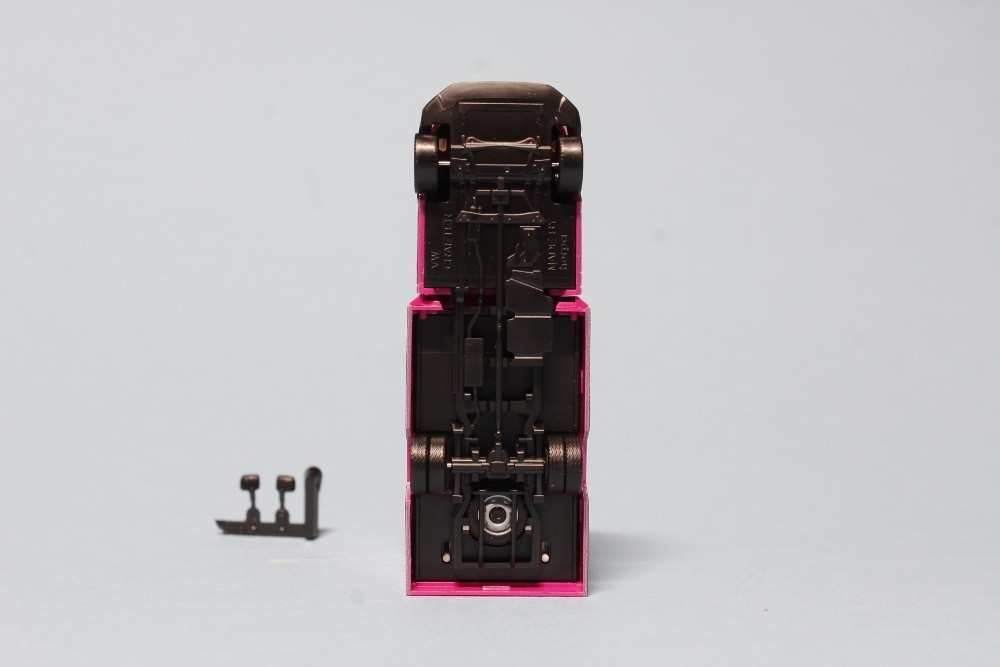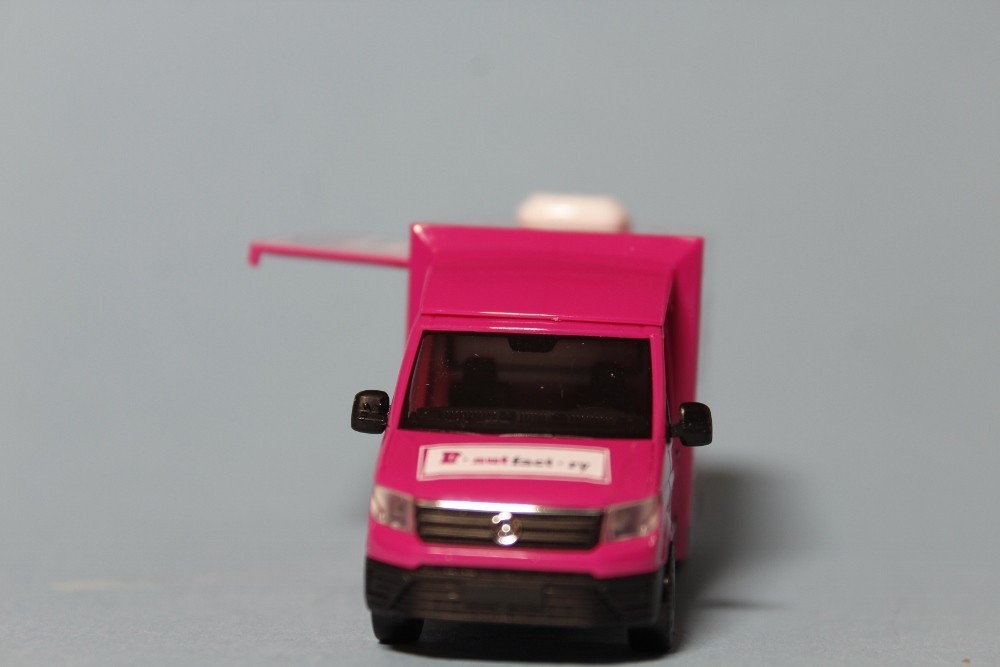 Finish
Smooth glossy plastic is used for the body. The model is primarily molded in color, Telemagenta. Black trim wraps around various components.  VW emblems, DonutFactory logos and contact bars are painted on.  Herpa does not use decals.  All printing is legible.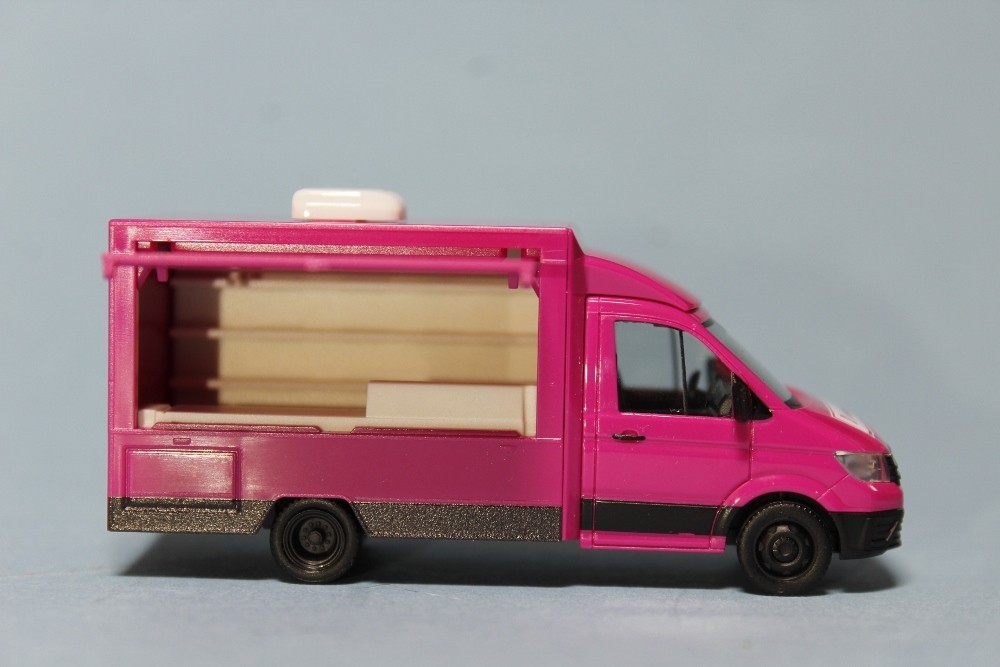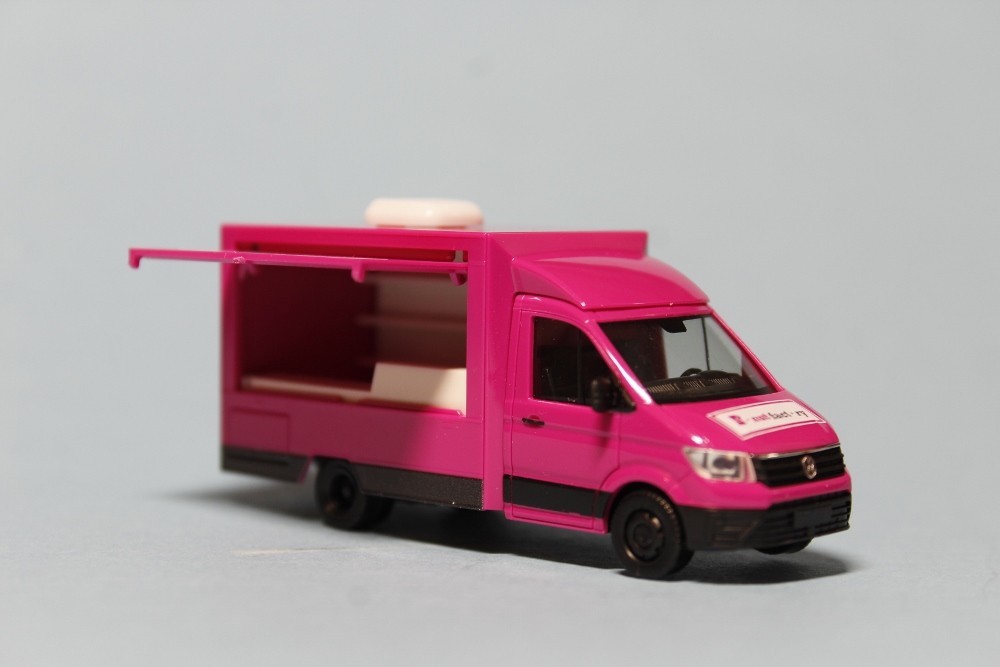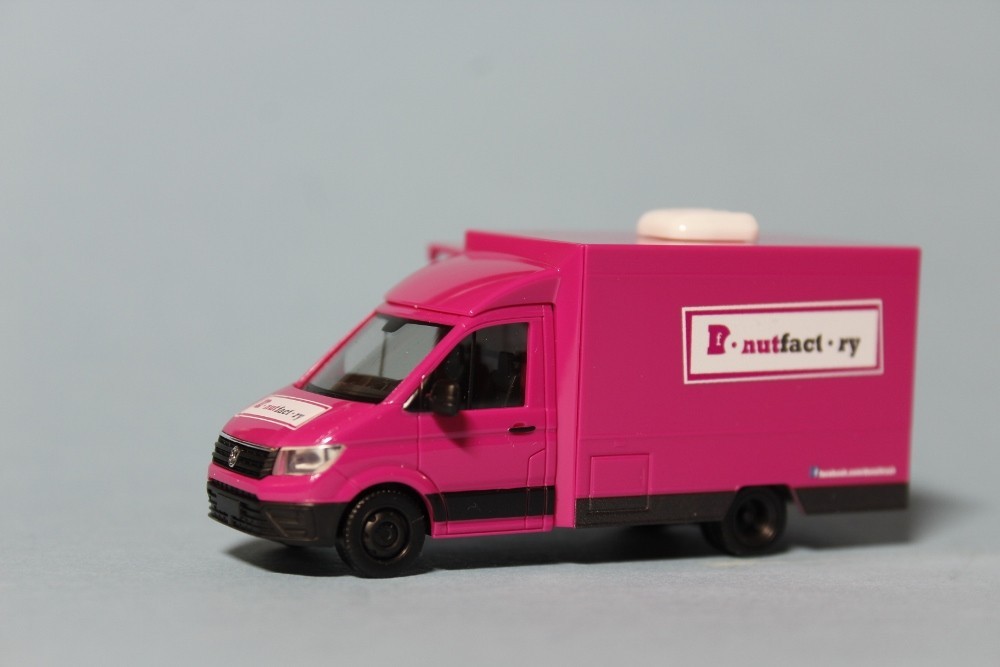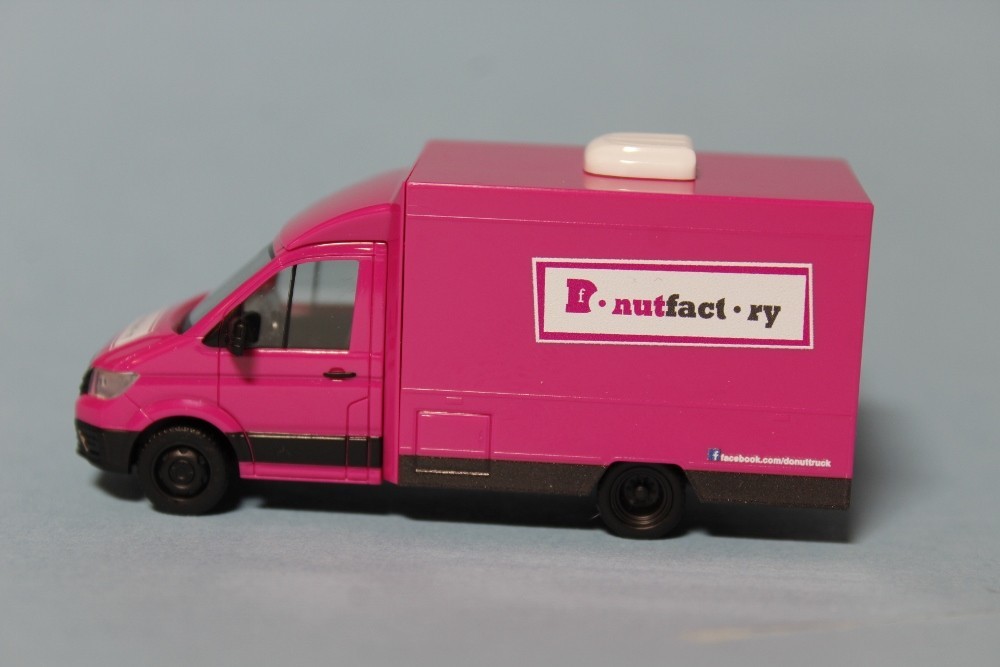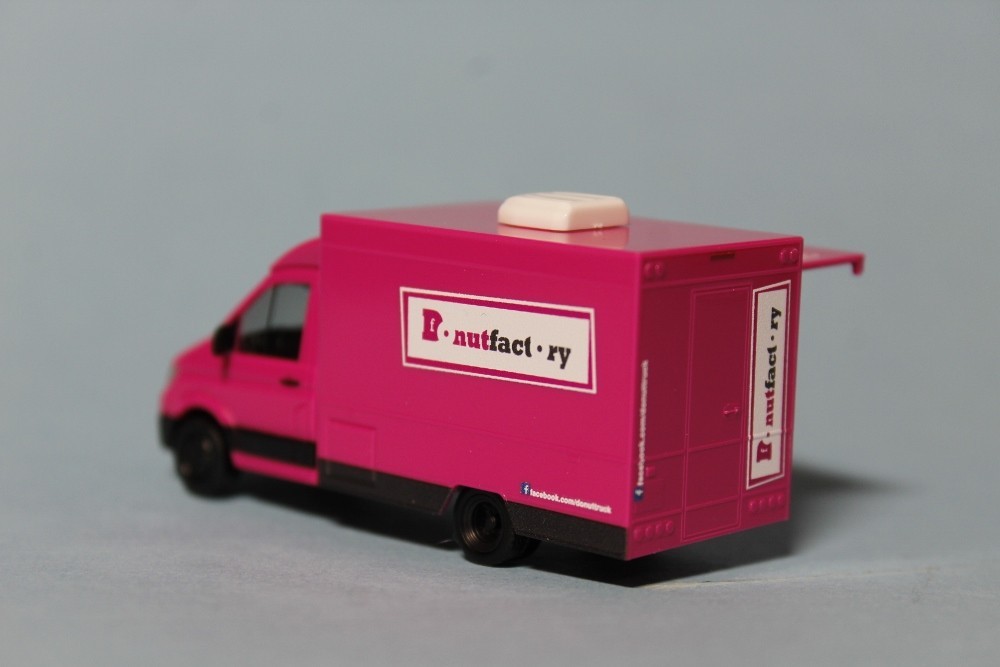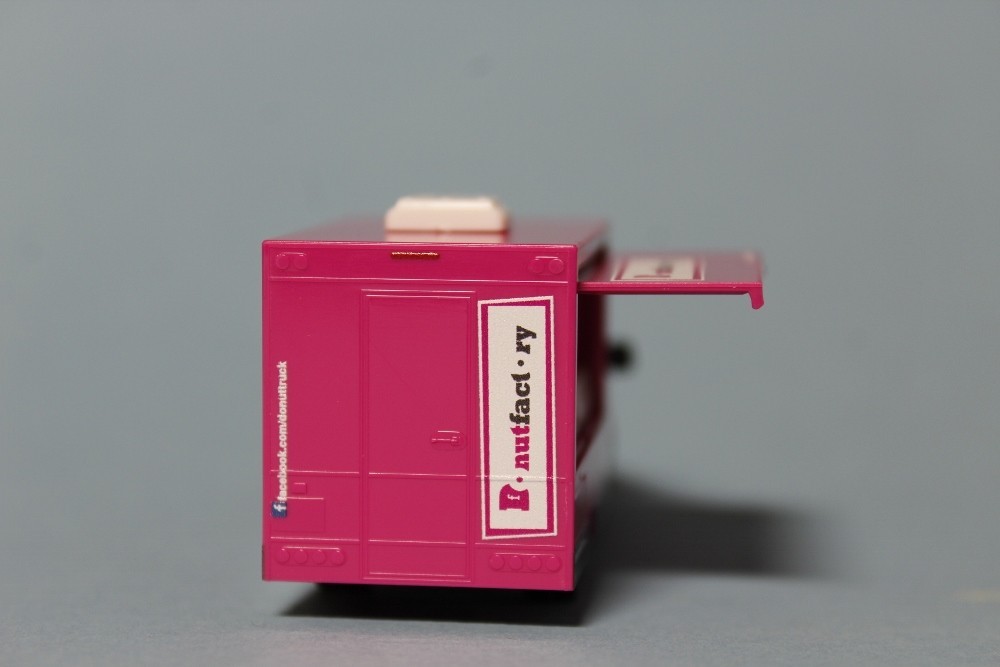 Conclusion
VW Crafter Foodtruck"Donutfactory" is Herpa's striking 1/87 model of this rolling confectionery. The model is assembled without flaw. Two optional unattached side mirrors are provided to detail the exterior.  It features an excellent finish and good exterior detail, which would be great if brake lights were at least simulated, and excellent if they were modeled with tinted clear parts. The interior is impressive as well. Herpa models snap together and it is possible to remove the body to insert figures into the seats, where they will be visible through the clear windows.  Removing the doughnut shop should also be a snap but I think there is enough space to insert figures and products through the window via tweezers.
My constructive criticism is: (minor) that I would like tread detail molded into the foot of each tire; (primary) lack of any brake lights.
Overall, Herpa has kitted an impressive VW Crafter.  Modelers and collectors of modern food trucks and light commercial vehicles should appreciate this delectable VW. It will be at home on a display shelf, in a diorama, or on a HO   railroad layout.Recommended.
Please remember to mention to Herpa that you saw this item here - on RailRoad Modeling.