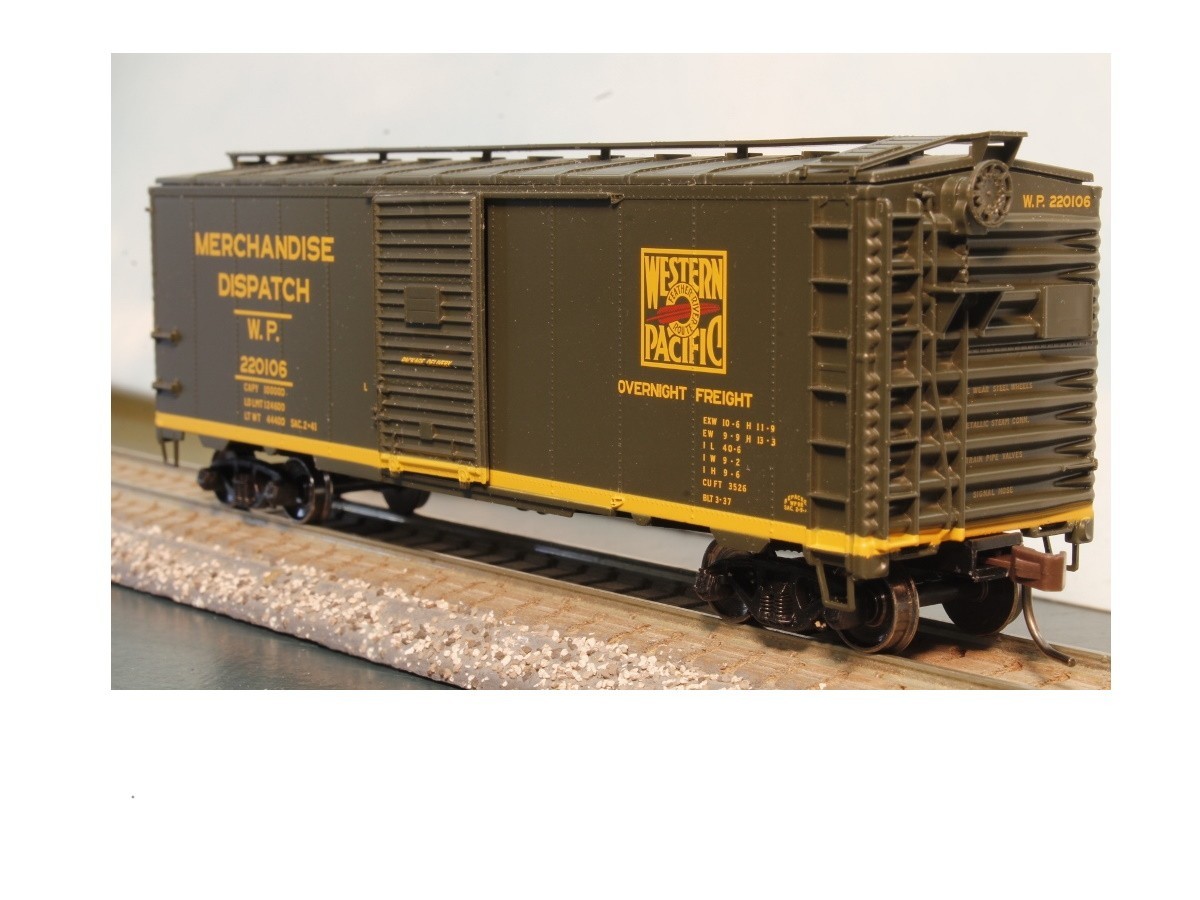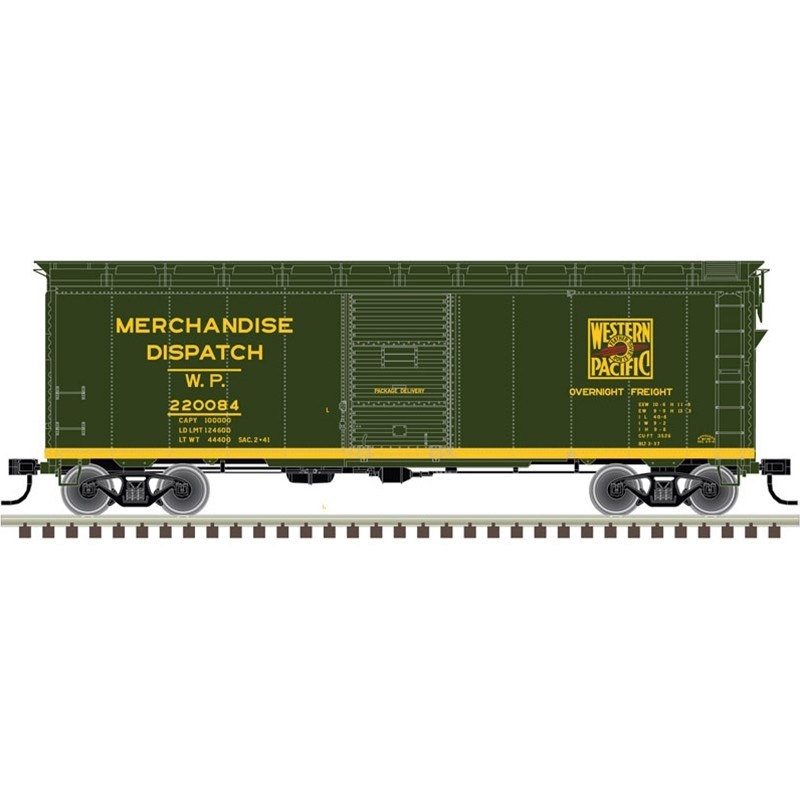 HO Trainman® 1937 AAR 40' Box Car Kit
The 1937 AAR (American Association of Railroads) evolved from their Committee on Car Construction improving their 1932 box car design.  The result was a great success which standardized and interior 10-foot height, among other improvements.  Tens of thousands of those box cars were built by rail car companies and individual railroads, with a variety of variations particular to the needs of the owner.   The box cars were used into the 1970s.  Thus, Atlas a 1937 AAR 40' Box Car in their Trainman range and to the delight of many model railroaders, it is offered as a kit.  This model, item 20006262, represents a Western Pacific Railroad car with road number 220106.

To date Atlas has released nine runs of this popular model since 2012.  You can view the releases and road names here.   The current available of stock can be found here.

 Atlas' history of the 1937 AAR 40-ft boxcar is:
The 1937 AARBox Car is widely recognized as the first standard freight car design to bevoluntarily adopted by the majority of railroads throughout the United States.Although previous USRA designs also achieved widespread distribution, theirsuccess was mostly due to government control rather than popular acceptance.

The 1937 AARBox Car also had many features that became standard on boxcars for years tocome, including dreadnaught ends, straight panel roof and an inside length of40' 6". They had an interior height of 10' with a 3700 cubic foot capacity.With only a few variations built, this design helped the industry realize theeconomic advantages of freight equipment standardization; a concept thatcontinues into the modern era.
Atlas notes this model features:
Quick and easily assembly
Highly detailed body with molded ladders and grab irons
One-piece underframe with full brake detail
Quality painting/printing of prototypical paint schemes
The Kit
It is packaged in a sturdy box.  Apologies, I took photographs of the model in the box, the unassembled parts, and some in-progress shots.  They have all disappeared form my computer.  The parts count is:
Body (without roof)
Roof
Frame
End (2)
Door (2)
Door slider bracket x 2

Roofwalk
Brake wheel

Truck x 2
Mounting screw x 2
Coupler x 2
Coupler box lid screw x 2

Nuts x 2
A pair of plastic pins were included but they are not mentioned in the instructions.
The parts are crisply molded and detailed.  Each end is separate and snaps into the body via holes and pegs - a different number to ensure we put the correct end on the correct side of the body.  The doors can be glued in position or assembled to open.
Couplers are provided, a hybrid of horn hook and knuckle types.  They are smaller and look more to scale than typical knuckle couplers.  Whether they hold securely remains to be tested.

Detail

Fine detail includes rivets and door guides, ladders and grab handles and stirrups, door hasps and locks, tack boards, and perch for the brake wheel.  All detail except for the hand brake wheel and roofwalk are molded on.  There are 10 panels on each body side and the ends are Dreadnaught 5/4 pattern.    The roof is the straight panel design.  This model's body has a straight sill.  Whether this is correct for Western Pacific is not known as WP did not have box cars in this road number range.  Underneath, the frame and brake gear is molded as a single part.

The molded-on detail may or may not be over-scale but it looks good.
The metal wheels are blackened.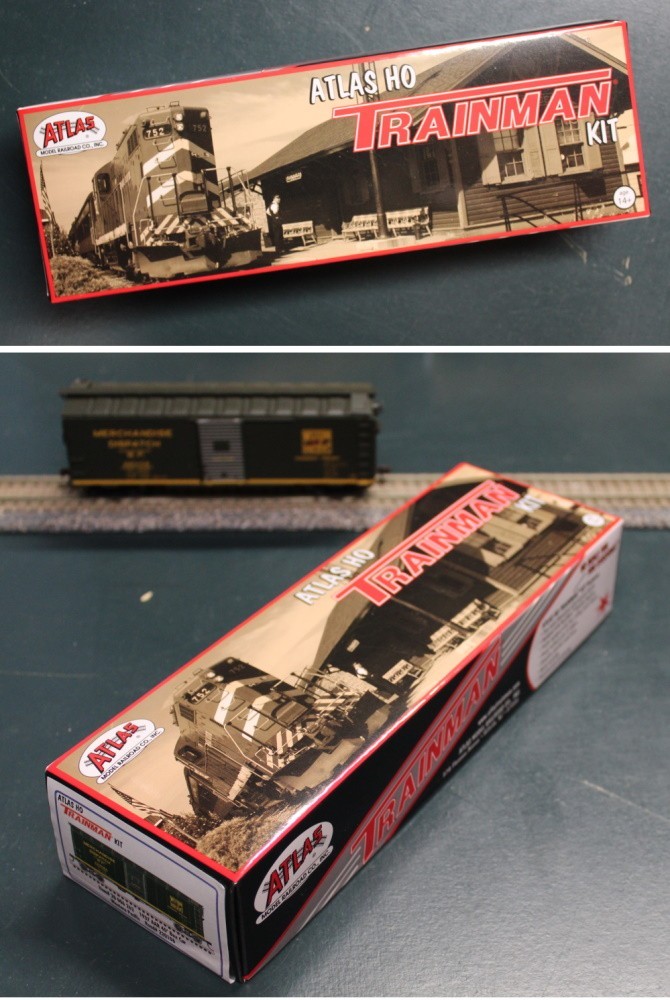 Instructions, Decals, Painting Guide
A single page instruction sheet is provided. Clearly illustrated in exploded-view form, it includes a textual narrative for assemble. It is clearly written in conversational style and includes specifies assembly not obvious to novices, i.er., "To be prototypical correct, the brake cylinder should "point" towards the five hold end of the body." Assemble is in five subjects: tools required, underframe, body, roof, doors.

No decals or painting guide are provided because the car is factory-decorated. The paint is smooth, opaque, and does not obscure the fine detail. This WP scheme features smart yellow trim along the sill and it is printed with a sharp edge. All of the printing and lettering is sharp and legible. You can read "Package Delivery" on the doors and that the wheel journals were repacked by Western Pacific on February 9, 1941.
This release features and undecorated model and nine road names:
Lackawanna (Brown/White)
Lehigh Valley (Brown/White/Black)
New Haven (Black/Orange/White)

Pittsburgh and Lake Erie* (Brown/Black/White)
Union Pacific (Brown/Yellow)

Wabash (Brown/White)
Western Pacific (Green/Yellow)

Maine Central (Green/Yellow)
Southern Pacific (Brown/White/Black)

Each road name is provided with three road numbers.

Assembly
Assembly is straightforward.  Atlas' instructions are easy to follow and the model was complete in about 20 minutes.  Only minimum shaving or sanding was required and a minimum of persuasion was required to snap the frame into the body.  The roof walk is a flexible plastic and I will glue it to keep it straight along the roof.
An adhesive is required to hold the weight nuts in the body, and you will need a small screwdriver to secure the screws for the trucks and couplers.  Otherwise, everything snaps together.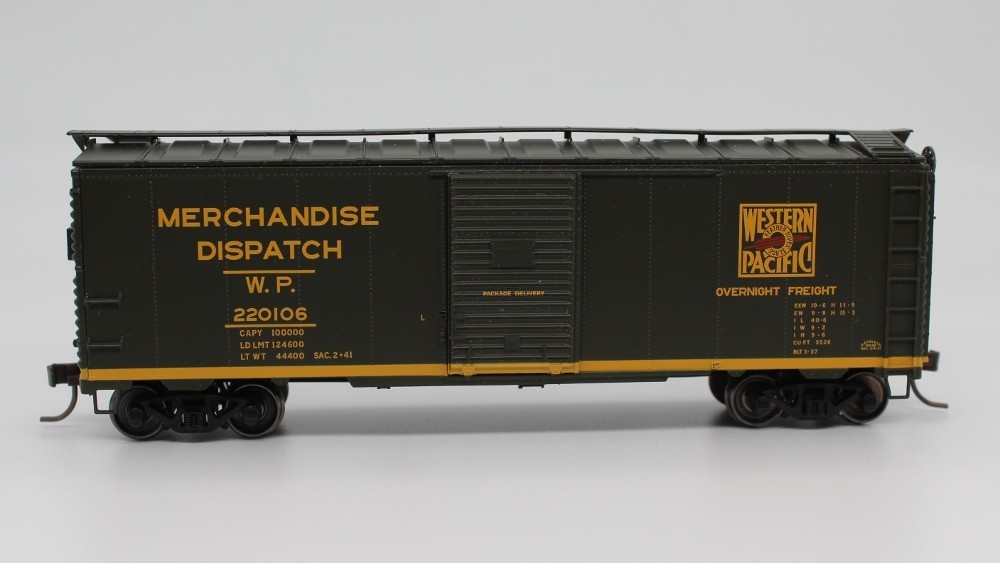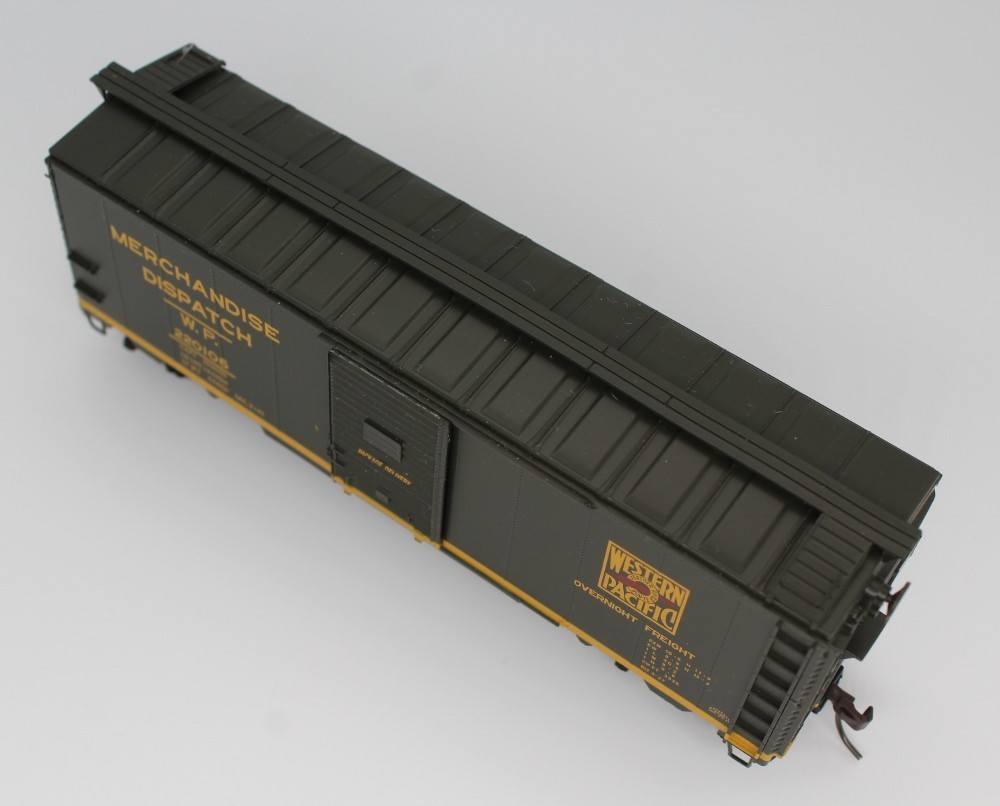 Overall, I am pleased with my Atlas Trainman 1937 AAR Box Car kit.  It is fun to assemble a kit again instead of just opening a ready-to-run car and plopping it on the track.  It is also nice not to require days to add a myriad of parts before I can - gingerly - rail the model and run it.   Not knocking RTR and super-detailed kits - love them! - just enjoying the simpler days of the hobby again.
The model is crisply cast, well detailed, decorated with first-rate paint and printing, and I appreciate the positionable doors.
I think you will like this model and recommend it.
Please remember to mention to Atlas and retailers that you saw this product here - on Railroad Modeling.