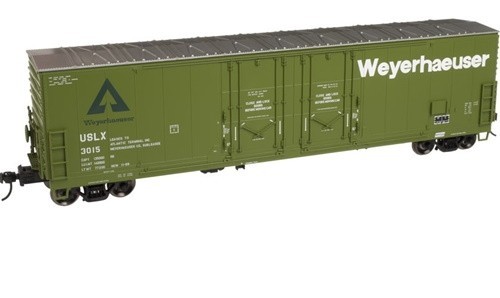 O Scale 53' EVANS DOUBLE PLUG-DOOR BOX CAR
This review looks at Atlas O's 3-rail 53' Evans Double Plug-Door Box Car in Weyerhauser colors, ITEM# 3001316.
This 53' boxcar was manufactured in the 1960s and '70s by Evans Company and was used primarily to haul produce, wood and paper products, and canned goods. The prototype is an insulated RBL featuring a 16-foot opening and double plug doors.

Features:
True ¼" scale dimensions and details
Die-cast floor with complete undercarriage detail
Separately-applied ladders, brake wheel, safety platform, door bars and door handles
Die-cast sprung 70-ton roller bearing trucks
Accurate painting and lettering
Two rail units include scale wheels and Kadee®-compatible scale couplers
Minimum diameter curve (3-rail): O-31
Minimum radius curve (2-rail): 36"
53' EVANS DOUBLE PLUG-DOOR BOX CAR WEYERHAUSER 3026, 302
The Model
First glimpse and I am impressed with the crisp molding, applied detail, and sharp paint and lettering.   This big model is packed in a secure rig: top-bottom custom fitted cradle; soft sheet to protect against scuffing; plastic sheaths on the trucks.  Registration and warranty papers are included.
This system protects the model from all but rough handling, unless one skewers it from the side.  However, one of the transverse bars between the end ladders is bent.

Packing and papers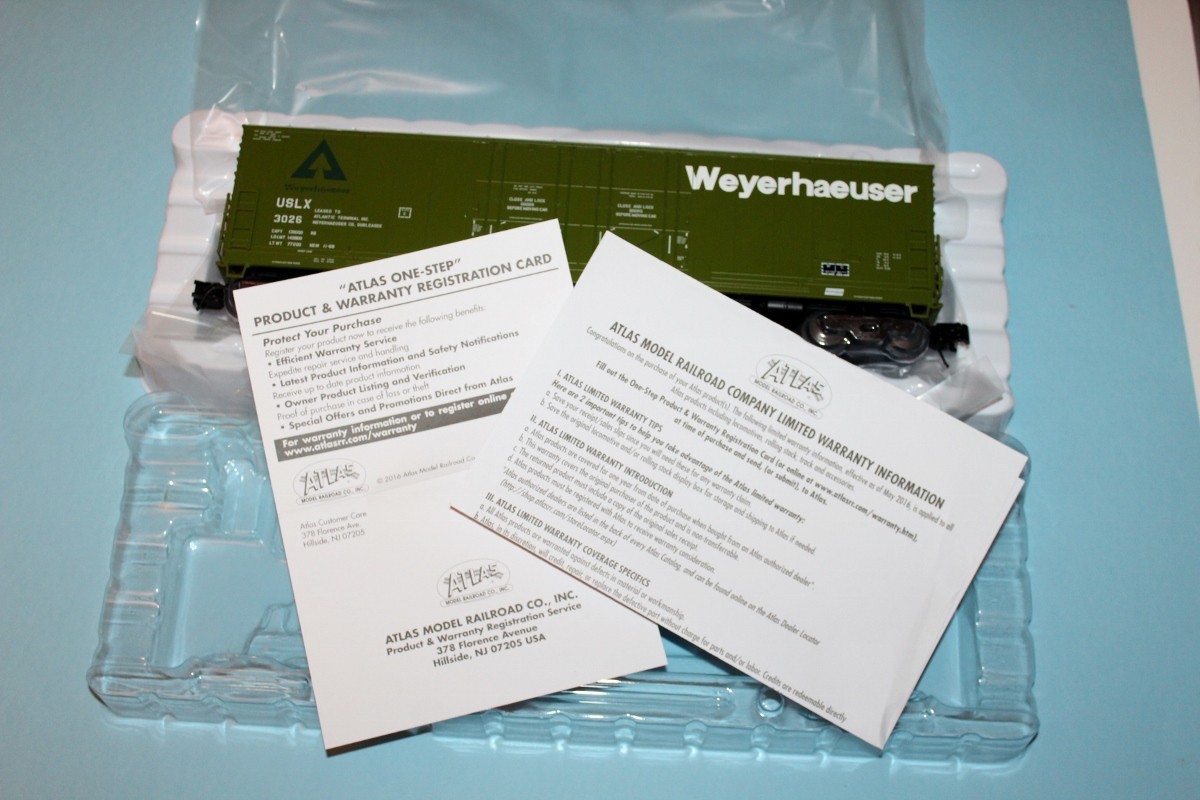 Top-bottom cradle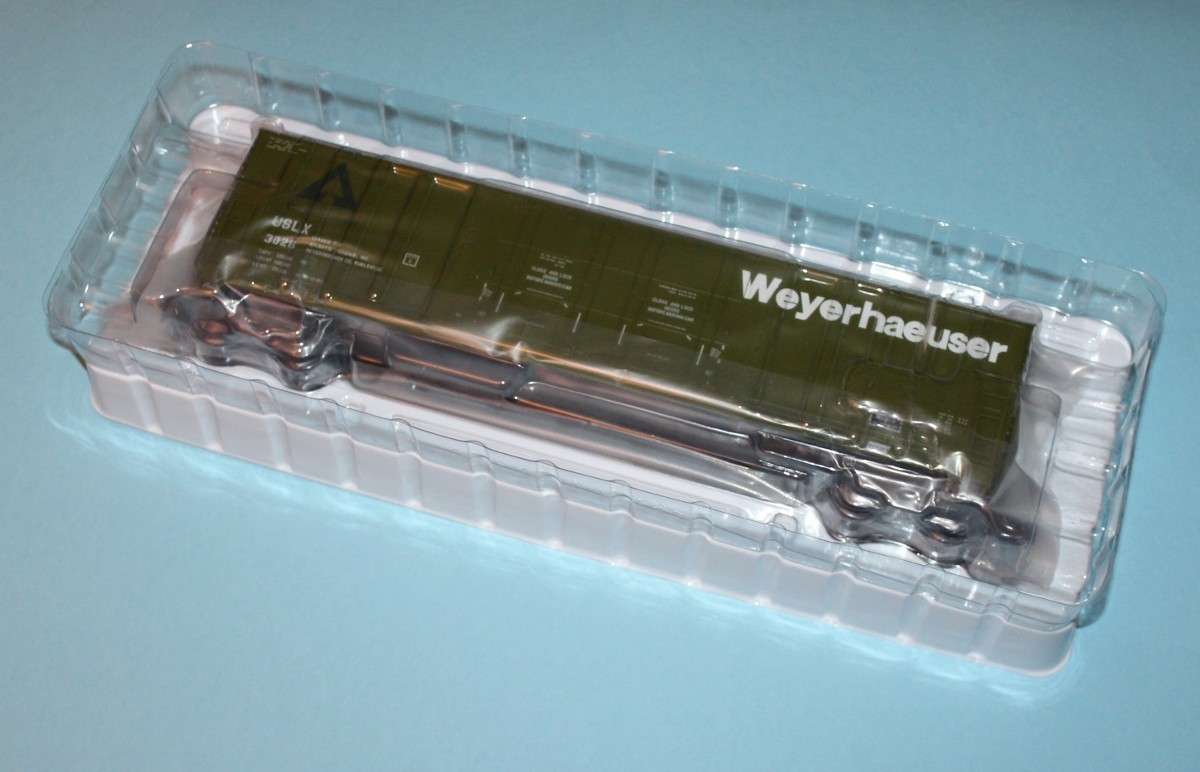 Quality
Crisp injection-molding and die-casting are characteristics of the model.  I can't find any flash, mold seam lines, sink marks, or ejector marks.  Only when looking at these close-up photos did I spot a couple of de-spruing burrs on a couple of plastic parts.  Can you find them?   They are all but invisible looking at the model.
  The model is skillfully assembled with no glue blemishes, either.  Molded detail is scaled well.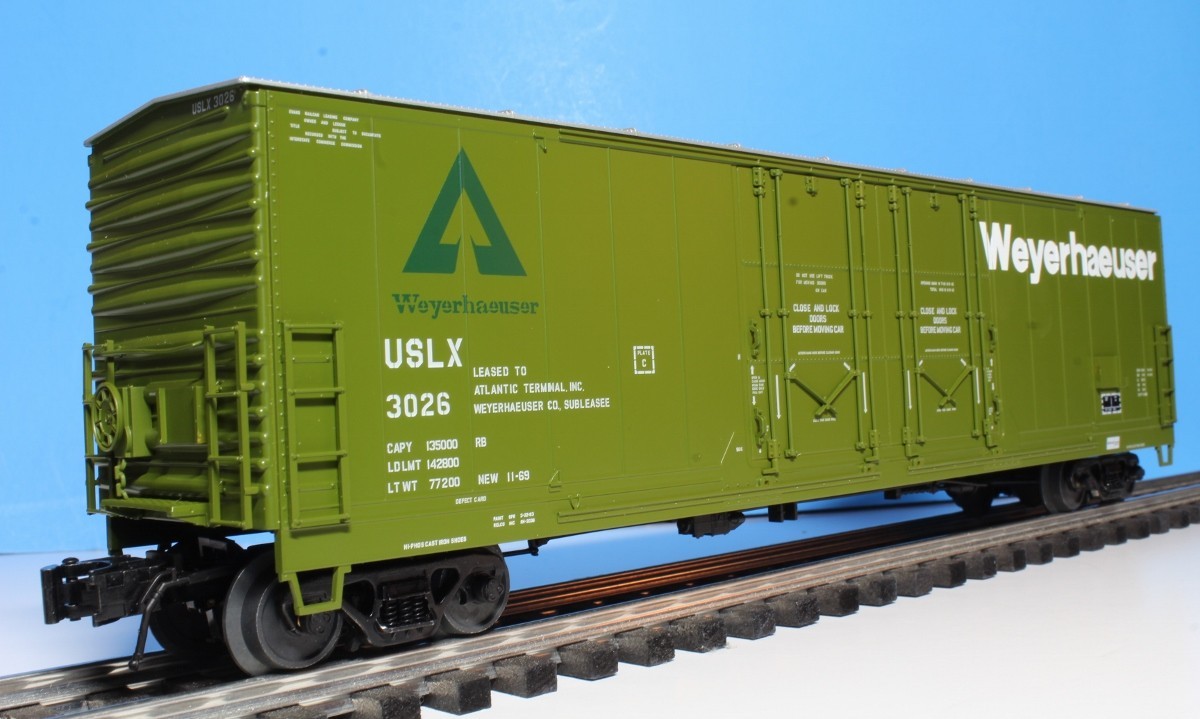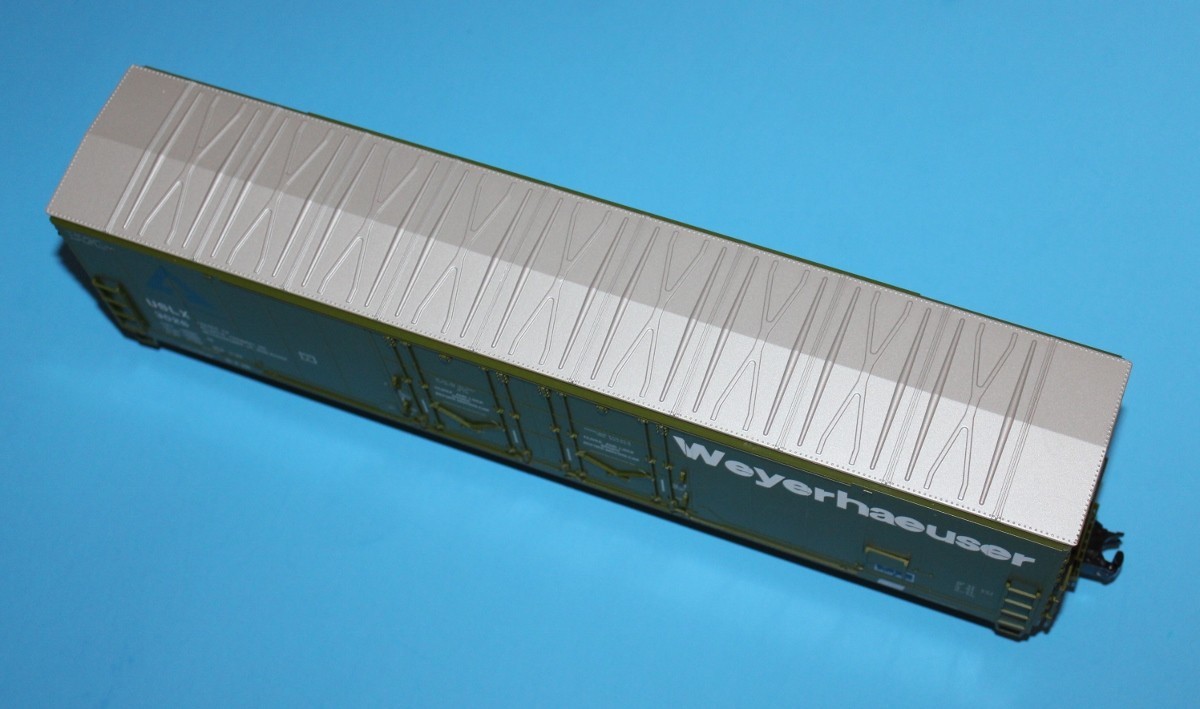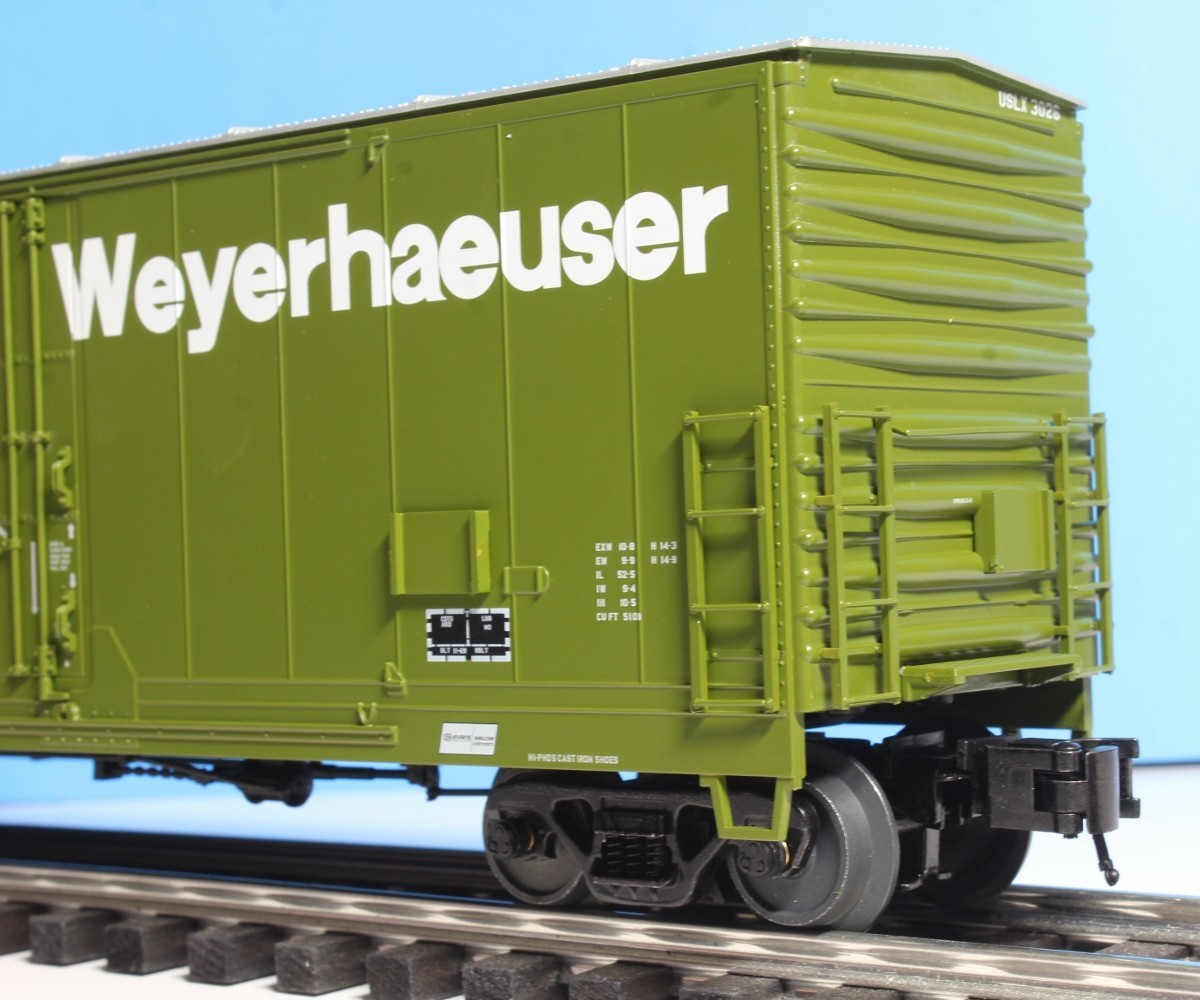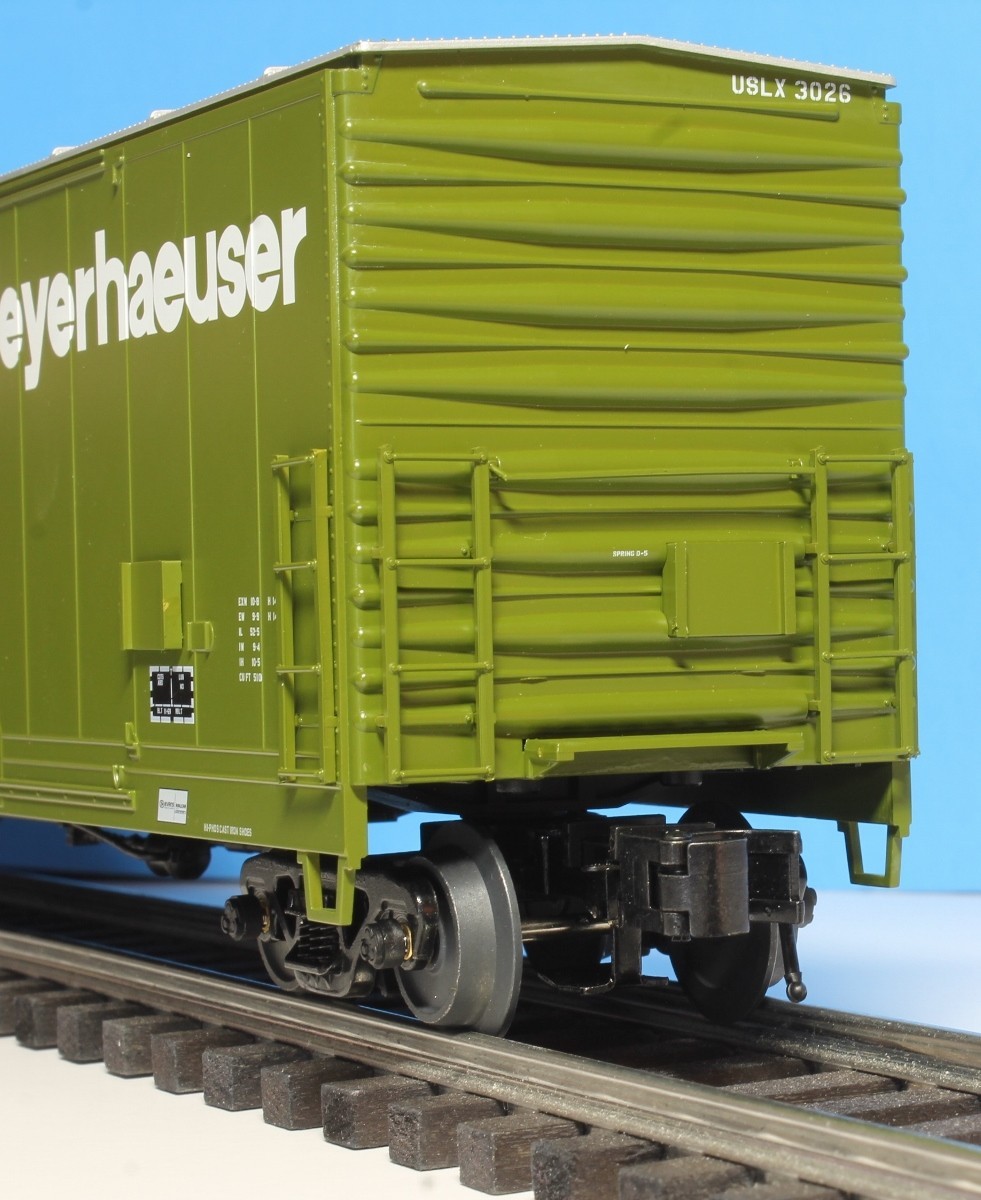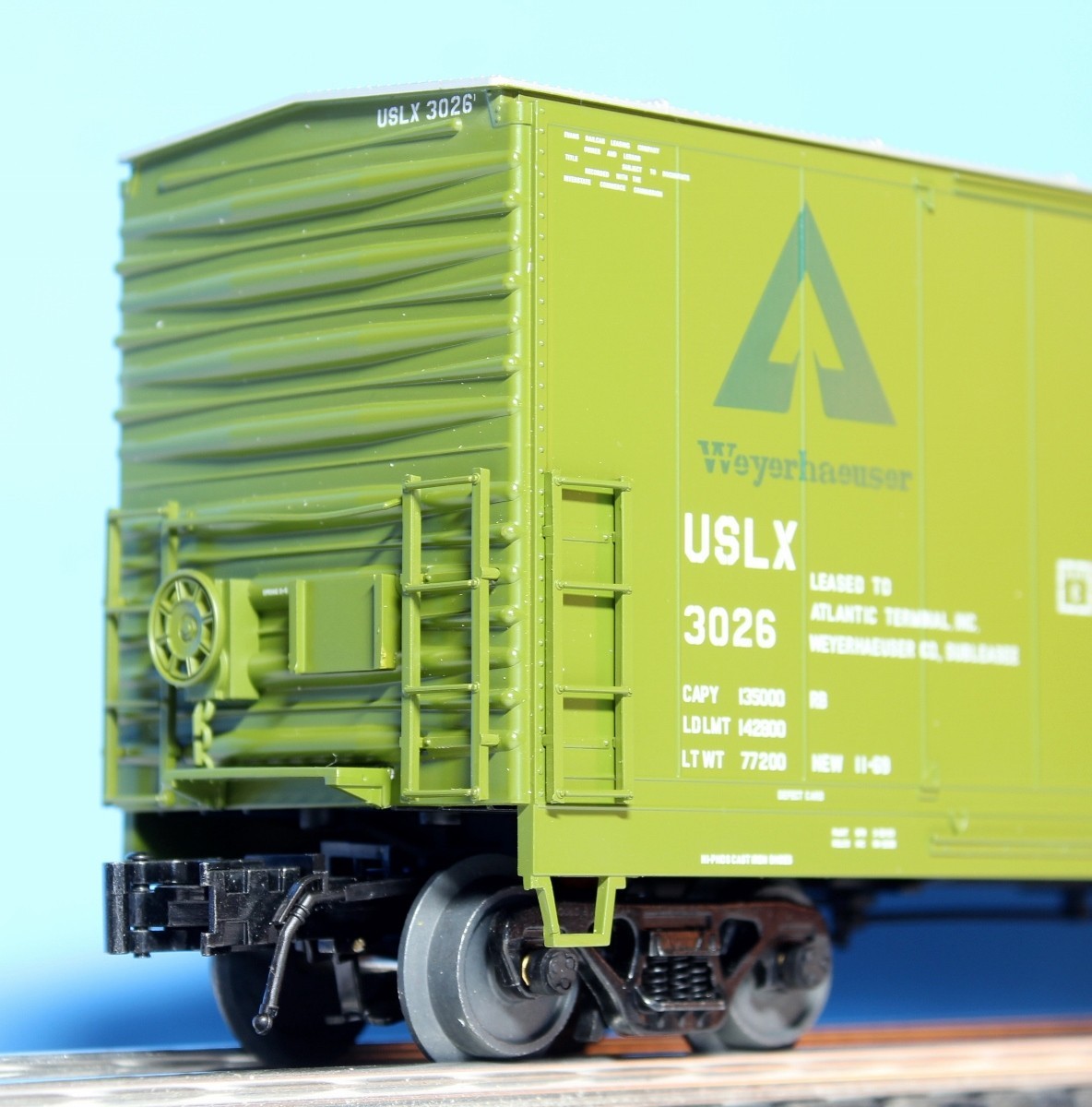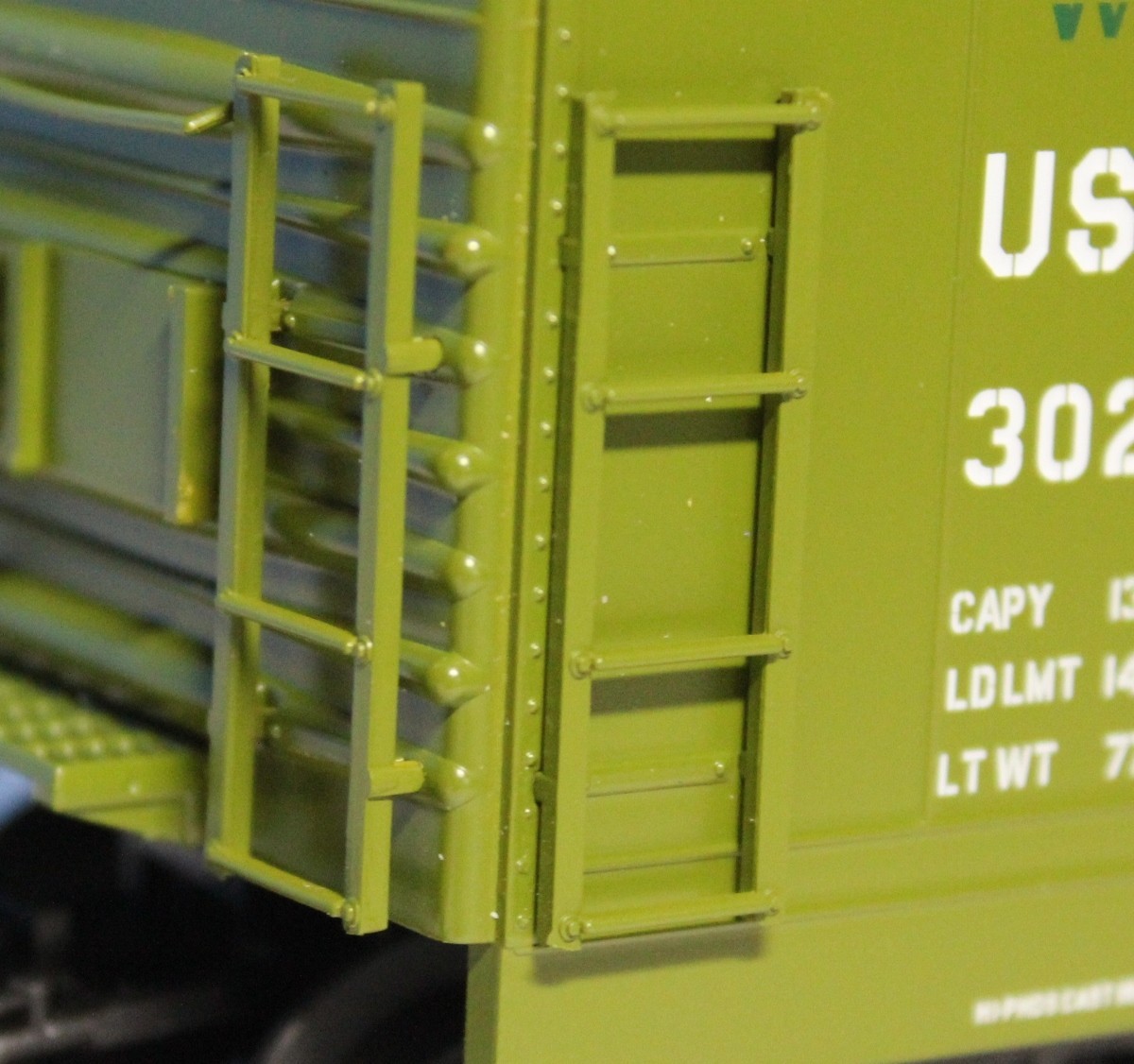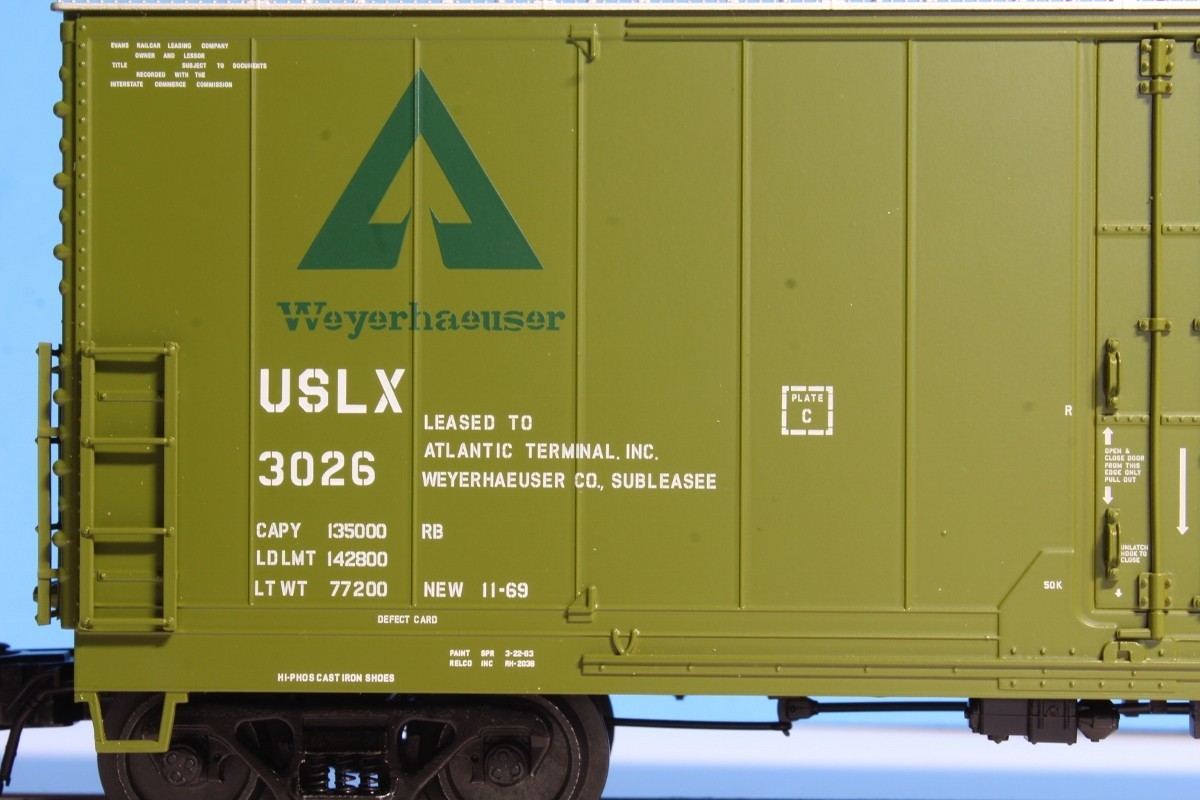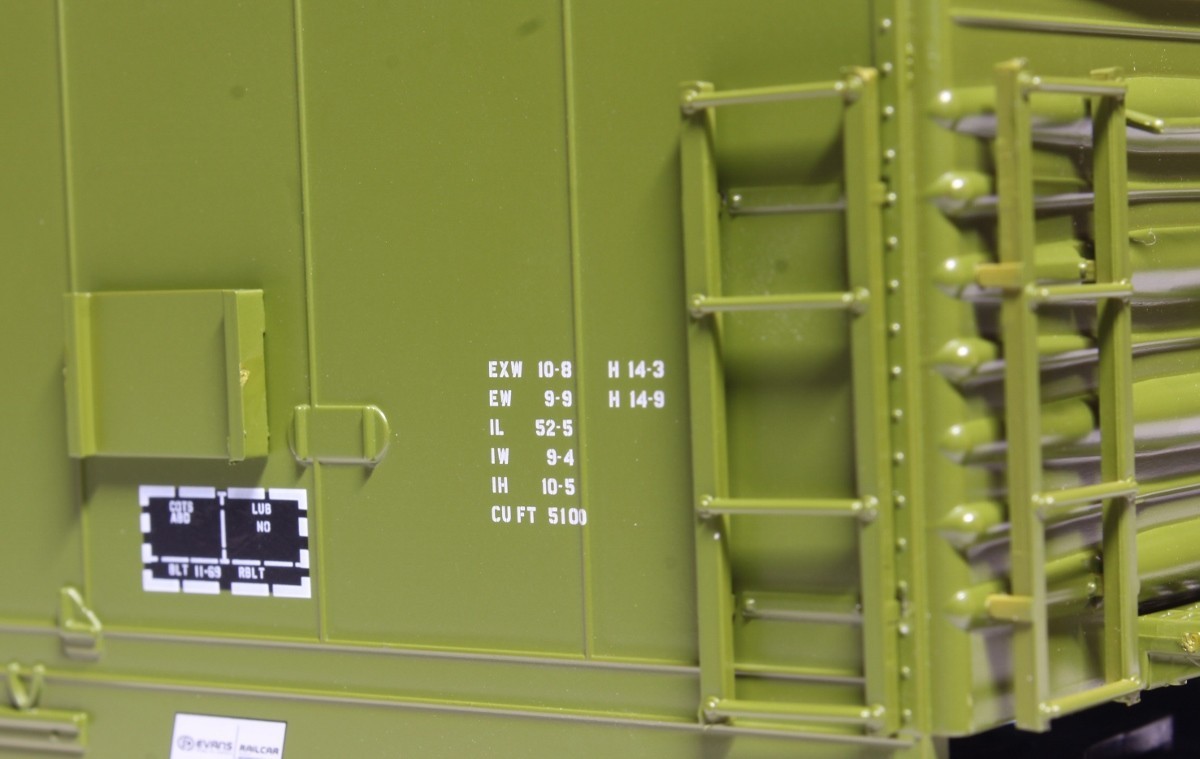 Detail
Plenty of separately applied parts enhance the molded detail.  The underside is made with a frame and crossbears, floor detail, and full brake gear.  On each end are the individual ladders, grabs, tack board, safety platform and brackets, and an air brake hose.  Naturally, the B end has a hand brake wheel.  All that brake rigging looks great hanging down below the sill.  A very minor critique is the chain from the cylinder to the lever has no slack.  A more noticeable omission is the chain from the hand brake wheel does not extend below the end platform; some Atlas HO models do include the longer chain and the linkage to the air brake system.

The end platforms are molded open.  All of the ladders are mounted slightly off the body.

Each door is detailed with attached (non-functional) handles and locking mechanisms.
Handles and locking mechanisms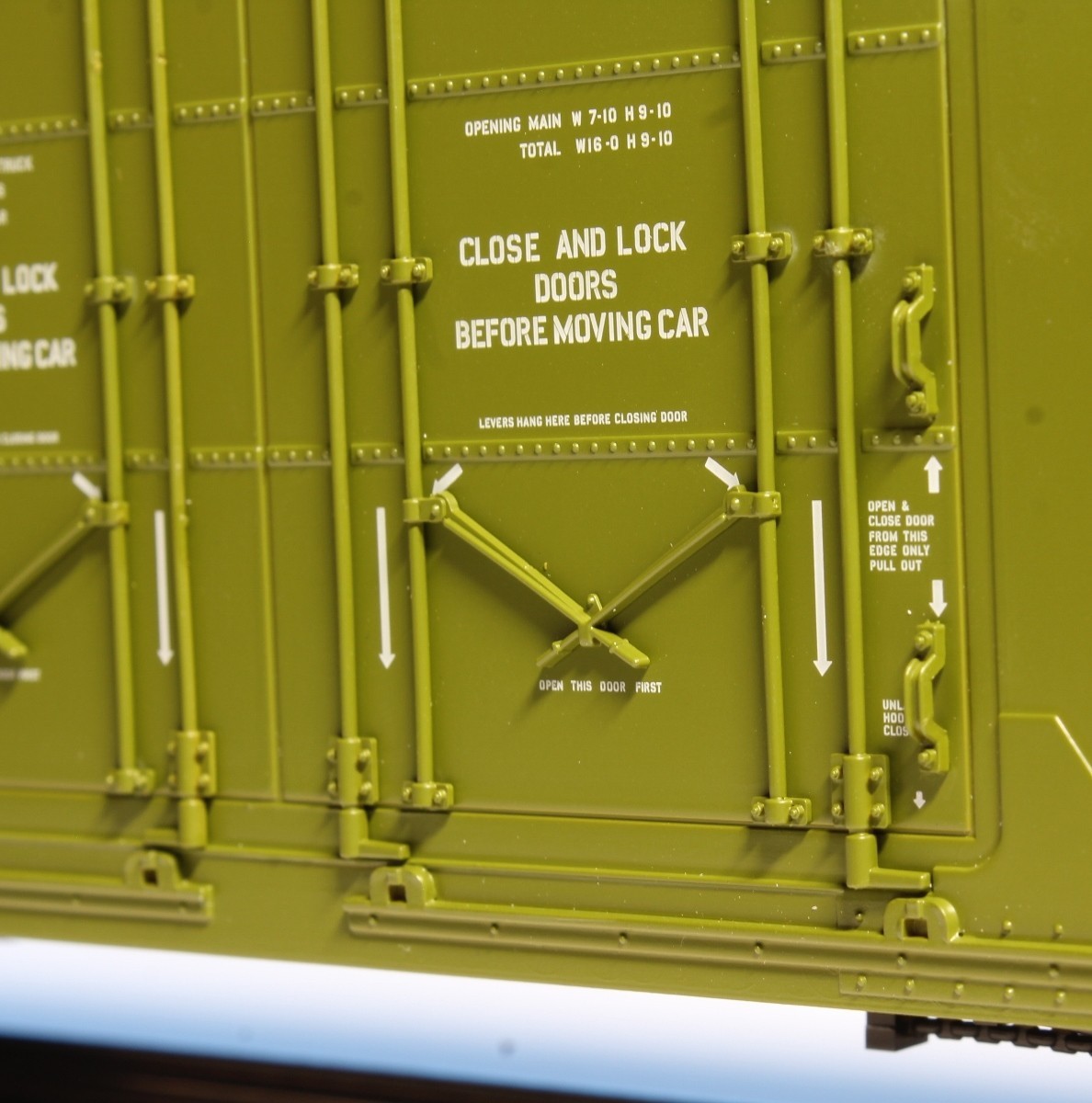 B end.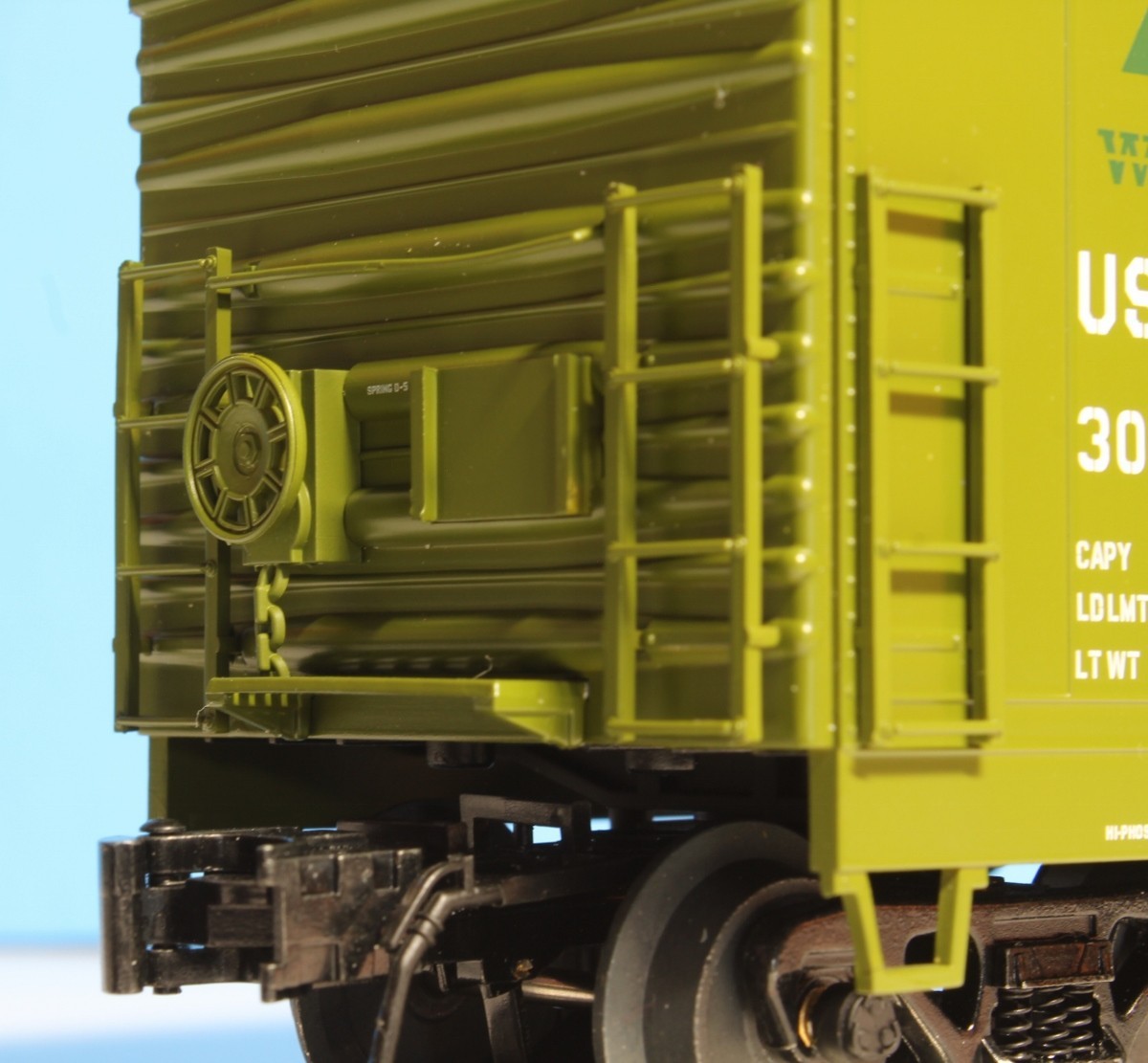 Note ladders are mounted slightly off the body, and brake hose with angle cock and valve handle.

End platforms are molded open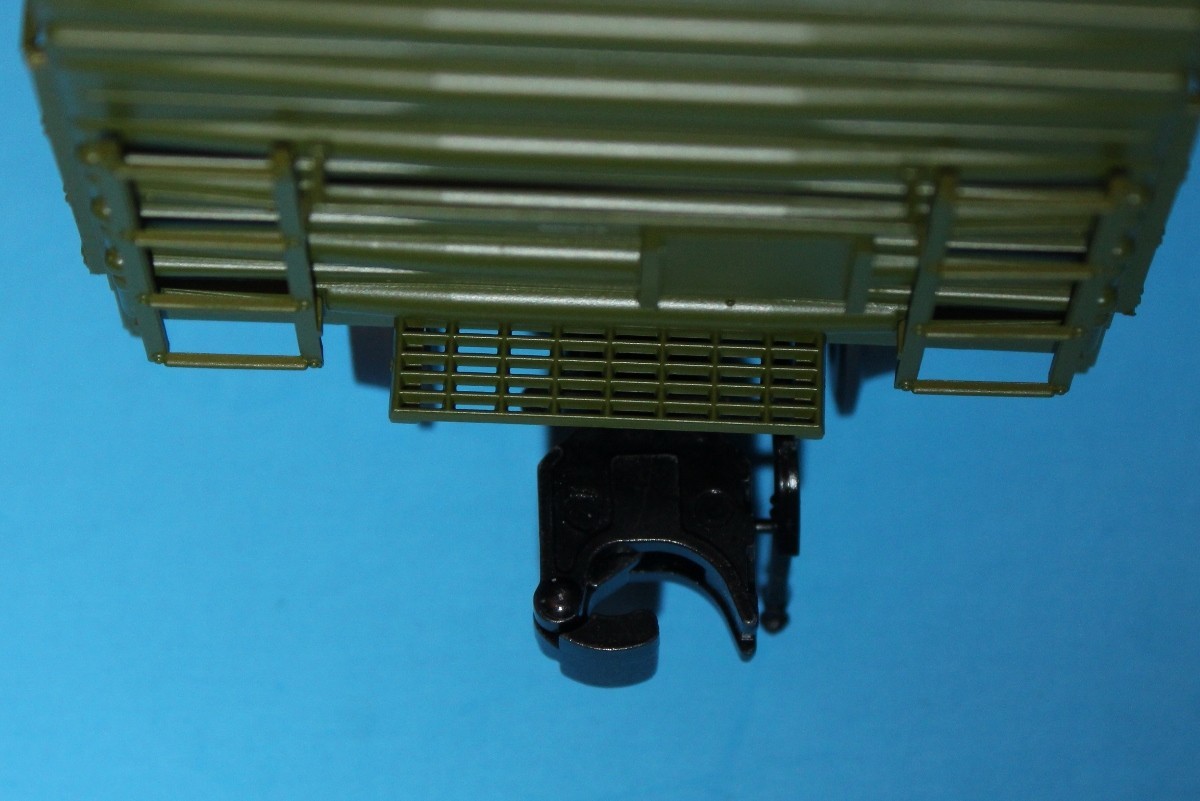 Train line, cylinder, brake rigging

Brake rigging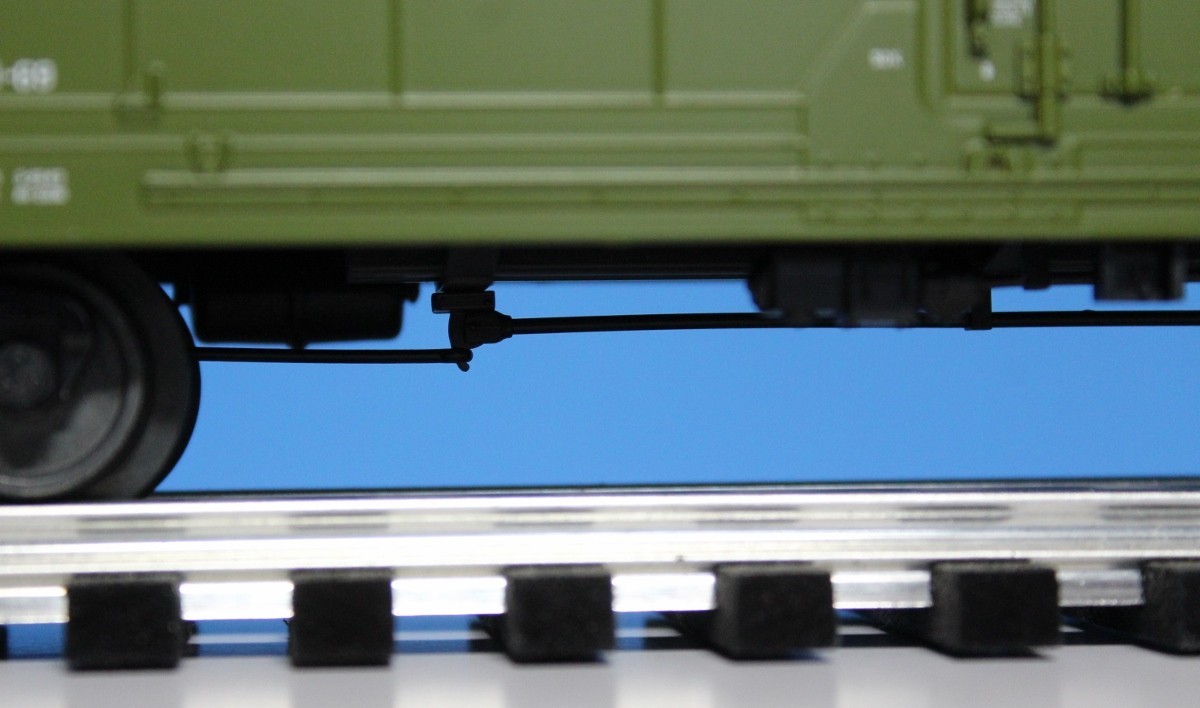 Brake hose with angle cock and valve handle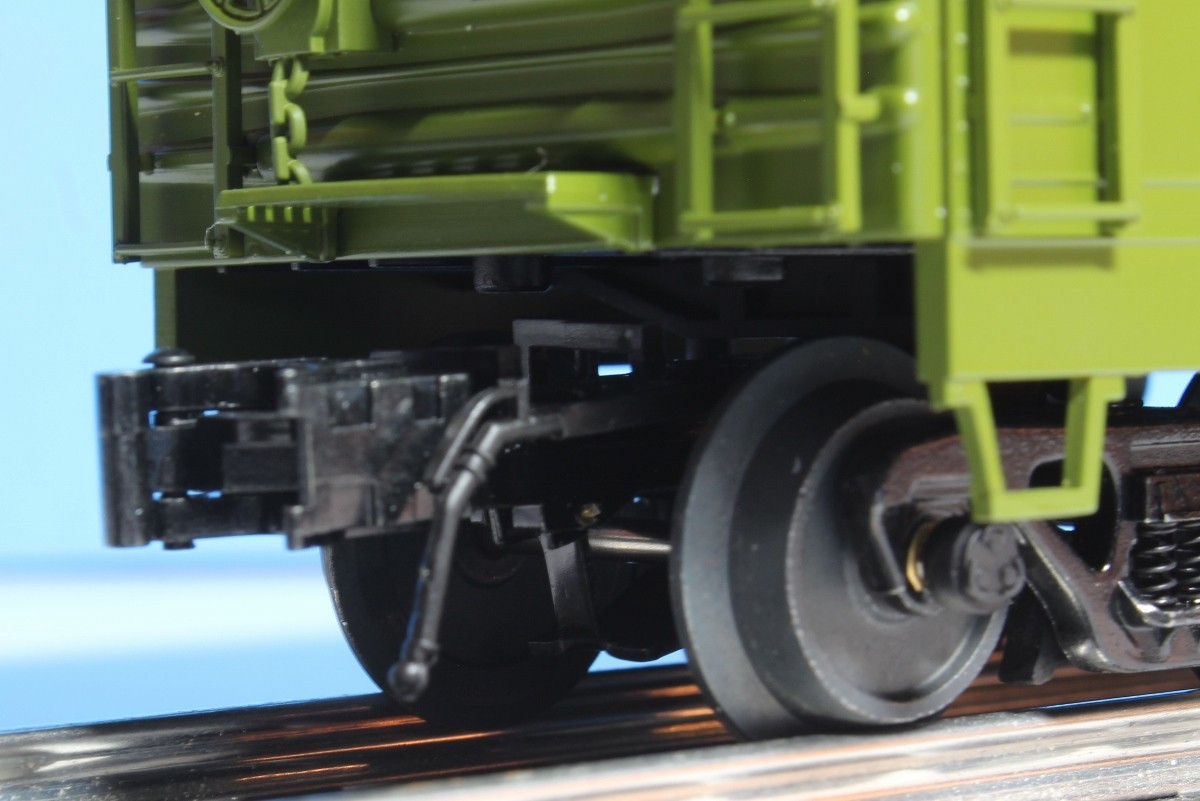 Sprung 70-ton roller bearing trucks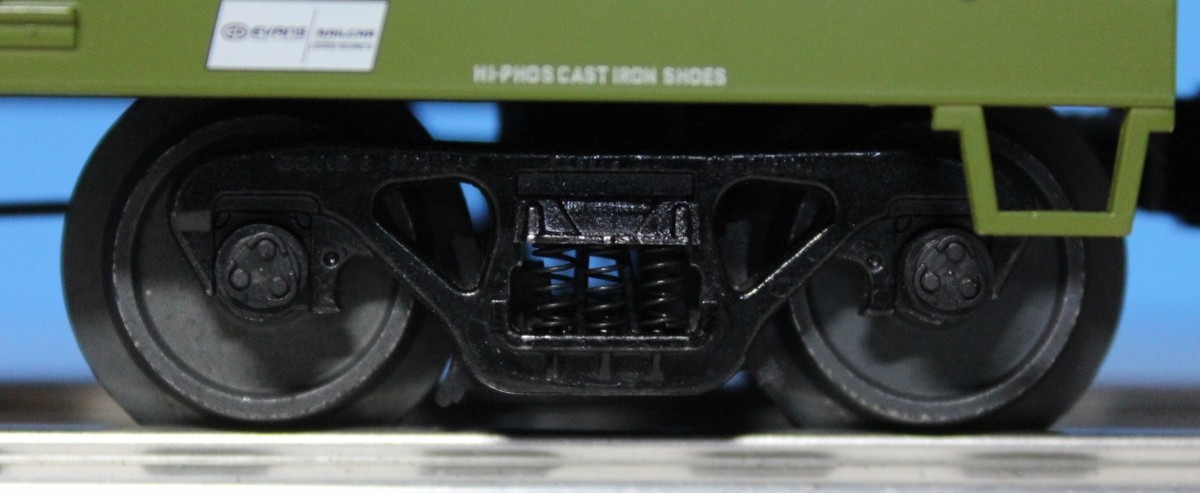 Note casting data along top of side frame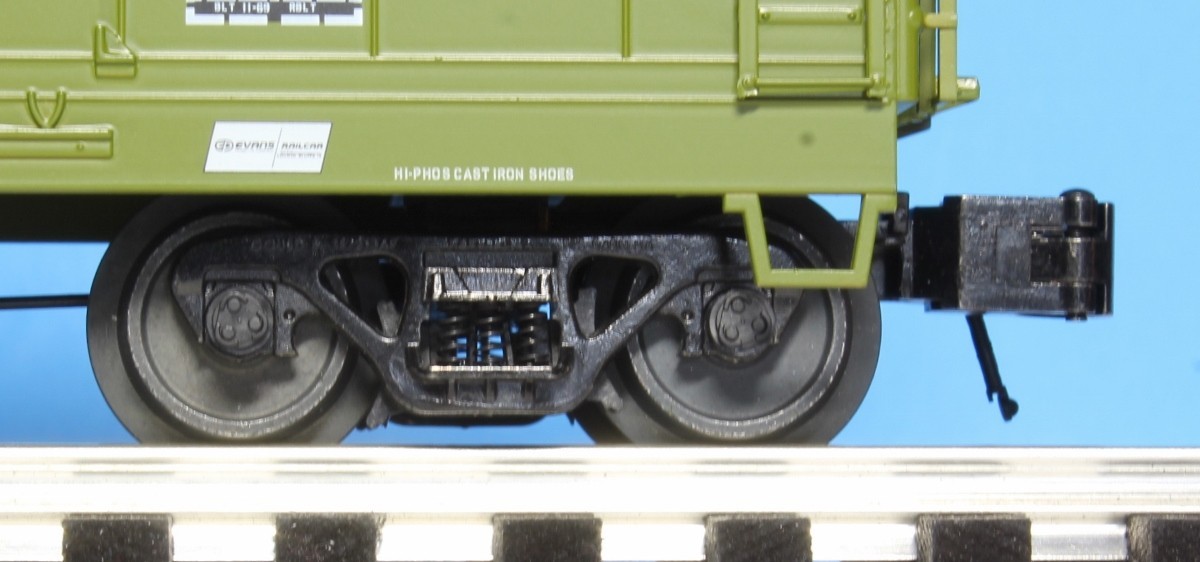 Weight & Measure
The model scales properly in length. It weighs 1 pound, 9.8 ounces, which is significantly over the NMRA RP.20 standard.

Paint and Markings
Atlas' paint and stenciling is an industry standard.   Opaque.  Crisp, sharp edges.  Legible.  Does not obscure detail.  I wonder if the state of the printing art can be improved upon?   Aside from the dimensional and weight data you can easily read ownership and leasing information, that the car is equipped with  high-phosphorous cast iron brake shoes, and door opening and securing instructions.
This release offers six road names and an undecorated model.

Weyerhaeuser (Green/White)
Union Pacific (Brown/White)
BC Rail (Green/White/Yellow)
Chicago & Northwestern (Black/Yellow)
Grand Trunk & Western (Blue/White)
Union Pacific Tool Car (Gray/Black)
Two road numbers per road name except for UP which only has one.
I did not find a photo of the prototype for this model,  USLX 3026, but I found photos 3020, 3024 and 3028.  You can look at 3020 here:Pictures of USLX 3020.
Overall, this is a beautifully finished model.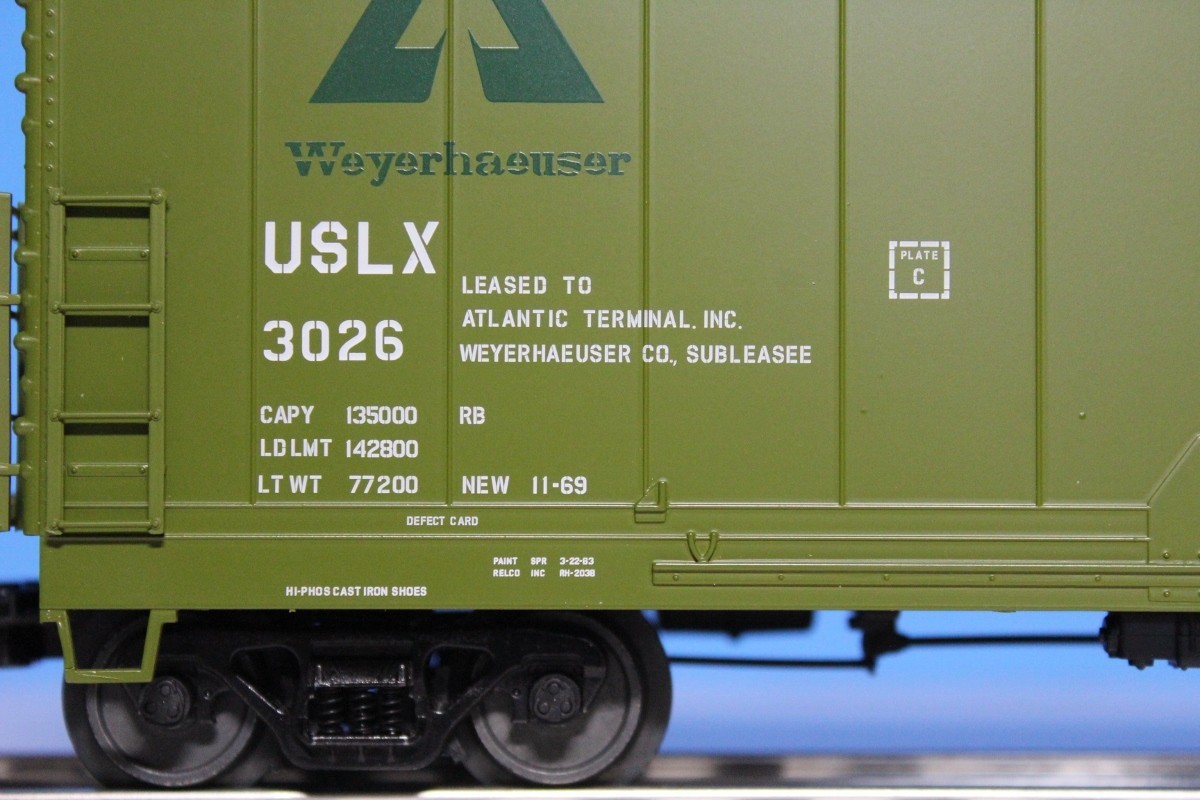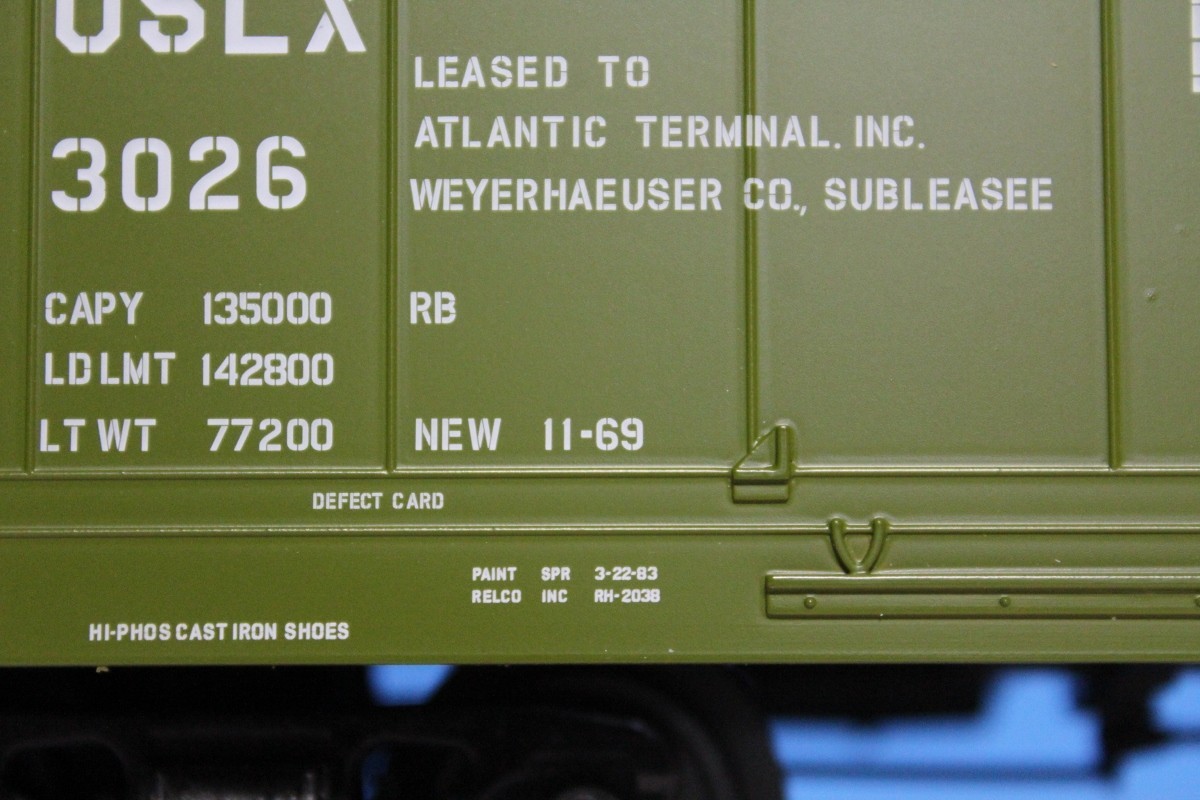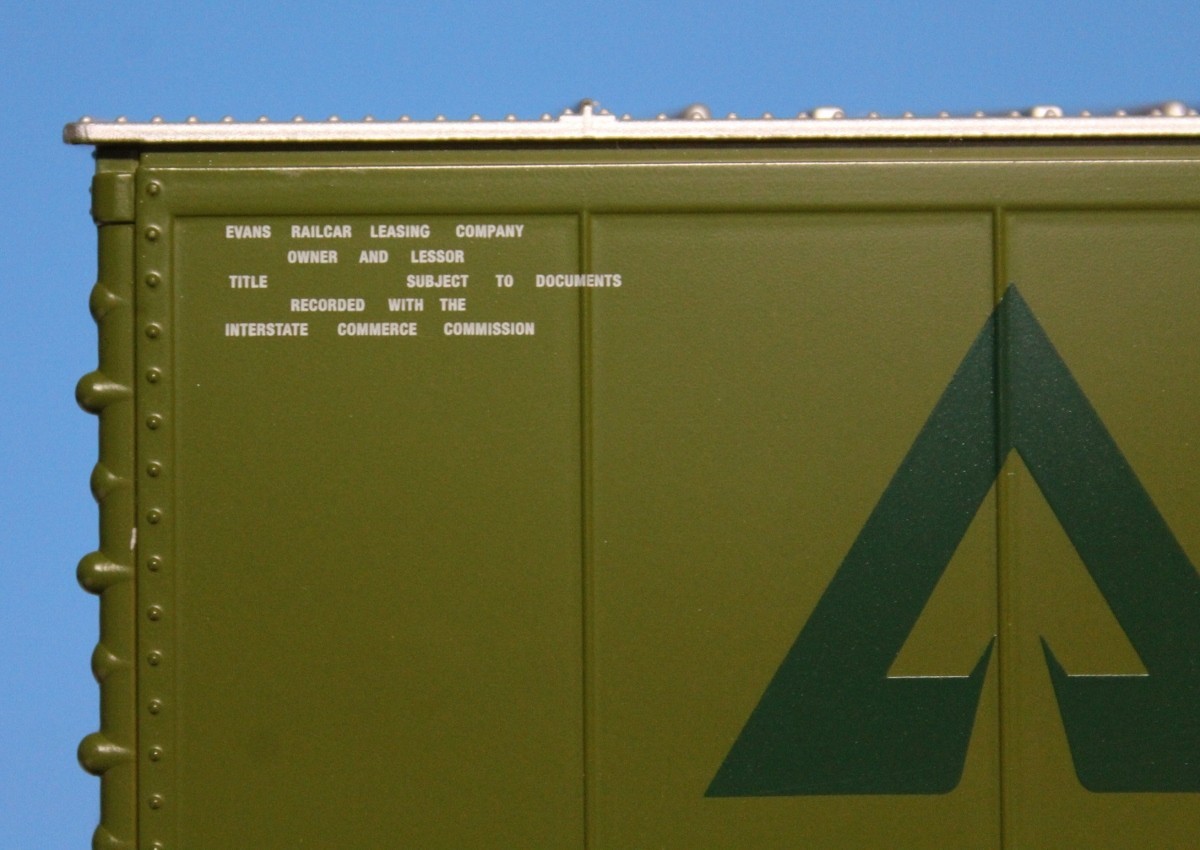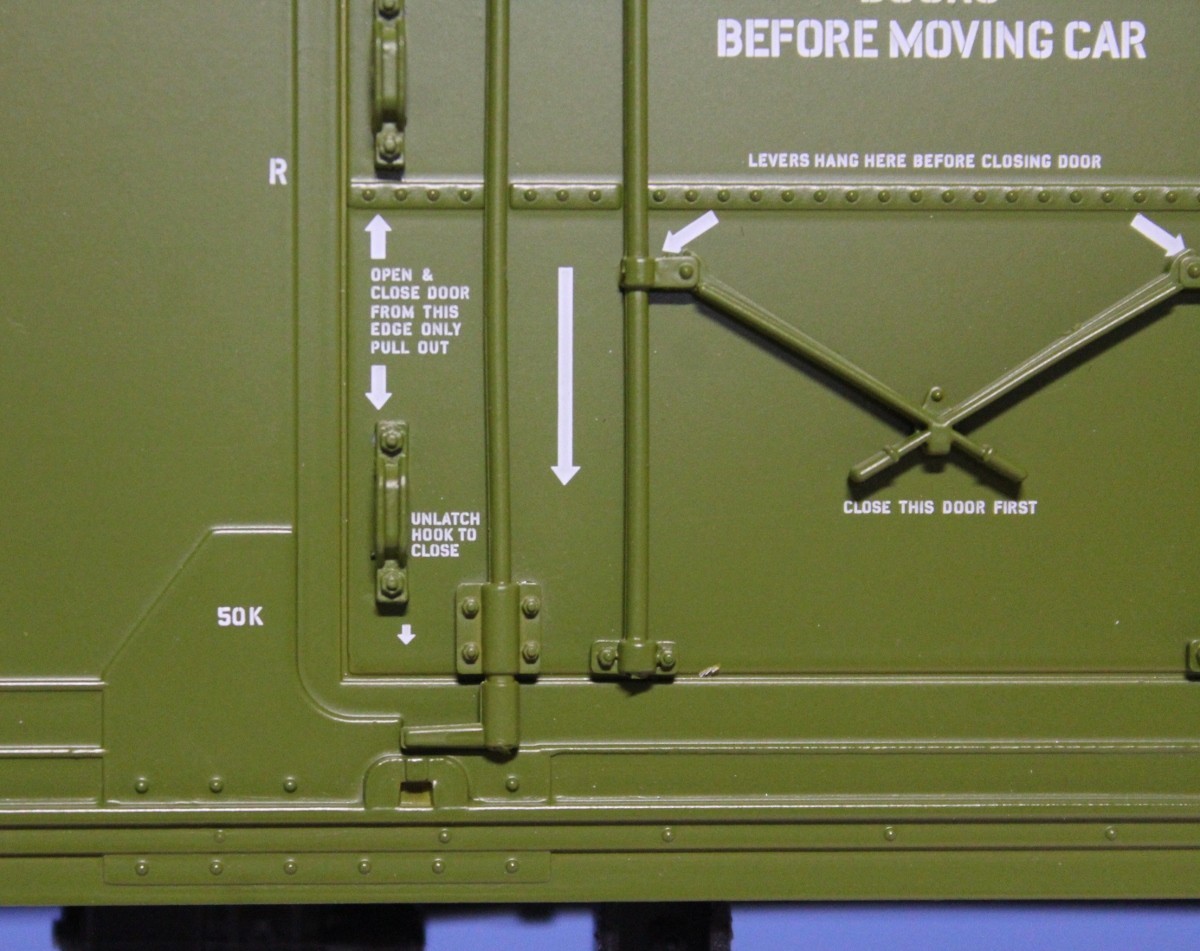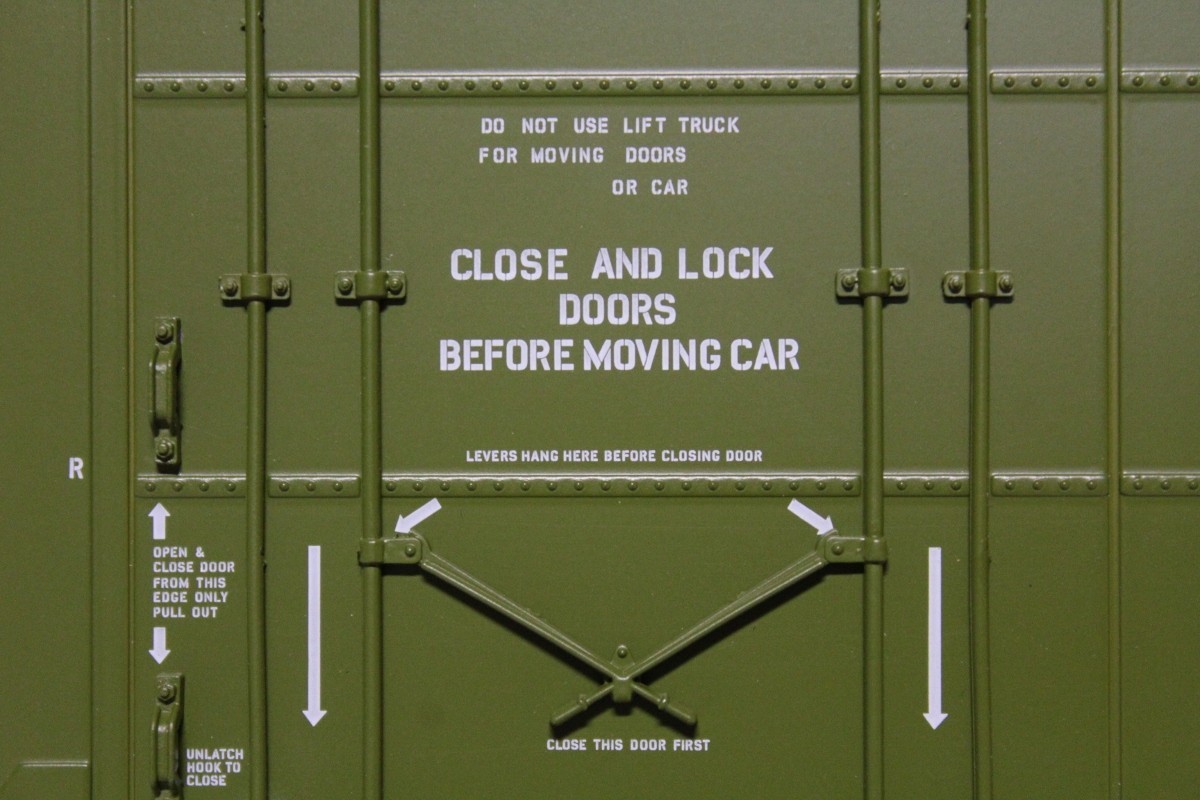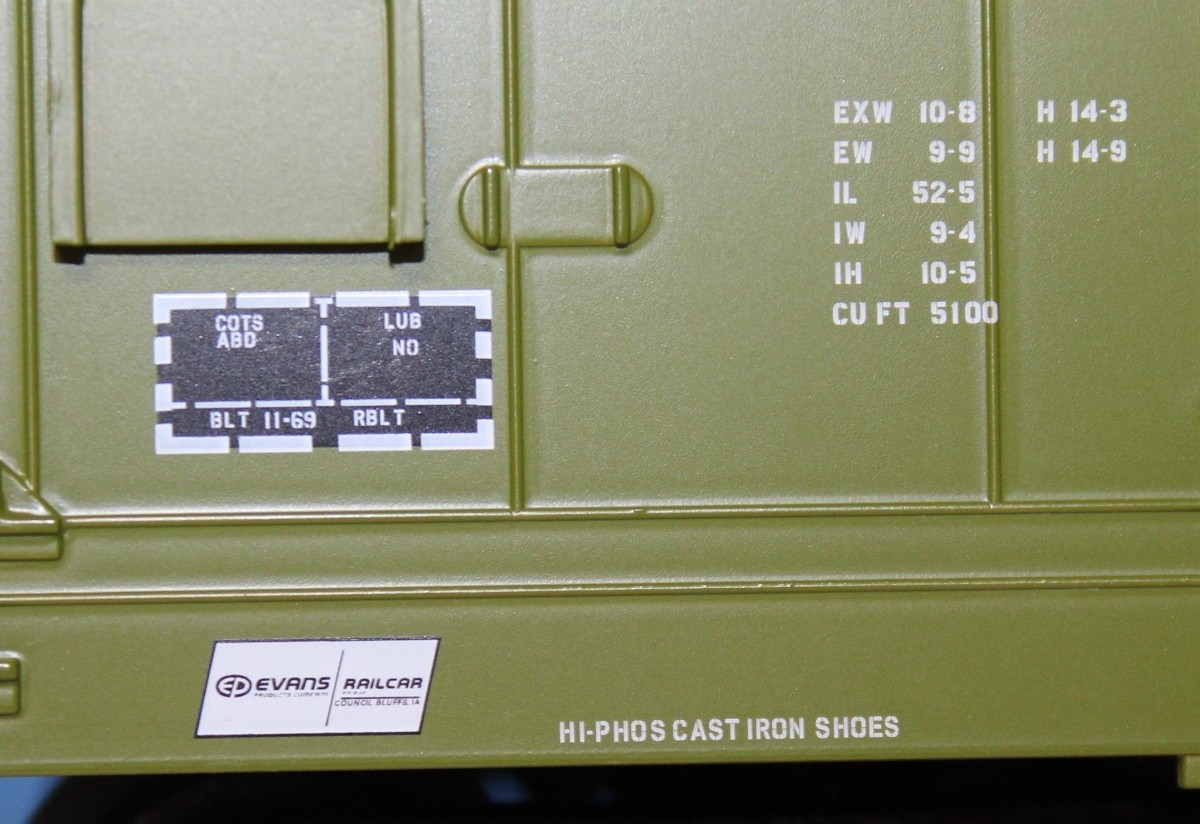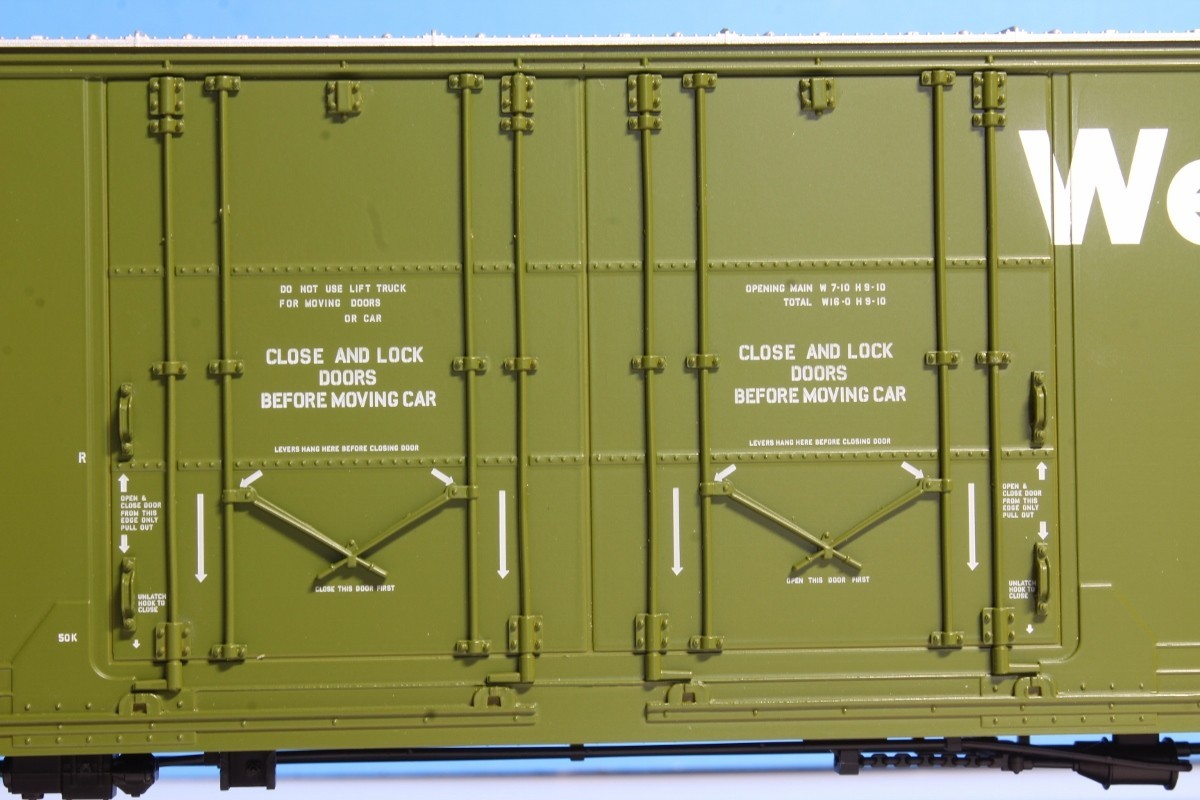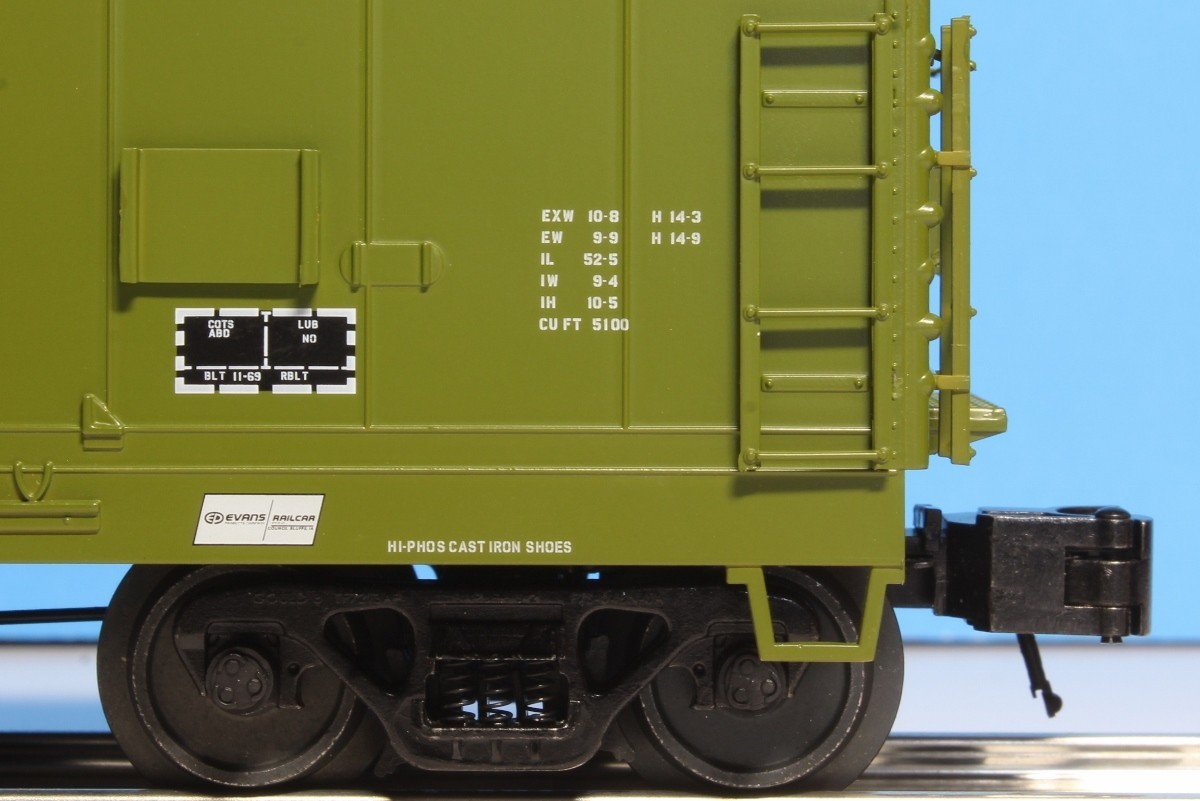 Conclusion
O scalers of the modern and deregulation eras will probably want some of these 53' Evans Double Plug-Door Box Cars.  Atlas O has created a fine model of it.  It is full of detail and features high-quality molded and cast surface detail.  The model has heft and size that is appealing.  Painting, stenciling, and assemble are excellent.  My only dings are bent transverse bar, the lack of a brake wheel chain below the safety platform, and the taut chain belong the underside.
I am enthusiastic about this model and recommend it.
Thanks to Atlas O for sending this model for inspection; remember to mention to Atlas and retailers that you saw this mode here, on RailRoad Modeling.

Evans 53' RBL Double Plug Box Car Trivia
Evans boxcar (Class RBL) 53-foot insulated double-plug cars often used for temperature-sensitive cargo and lumber products built by Evans Products Company, 1969-1977. ****
According to the erudite NEB&W site:
Evans 53-Foot Double Plug-Door Box Cars

According to James Kincaid's article (and roster) in the Sept. '96 Mainline Modeler, these cars were built between 1969 and I think 1977. (Information on this series of kits discussed below is from this article unless otherwise stated.)

The first cars in '69 had Pullman ends and roofs, but a year later most cars had Improved Dreadnaught Ends and X panel roofs, the standard by '72 (and the version Atlas chose).
Kincaid refers to them as "Blue Island Reefers" - the "Blue Island" coming from their birthplace, Evans' Blue Island, IL facility and the "Reefer" because these were "RBL" cars. In modern freight cars, the distinction between reefers and box cars is blurred. The "B" in the designation originally came from "beer" or "beverage" refrigerator cars, that had no ice bunkers and were simply insulated. They still looked like reefers with their reefer-type hinged doors. The post-steam plug door is used on both reefers and box cars.[1]
AAR Class: XP: Boxcar similar in design to "XM", but which is specially equipped, designed, and/or structurally suitable for a specific commodity loading; except, boxcars (XF, XM, XMI) dedicated to the transportation of commodities in paragraph A, Rule 97, AAR Interchange Rules, must be designated "XP".
AAR Type: A406

Detail Info: Equipped Box Car, Inside Length: 49' to 59', cushion draft gear/underframe, Plug door, opening greater than 11 feet.
Evans
Started as E.S. Evans & Co. in Dec. '23. In '27, they changed their name to Evans Auto Loading Co. In '31, they changed again, to Evans Products Co. They got their start with fold-down auto racks for inside box cars. By c. '60, they were making the complete auto rack. About the same time, they expanded into cars like RBL reefers. They also made home products and were a custom home builder.

They went bankrupt in '86.*
Evans Transportation Co. was acquired after a bankruptcy by Chicago-based leasing company Itel Corp.. At the time Evans controlled about 25,000 rail cars, having built rail cars until the mid-1980s. In 1987 Itel Corp. completed the deal of 20,000 rail cars and four maintenance facilities. Then at the end of 1991, Itel sold its rail assets to General Electric Capital Corp.**
______
Source
* NEB&W Railroad Heritage Website. Evans. NEB&W Guide to the Car Builders. [http://nebwrailroad.com/index.php?title=NEB&W_Guide_to_the_Car_Builders#Evans]. 27 May 2013, at 16:02.
** Robert Kearns. Itel Agrees To Buy Evans` Rail-car Fleet. Chicago Tribune. August 13, 1987.
** Charles Storch. Itel To Lease All Its Rail Fleet To GE Capital. Chicago Tribune. January 01, 1992.
**** Eurêka. Category:Freight Stock. [http://eurekaencyclopedia.com/index.php/Category:Freight_Stock]. n.d.
[1] NEB&W Railroad Heritage Website. Evans 53-Foot Double Plug-Door Box Cars. [http://nebwrailroad.com/index.php?title=NEB&W_Guide_to_Atlas_HO_Scale_Rolling_Stock_Models#Evans_53-Foot_Double_Plug-Door_Box_Cars.] 23 September 2011, at 07:40.