Introduction
Atlas' N scale PS-1 (PS is Pullman-Standard) debuted in 1998 and this is the 17th release of this popular model. The model is part of the Atlas Master Line and this model of Toledo Peoria and Western No. 5036 is item 50 005 778.

Pullman-Standard introduced their PS-1 box car in 1947. Based on American Association of Railroads (AAR) car designs, almost all PS-1s featured welded construction in lieu of rivets. The 10-foot 5 or 6-inch inside height afforded a few more inches that the AAR 1937 design. PS designed their own car body ends and those were used instead of Dreadnaught ends; the roof was a PS design, too. PS standardized this car except for the doors, which were the obvious difference. A date stamp is the PS door design, introduced in 1954. P-S built the 100, 000th PS-1 in 1962 and more came afterwards. Atlas tells us of the PS-1:
The 40' Boxcar is widely known as one of the most popular freight cars used by railroads as they transitioned from steam to diesel. In particular the Pullman Standard or PS-1 design was one of the most popular and was widely used by North American railroads. These boxcars were built beginning in 1947 and share the same basic design, with certain elements such as door size, door style or roof type varying among the different railroads and production years. When production of these cars ceased in 1963, over 100,000 had been produced.
Pullman had been making freight cars for more than half a century when it hit a home run with the PS-1 in 1947. Its landmark, welded construction — an area in which Pullman led the industry - provided lighter weight, superior strength, and better resistance to weather and corrosion than contemporary riveted cars.

The PS-1 was part of the postwar shift away from customized, railroad-specific locos and cars toward standardized designs produced in large quantities on efficient assembly lines. No wonder the PS-1 was soon followed by the highly successful PS-2 covered hopper, PS-3 open hopper, PS-4 flatcar, and PS-5 gondola.
Further, Atlas lists these notable features:
Body Mounted Accumate Couplers
Barber S-2A 50-ton Trucks with Metal Wheels
Separately Applied Ladders
Etched Metal Roof Walk
10' or 12' Stiffener Roof per prototype
Ajax and Miner Brake Wheels
"With see-through roof walks, grab irons, and other separately added parts, this model is a detailed replica of the Pullman-Standard PS-1 boxcar." - Atlas

To see TP&W 5036 on Atlas' website, click here.

The Atlas N PS-1 archive can be seen here.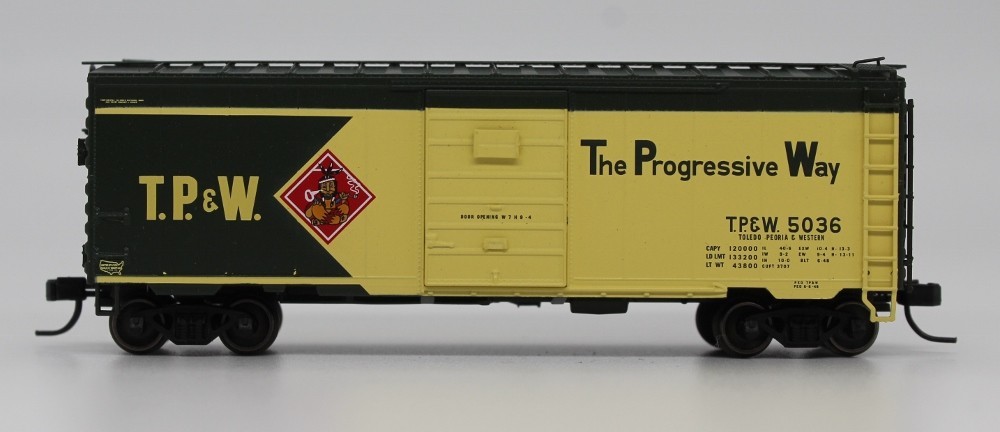 The Model
The first thing I noticed even while the model was in the box are the separately applied ladders and the sharp printing. The model is packed in a clear jewel case that not only keeps it safe, it displays the model, and is stackable, too. The model rests in a two-piece form-fitting plastic cradle. A soft plastic sheet protects the model from scuffing.

Molding is top-notch with crisp edges and detail, no noticeable seam lines or flash, and no sink marks. Assembly is precise, too. The metal wheels are blackened. Under normal lighting they are black! The only flaw I spotted is de minimis - a slight burr on the bottom of a ladder

Detail

Plenty to be seen on this small-scale box car. The photo-etched roof walks are obvious but I did not notice the wire grab handles until looking at the photographs. Then the mounted ladders. Those features compliment and enhance the already impressive molding of the plastic parts. I am not certain if the doors are separately applied or not but I did not try to pop one off. Underneath the car is a detailed frame; the air brake suite is molded integrally with it and is steps above other N scale undersides. It even features brake rods. For this scale the trucks look good. Otherwise, all components and parts look to be molded on the body.
This is a good looking plastic model.
Performance
This model is 41' 6" from end to end. It weights one ounce, which is a smidge heavy per NMRA RP-20 Car Weight. It rolls smoothly.

Jewel case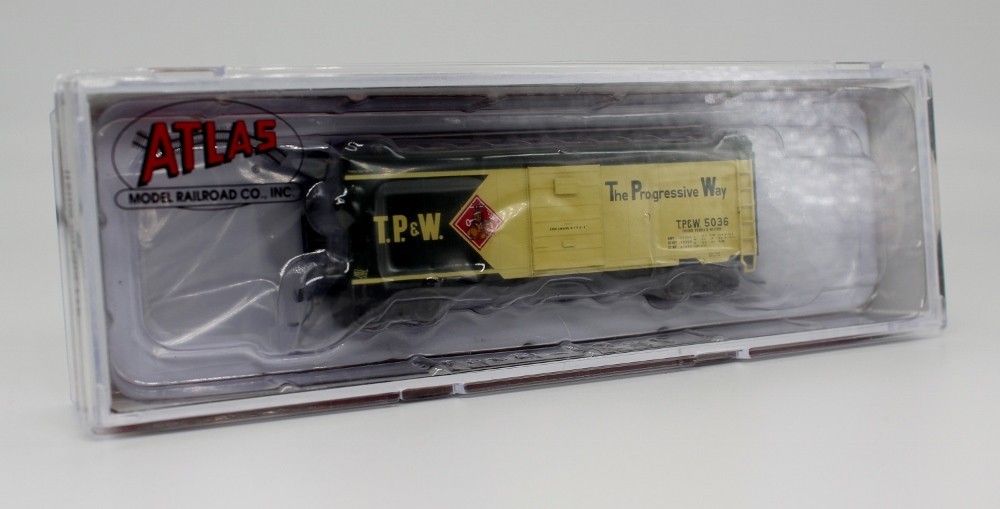 Packing: top and bottom cradle, anti-scuff sheet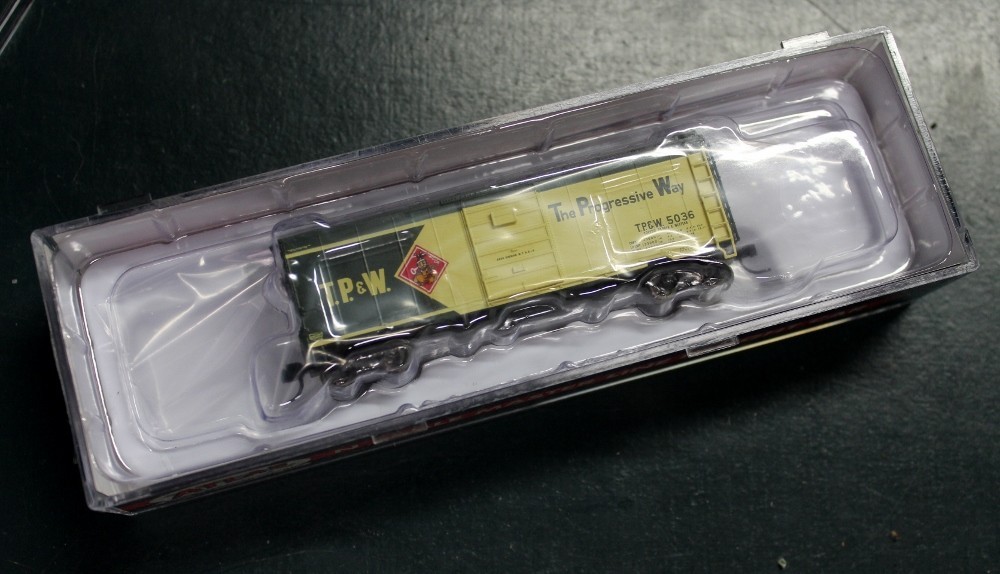 Paint, Markings and Performance
Atlas' paint and printing leaves little to desire.  Demarcation lines are sharp except for one limited area of a fuzzy edge but I did not see that until looking at magnified photos.  The paint is opaque and does not obscure detail.  I did notice - again only looking at enlarged photos - that apparently the cradle or anti-scuff sheet pulled a few diminutive flecks of paint off of weld lines on one side.
Notice the printing?  It is all legible.
Aside from two undecorated models this iteration features eight road names:

Undecorated - 7' Door / 12 Stiffener Roof
Undecorated - 7' Door / 10 Stiffener Roof
1.      New Haven Script DF (Brown/White)
2.      Port Huron & Detroit (Blue/White/Red)
3.      Western Pacific "Feather Billboard"(Silver/Orange)
4.      Vermont Railway (Red/White)
5.      MKT (Brown/White)
6.      Erie Lackawanna (Grey/Maroon)
7.      TP&W (Green/Yellow/Red)
8.      Delaware & Hudson (Brown/White)
Each road name comes with two road numbers.
If you would like to view a color photo of the actual TP&W 5036, click here.
I did not find any information about the Native American logo in railroad histories but I found tee-shirts and a 1940s-era statue of the caricature, named Tee Pee Willie.   A closeup of the caricature can be accessed here.
The excellent paint and printing compliments the fine molding and detail.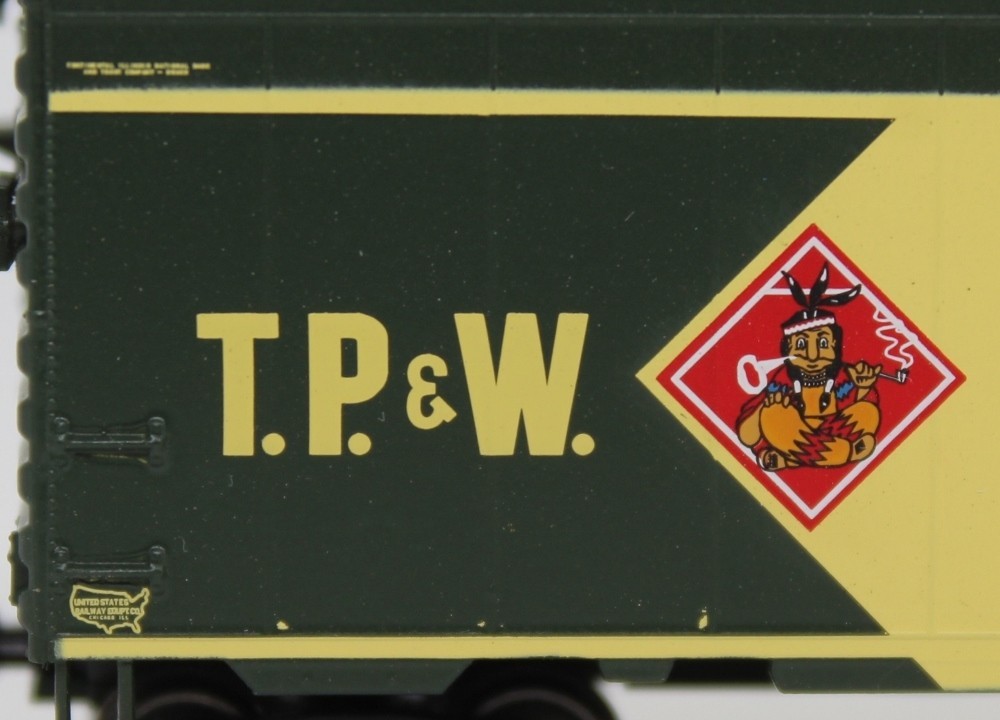 Dimensional and Weight Data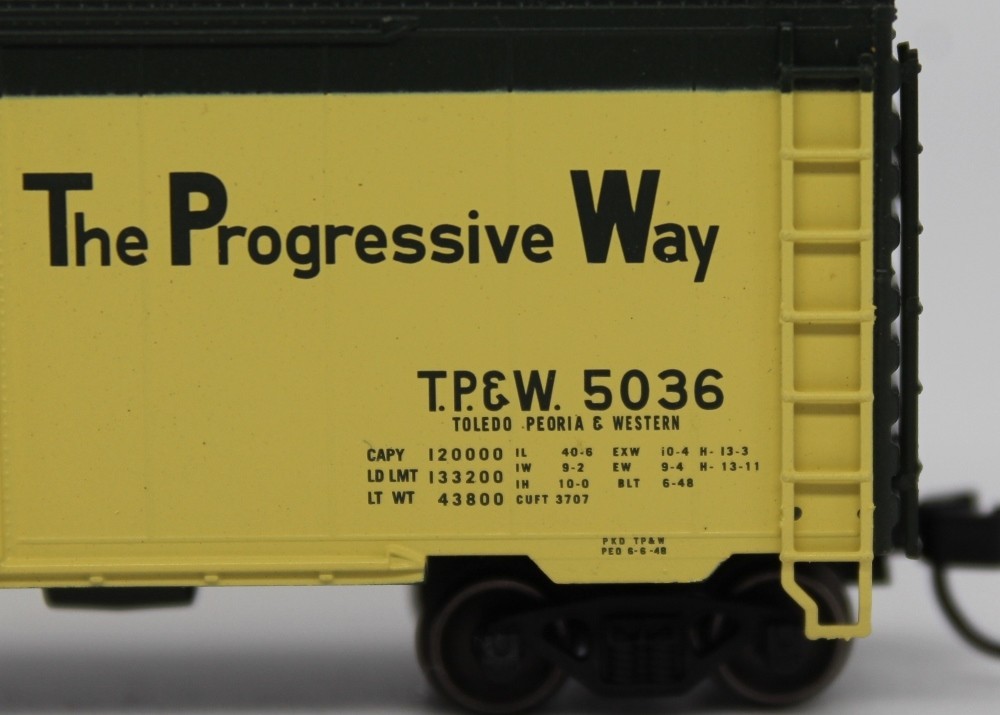 Barber S-2 Truck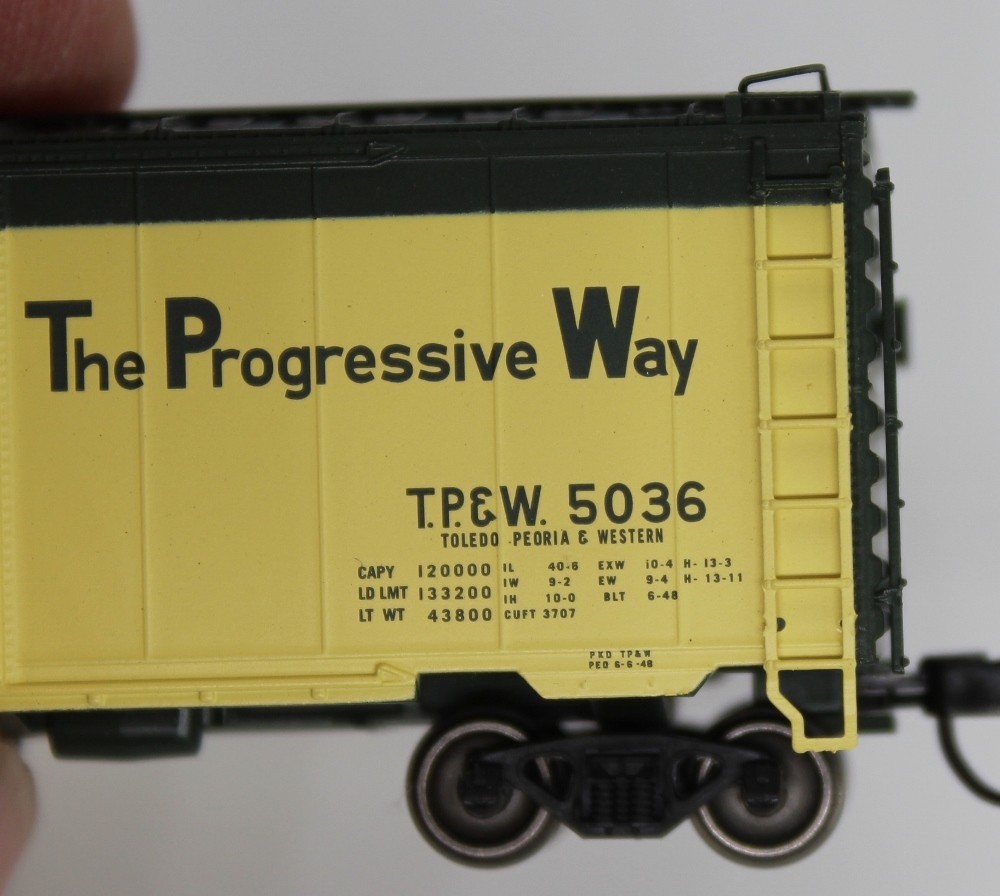 Ajax brake wheel and end details. Note the sharp legible printing.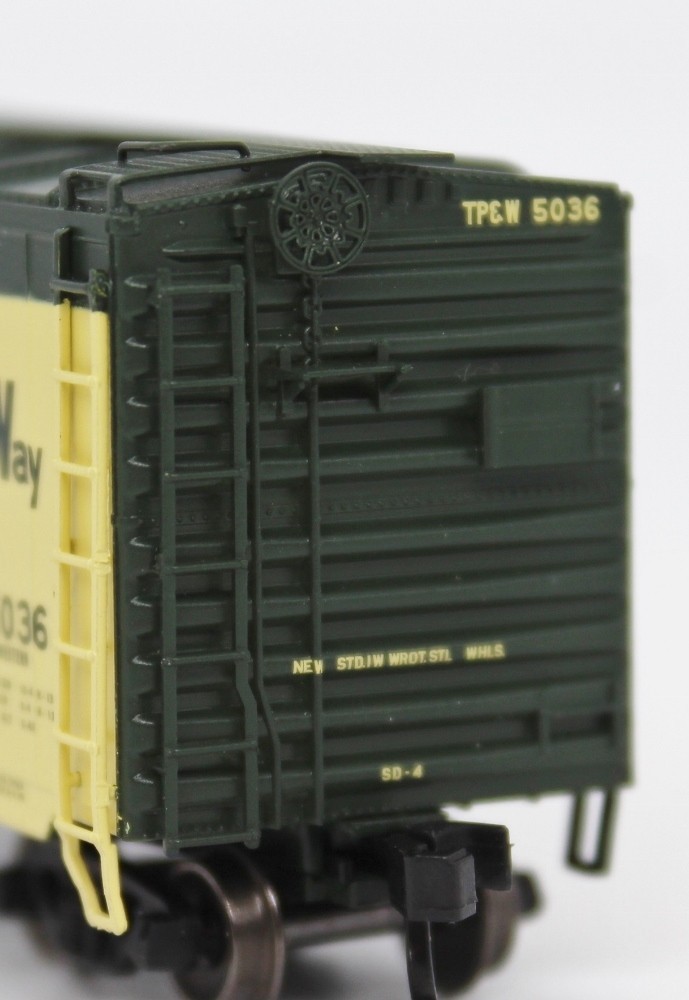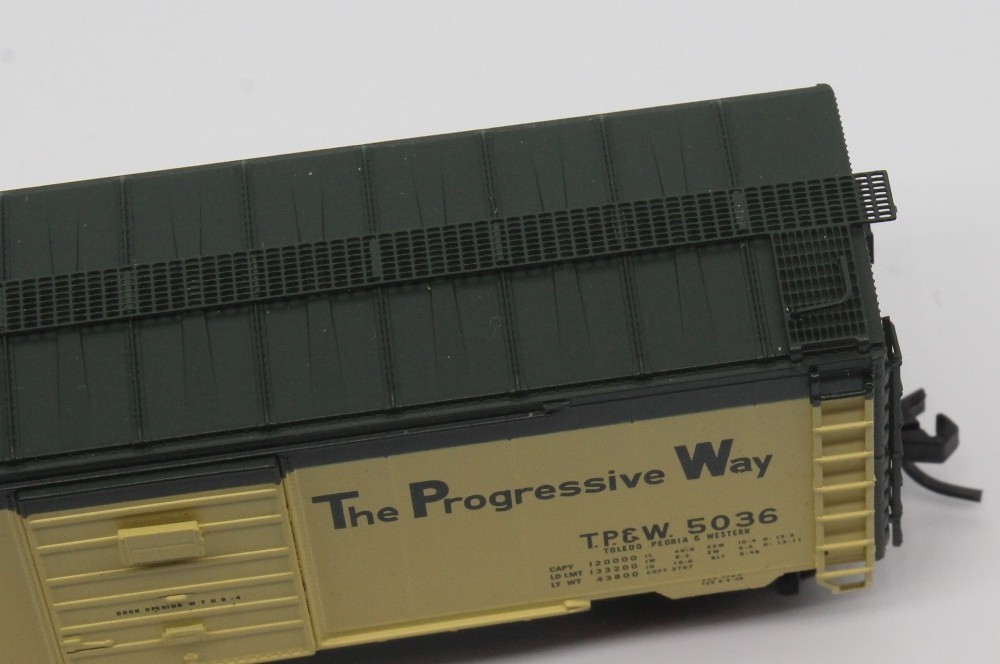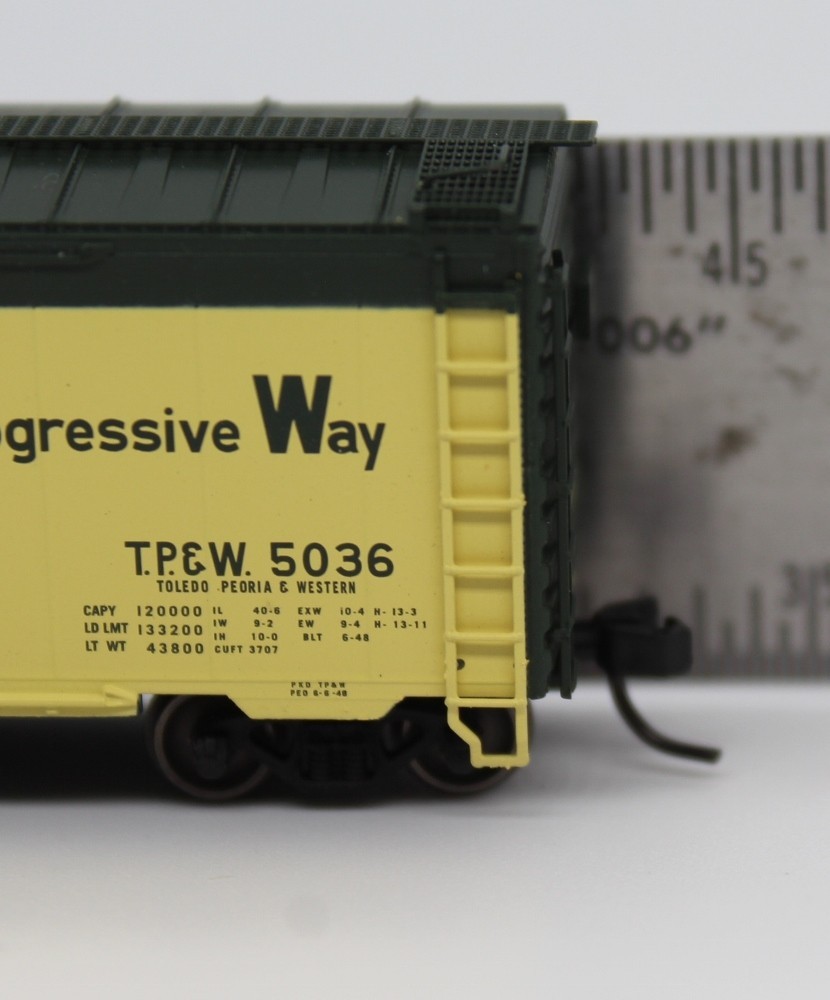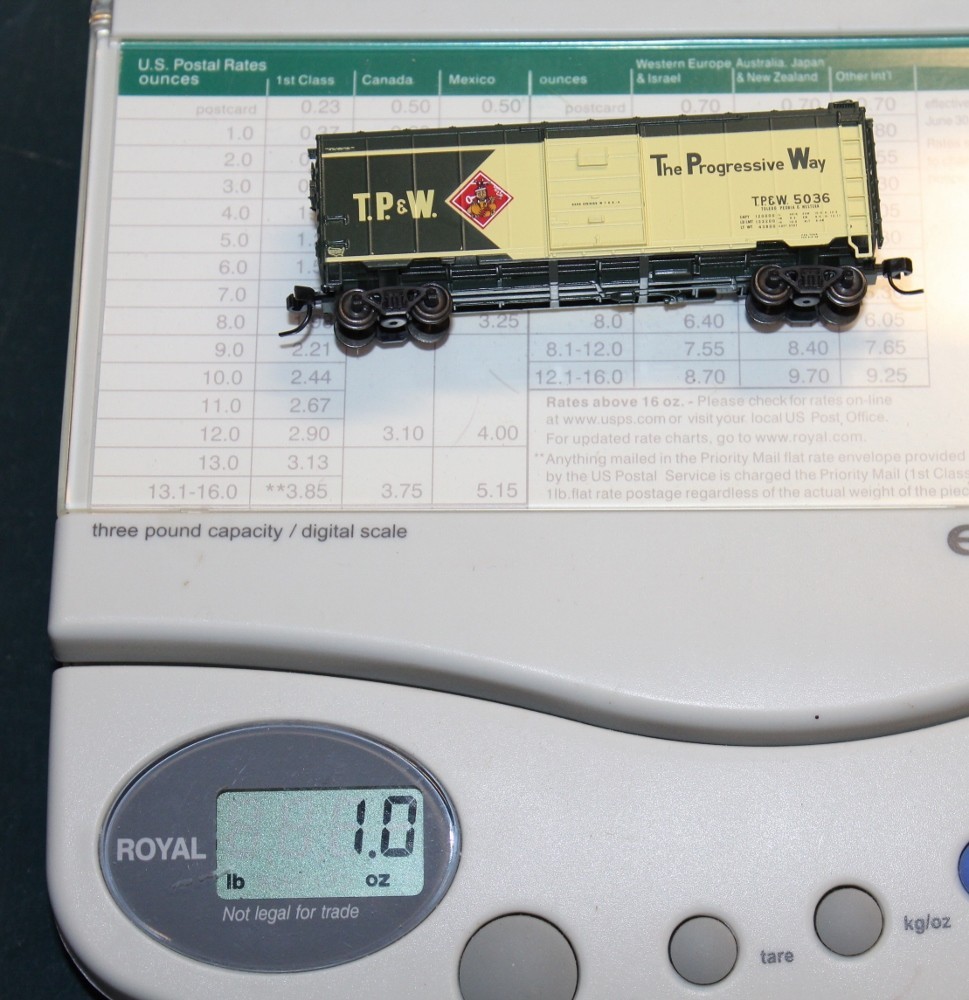 Conclusion
PS-1 box cars were ubiquitous across North American post-war and through the Transition Era and they lasted past deregulation. This N scale Atlas PS-1 40-foot box car is a pleasing model and will fit the bill. It features crisp molding and good detail. Individually-applied ladders and photo-etched components enhance its appearance. The smooth paint and sharp lettering and artwork further improves its presence. It rolls well, too. Modelers of the late 1940s through the 80s modeling authenticity should consider adding some to their roster. I think you will appreciate this model as much as I do.
Please remember to mention to Atlas and retailers that you saw this product here - on RailRoad Modeling.

Sources

Click the link for a history of the Toledo Peoria and Western.
George Losse. Pullman PS-1 40 Ft Boxcars in 1952. [https://www.shamokindivision.com/2010/07/09/pullman-ps-1-40-ft-boxcars.] July 9, 2010.
Steam Freight Cars web site. [http://www.steamerafreightcars.com.] n.d.