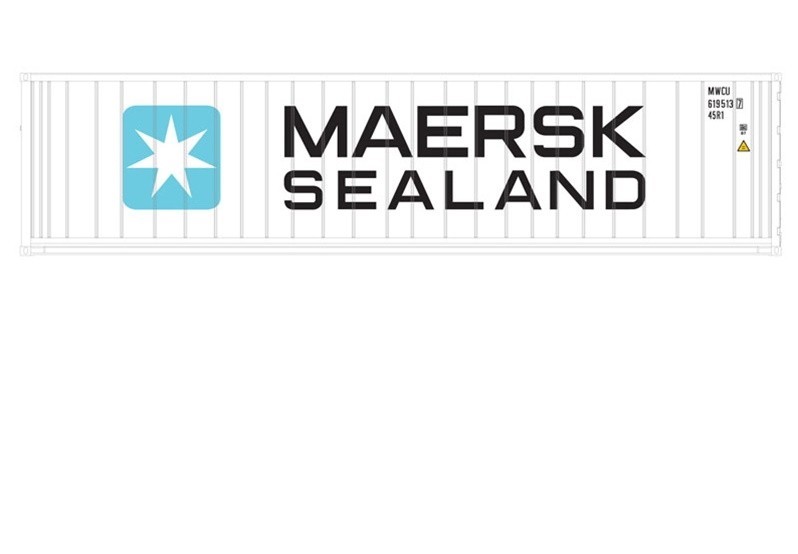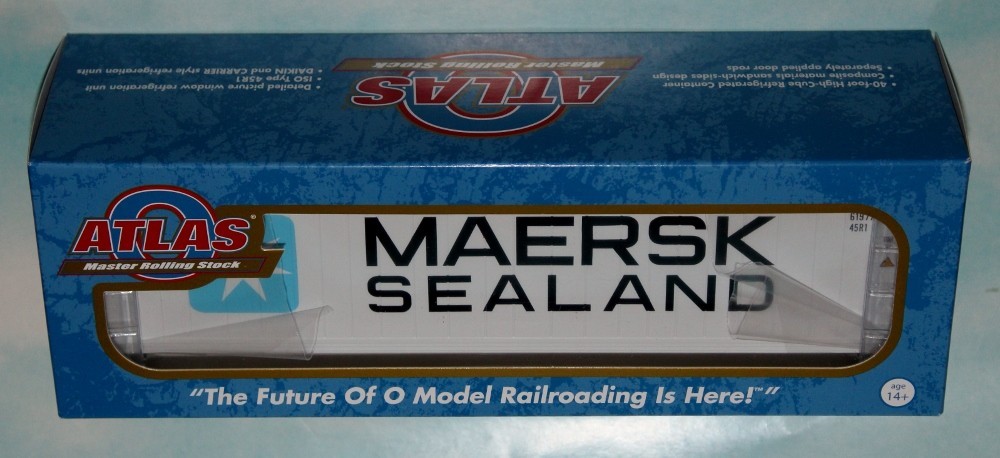 Atlas O 40' Reefer Container
Atlas O released this first run of  40' Reefer Containers in August, 2020, in their Master Rolling Stock range.  An undecorated model and four container company names are available:

* NYK Lines (White/Blue)
* K-Line (White/Red)

* Maersk-Sealand (White/Blue)
* ONE (White/Pink)
This review sample is ITEM# 3006355, lettered for 40' REEFER CONTAINER MAERSK-SEALAND MWCU 6195137, MWCU 6196128, MWCU 6197715, MWCU 6195142,

Atlas O describes this subject as:

Since the 1970s most international freight has been shipped by standardized 20- and 40-foot containers. Some of this huge flow of cargo between countries needs to be refrigerated for the transit. The second most common type of ISO* container in use is the refrigerated container. Today's refrigerated container design uses high tech composite (plastics and metals) construction and a "picture frame" type refrigeration unit. Atlas' model represents a standard 40-foot high-cube refrigerated container (ISO Type Code 45R1) found in many shipping and leasing fleets.
*ISO is the International Organization for Standardization.
 Features:
40-foot High-Cube Refrigerated Container
Composite materials sandwich-sides design
Detailed picture window refrigeration unit with separate parts
ISO Type 45R1
The Model
Atlas packs this model in a carton, the model held in two end cradles.  It is protected with soft plastic sheets.  A baggie holding four plastic mounting pegs is included.

Molding is crisp.  There is no flash, sinks, visible ejector marks, or seam lines.

Packaging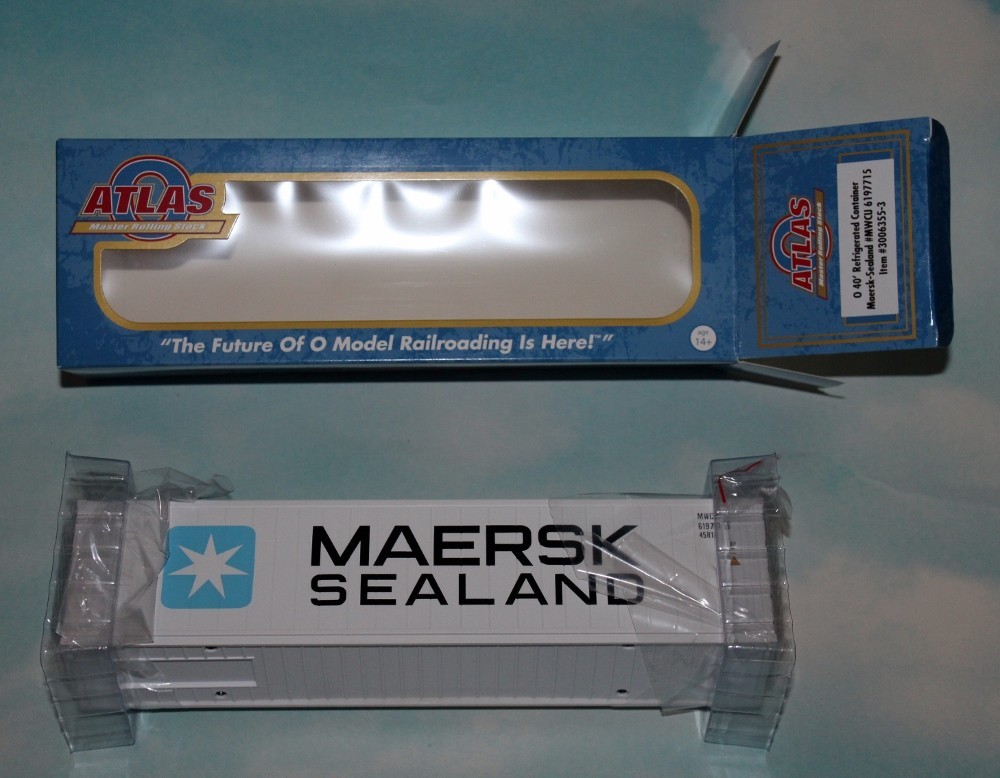 Bag of mounting pins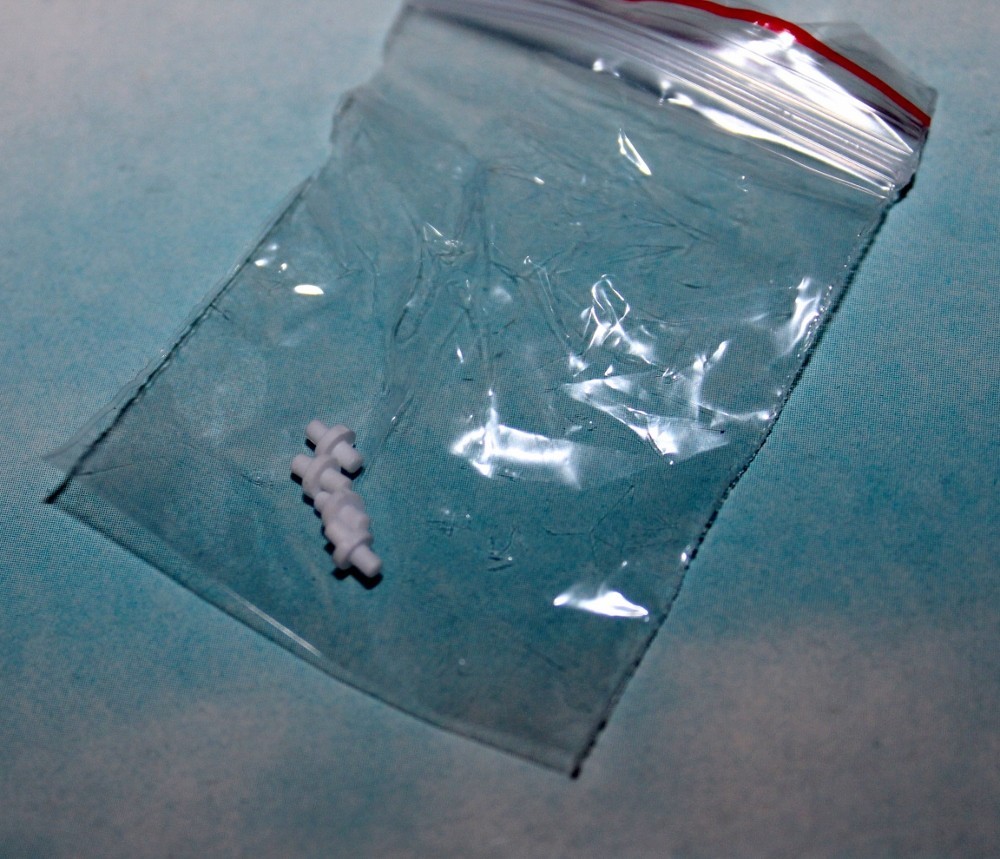 Detail
Separate door locking bars,  handles,  latches, cams and retainers are attached to the door.   The seal is painted on.  The doors do not open.

On the other end is the refrigeration unit.  Good detail here - a fan, compressor, condenser fan, tubing.

Paint and Markings
Atlas O paint and printing is excellent.  Sharp and opaque. 

Look at the photo below.  The yellow and black caution markings are printed backwards.
Conclusion
O scalers modeling the modern railroad world have a great model to fill their well cars thanks to Atlas O and this 40' Refrigerated Container. Molding and assembly is top notch. As is the paint and printing. The detail of the door locking bars, and thew refrigeration unit is excellent.
My only complaint is the backwards printed end warning markings. I could not find a photo of the real thing to check this model against.
All the same, this is an impressive looking model and recommenced.
Please remember to mention to vendors and retailer that you saw this model here - on RailRoad Modeling.