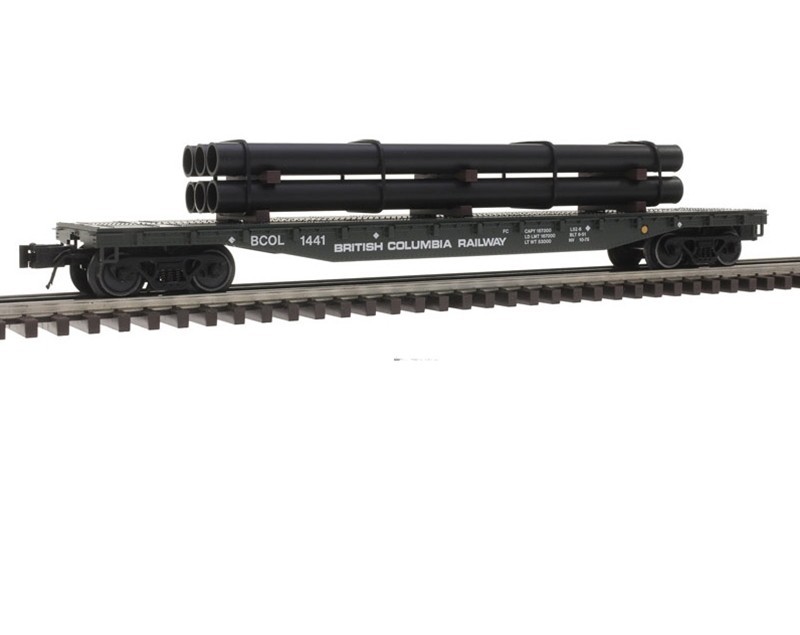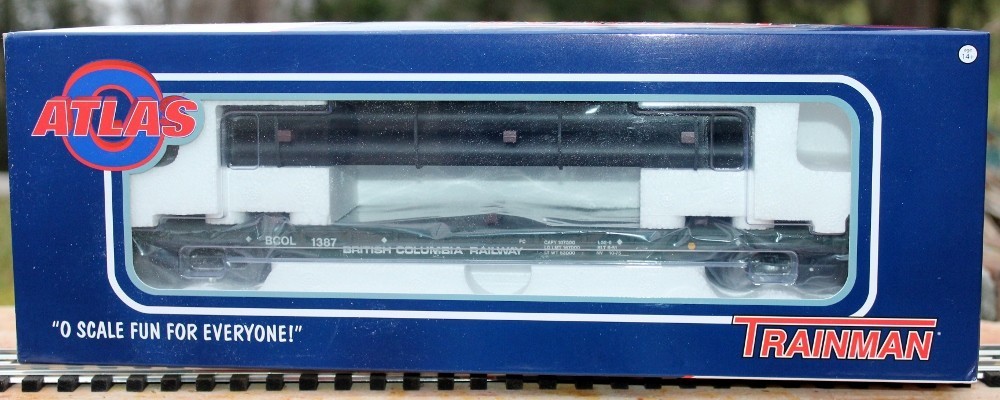 Introduction
Atlas' series of O rolling stock includes the Trainman range, which includes this 52'6" Flat Car.   We are looking at Item# 2002009, equipped for hi-rail three-rail running, decorated as British Columbia 1387.  It is also available with the road number 1441.   Two-rail wheel set versions are available, too.  You can find this model here on Atlas' website.

This release is the sixth since it debuted in 2007.  Atlas writes of this flat car;
The flat car can be considered the workhorse of the railroad. Its simple design allows for the loading of virtually anything imaginable from pipes to airplane fuselages.

This Trainman® model is based upon the general service flat cars that were built by the Canadian Pacific circa 1953. The cars were constructed from riveted steel and feature fishbelly side sills. The decks are in an interesting combination of wood and steel that has been accurately duplicated on our model. A realistic pipe load with deck tie-downs is included with the cars.
The model is packaged in a custom fitted cradle, protected from scuffing by a soft plastic sheet.  A lid locks the model in the cradle.  All of that is held inside a carton with a clear viewing window.  The trucks are protected with plastic covers, and the couplers are spaced from the body with foam strips.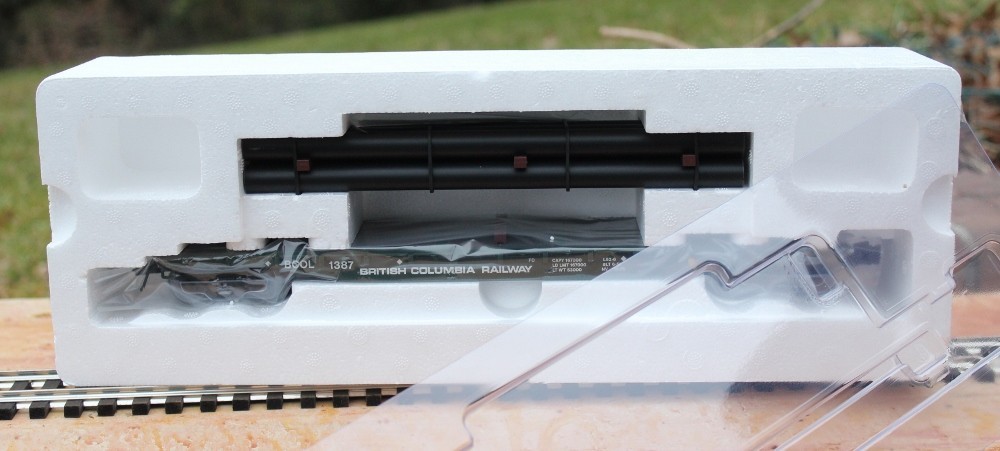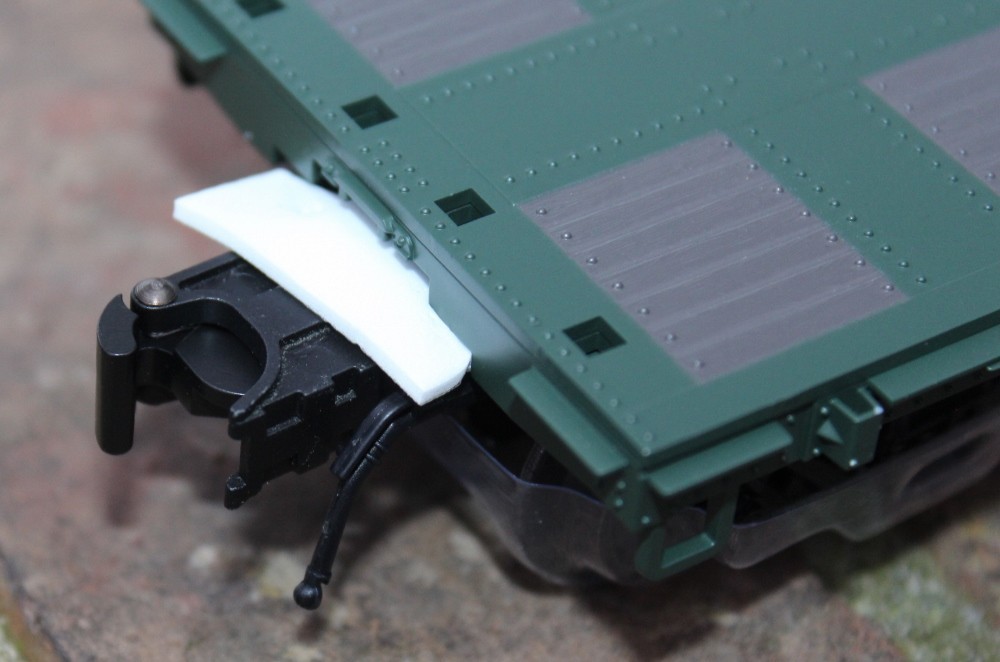 The Model
This model features crisp casting and molding.  The only mold seam lines I see are on the ends of the pipe saddles.

FEATURES:
• Roller-bearing trucks with rotating bearing caps

• Accurate painting and lettering

• Separately applied brake wheel

• Scale dimensions and accurate details

• Realistic pipe load with separately applied load tie-downs

• Die-cast trucks and couplers

• Weighted, detailed underframes

• 2-Rail cars feature scale wheels and body-mounted scale couplers

• 3-Rail trucks pre-drilled for the Adjust-A-Coupler® System (sold separately)

• Length: 13.125"

• Minimum diameter curve: O-31 (3-Rail)

• Minimum radius curve: 24" (2-Rail)
Detail
From the track up, this model rides on nicely detailed sprung 100-ton S-2 roller bearing trucks with 36" wheels.  Look at the top part of the frame and you can read casting data. 

The underframe is well detailed with AB air brake detail, including brake rods and levers, and train lines.  The assembly is screwed on to the flat car body, which features simulated cross structures with wood grain.  The deck shows the composite wood and steel decking.  Open stake pockets line the side sills.   Step stirrups are cast integral to the body, over scale.
The metal pipes are blackened.  Tie-down straps of springy plastic are provided.

Finally, air hoses equip each end.

Paint and Livery
Paint and printing is high-quality, opaque and yet does not obscure detail. Sharp printing is legible. This series of this popular flat car offers seven road names:

British Columbia

Burlington
Grand Trunk
Conrail

Western Maryland

Canadian Pacific

Union Pacific
Some have more than one road number.
Conclusion
This Atlas O 52'6" Flat Car is a good looking model.  O scalers of the transition era and later can use a few of these.  The pipe load can be substituted with other loads, restrained by the tie-downs.  Paint and printing, and detail of the components are first class.
I think O scalers will be happy to roll a few of these cars on their layouts.  Recommended.
Please remember to mention to Atlas and retailers that you saw this model here- on RailRoad Modeling.