ACF 17,360 Gallon Tank Car
Tank cars are the second most numerous type on our rails these days, second only to covered hoppers. Tank cars have been around since the1860s. The designs of today dates back to World War I, and have evolved dramatically. Open wooden casks on flat cars were enclosed; casks became metal tanks; capacities of 100's of gallons now approach 50,000 gallons. Constructing the tank with rivets has given way to welding, with the structural integrity to do away with underframes.
American Car and Foundry builds these big insulated 17,360-gallon tank cars without underframes. With internal liners of woven glass and ceramic, caustic contents can be carried.

Trivia

AAR Class: T: Tank Car
AAR Type: T944
Detail Info: Tank Cars, Steel Pressure Insulated Car DOT 105J500W, Capacity: 12,000-18,000 gal.
Plate: B
Max Gross Weight: 261000
Load Limit: 180000
Liquid Capacity: 17342
Atlas Master® N 17,360 Gallon Tank Car
This model is part of the latest release (seven since April, 2001) of these popular cars. You can view all of the releases via Atlas N 17,360 Gallon Tank Car.

Atlas continues their high standard of 1/160 model railroading. This model boasts these fine features:
• Separately-applied brake detail

• Finely molded handrails

• Tank fittings, safety placards and metal safety bars

• 100-ton roller-bearing trucks with AccuMate® couplers

• Accurate painting and lettering
Atlas securely packs their models in form-fitted cradles with a fitted top. Plastic film protects the model from scuffing; the cradle is held inside a hard clear plastic jewel case that both protects and displays.
Molding is to a high standard. Thin plastic or metal is used for pipes and railings around the model, none of which are malformed. Perhaps not all the detailing is to true N scale but it is getting close. No flash, sink holes, ejector marks, or seam lines are visible.

Packing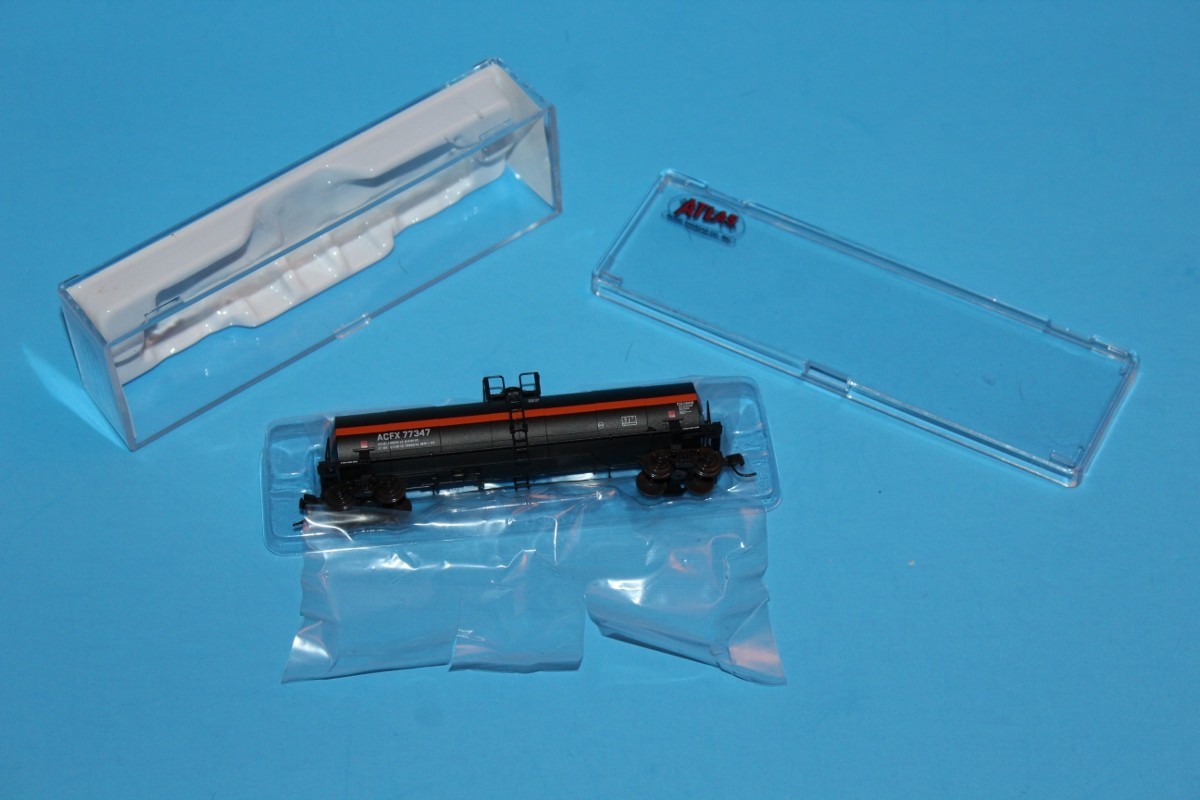 Packaging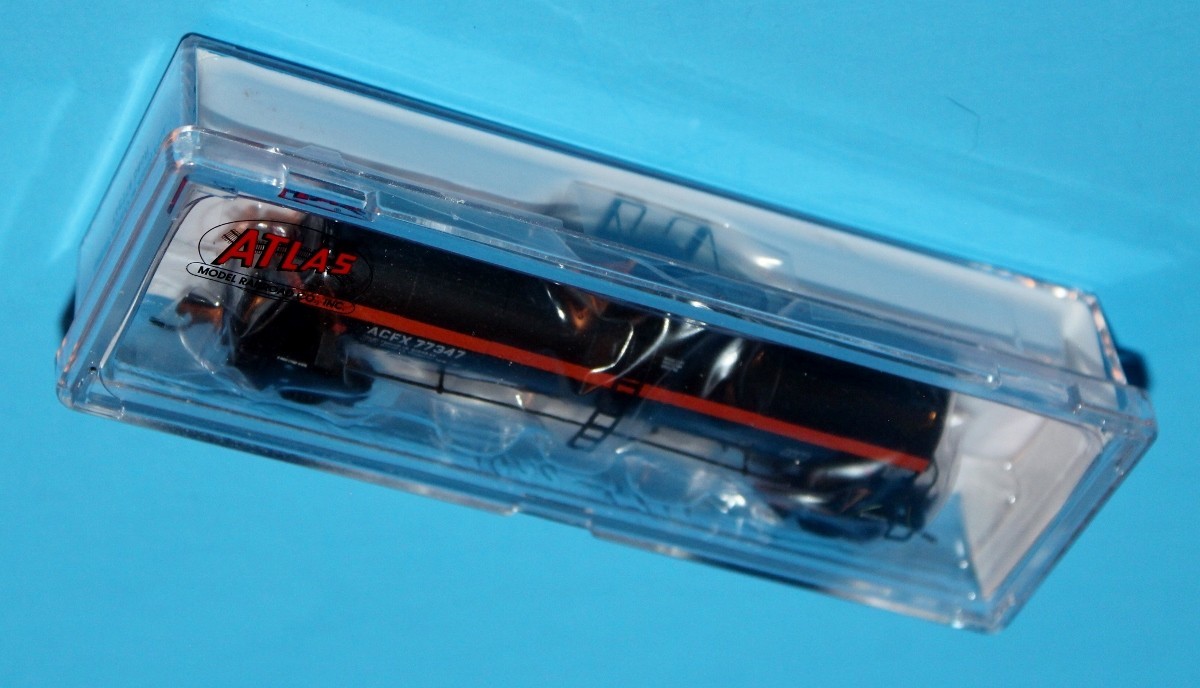 Test Track
My model meets the NMRA Standards and Recommended Practices, with RP-25 wheels and couplers at acceptable height. It is 47 scale feet from end to end, and 53 scale feet from coupler to coupler. It weighs 1.2 ounces which is a little heavy compared to recommended RP-2O.1 Car Weight of 1.03 oz.

Details
What does the model offer? Scale ladders and stirrups, safety bars and railings, equally fine and separately-applied air brake detail, and a crisply molded hand brake wheel. Placard stands for hazmat and other information are mounted on each end and side. The hatches and valves atop the tank are crisply reproduced, as is the entire model. The 100-ton roller-bearing trucks have good detail for the scale and the wheel sets, while plastic, are molded a dirty brown color. They are compatible with code 55 track.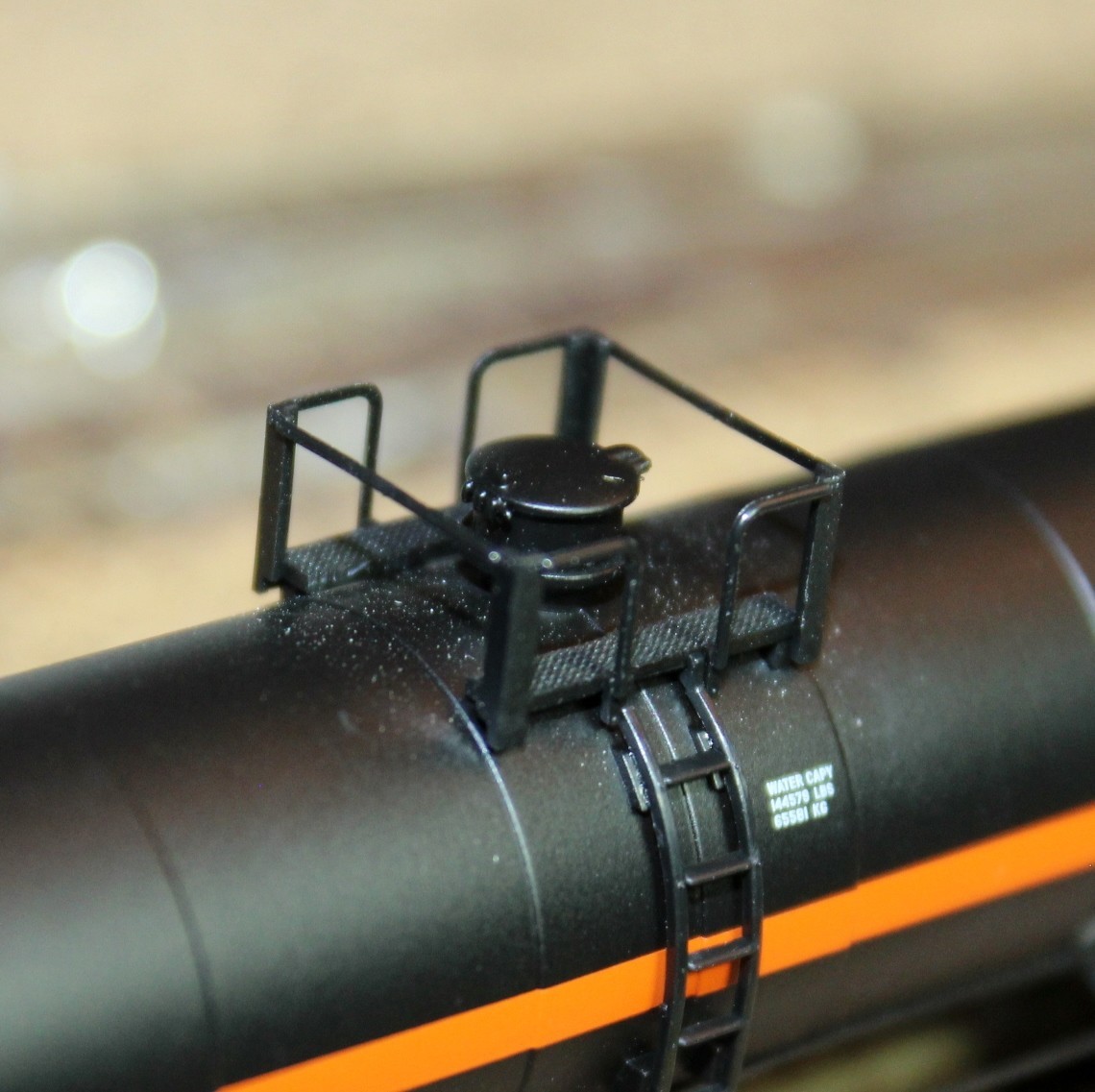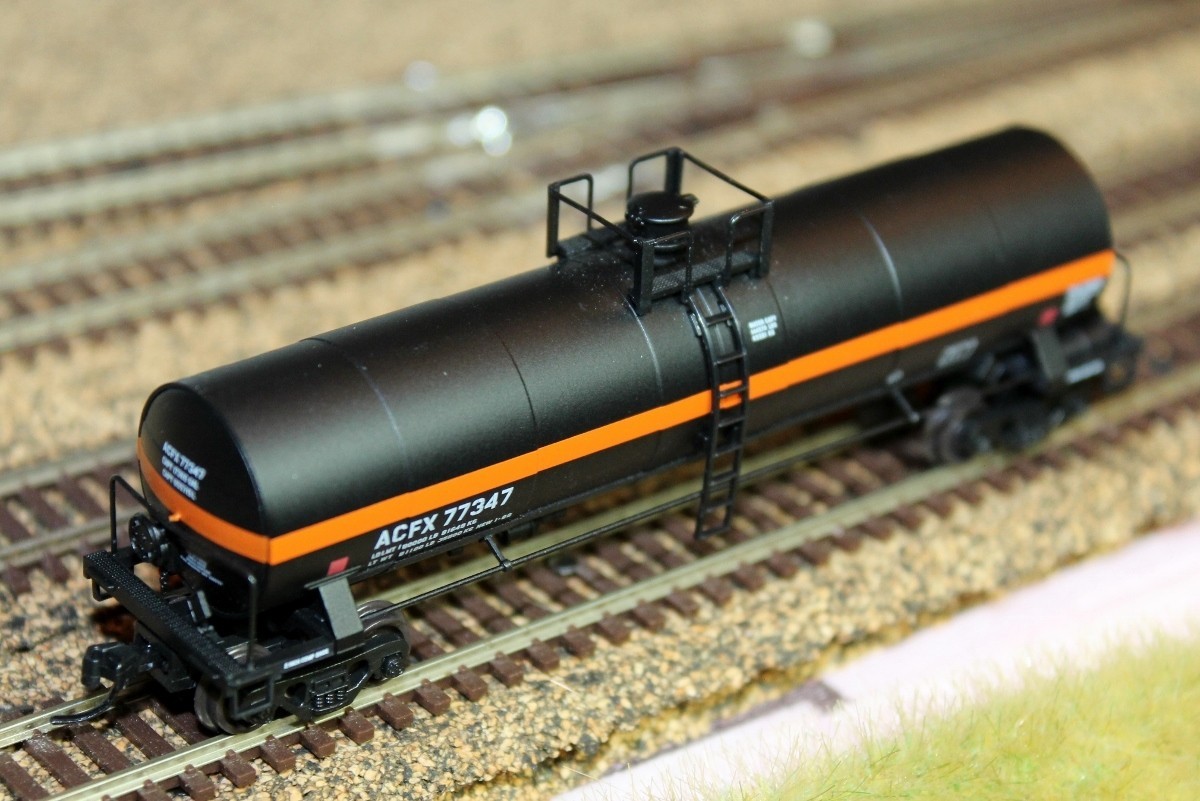 Finish and Markings
Atlas N currently offers 13 American Car and Foundry 17,360-gallon tank cars in six road names, plus an undecorated model:
ACFX (Black w/ Orange Stripe)


GATX

ACFX (Olin)

GPBX


HOKX (RECT 2003)

PPGX (w/Stripes)
Each road name comes with three road numbers.

This car is decorated for ACFX, built in June 1988. The lettering of the logo, road name, and dimensional data is sharp, crisp, opaque, and legible, even the brake shoe data - 2 IN HF COMP SHOES - and lease information. This otherwise black car does have a snappy orange strip around the tank, and a yellow emergency contact number sign near the tank ladders. I frequently write the following because it is true - the quality of the finish is amazing. Recalling the state of model finishes just a generation ago I am amazed at the level to which factory printing has progressed. Just find and examine N scale freight cars from 30 years ago and you will see why I am impressed this model.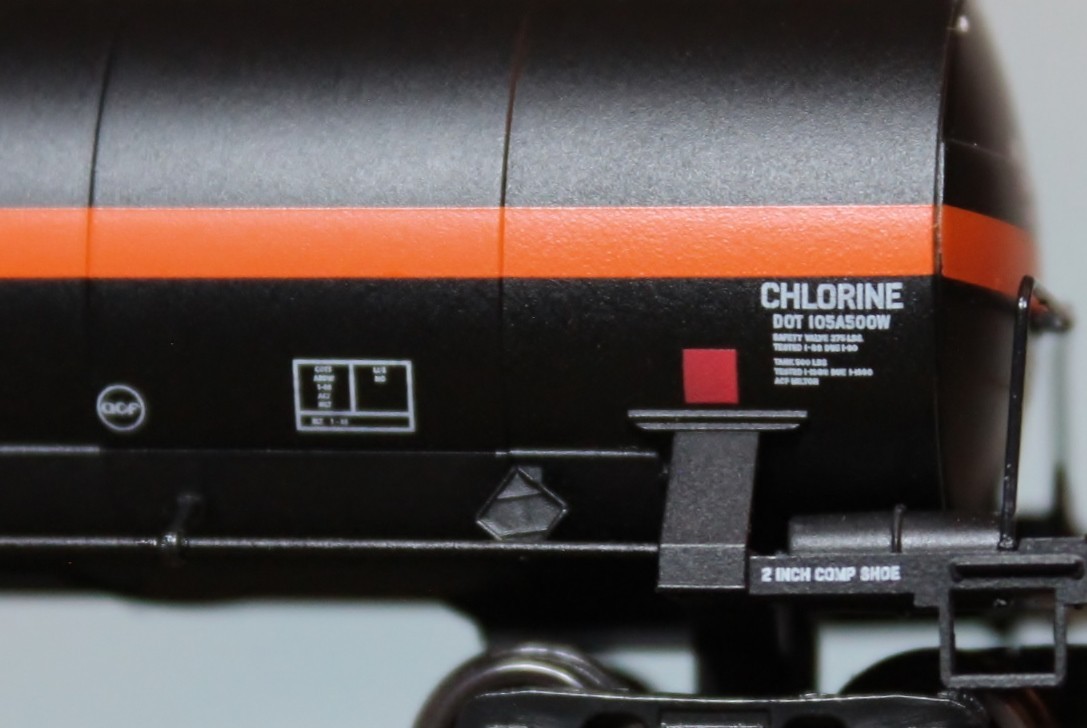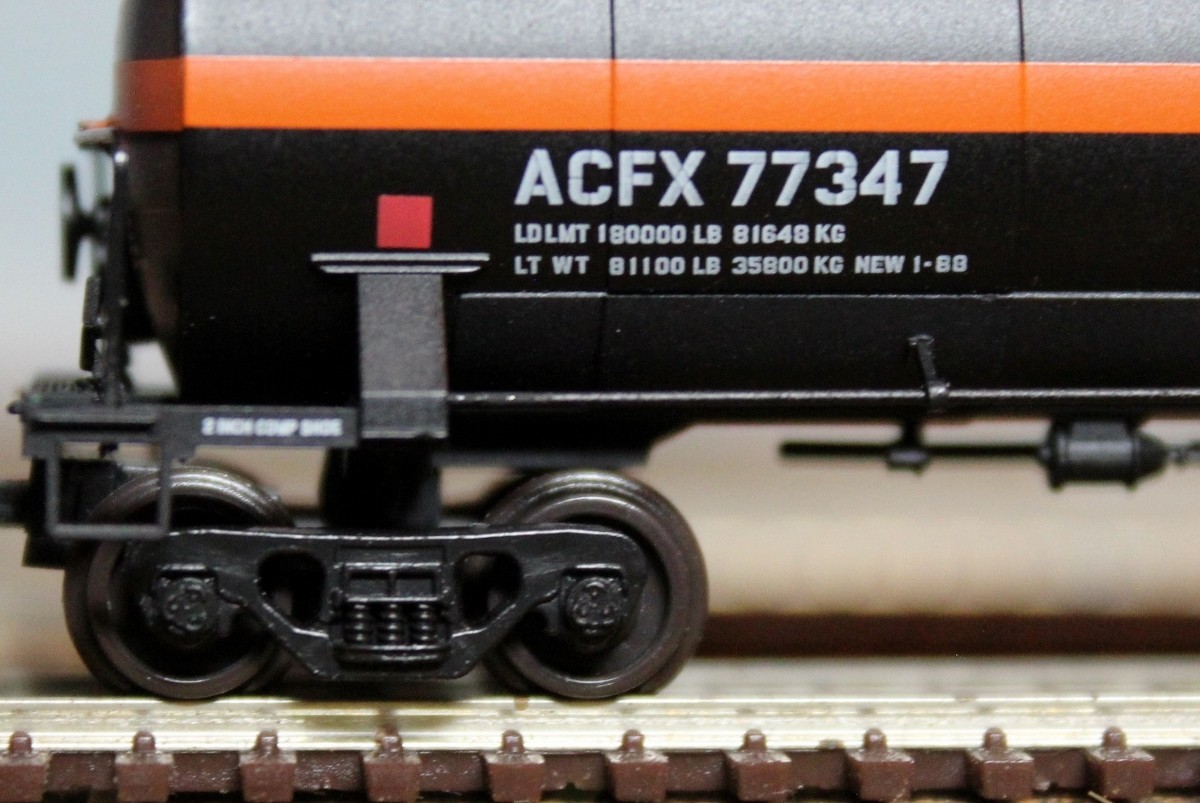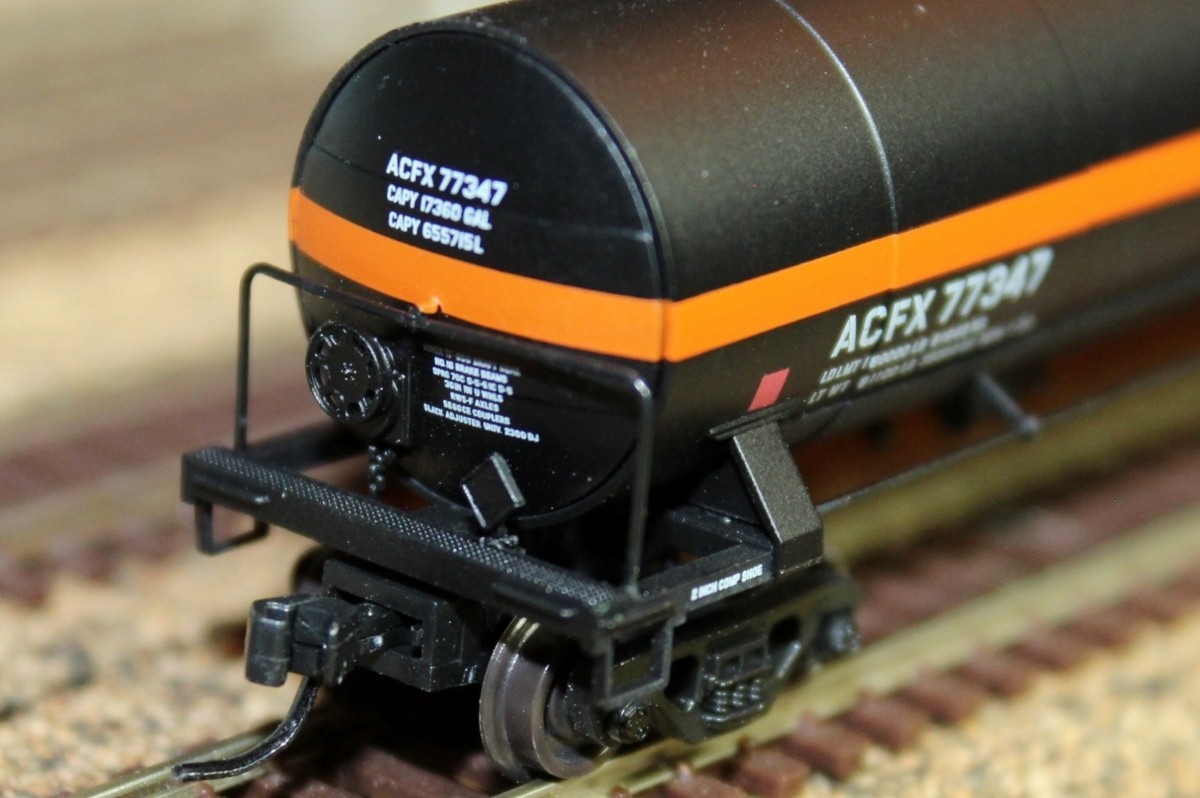 Conclusion
Atlas' Master® N model impresses me. It is a crisp, well detailed, sharply painted model with separate ladders and other detail pieces. Today factory applied knuckle couplers have become the standard and this model follows suite. The plastic wheels may be a drawback. One or more will certainly add to your modern N scale railroad. Recommended.

Our Thanks to Atlas Model Railroad! Please remember, when contacting retailers or manufacturers, to mention that you saw their products highlighted here - on RailRoadModeling.net.
__________
References

RR Picture Archives.net. ACFX Tank Cars, this car series

AccuMate® couplers are made under license from AccuRail,Inc.
Incredible printing. Fine railings and pieces, knuckle couplers and separately-applieddetails.