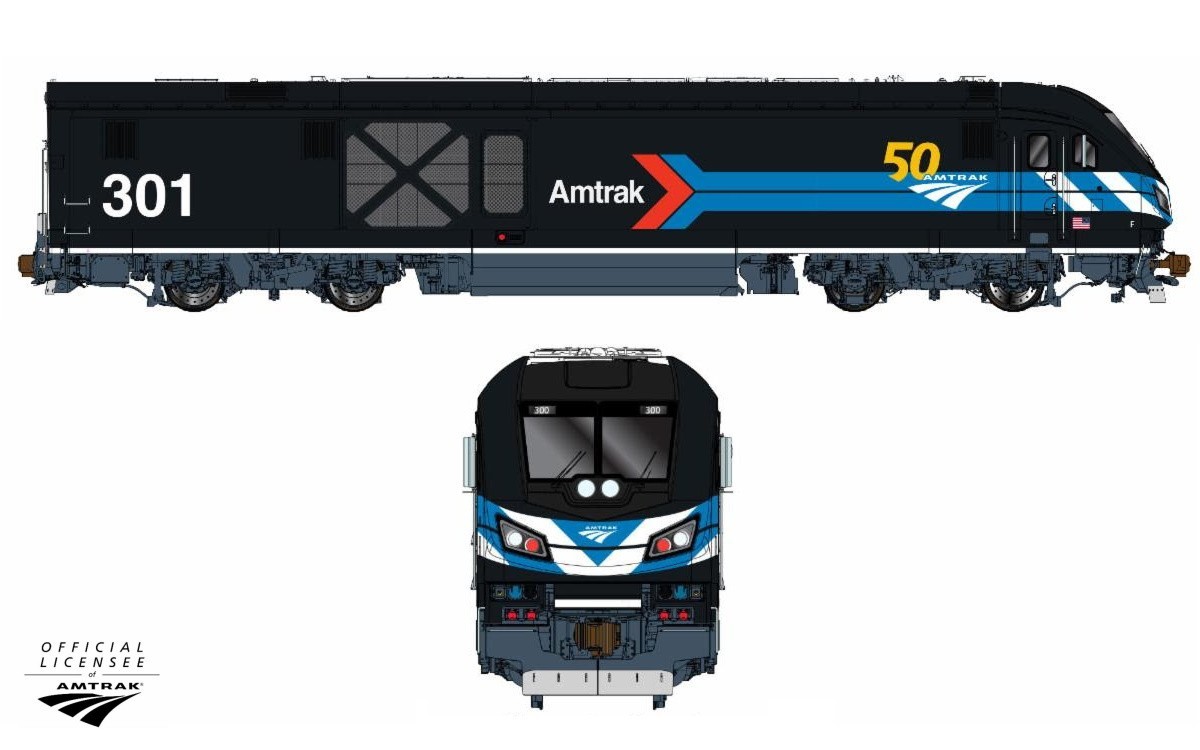 Amtrak has announced the much-anticipated 50th Anniversary paint schemes celebrating the inauguration of service in 1971. The brand-new ALC-42 Charger #301, currently under construction by Siemens Mobility and expected to enter service later in 2021, will wear the one-off celebratory"Day 1" livery.

Bachmann is pleased to announce the upcoming release of the ALC-42 Charger in HO scale. This highly detailed, limited-production model will feature the Amtrak "Day 1" livery and will be available on a pre-order basis only.
Bachmann's DCC sound-equipped ALC-42 uses Siemens Mobility's original design documentation and sound files. This model includes a TCS WOW Sound® CD-Quality 16-bit 44,100Hz decoder with Audio Assist® for easy configuration without programming CVs and a Keep-Alive® device for uninterrupted operation, even over dirty track. The WOW Sound® diesel-electric locomotive sound package includes horn, bell, prime mover, start-up/shutdown,compressor, cooling fan, coupler close/release, brake release and application,crew alert, grade-crossing quill, departing and arriving station announcements,and more. Loaded with prototypical features, the ALC-42 brings all the sights and sounds of the newest Amtrak diesel-electric locomotive to your layout.
Features include:
Siemens-approved design
DCC sound-equipped for sound, speed, direction, and lighting control
TCS true CD quality audio in 16-bit 44,100 Hz sound
Keep-Alive® device that keeps your engine running during power interruptions due to dirty track or loss of electrical contact
Voice-guided Audio Assist® programming tool for easy set-up of almost all decoder functionality
Dual-mode NMRA-compliant decoder
Directional headlights
Interior corridor work lights
Marker lights
Steady/alternate flashing ditch lights
Die-cast frame
Separately applied windshield wipers, grab irons and detail parts
Performs best on 22" radius curves or greater
Please remember, when contacting retailers or manufacturers,to mention that you saw their products highlighted here – on RailRoad Modelling.