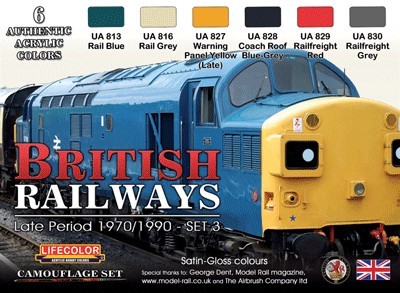 British Railways Sets
LifeColor formulated and released three new sets for British Railways, covering three specific periods from 1948-1990. These sets cover England's post-war steam to diesel transition, and nationalization of the railways up to the dawn of eventual privatization. Several years ago we examined the LifeColor set XS06, British Railways. That set features a range of six unique colors found through the three eras. Those six colors and three eras are now expanded with three almost comprehensive sets of unique colors from LifeColor. Once again, the colors were developed in collaboration with British railroad expert George Dent.
The Airbrush Company Ltd kindly provided this set and you can find it on their site HERE.
They recommend LifeColor paints to be airbrushed with Iwata airbrushes.
The reviews of the other two sets can be found here:
British Railways - Early period, 1948-1959 Set 1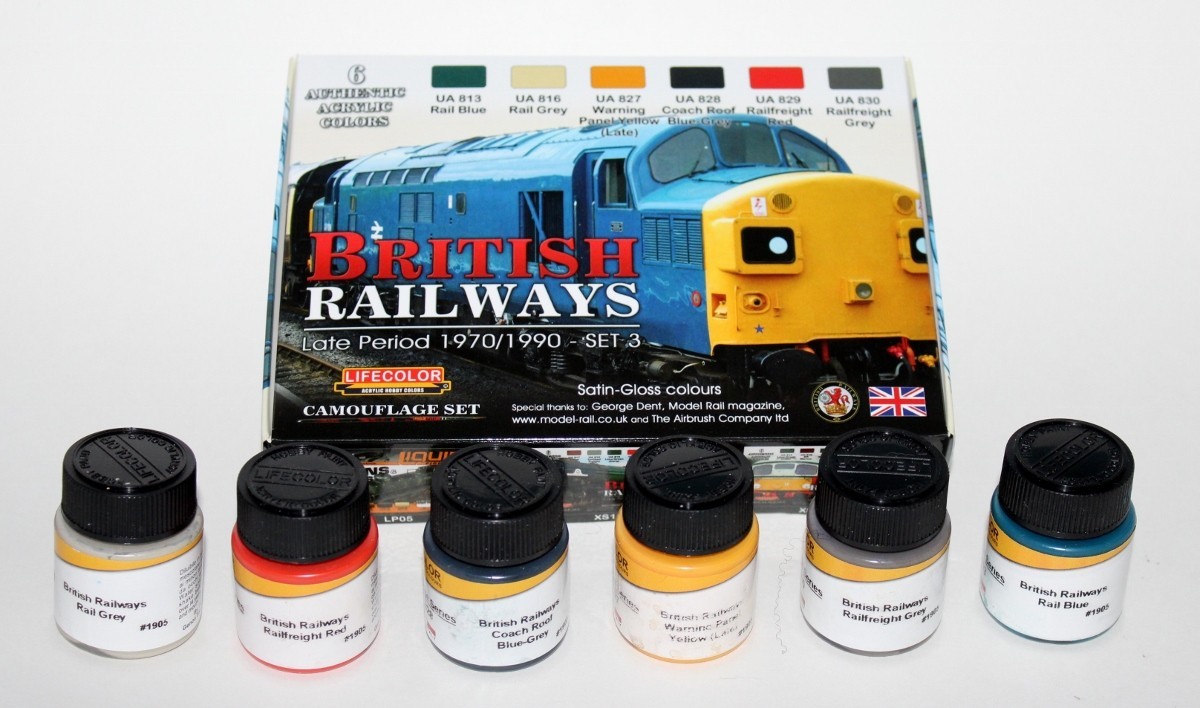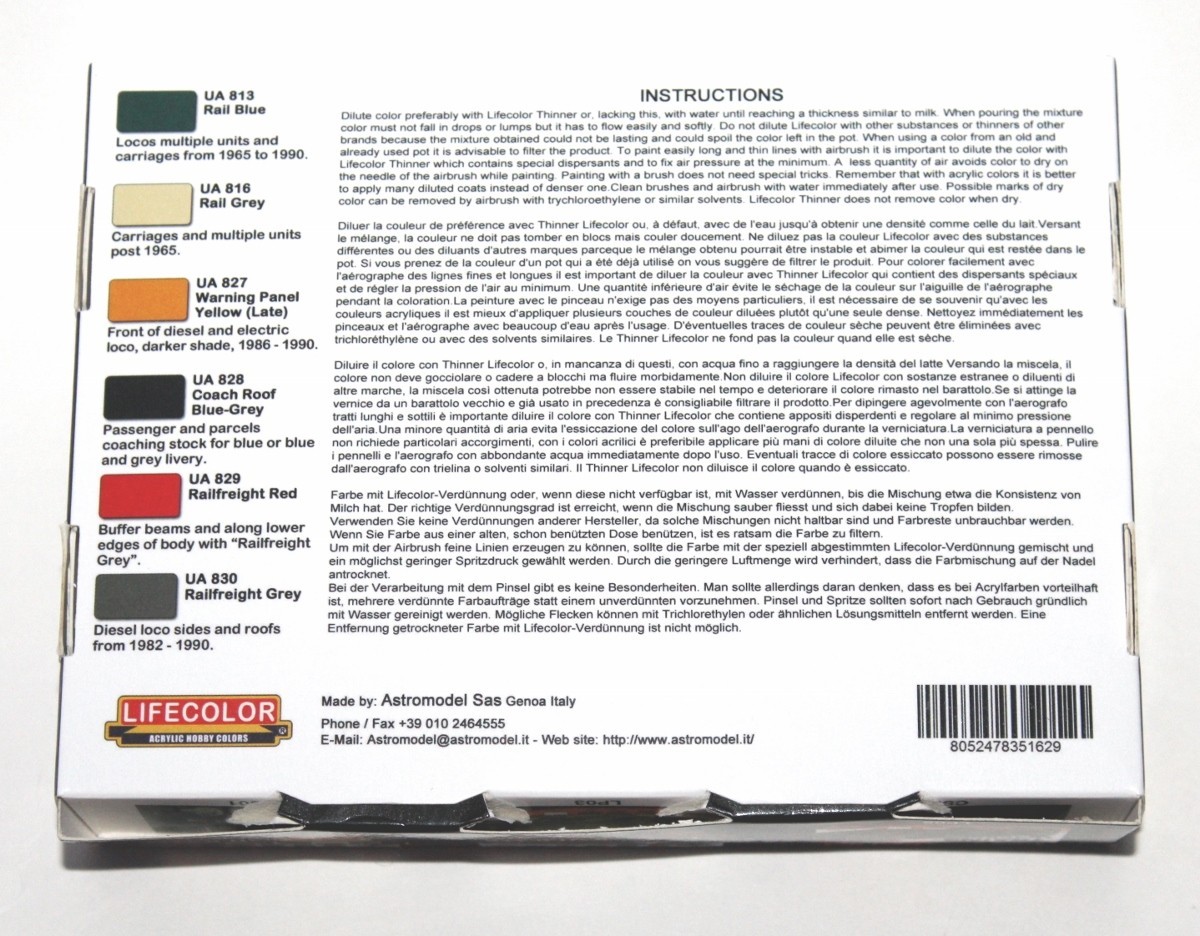 Set 3 - Late Period 1970/1990
Set XS12, Late Period, 1967-1990, is packaged in an attractive flip-top cardboard box with the six 22ml plastic bottles held in individual compartments. The bottle caps were molded with an internal rim which both provides a small palette cup as well as inhibits paint fouling the bottle cap thread.
These paints are made with very fine ground pigments. They have no noticeable odor. Usually, I find most of them them to be thinner than other brands I am used to, almost like a heavy wash. These paints are not formulated for one-pass brushing, rather for multiple passes and airbrushing.
There are no instructions other than as printed on the back of the box, plus six printed color chips. Lifecolor reminds us that these can be mixed with Tensocrom Medium to create washes and glazes.
This set includes six 22ml jars of paint:
UA 813 Rail Blue
UA 816 Rail Grey
UA 827 Warning Panel Yellow (Late)
UA 828 Coach Roof Blue Grey
UA 829 Railfreight Red
UA 830 Railfreight Grey

Personally, I think that Rail Blue, like two colors of the previous set (BR Maroon and Loco Green (Late)), is one of the most beautiful colors ever applied to railroad rolling stock. Thus, like the previous sets, I prize these colors and thoroughly enjoyed trying these paints.
Recall I wrote that this set is almost comprehensive? As the years passed, BR revived some of the local private liveries with blue, brown, and green. Perhaps those may be forthcoming? Those, and structure colors? (Hint hint.)
What are these British Railway (BR) colors based upon? As the box indicates these colors were developed in partnership with George Dent of Model Rail Magazine and The Airbrush Company. An overview of BR livery can be found at this site: 'Blood and Custard'.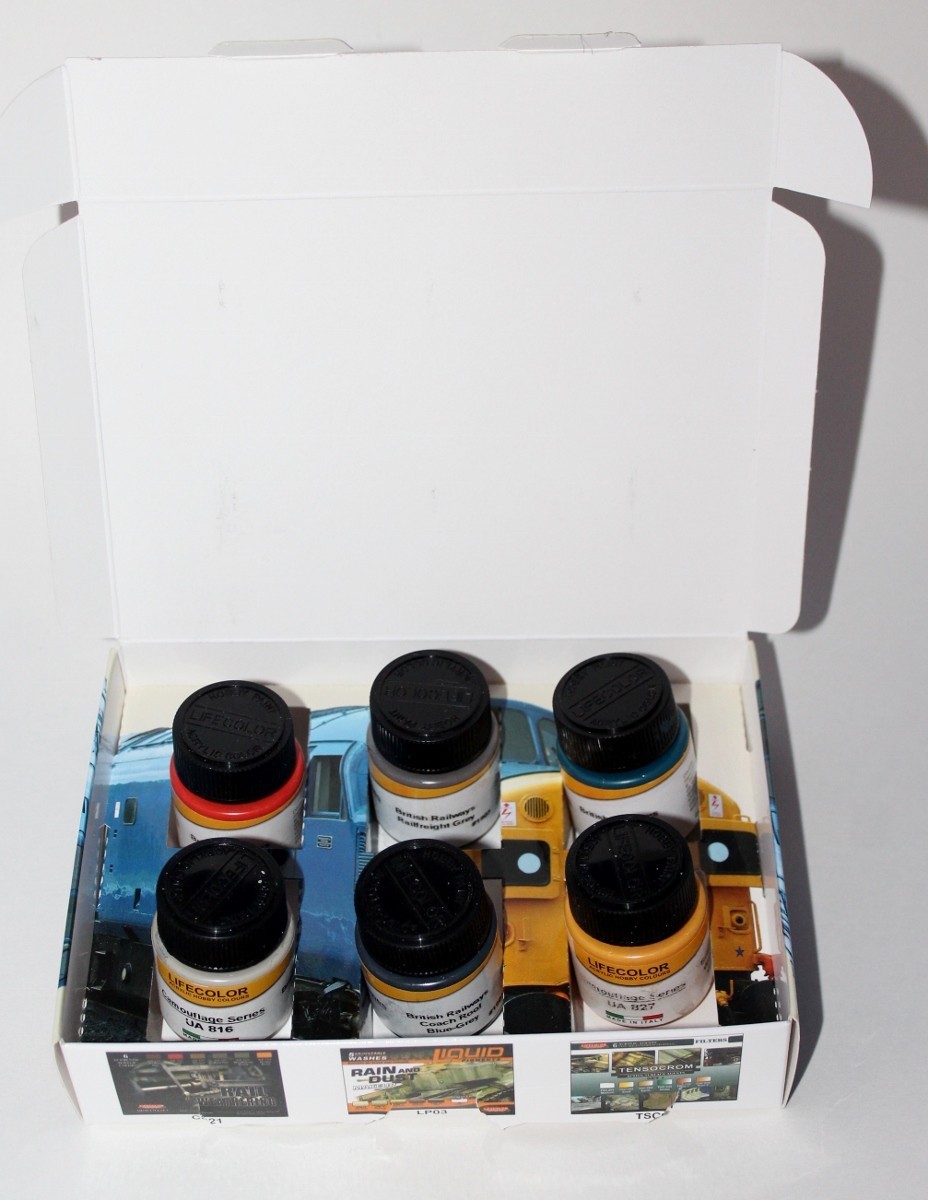 Airbrushing
Like the previous set trials, I did not try to handbrush these paints. Instead they were airbrushed onto white plastic spoons and flat chips.
Lifecolor instructs that for airbrushing, use low pressure. Not surprising they also recommend using their own thinner but state water will suffice. Most of the colors I thinned 20% thinner to 80% paint and shot them through my Aztec airbrush, using a medium area coverage 0.50mm nozzle. Pressure came from an old diaphram compressor, about 12 psi.
Unlike the previous sets, performance was a mixed bag. Three of the colors yielded excellent coverage - smooth with complete opacity. The paint dried semi-gloss. But two of the colors puddled. Two colors, Rail Blue and Coach Roof Blue Grey, were difficult to use. Coach Roof Blue Grey was almost gummy in the pot and requires more thinning than I am used to with LifeColor, and then it ran, even at low pressure. Beautiful Rail Blue required multiple coats to achieve coverage, and the first few coats separated. Warning Panel Yellow sprayed smooth but translucent. What you see on the spoon and chip took three coats.

The other three colors worked very well. Happily, for all six colors, adhesion is excellent!

UA 813 Rail Blue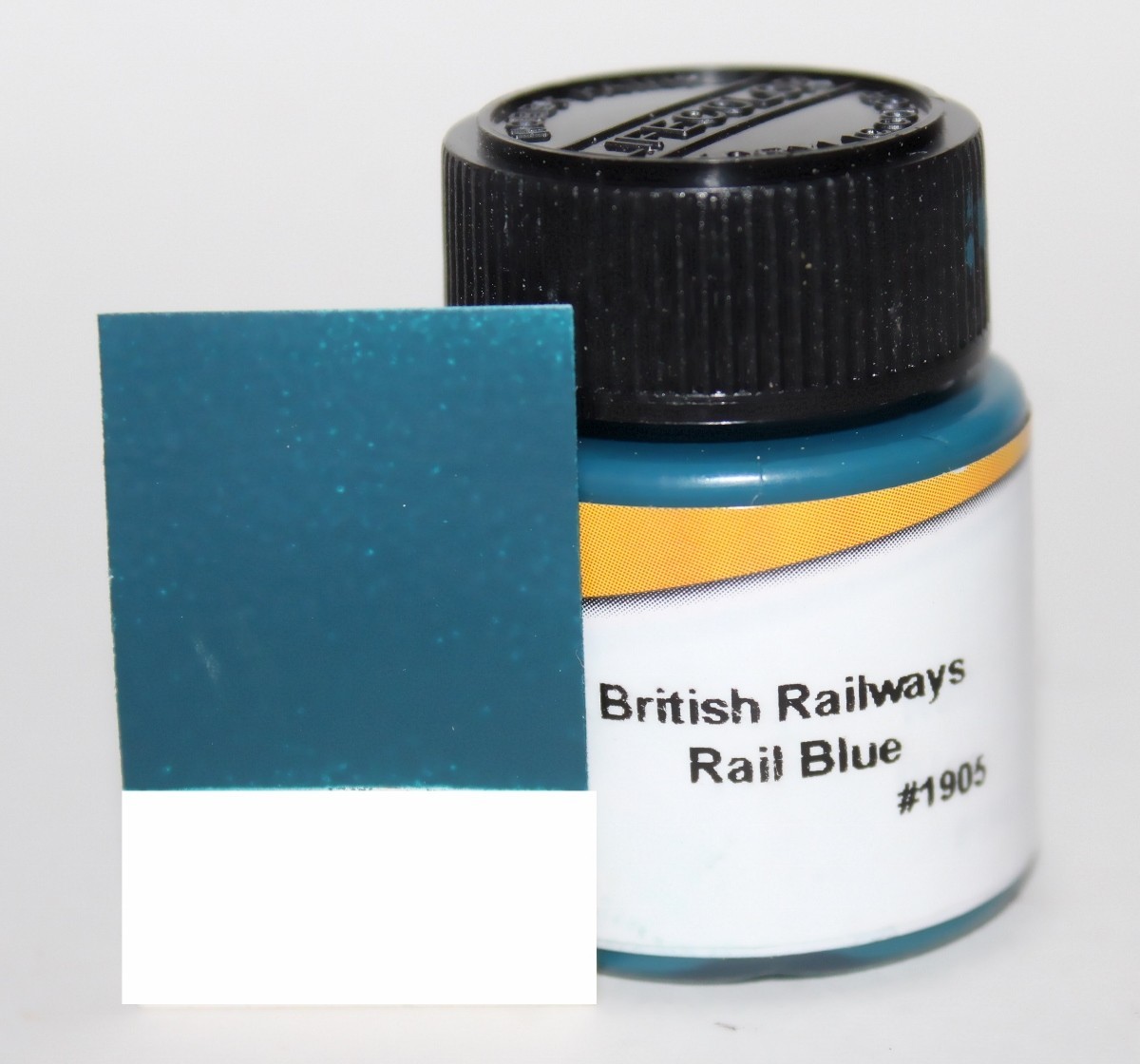 UA 816 Rail Grey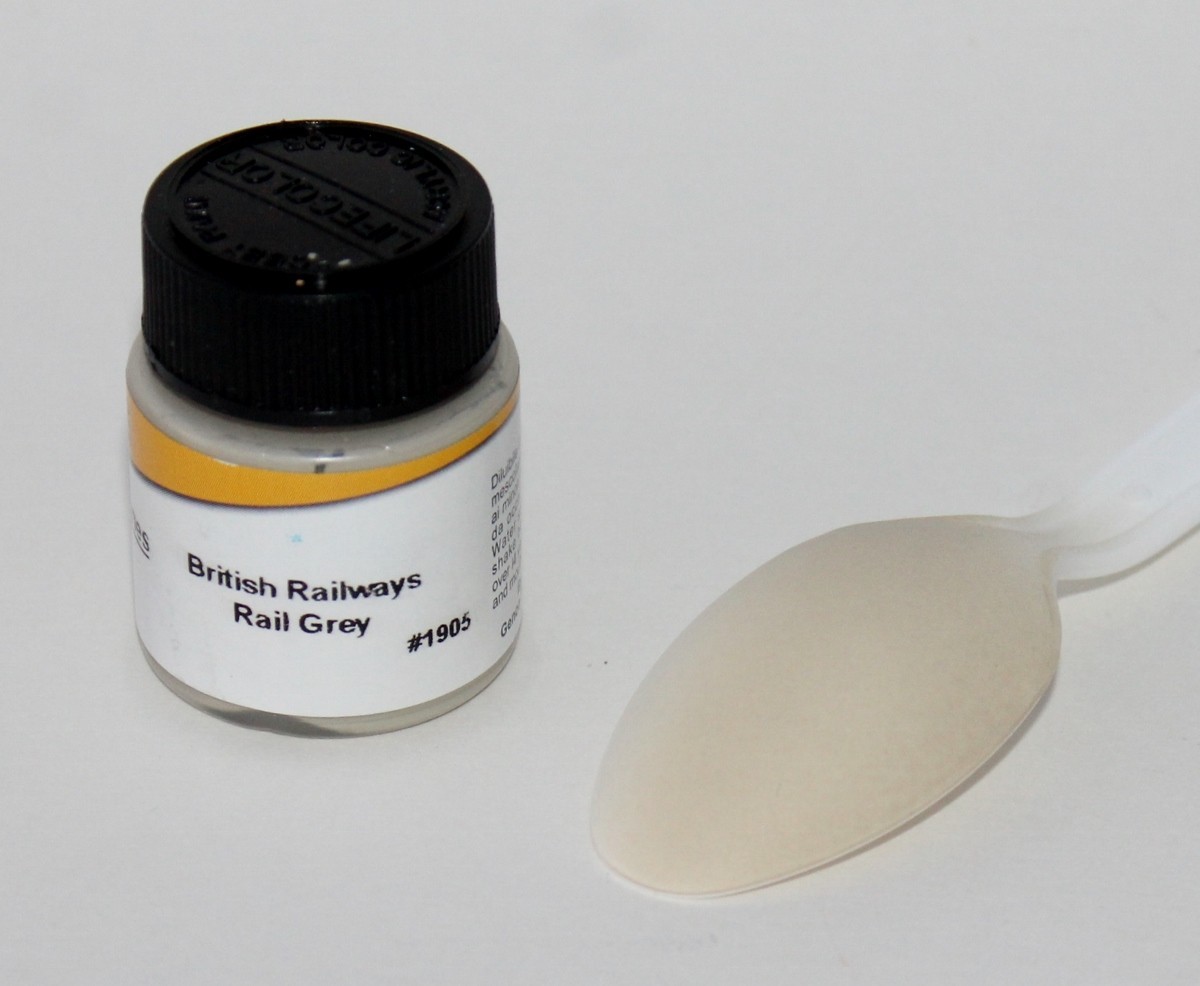 UA 827 Warning Panel Yellow (Late)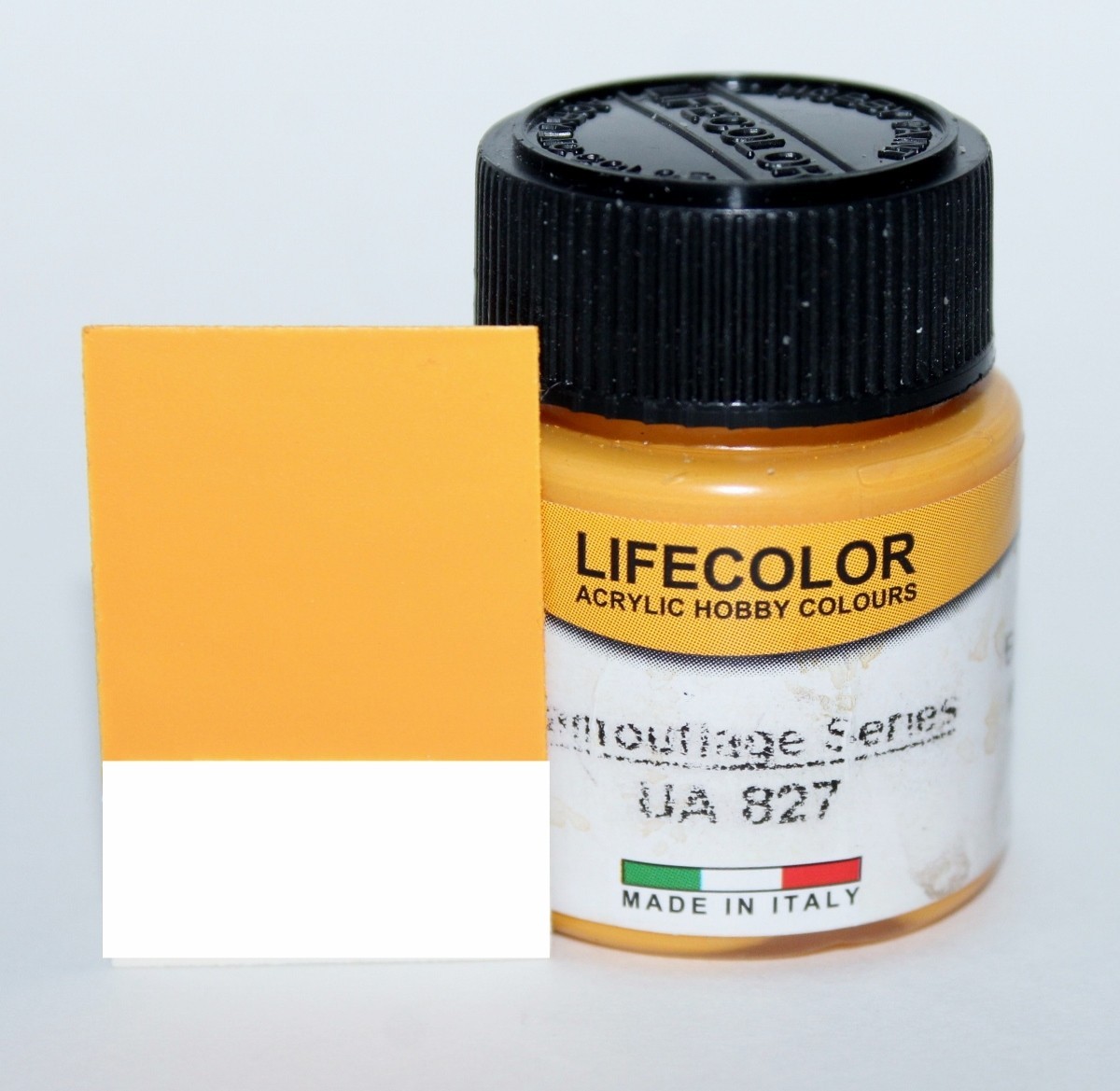 UA 828 Coach Roof Blue Grey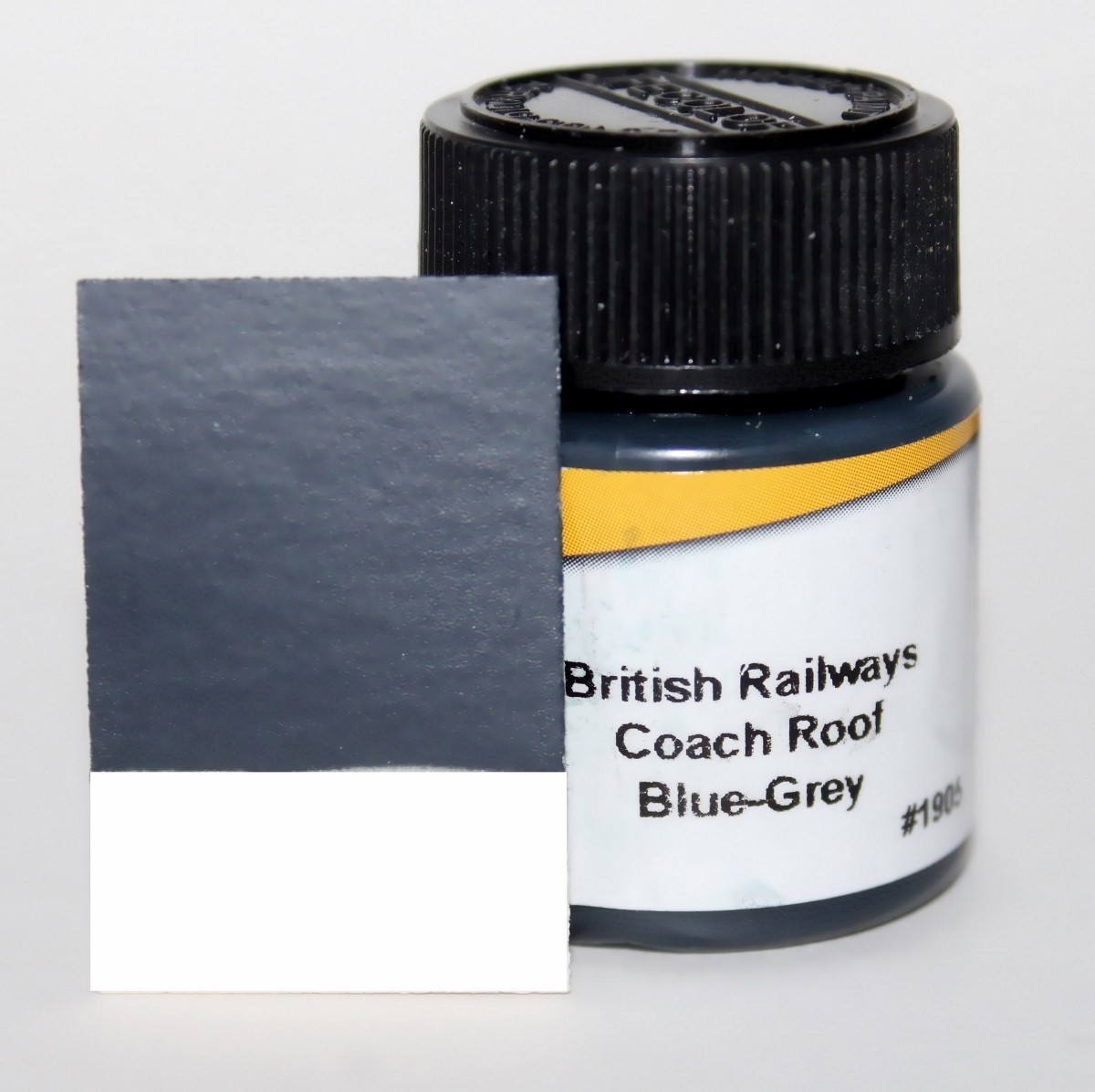 UA 829 Railfreight Red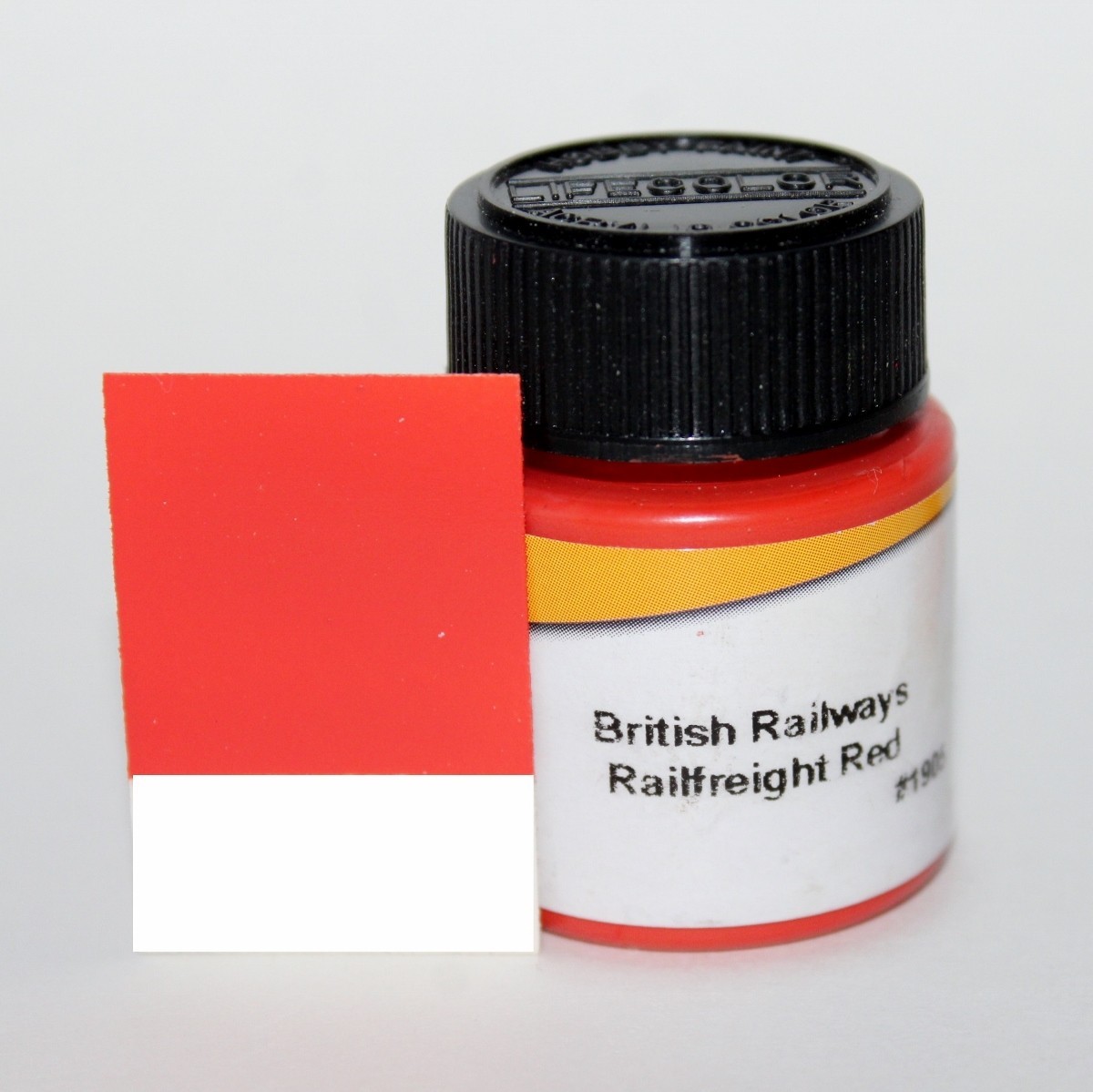 UA 830 Railfreight Grey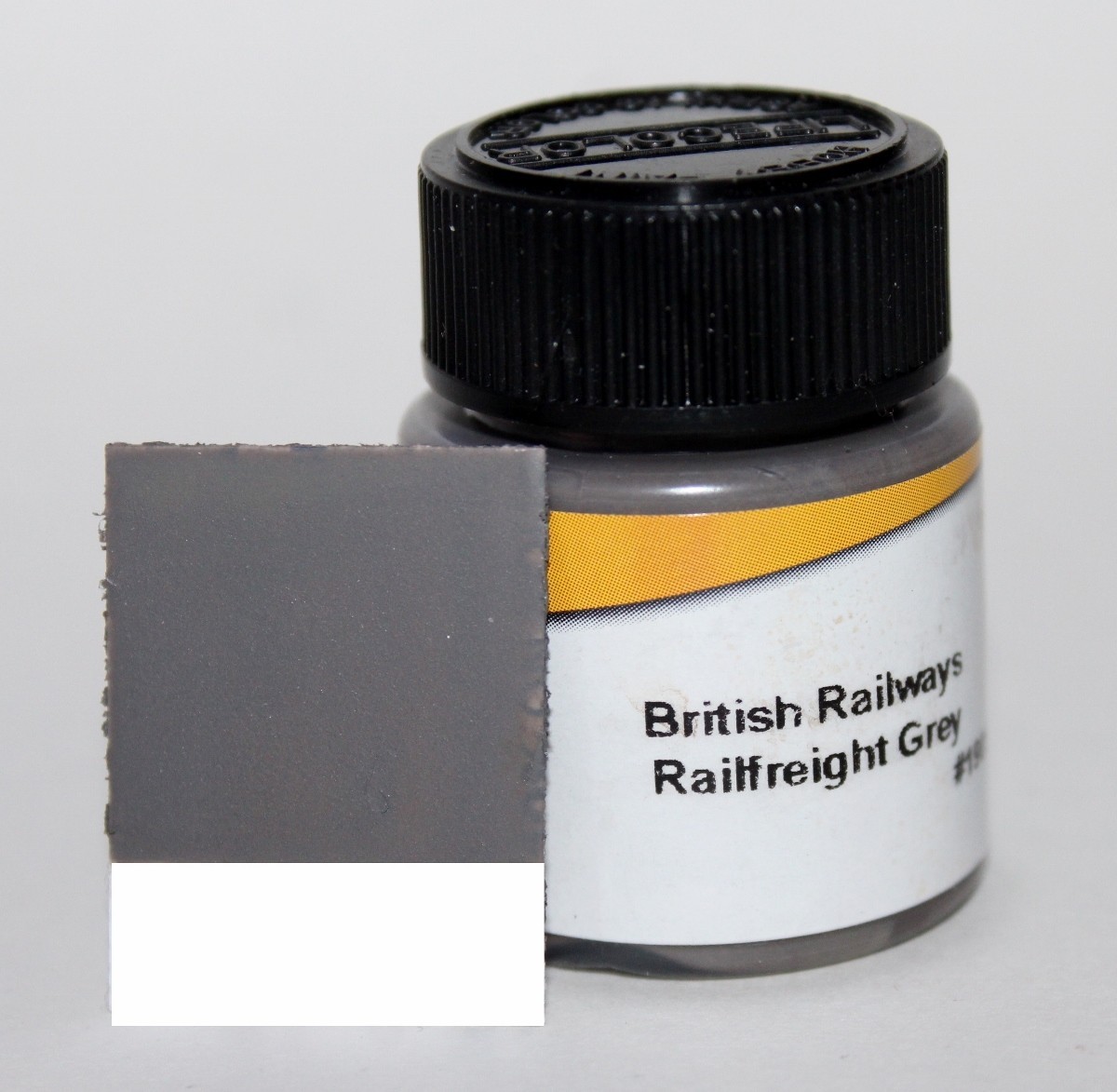 Conclusion
Overall, I am happy with these acrylic paints. They did not thicken or clump after the bottles were opened. Three colors worked well out of the pot, although the other three presented challenges. Lifecolor states they should be thinned with the brand thinner, which I also tested.

Adhesion is awesome! The bottle design is great, as is the packaging. These paints cleaned thoroughly with three airbrush paint cups of water, and a few drops of Lifecolor Cleaner.
This is a fine set for the final era of British Railways. I recommend them.
Please tell retailers and vendors that you saw this review here - on RailRoadModeling.
_______
Sources
Smith, Mike. "British Freight Locomotive Liveries." Goods & Not So Goods, An overview of railway freight operations for modellers. N.p., 2003. Web. 27 May 2014.
Multiple contributors. "Wagon Paint." National Preservation. N.p., 13 Oct. 2013. Web. 27 May 2014.