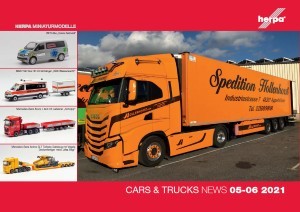 HERPA CARS & TRUCKS 2021 / 05-06
HERPA CARS & TRUCKS 2021 / 05-06 presents models that will be available this spring, 2021.
Most of Herpa's series are included in this issue:
· Spare Parts

· Classics

· Police Cars

· Family cars

· Fire Trucks

· Semi-trucks

· Box trucks

· Eastern Europe

· Fire brigade

· Latest follow-up editions

· Military

· Private Collection

· Shipping company

· Start Scale Models (1/43 Russian subjects)

· Vintage car
A small selection of the scores of models in this catalogue are:
Mercedes-Benz GLA-Klasse Minikit

Mercedes-Benz SLK, bordeauxviolett


Wartburg 353 `66 Trans


Volvo F 89 6x4 semi-tanker


1/43 Praga S5T-3 pickup

1/50 Tekno semi-tanker
An exciting selection of models for all the popular model railroad scales and eras c.1940 through today!
You can view each model individually at this link:
Thanks to Herpa for this announcement! Please remember to mention to Herpa and retailers that you saw these models here - on RailRoad Modeler.