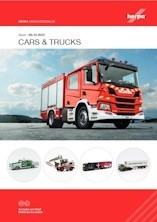 HERPA CARS & TRUCKS 2023 / 09-10
This brochure presents upcoming releases by Herpa and their new partner Modellbau Schwarz.

Cars & Trucks 2023 / 09-10 presents all of Herpa's series:
·        Spare Parts

·        Classics

·        Police Cars

·        Family cars

·        Construction machinery

·        Fire Trucks

·        Semi-trucks

·        Box trucks

·        Eastern Europe

·        Fire brigade

·        Latest follow-up editions

·        Military

·        Private Collection

·        Shipping company

·        Vintage car
Several models are decorated for North Rhine Westphalia/Overath.

A small selection of the scores of models in this catalogue are:
MB LPS 2032 container semitrailer "Spedition Offergeld" (North Rhine Westphalia/Würselen)
DAF XG+ 15meter Lowliner semitrailer "Herpa Christmas Truck 2023"
Scania CR 20 ND flat bed trailer "Herzer"
Liebherr A 918 Litronic wheel loader
Scania CR 20 ND timber transport trailer
Scania CR 20
Mercedes-Benz Atego '13 Ziegler Z-Cab
Mercedes-Benz 200 Heckflosse
Audi A6 Avant
You can view each model individually at this link:
Please remember to mention to Herpa and retailers that you saw these models here - on RailRoad Modeler.