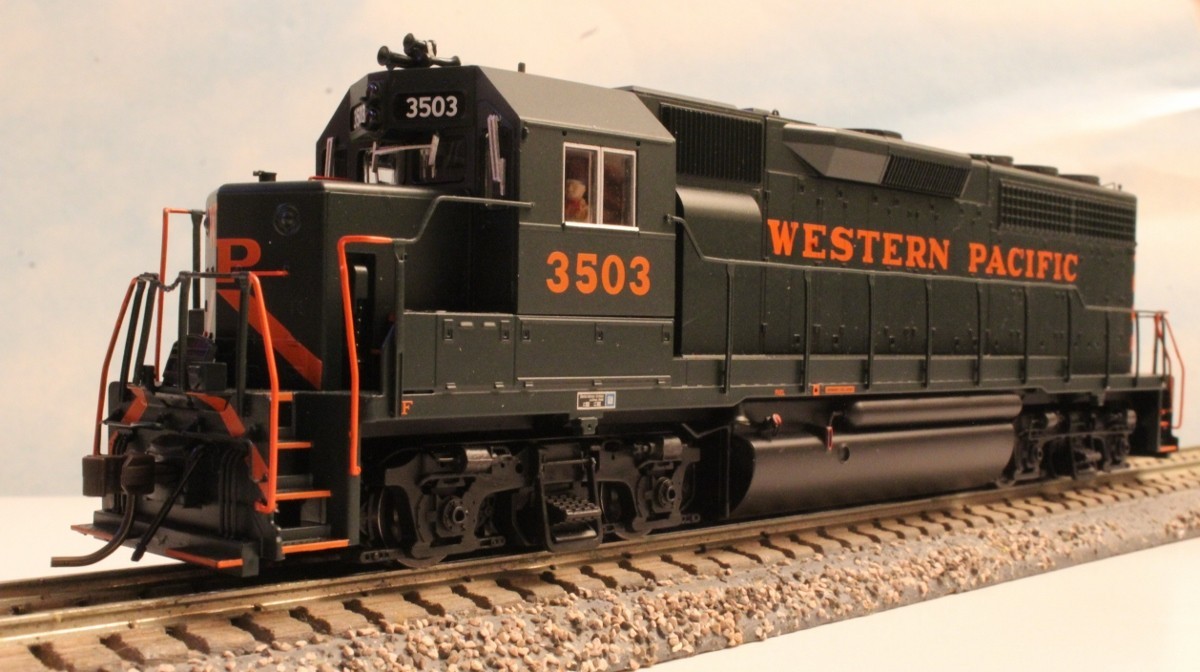 Introduction
GP40 Western Pacific No. 3503 from Atlas Model Railroad is an HO locomotive equipped for the Silver Series, item 10 003 222. The Silver Series features an analog control system but otherwise is the same model as the DCC & sound-equipped Gold Series.

Photographs of the real WP 3503 can be found via Pictures of WP 3503.
Please see these links for the models on Atlas' website:

HO GP40 SILVER WESTERN PACIFIC "WP NOSE LETTERING" #3503

Atlas' Store: H0 MASTER EMD GP40 LOCOMOTIVE
Atlas tells us about the GP40:
In 1966 EMD introduced a new line of locomotives based on the 16-cylinder 645-series prime mover. The "40-series" included a six-axle and four-axle model, the latter being the GP40. A total of 1,145 units were produced between 1966 and 1972. These turbocharged 3,000hp locomotives were used primarily in road freight service. The GP40 was a versatile locomotive that could be found across the US hauling drag freights over mountain passes and leading high-speed intermodal trains across flat terrain. Three rooftop radiator fans at the rear of the long hood differentiate a GP40 from its lower horsepower counterpart, the GP38, which has two fans at this location.

Concurrent with GP40 production, EMD offered a lower horsepower, non-turbocharged locomotive based on the same 645-series prime mover. The four-axle GP38 was rated at 2,000 hp and had the advantage of costing less than the GP40. A total of 727 units were produced between 1966 and 1971 when the model was superseded. The wheelbase of the GP38 was identical to that of the GP40. Both units shared the same EMD road-switcher style body that was introduced with the GP35 in 1963. A desire for standardization caused the GP38 to share the same wheelbase, frame and many external components as the GP40. The GP38 was purchased by large and small roads alike. It was routinely found in local and road freight service throughout the US. Many GP38s and 40s are still in service today.
Features:
Golden-white LEDs
Realistic die-cast underframe
Five-pole skewed armature motor with dual flywheels for optimum performance at all speeds
Directional lighting
Factory-equipped with AccuMate® knuckle couplers
Detailed cab interior with crew
Separately-installed scale windshield wipers, metal grab irons and fine scale handrails
Movable drop steps
Walkway safety tread
Coupler cut bars
Multiple unit hoses and trainline hoses
Snowplow
Additional feature parts included but not installed (GP-40):
Electrical cabinet air filter box (ECAFB)
Two engine compartment roof vents which were added by many railroads sometime after delivery
Sound Features for Gold Series:
DCC Operation Features:
Supports all DCC-programming modes
Flexible mapping of function keys F0 to F28.
Follows all NMRA DCC standards and recommended practices.
Sound Functionality Features:
Over 20 sound effects are available, including engine start-up and shutdown, prime mover sounds through all eight notches, bell, air horn, air compressor, dynamic brakes and more.
There are 16 user-selectable horns, 2 user-selectable bells, and 2 user-selectable synchronized brake squeals.
Manual and Automatic Notching modes with the ability to change modes "on the fly" are provided
for true realism.
Atlas Master™ Series Silver Additional Features:
NMRA 8-pin plug for DCC (Decoder-ready)
AccuMate® couplers are made under license from AccuRail, Inc.
Master™ Series Silver GP40
Atlas packages this model in a telescoping lid-tray carton. The lid has a clear sheet viewing window to display the model. Inside, the model is secured in a three-piece plastic cradle which is very secure; the third piece is a hard plastic base to which the locomotive is affixed by two screws. A foam block protects the top of the body. Thus it can not shift about and scuff. It is also unlikely to topple out of the cradle if one handles it clumsily. (Don't ask how I know.) The screws hold the loco where the fuel tank is located.
A small bag of optional parts is included.
An exploded-diagram line art parts sheet is included. It shows all parts and components, most with its part number. However, while well detailed, it provides no guidance as to how to attach or detach anything.

The box window allows for a good first impression. Immediately noticed a sharply molded and detailed model. The styrene shell is sharply molded and detailed with molded-on/in hood access doors with hinge and latch detailing, a radiator cooling vent, rivet detail and such.

The model is engineered with plastic frames on metal truck sand wheels, a cast metal chassis frame for weight, an injection-molded body shell and a sill, detailed with plastic and metal parts. It is further equipped with AccuMate® knuckle couplers. Inside the body is the motor, dual flywheel drive shafts and electrical suite.

Atlas short and long body shells are modular for railroad-specific details. The shell has a cutout for the dynamic brake hatch, of which there are three types. These snap into place, as does the single-piece cab. Three different plows and two sizes of fuel tanks are available. Other details specific for individual railway companies are ditch lights and headlight configurations.
Detail
Options for the Atlas GP38 and GP40 models include a long hood with or without dynamic brakes and an underframe with 2,600 or 3,600 gallon fuel tanks. As listed above, Atlas equips their GP40 with plentiful individually-applied details:
· Detailed cab interior with crew

· Separately-installed scale windshield wipers, metal grab irons and fine scale handrails

· Movable drop steps

· Walkway safety tread

· Coupler cut bars

· Multiple unit hoses and trainline hoses

· Snowplow

· Lift rings on the body roof

· Windshield wipers

· Clear eye glass on right hood

· Piping on the trucks
Additional feature parts included but not installed(GP-40):
• Electrical cabinet air filter box (ECAFB)

• Two engine compartment roof vents which were added by many railroads sometime after delivery
The locomotive body hosts more than 60 individually-applied detail pieces! The cab interior contains an interior wall, control stand, an engineer, a fireman, and seats. Notice the etched fans inside the roof grilles? Detailed truck sideframes sport separately applied brake cylinder with piping and spring hangers. The AccuMate couplers are mounted to the frame instead of the trucks. The cab is shielded from headlight and number board illumination.
Separate sun shades and two round parts are held in the baggie.
When one looks closely at this model, "wow" should come to mind.

Technical
EMD GP40s are 59 feet 2 inches long. This model is 59 feet 9 inches from couple to coupler. This model weighs 13.8 ounces. I did not check the drawbar pull the loco should allow you to pull 35 cars weighted to NMRA standards along flat tangent track.

Throttle Up!

This model is ready to go straight out of the box.

With the weight of the die-cast frame this loco can pull a respectable consist. The can motor and flywheel assembly, transmission linkage and gearing gives a smooth performance.

Let the Light Shine
This model is equipped with golden-white LEDs for illumination. Headlights, number boards,and cab lights illuminate. The lighting is directional.
Paint and Markings
The first quality of this model that I noticed is the smooth, sharp, painting and markings. There are several stencils on the unit. All are legible, even those smaller than my camera's resolution can display. You can see those markings in the photos.

Atlas provides more than one road number for a given railroad. Other road names for this release include:
Bangor and Aroostook (Blue/Yellow)

Conrail "White Frame Stripe" (Blue/White)

Conrail "Bicentennial" (Red/White/Blue)


Norfolk Southern (Black/White)

RJ Corman (Red/Silver/White)

New Orleans Public Belt (Orange/Black)

Georgia Railroad* (Black/White)

Western Pacific "WP Nose Lettering" (Green/Orange)


B&O* (Blue/Yellow)

Southern Pacific "Speed Lettering" (Scarlet/Gray)


NJ TRANSIT (Silver/Black/White)
Each road name comes with two or three road numbers.

Summary
Atlas' Master™ Series Silver GP40 is an impressive model! The fidelity and amount of detailing, ease and smoothness of operation, molding, engineering and quality all combine to make this an exceptional model. So does the paint and markings. The number of railroads available means few modelers will not have the choice of a GP40 for their layout.
Model railroaders modeling the past 50 years have a great deal of choice with this impressive GP40. Recommend.

Packaging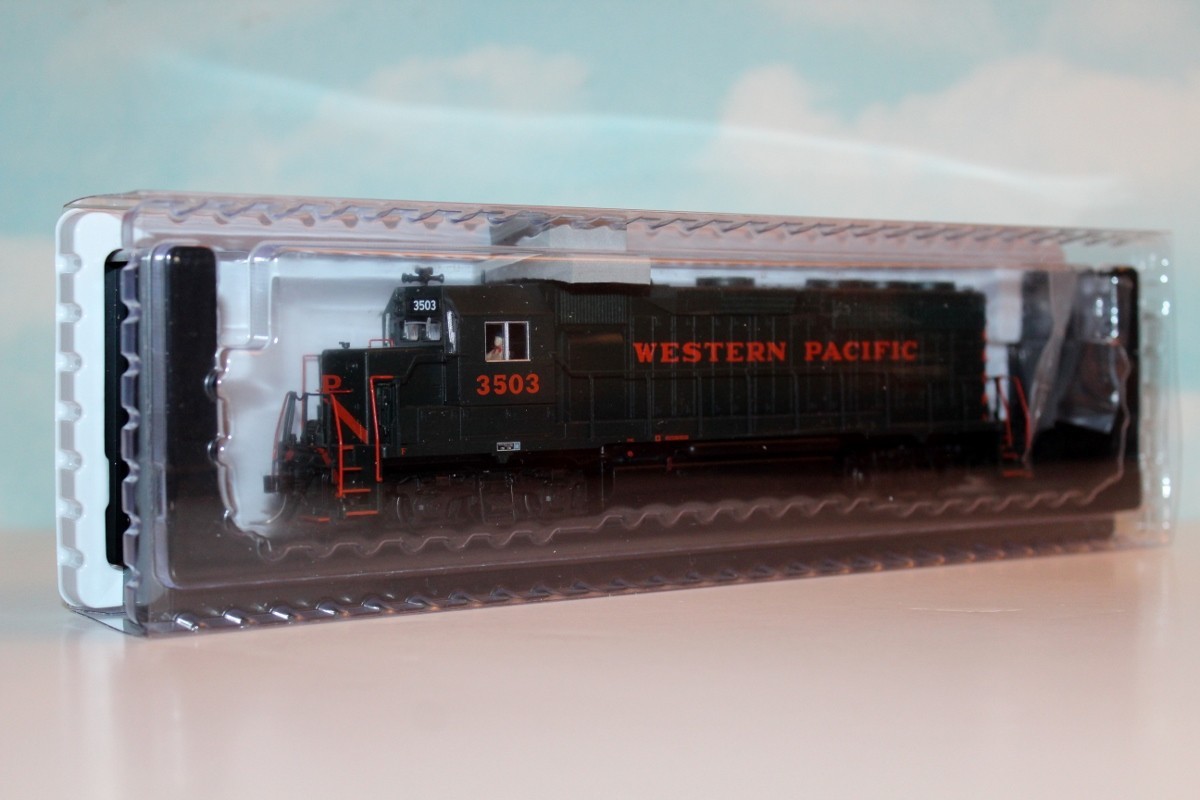 Safely enconsed in the cradle.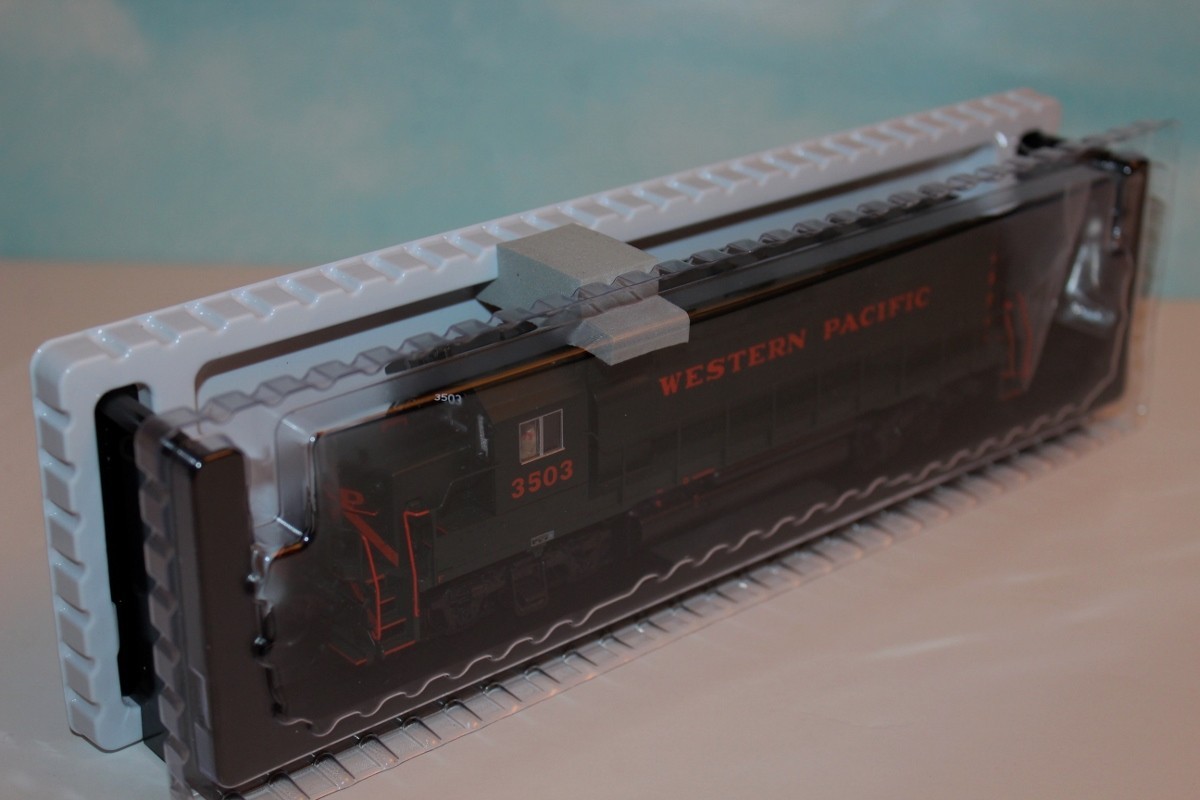 Screws secure the model to the cradle.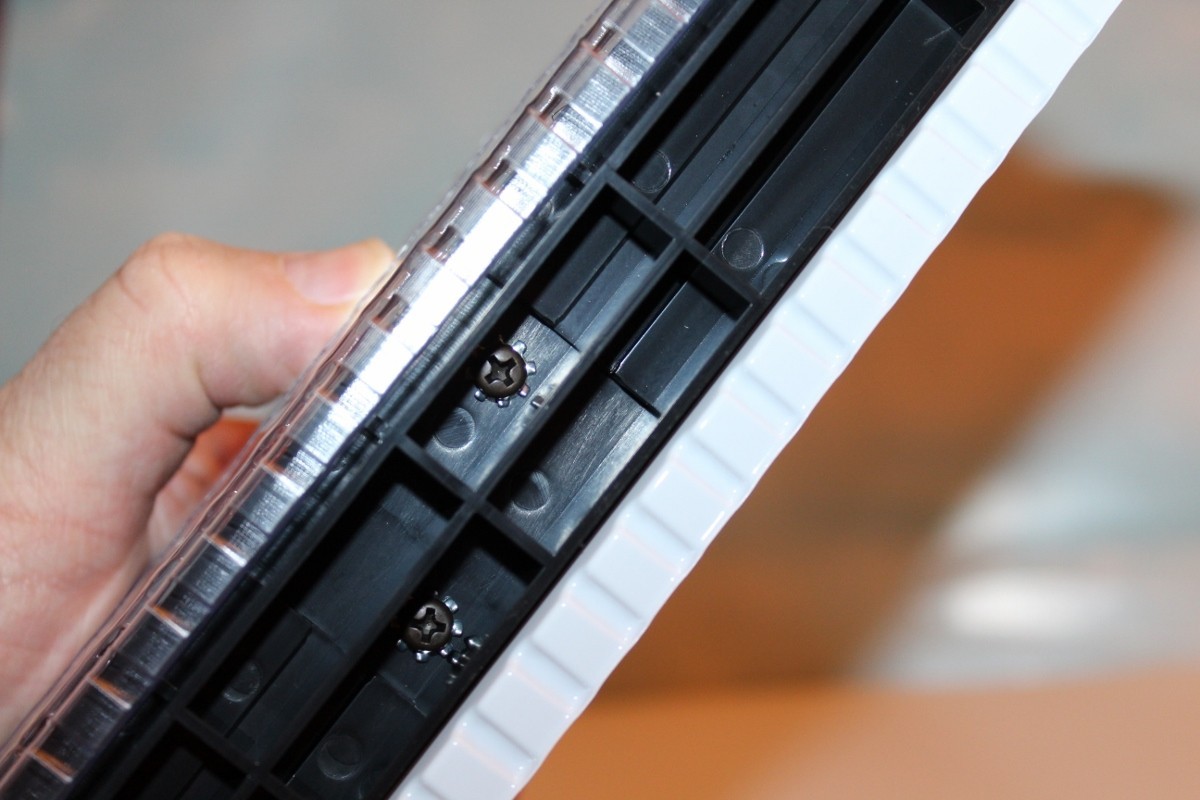 Builder's Plate, stenciling, general detail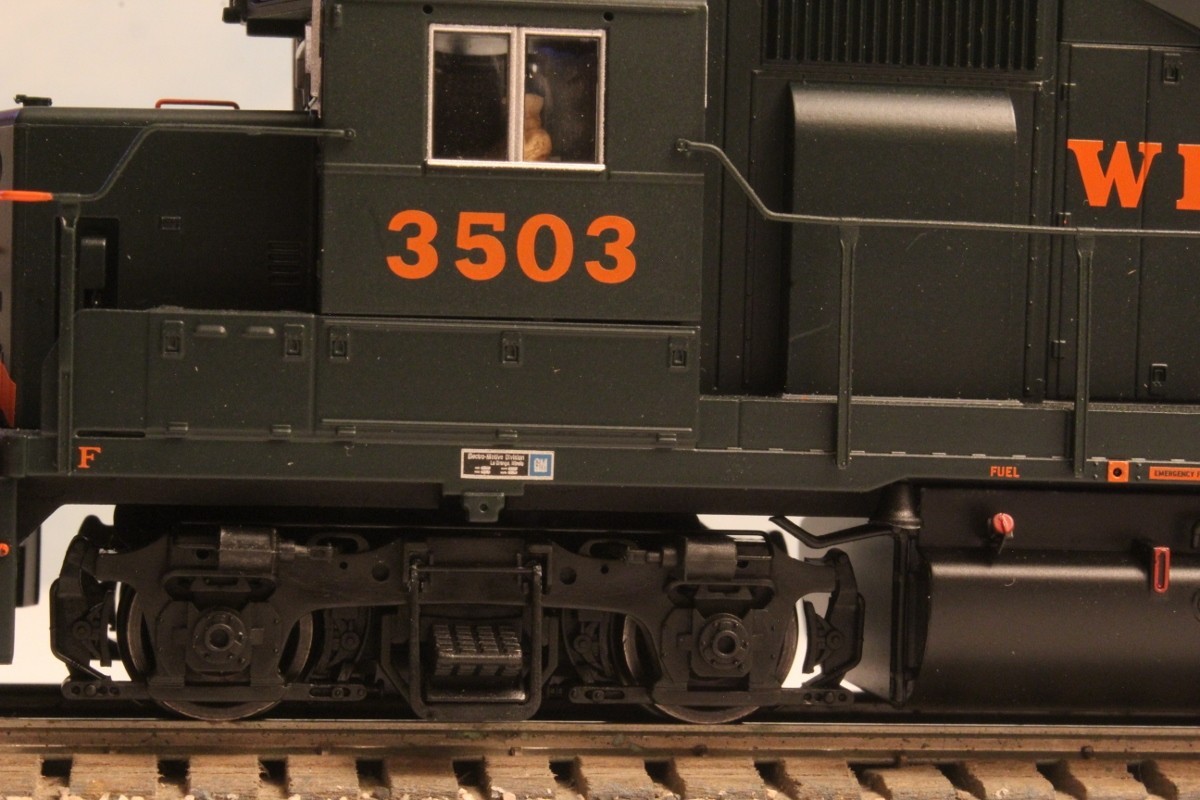 Fuel tank with filler and sight gauge, Bell, Sanding pipe, air tank,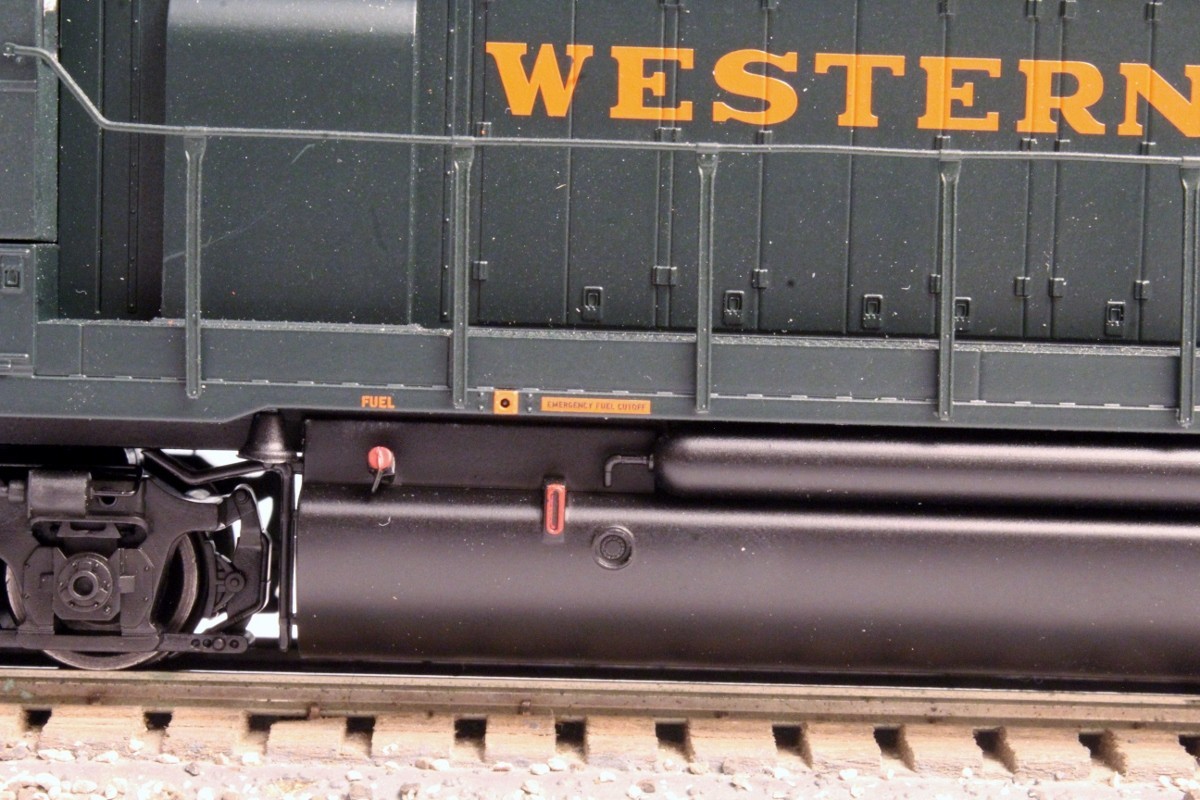 Rear truck and steps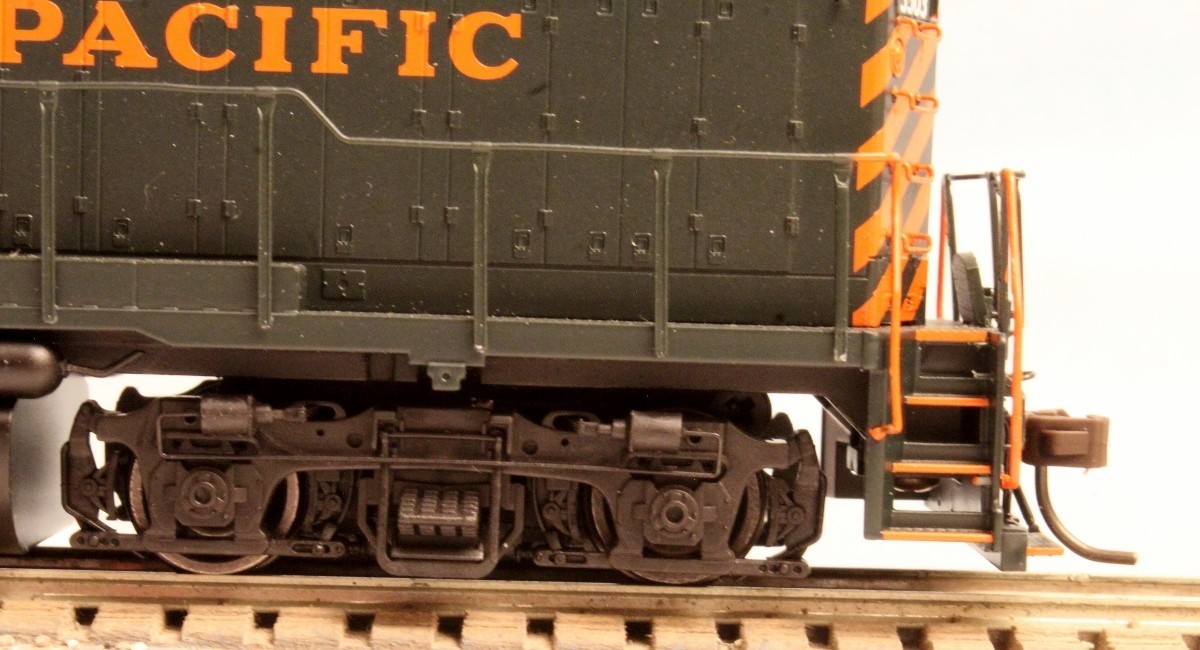 Grill and roof detail (trackside view)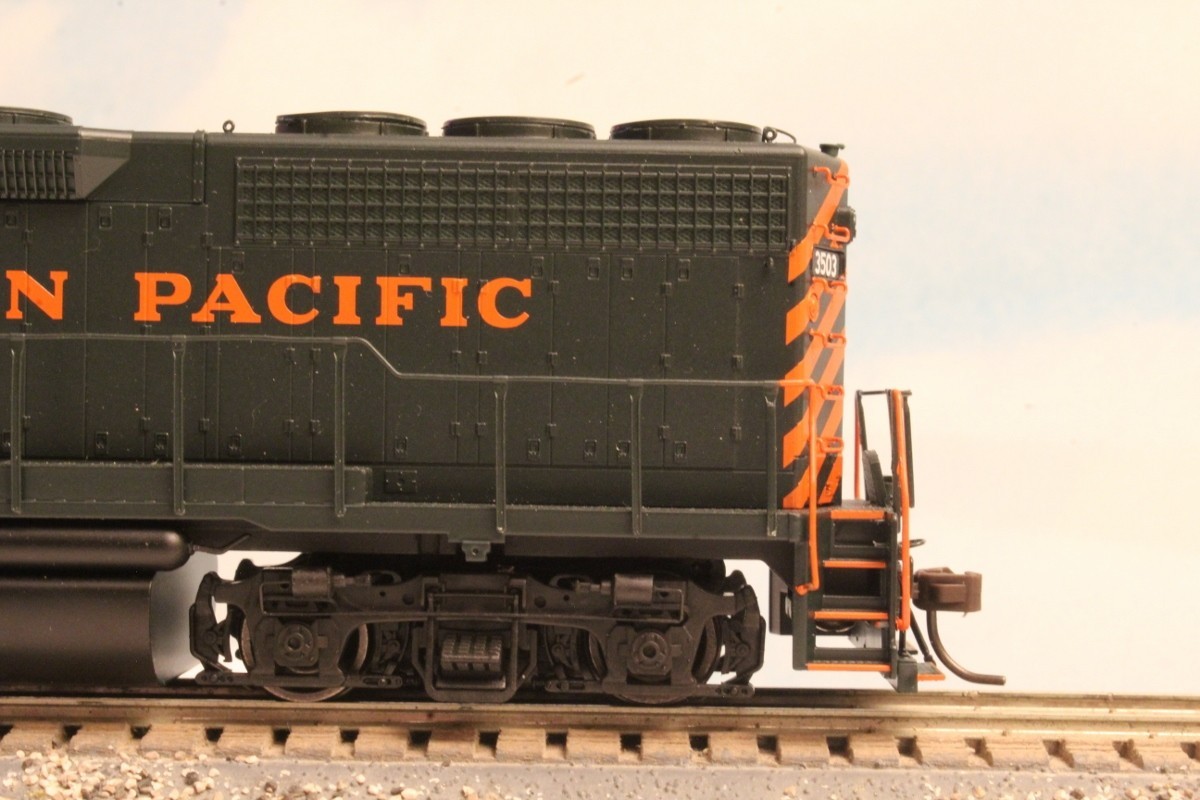 Photo-etched fans under grills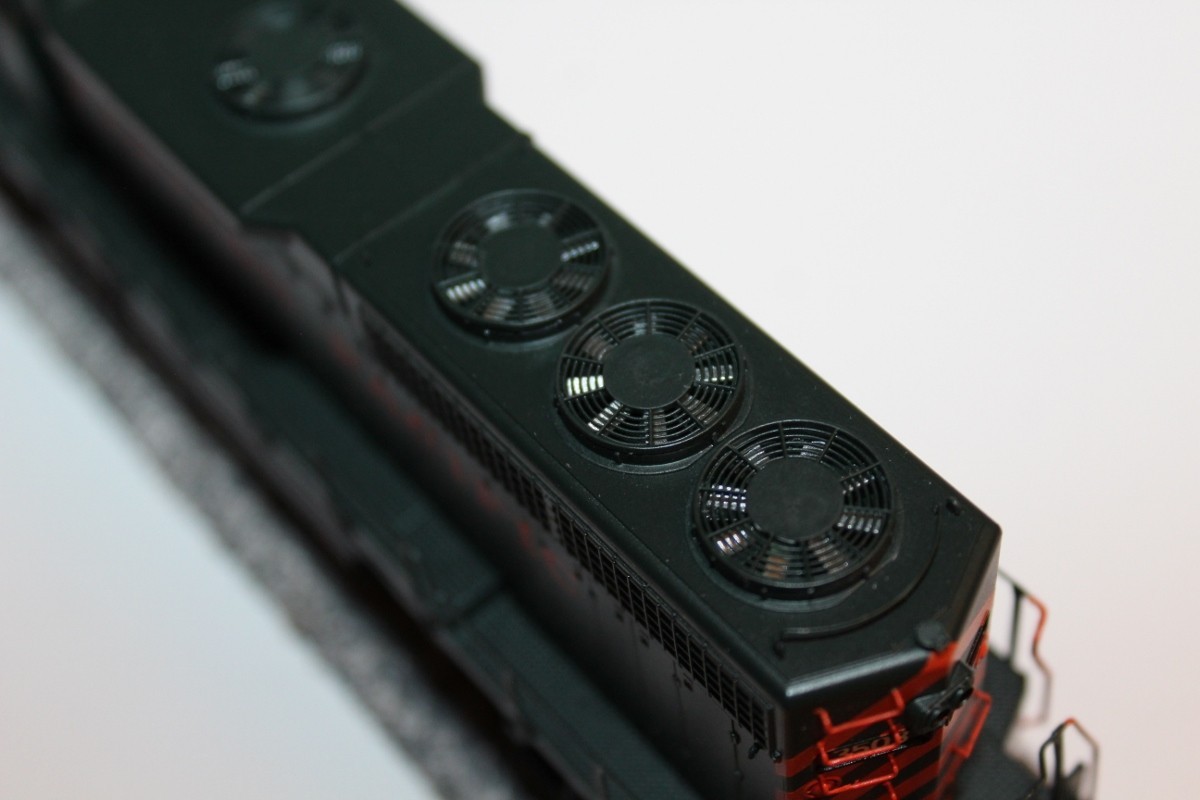 Individually-applied lifting rings around the dynamic brake exhaust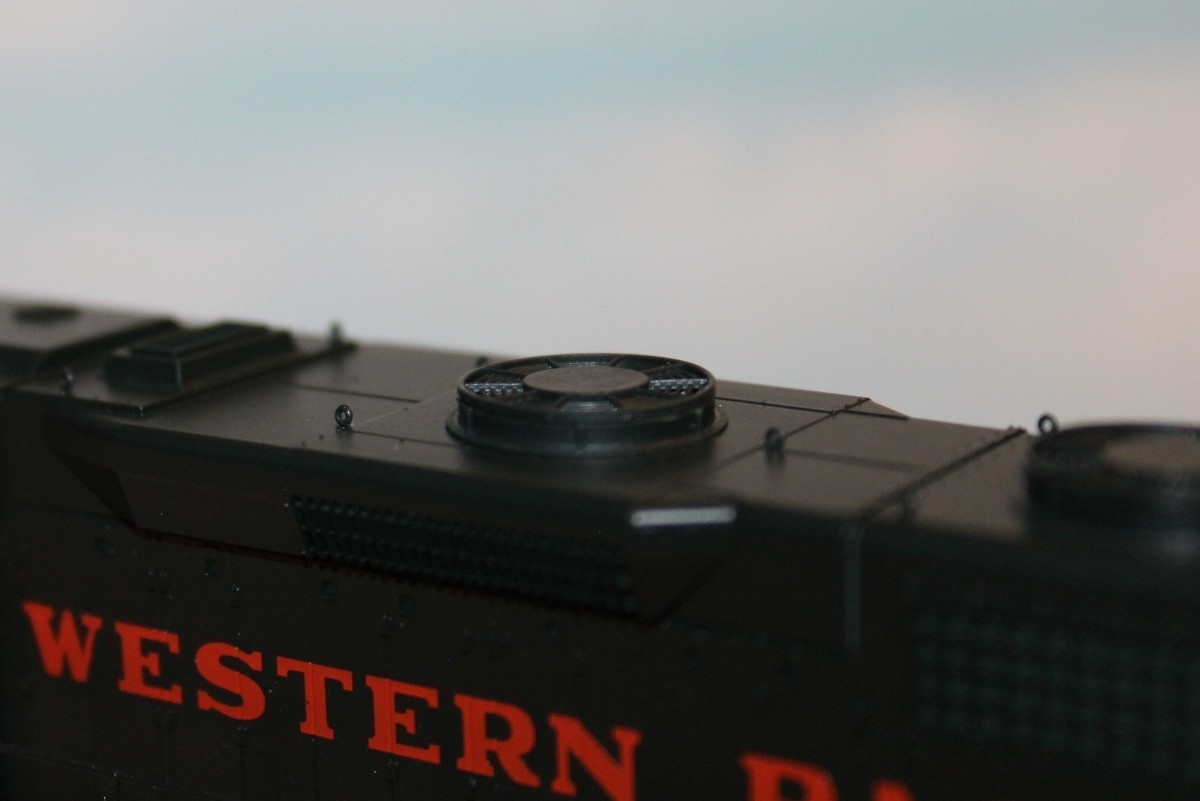 Note the corregated cooling apparatus on side behind cab, and walkway treadplate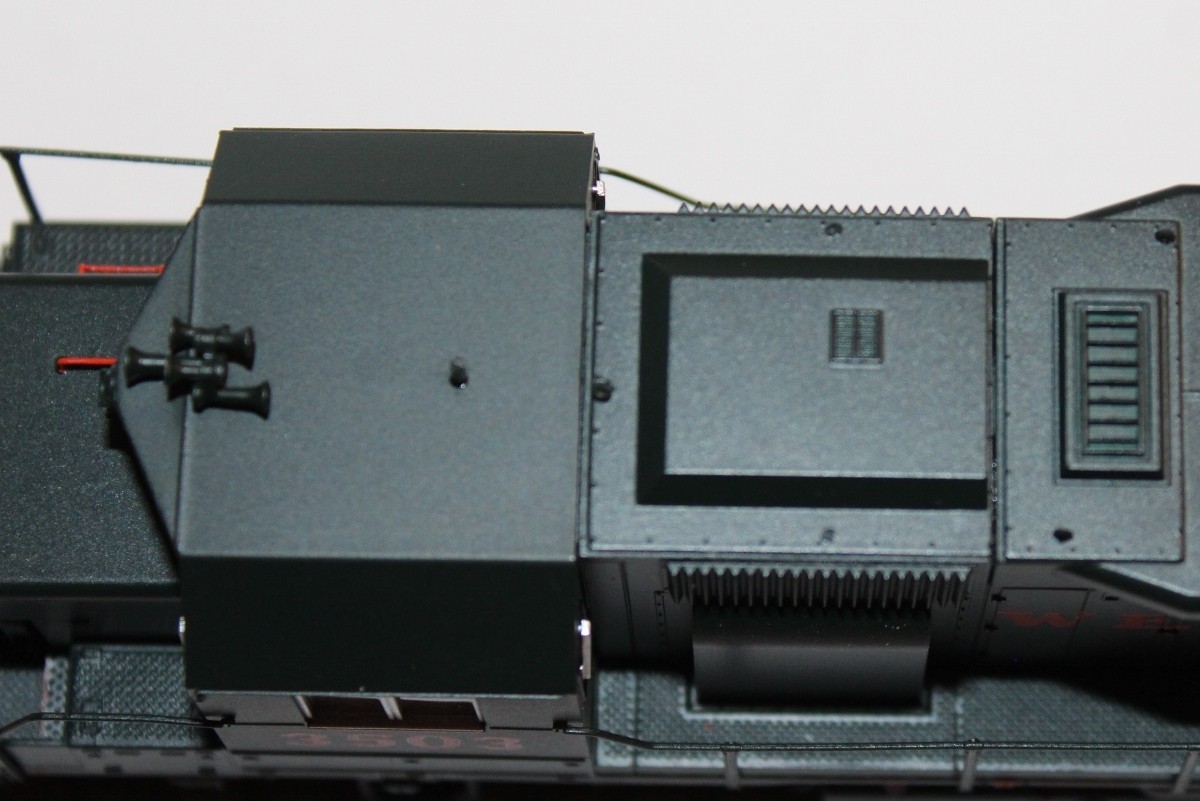 More stenciling on engineer's side
"Fire extinguisher" is legible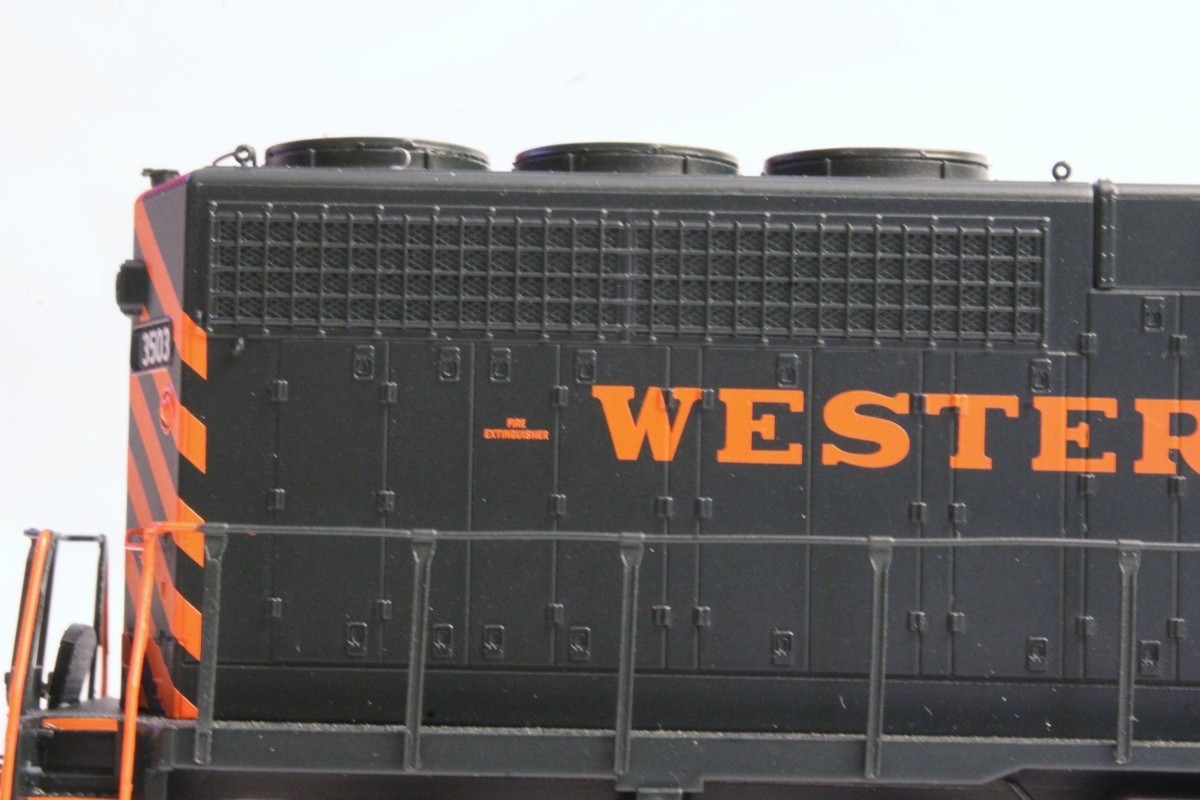 Note open grabs on other side of headlight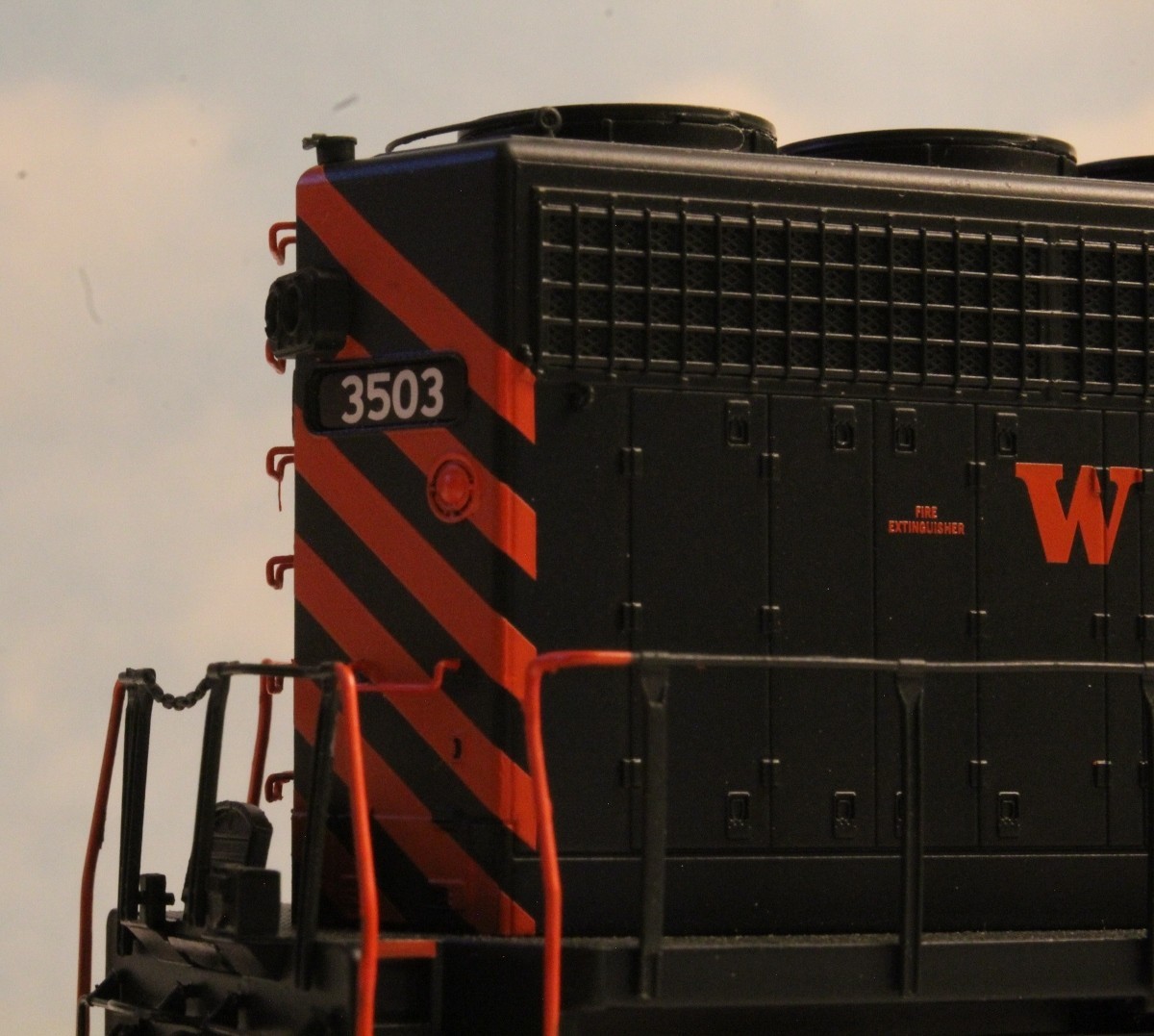 Rear MU unit hoses and trainline hoses, drop step, cut bar