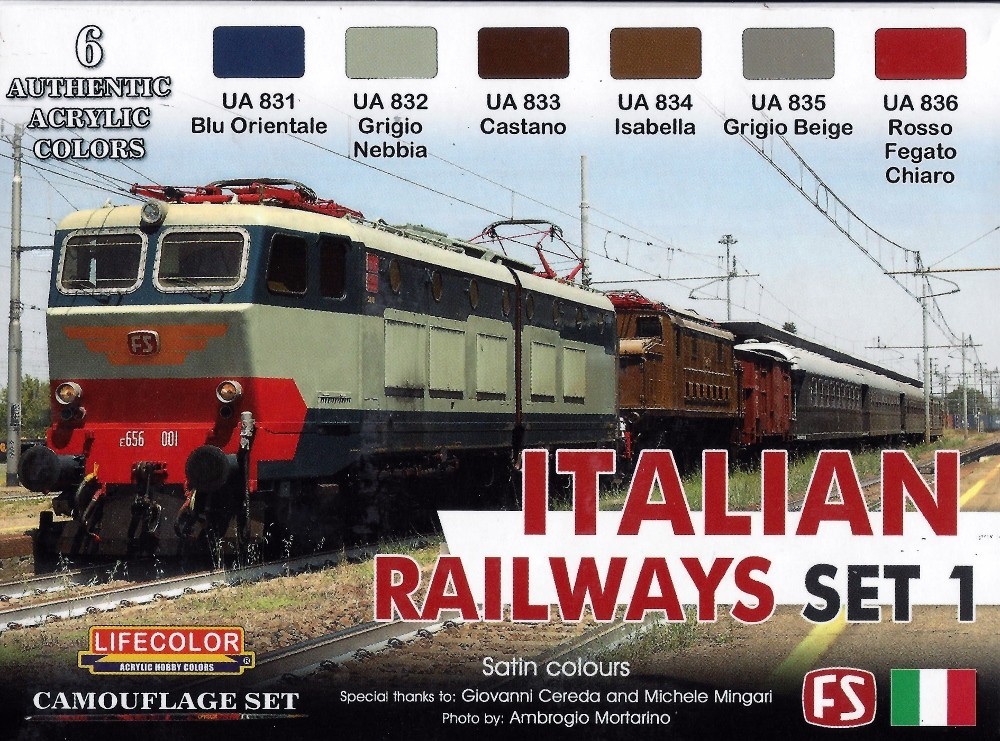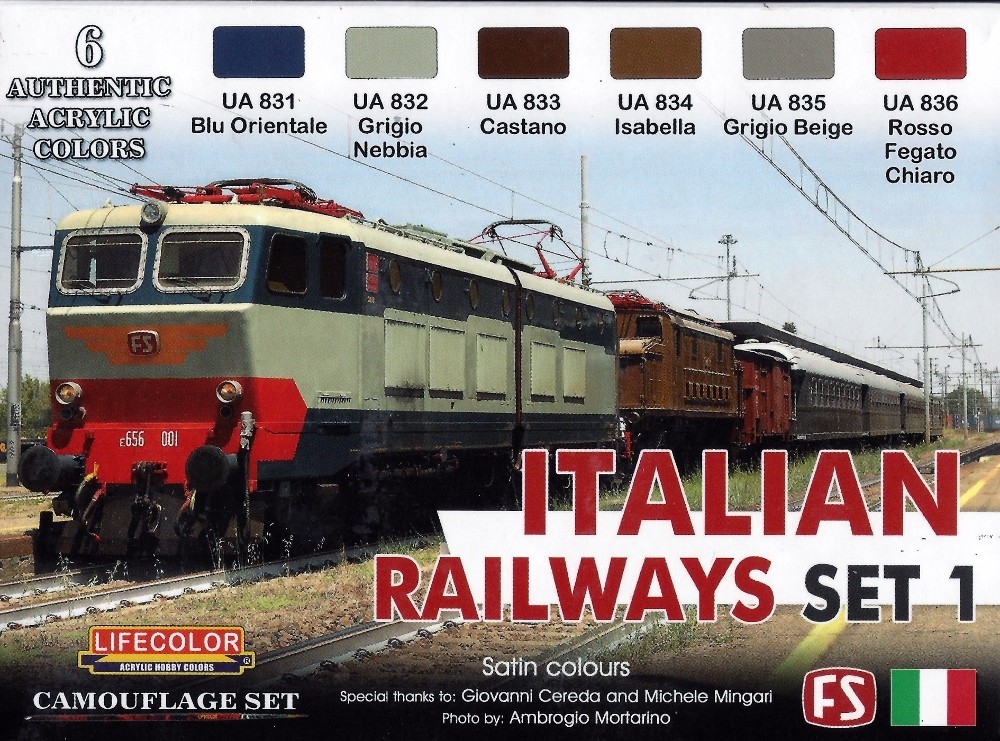 Italian Railways set 1
LifeColor formulated and released two new sets for Itay's Ferrovie dello Stato, the national railway, covering two periods from post-war to current. The Airbrush Company Ltd kindly provided this set and you can find it here on their site Italian Railways set 1.
They recommend Iwata airbrushes to spray LifeColor paints.
Set XS 13 is packaged in an attractive flip-top cardboard box with the six 22ml plastic bottles in individual compartments. The bottle caps are molded with an internal rim which both provides a small palette cup as well as inhibits paint fouling the bottle cap thread.
These paints are made with very finely ground pigments. I don't smell any odor from them. Usually, I find most of these paints to be thinner than other brands I am used to, almost like a heavy wash. These paints are not formulated for one-pass brushing, rather for multiple passes and airbrushing.
This set includes six 22ml jars of paint:
· UA 831 Blu Orientale
· UA 832 Grigio Nebbia
· UA 833 Castano
· UA 834 Isabella
· UA 835 Grigio Beige
· UA 836 Rosso Fegato Chiaro
I said the following about a LifeColor British Railway color - I think that two of these colors are some of the most beautiful colors ever applied to railroad rolling stock. Thus, like that set, I prize these colors and thoroughly enjoyed trying these paints.
There are no instructions other than as printed on the back of the box, with six printed color chips. LifeColor reminds us that these can be mixed with Tensocrom Medium to create washes and glazes. A list of the colors is included, naming the colors that are paired together for common liveries, and liveries that used colors not in this set, and the LifeColor paint name/number.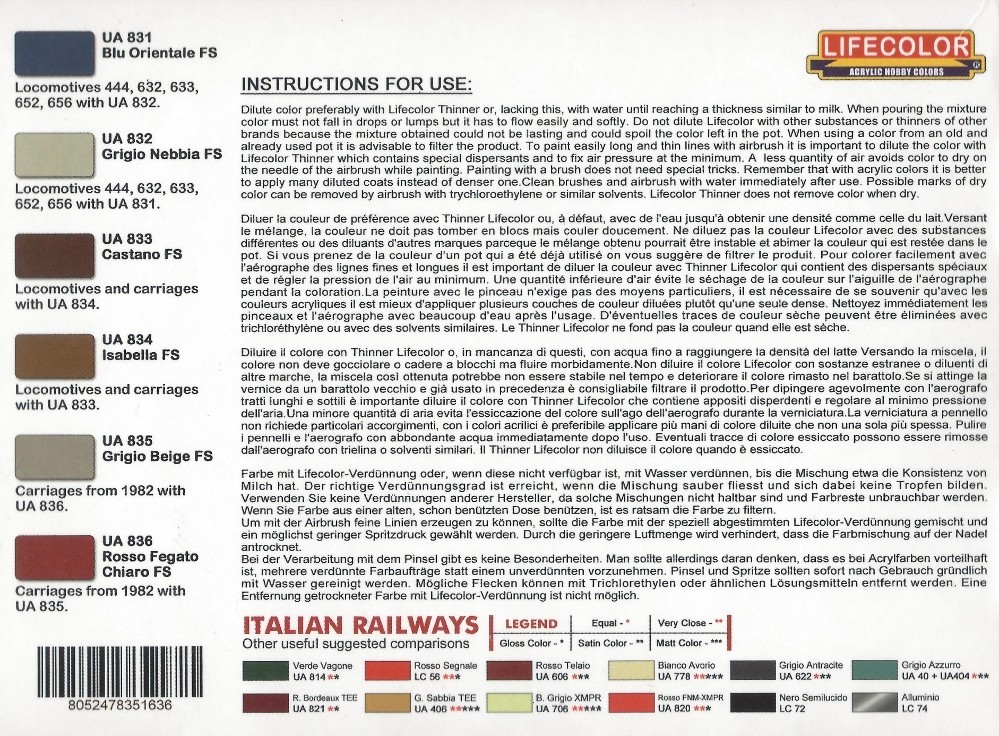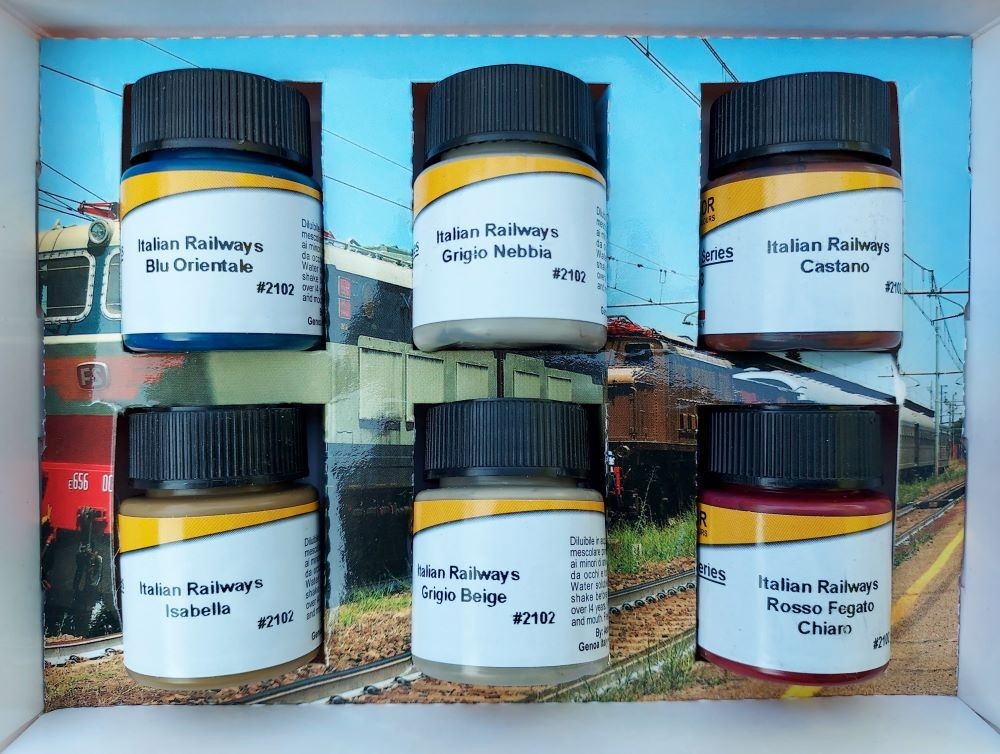 Airbrushing
Like previous set trials, I didn't try to hand-brush these paints. They can be – I've read accounts online; instead, they were airbrushed onto white plastic spoons and flat chips.
Lifecolor instructs that for airbrushing, use low pressure. Not surprising, they also recommend using their own thinner but state that water will suffice.   Unlike with previous sets when I thinned most colors 20% thinner to 80% paint, this time I tried the manufacturer ratio and found 30-40% thinner worked well.   Spraying through an Aztec airbrush, using a medium area coverage 0.50mm nozzle, with pressure of 8-12 psi, performance was good.
Four of the colors yielded excellent coverage - smooth with complete opacity.  The some colors  dried semi-gloss, while two tended towards matte.   None puddled.  You may notice a buildup of paint along panels of one coach but that was the way the coach arrived, not a problem with the paint.   Two colors, Rosso Fegato Chiaro and Isabella, were thin straight from the jar.  Beautiful Blu Orientale  and Rosso Fegato Chiaro required multiple coats to achieve coverage.  Not a problem as that is what LifeColor recommends – multiple thin coats.
Overall, all colors worked very well and adhesion is excellent.
I used a common blue painter's tape to mask the color boundaries.  After 5-10minutes, I pulled the tape and found only a single minor case of bleeding.
What's with all the photos?
I used the color pairings stated on the box and, not wanting a plain car side to go to waste, freelanced two colors together.
Nothing beats sunlight to show a color.  A clear pleasant afternoon was the backdrop for each livery, both against the sky and spring flora.  Surrounding colors can influence what you eyes see to an extent;  I also shot them in a model's usual habitat, indoors with artificial light.
Natural Light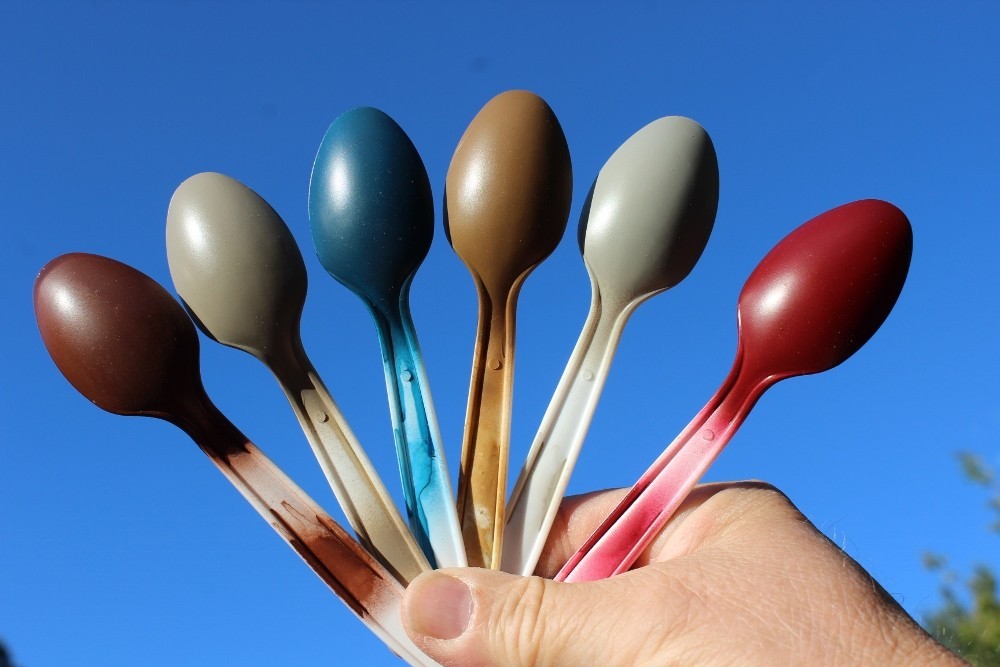 Supplemented with flash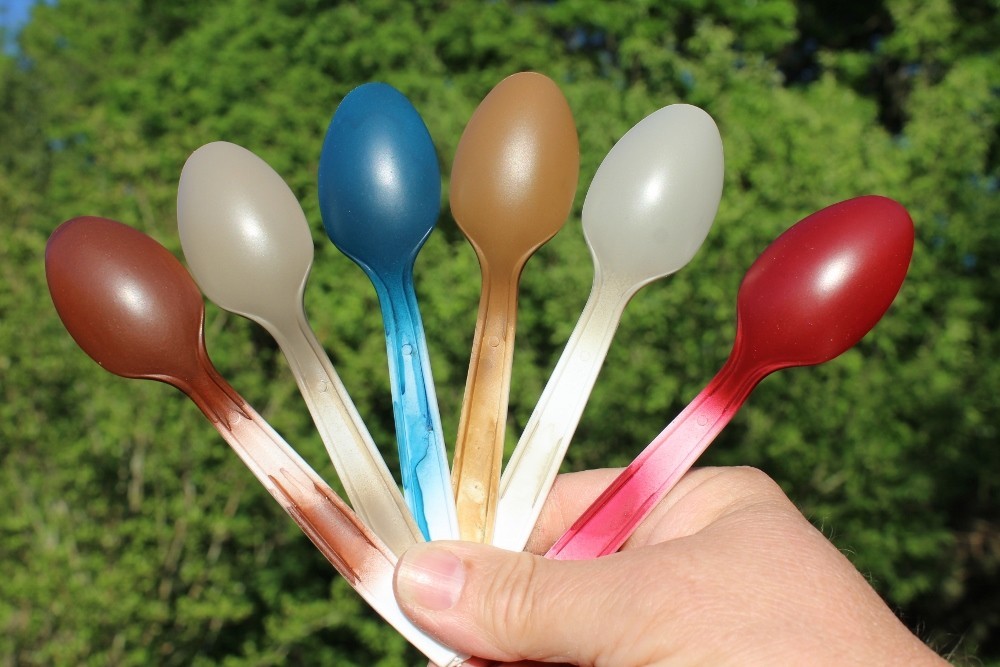 UA 831 Blu Orientale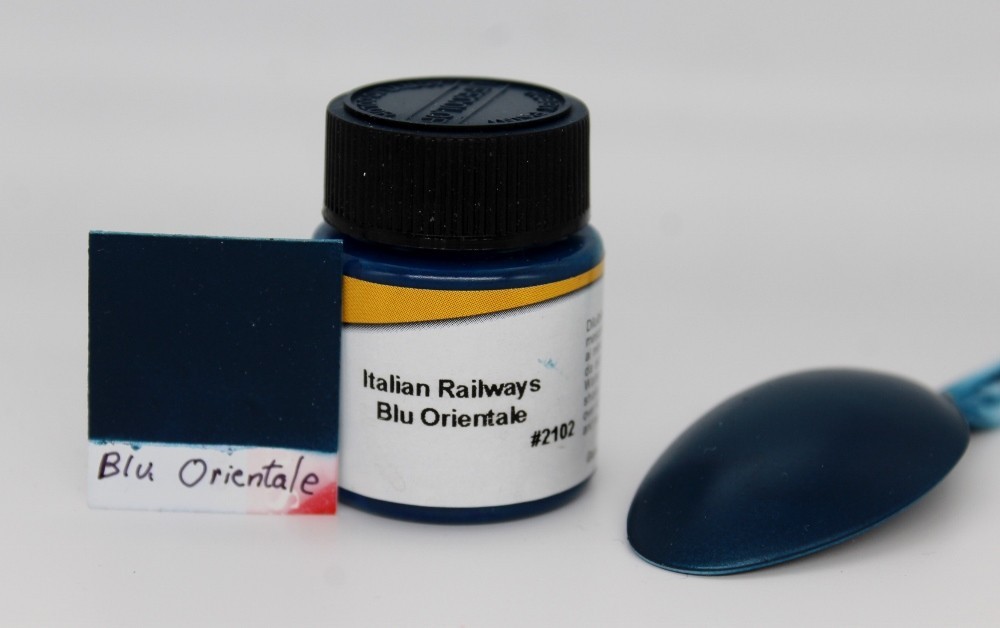 UA 832 Grigio Nebbia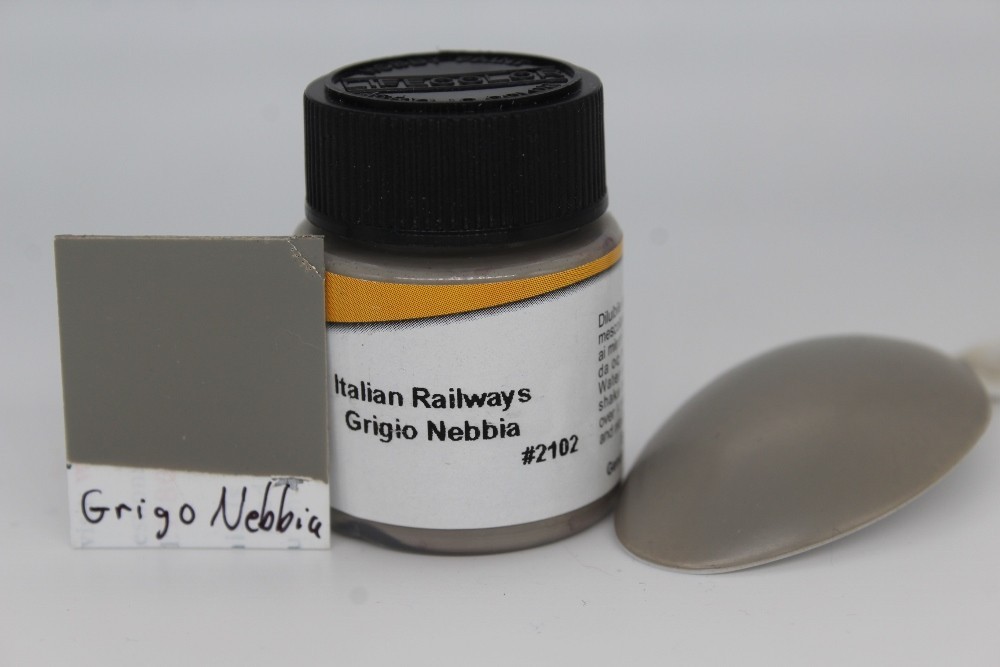 Grigio Nebbia & Blu Orientale

UA 833 Castano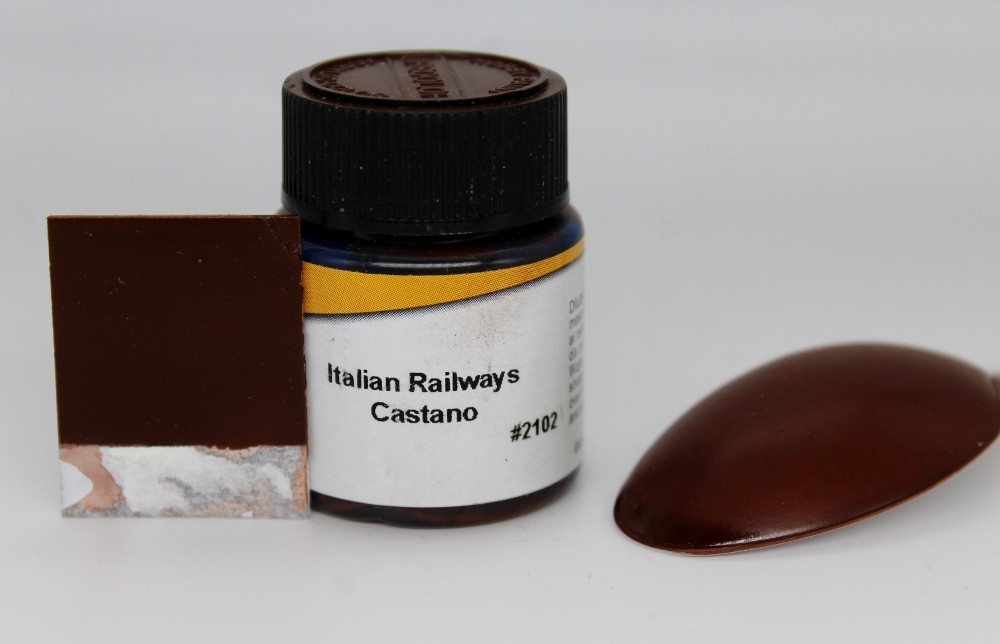 UA 834 Isabella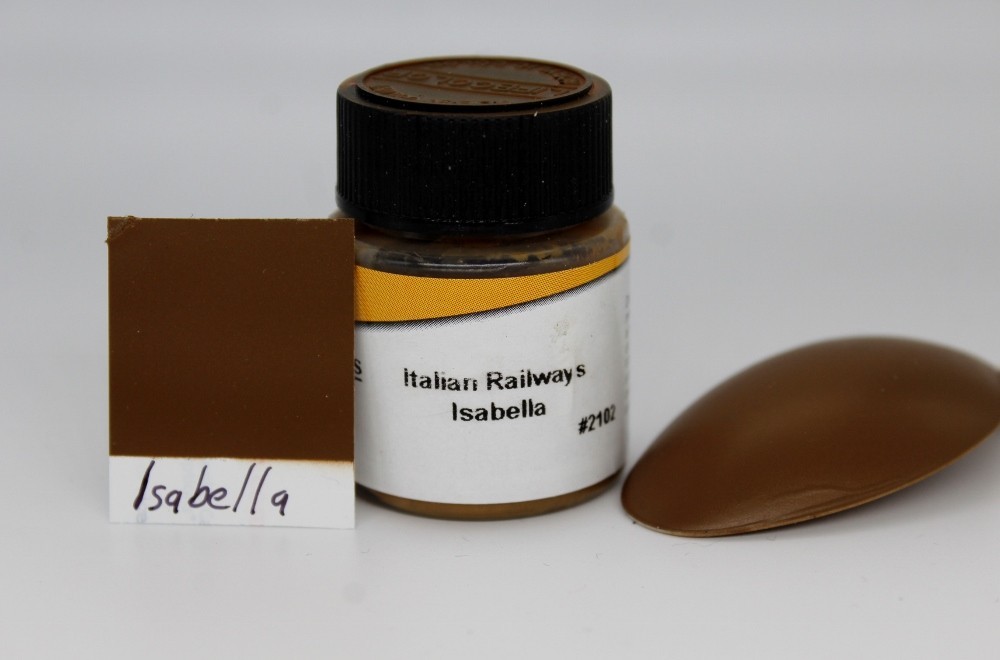 Isabella & Castano

UA 835 Grigio Beige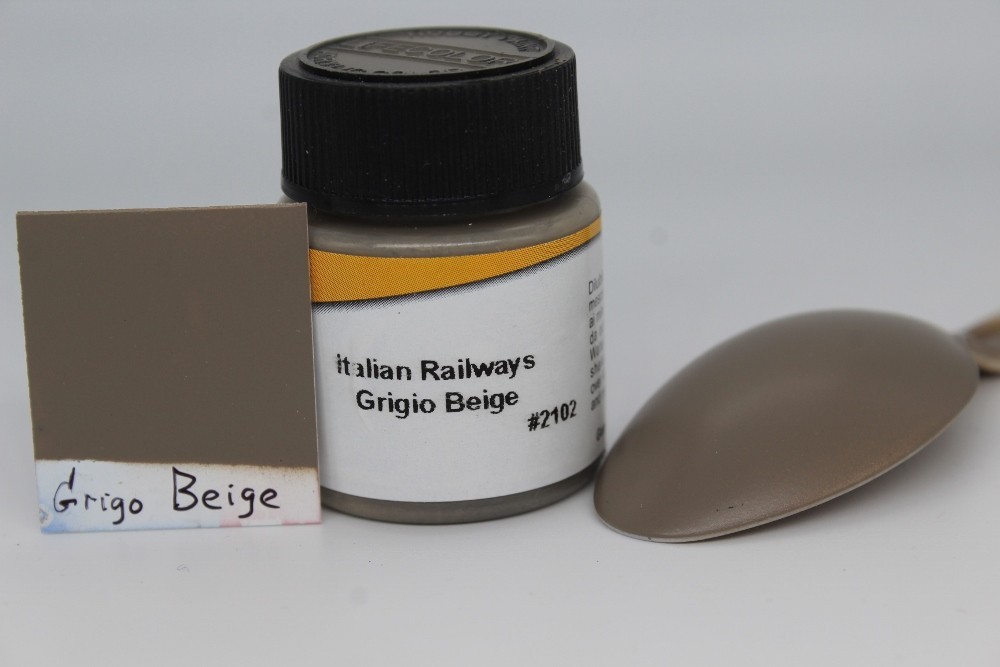 UA 836 Rosso Fegato Chiaro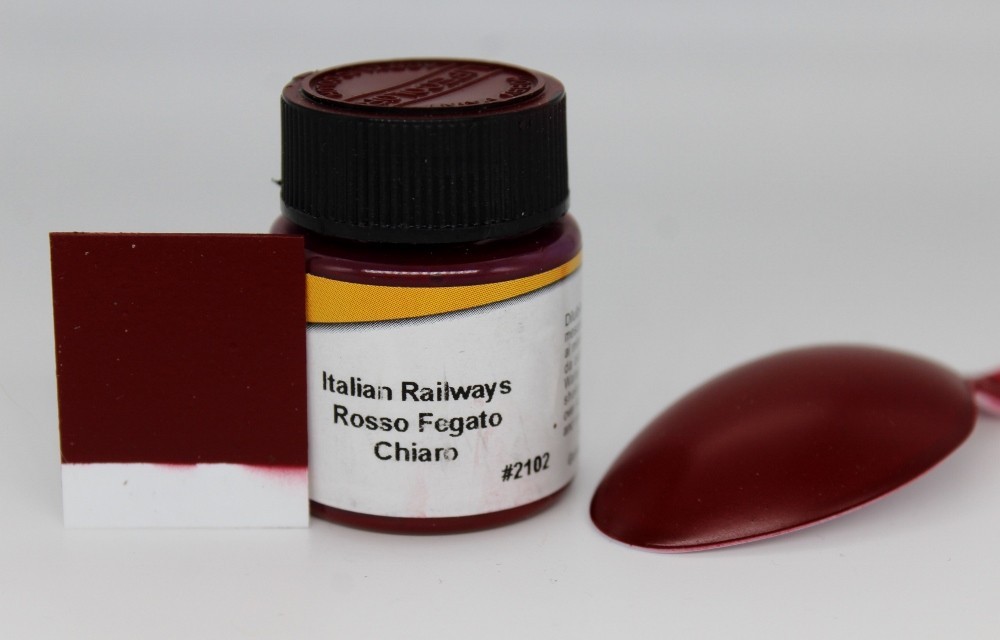 Rosso Fegato Chiaro & Grigio Beige

Freelance Blu Orientale & Grigio Beige

Conclusion
LifeColor has created a fine set of paint colors for Italian Railways Set 1, and I am enthusiastic about these acrylic paints. They did not thicken or clump after the bottles were opened.  Four colors worked well out of the pot, although none presented challenges.     LifeColor states they should be thinned with their brand thinner, and it worked as advertised.

Adhesion is flawless.  The bottle design is great, as is the packaging. These paints cleaned thoroughly with three airbrush paint cups of water, and a few drops of LifeColor Cleaner.
This is a fine set for an early era of Italy's Railways.   I recommend them.
Please tell retailers and vendors that you saw this review here - on RailRoad Modeling.