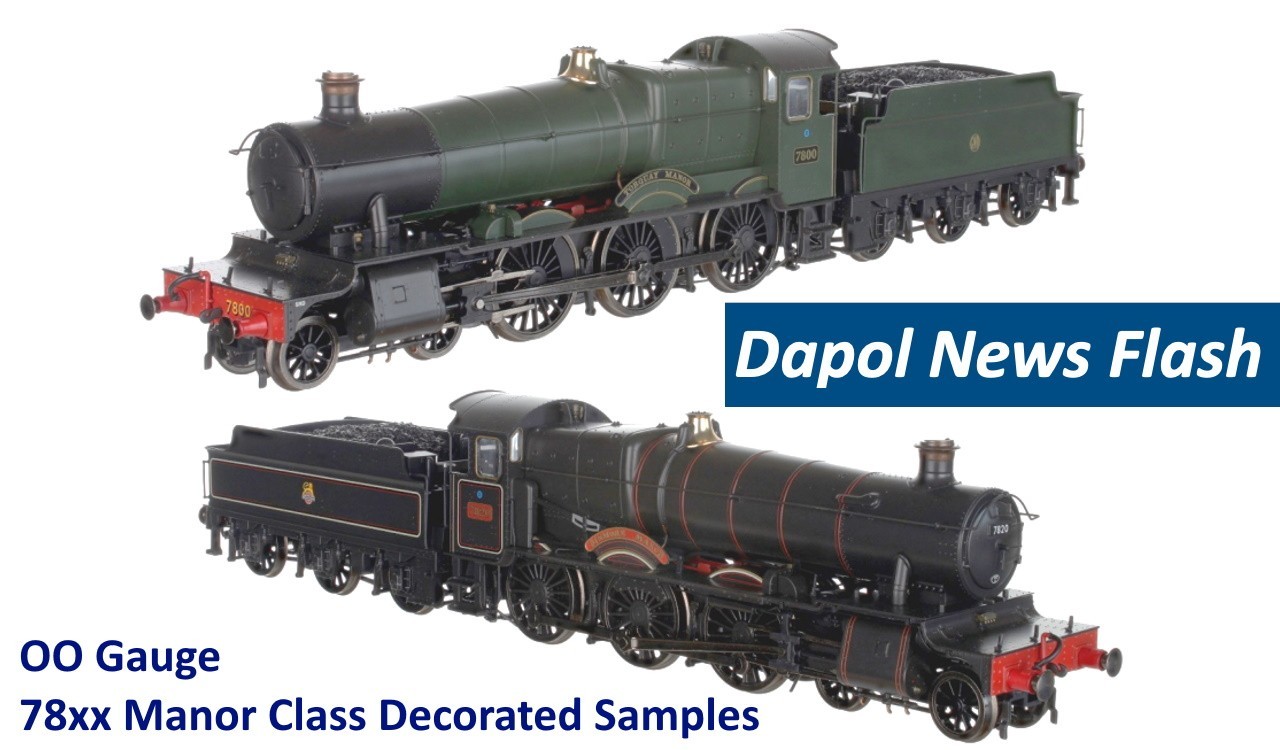 Dapol is delighted to announce the arrival of the 78xx 4-6-0 Manor Class Locomotives decorated samples. The design team are in the process of making a detailed analysis of the models. When the analysis is complete, feedback will be provided to the factory. This will enable any necessary changes and improvements to be made prior to the production stage of the models later this year.
DCC Ready and DCC Fitted models can be pre-ordered at your preferred Dapol stockiest. DCC Sound fitted models are available to pre-order at 78xx 4-6-0 Manor Sound Fitted (dapol.co.uk). You can also pre-order DCC Ready and DCC fitted versions o f Dinnmore Manor 7820 through the dapol website by following the same link.
The first eight OO/1:76 78xx Manor Class Locomotives include:
4S-001-001 Torquay Manor 7800 GW Green – Roundel
4S-001-002 Fringford Manor 7814 GW Green – 'GWR'
4S-001-003 Crompton Manor 7807 GW Green – G Crest W
4S-001-004 Hook Norton Manor 7823 BR Black – Small E. Crest With M/T Lining
4S-001-005 Hinton Manor 7819 BR Black – Large E. Crest
4S-001-006 Draycott Manor 7810 BR Lined Green – Small E. Crest
4S-001-007 Lydham Manor 7827 BR Lined Green – Late Crest
4S-001-008 Dinmore Manor 7820 BR Black – Small E. Crest With M/T Lining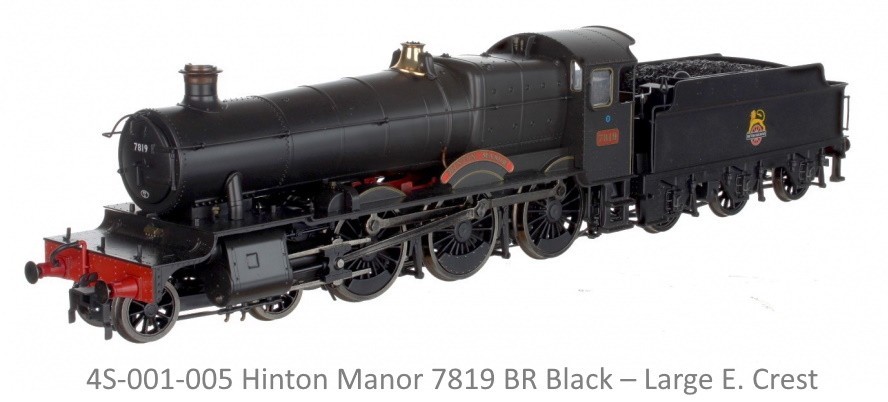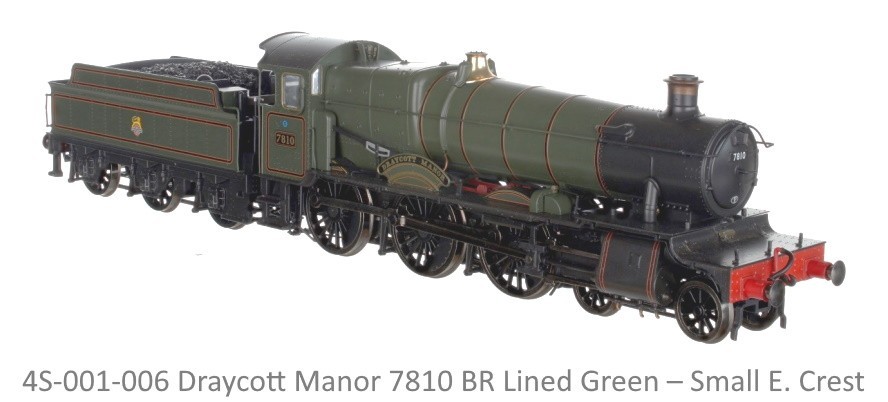 Tender Variations
New tender tooling has been produced. Tenders with smooth and riveted body sides and tenders with narrow or wide Horn plates can now be accurately modelled. This gives a total of four tender variations: Riveted body with wide horn plates, riveted body with narrow horn plates, smooth body with wide horn plates and finally smooth body with narrow horn plates. In each case the moulded coal load can be removed for those that prefer to model their locomotives with a reduced amount of coal in the tender.
Cab Interior Details
The cab interior is exquisitely decorated with printed dials, the pipework and handles are picked out in the correct colours. The cab sides have been modeled to give a very fine edge whilst maintaining strength. The tender interior is also expertly detailed. The tender top has been modified slightly to allow modelers to stow fire irons more easily than was the case in the Mogul models.
Tender Variations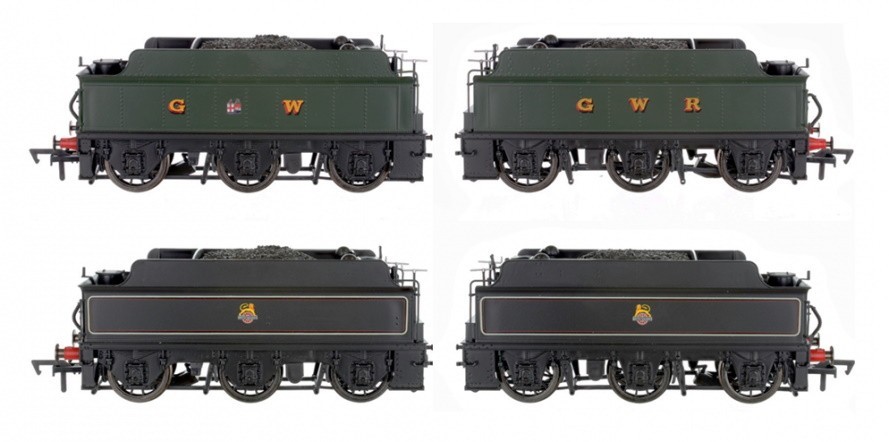 Improvement Opportunities
A cursory evaluation has highlighted the following improvement opportunities so far:
The reversing shaft needs to be completely black.
Small amount of sinkage on the tender sides (this is likely due to the tooling notbeing properly warmed up).
The joint between the upper and lower boiler sections needs improvement.
Sinkage on tender frames to be corrected.
Proportions of the original chimney to be tweaked.
Boiler and smokebox handrail knobs are too long and are to be adjusted.
The Collett tapered buffers for front buffer beam have not been fitted (Churchward type as fitted to the tender were installed) to be corrected for production.
Cab Interior Details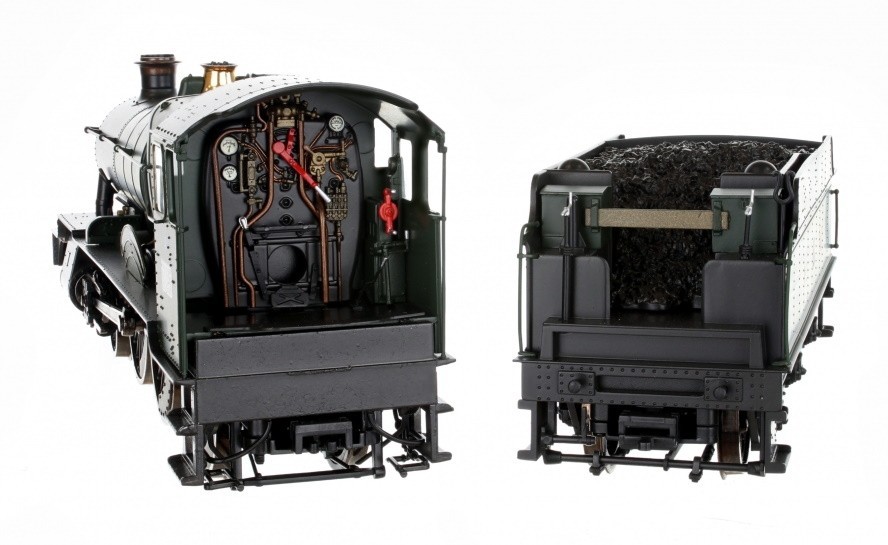 Please remember, when contacting retailers or manufacturers, to mention that you saw their products highlighted here - on RAILROAD MODELING