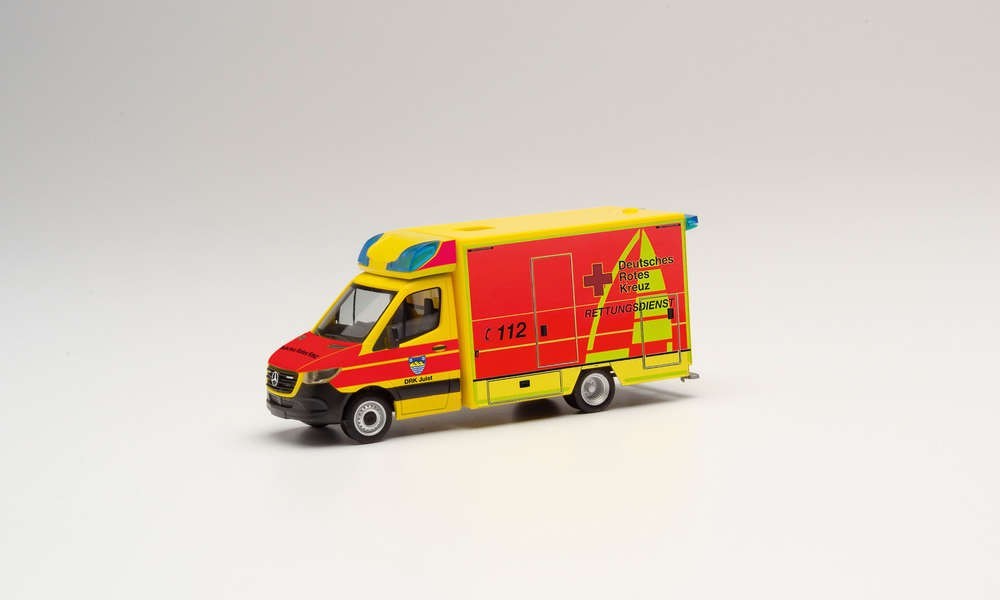 Mercedes-Benz Sprinter 2018 of the German Red Cross on the island of Juist
This particular model is Item 095440 and it is striking to behold. It sports emergency services florescent paint so incredibly bright that I almost need a welder face shield to examine it.  This paint covers crisply molded parts with impressive detail.  Herpa introduces the model with:
The current Mercedes-Benz Sprinter 2018 of the German Red Cross on the island of Juist is the model for the first ambulance with a new Fahrtec body. While the windows are displayed according to the model in terms of printing technology, the body has received a new alcove as well as a new rear strip.
Last year Herpa catalogued 620 Mercedes-Benz and 178 Sprinter type models.  You can view this model at Herpa via: Mercedes-Benz Sprinter 2018 of the German Red Cross on the island of Juist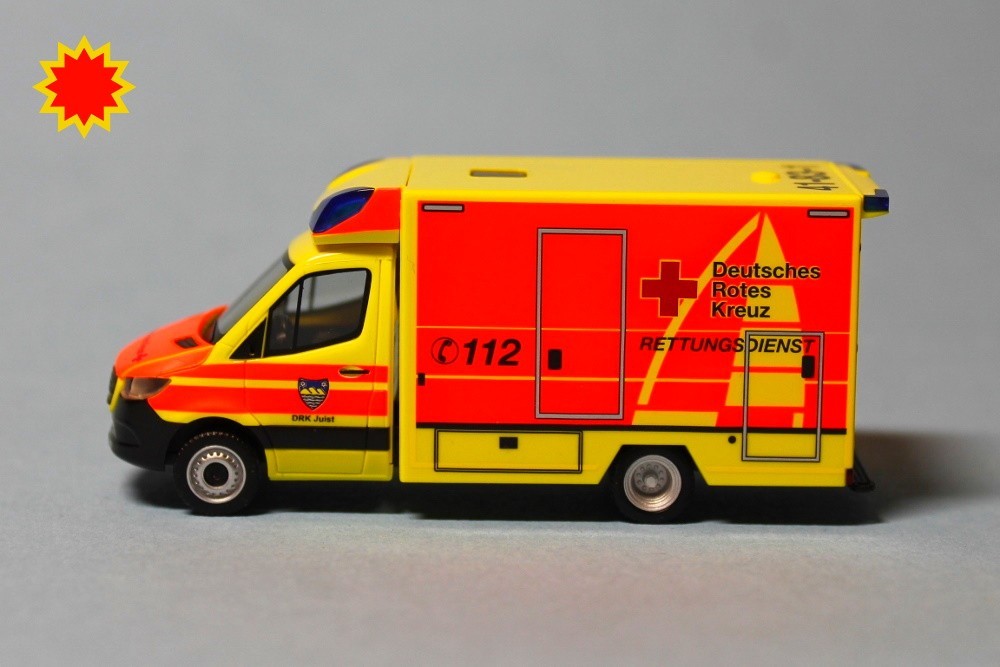 Sprinter
The Mercedes-Benz Sprinter is a light commercial vehicle, built by Daimler AG of Stuttgart, Germany, as a van, chassis cab and minibus, and sold as a Mercedes model, except in the U.S. where it is built from complete knock down (CKD) kits and sold by Freightliner.  The first generation Sprinter was launched in Europe in 1995 to replace the famous but outdated Mercedes-Benz T1 van. The second generation Sprinter was introduced in Europe in 2006. The first generation (VA Chassis) North American Sprinter was launched in 2001 in the U.S., and originally branded as a Freightliner. Units sold to the rest of North America were badged as Mercedes until 2003 when they received Dodge branding.[1]
The current (2021) Sprinter cab chassis is available with a 144 or 170-inch wheelbase, 4- or 6-cylinder diesel powertrain, and two payload classes of 6,290-7,484 lbs.
Fahrtec
Fahrtec Systeme GmbH in Neubrandenburg was founded in 2001 with the vision of designing and producing specialized and custom all-aluminum fully outfitted ambulance box bodies.  They have expanded their product line for other applications.  Their webpage Fahrzeuge states they are
…are a company that specializes in the construction of ambulance vehicles. Our product range includes the categories: the type C ambulance as well as special vehicles such as ITW, S-RTW, NAW and other special vehicles.[2]
The above linked page provides two products, and a link to dozens of exterior and interior views of type C ambulance bodies.
The Model
Herpa securely packs this model in a form-fitted tray. The tray is held inside a red Herpa carton with a cellophane display window, and opens via tabs at each end. One end displays a metallic holographic Daimler license label.  The tray has slots for optional parts but no slots for your fingers to easily remove the tray from the box. This design is surprisingly durable — some previous shipping boxes arrived severely mangled in transit, and although model boxes were mashed, most of the models were not damaged. Very nice!

Inside the carton is the almost completely assembled model.  The model is skillfully molded and except for the side view mirrors, fully assembled without any blemishes or flaws. Doors, hoods, and access panel lines are defined with fine recessed lines, as is the grille. The door handles are raised. Soft tires mounted on detailed hubs support the model.   The molding is practically flawless.

Side view mirrors are included, attached to a sprue. The model has slots where these are to be inserted, and it is a simple process.   A micro criticism is the lack of a reflective surface on the mirrors, but that can easily be added by the modeler.
Mounted behind the cab is the Fahrtec service box.  I think Herpa uses standard modular parts designed to accept various accessories depending on the prototype being modeled.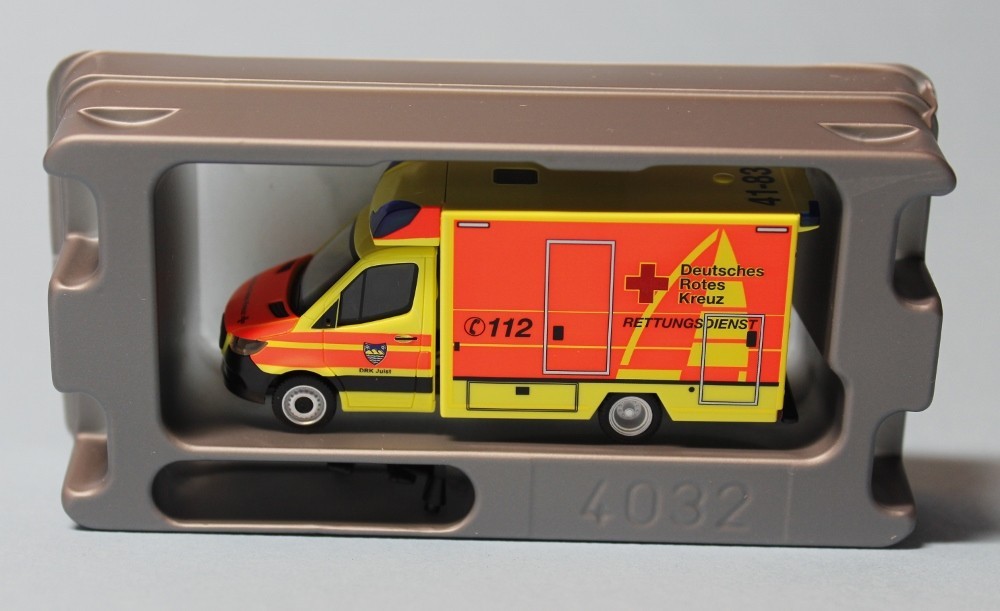 Detail and Trim
Herpa's cab interior is worth popping the body off.  Inside are bucket seats, the steering wheel, console, stick shift and dashboard.   Modelers can remove the cab to add figures but I suspect they will have to be the legless figurines.

The underside is a mixed bag but improved over earlier Sprinters I have examined.  Under the cab is a flat area with low bas-relief detail.  Under the box body is good detail: rear axle and driveshaft; muffler and exhaust pipe; spare tire.

On the front of the cab is the grille and clear lenses for the headlights.  Blue tinted emergency lenses simulate emergency lights and red tinted clear plastic is used for the brake lights.  I hope Herpa will continue using tinted brake lenses on all of their trucks.

Herpa uses soft plastic-rubber hybrid tires slipped over the plastic rims.  The rear tires have full tread detail while the front tires only have it on the shoulders, but none on the contact surface.  Herpa makes a steerable axle kit for trucks (item 4013150052559, or just 52559) but I cannot find if they make one for a model this size.

The Fahrtec body is not as detailed.  The doors and windows are printed on.  Looking at prototype photos on the Fahrtec website, door and compartment seams can appear flush and reproducible with paint, but the windows just don't look like windows to me.  Emergency light modules are attached to the front and rear of the box.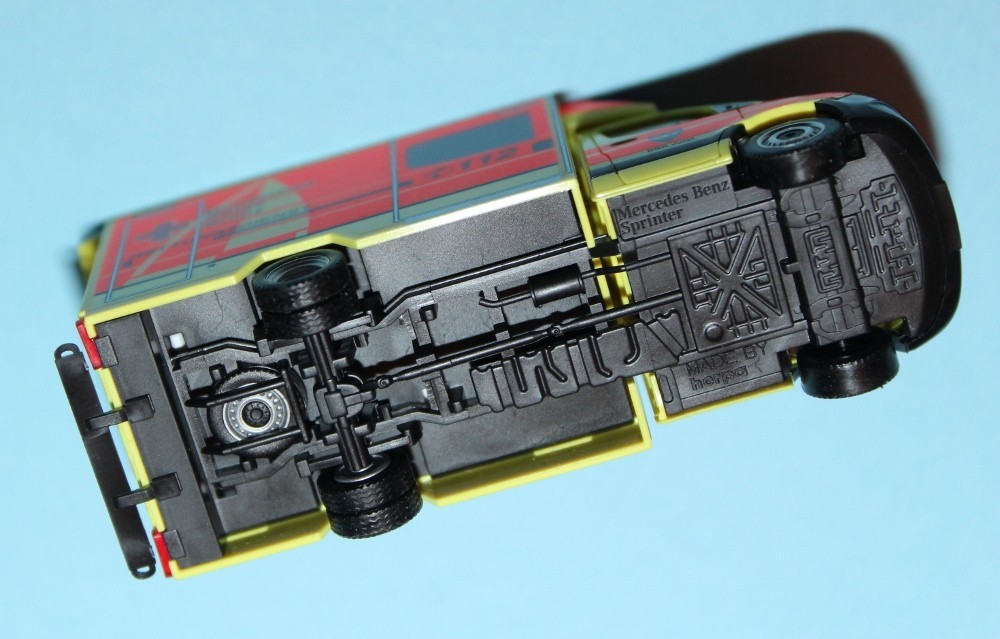 Crew Cab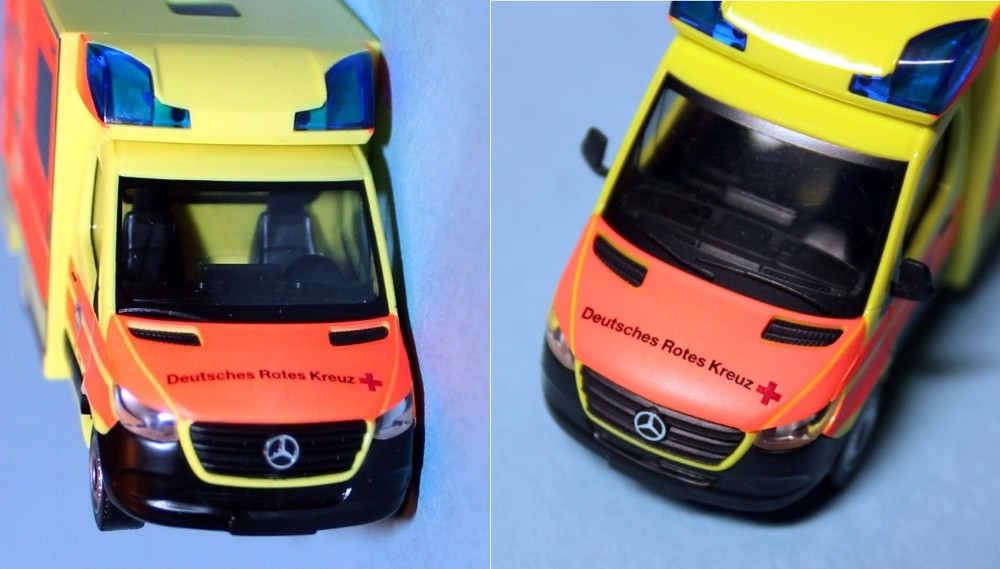 Paint and markings
Herpa molds some components in color.  As noted earlier, the florescent yellow and orange of this livery is amazingly bright.  It required several adjustments to my camera settings to accurately capture the colors. (The photos that most accurately reflect the colors seen with the naked eye are marked with a yellow and orange sunburst.)  Some black trim is molded on, some parts are painted such as the hair-sized window trim.  Herpa details the Mercedes-Benz emblem on the grille with chrome silver paint. German Red Cross and the island of Juist logos and emblems are sharply reproduced.  Herpa does not use decals.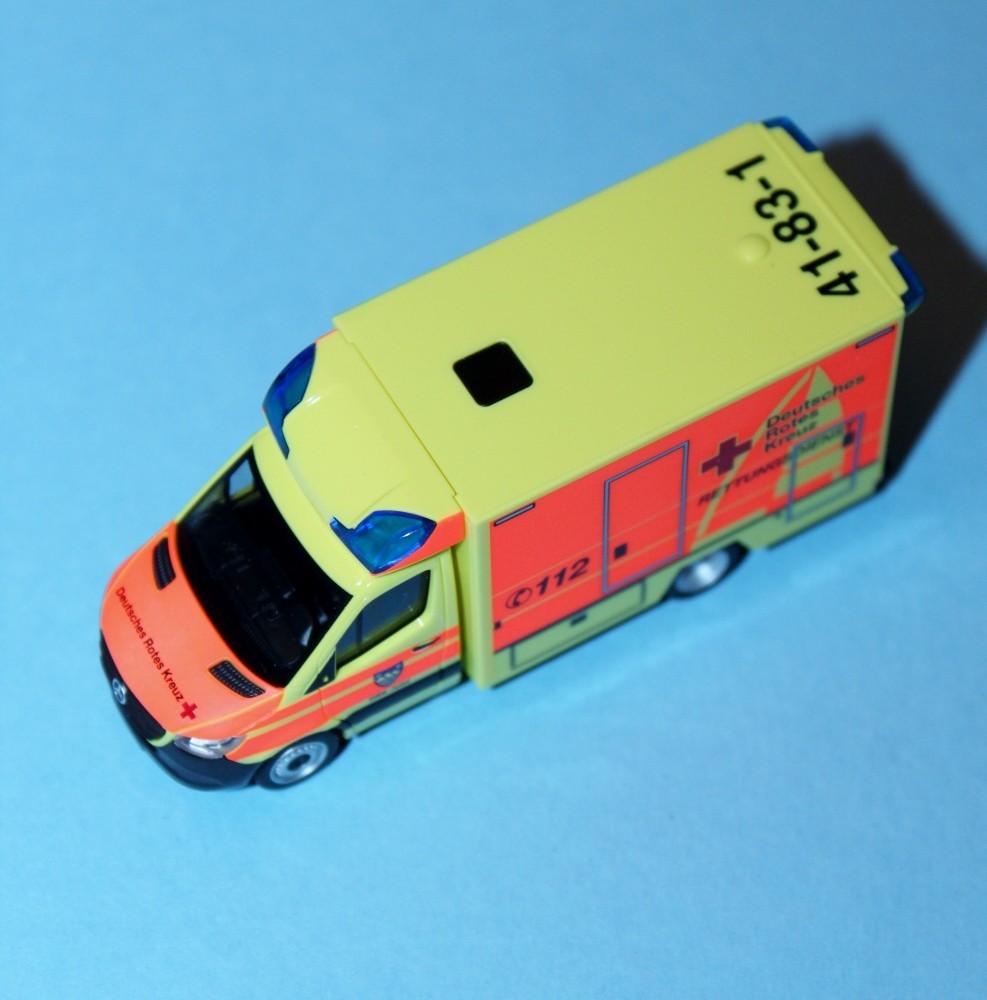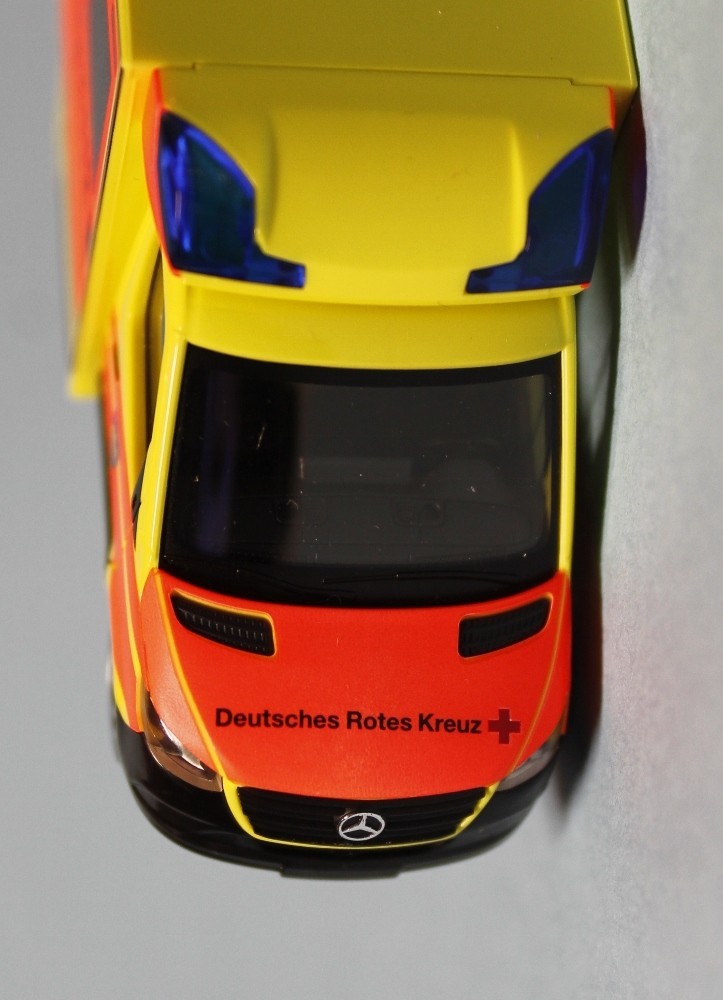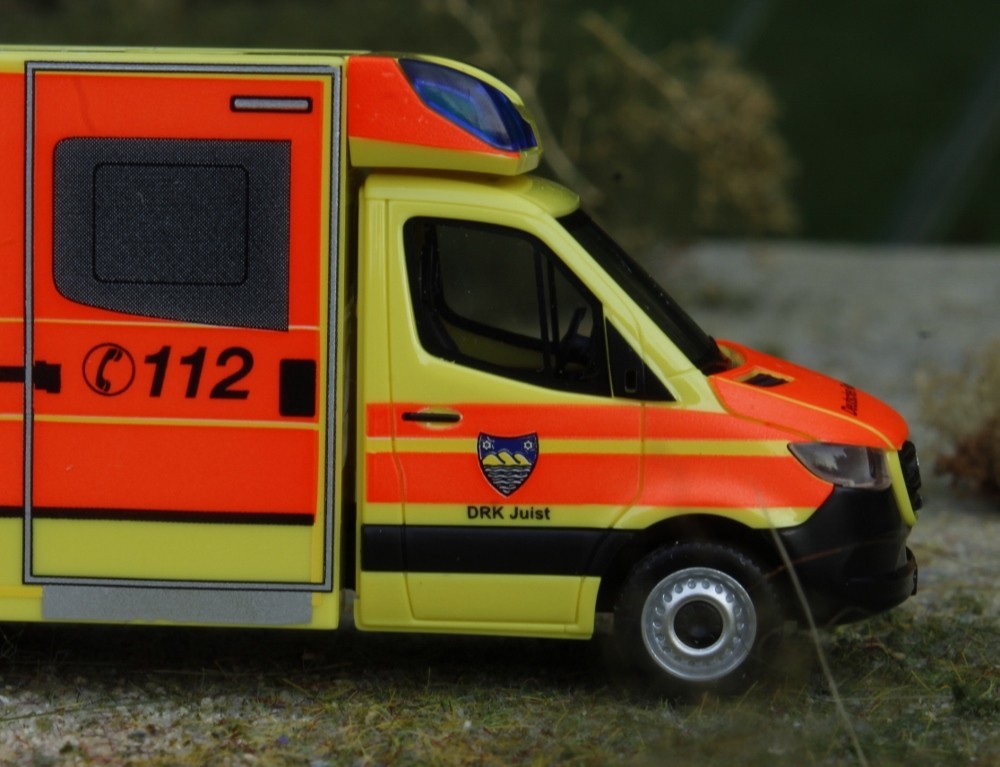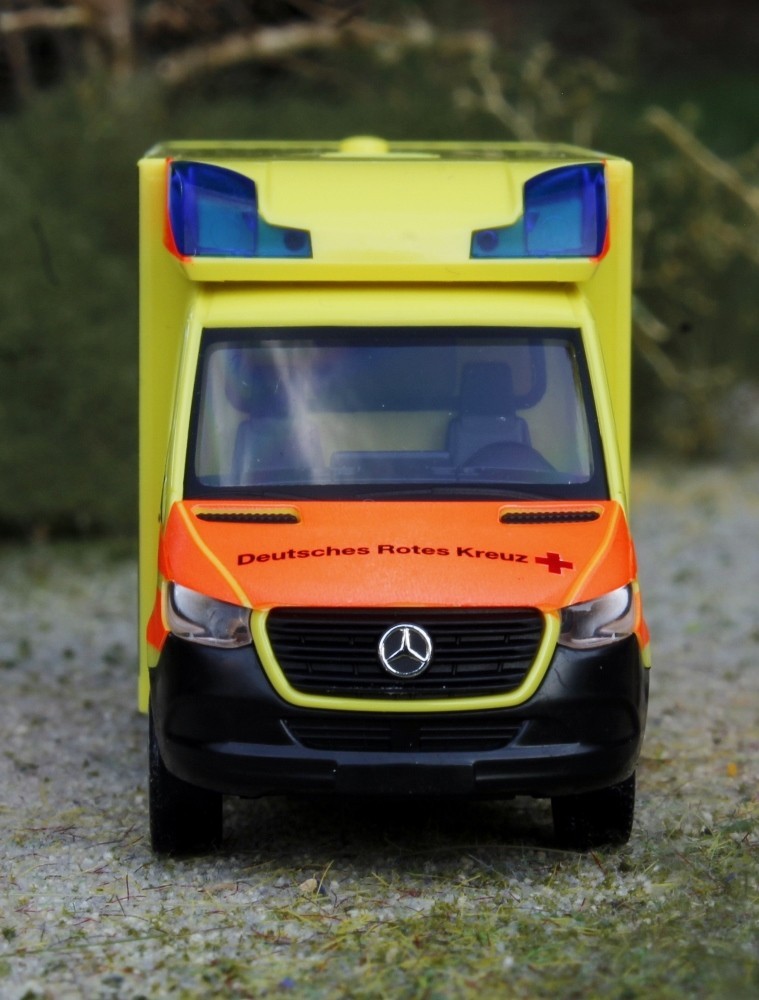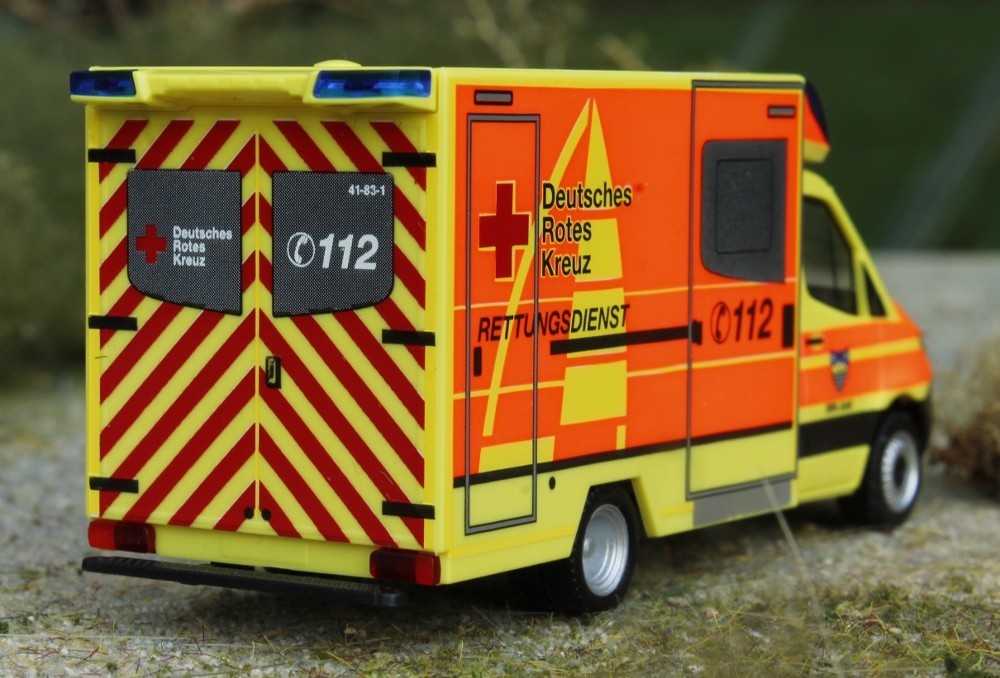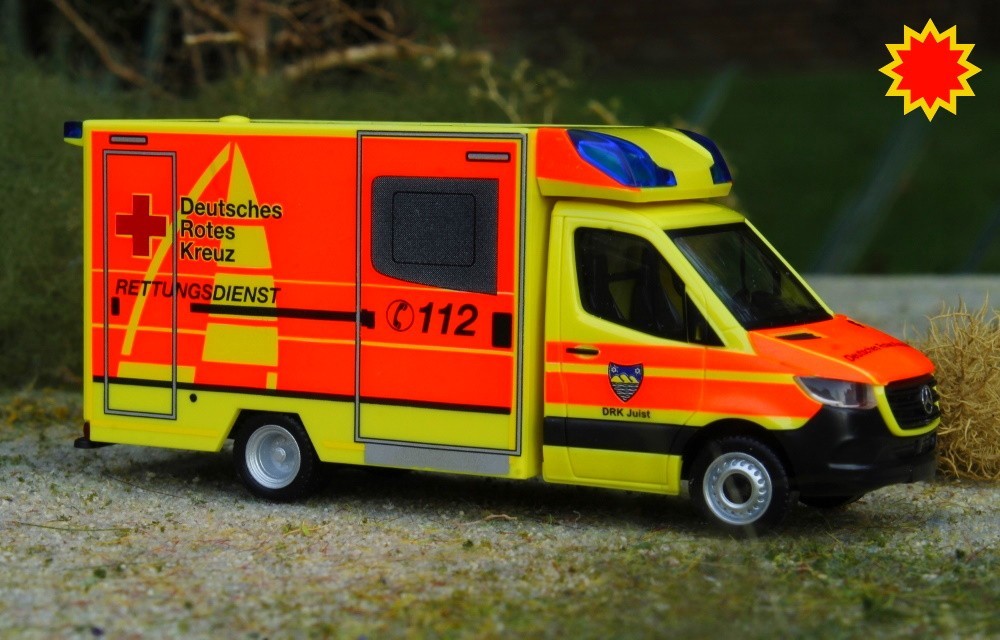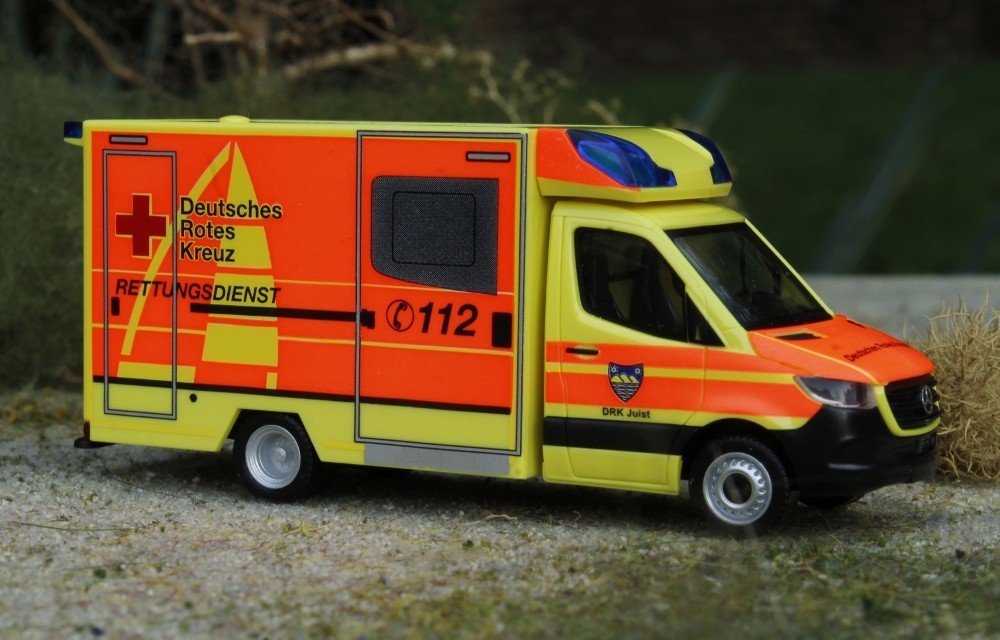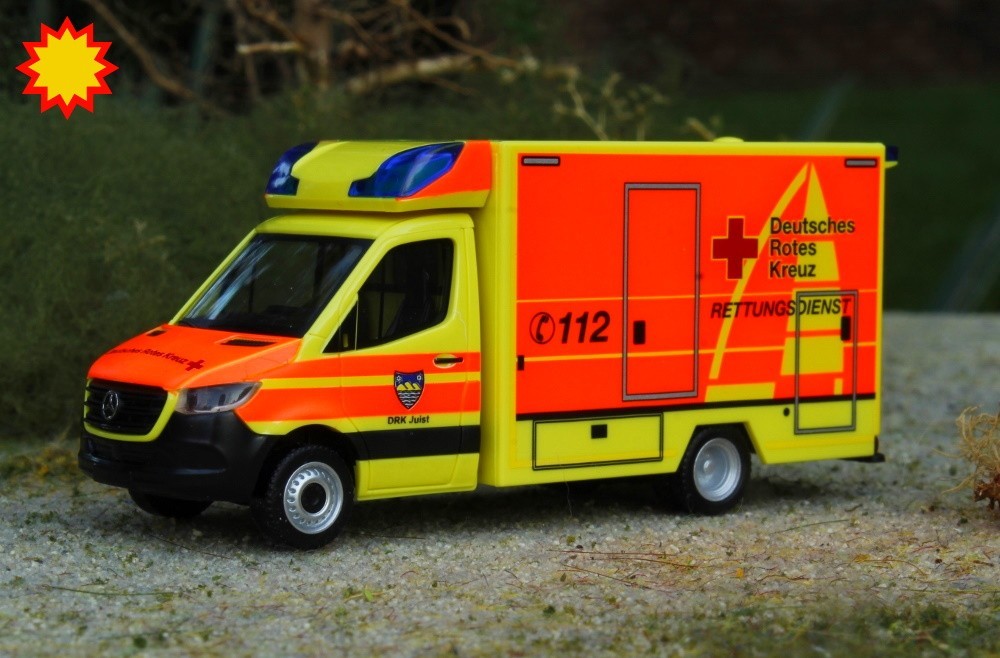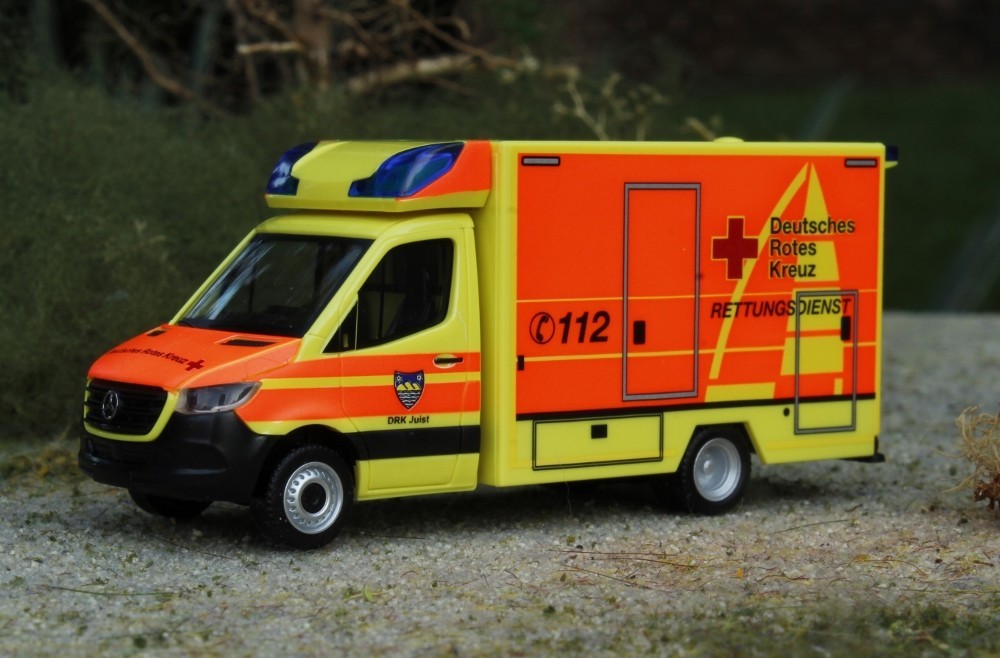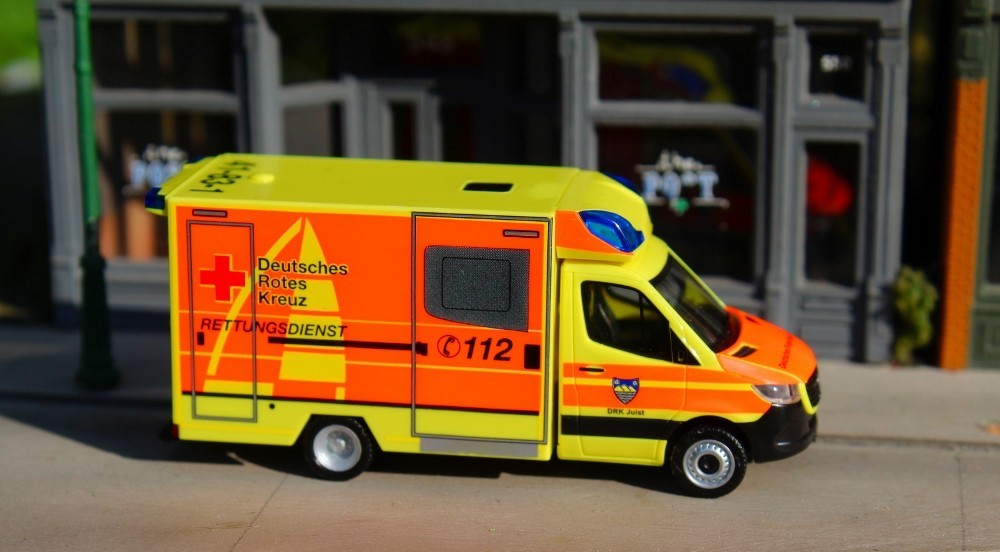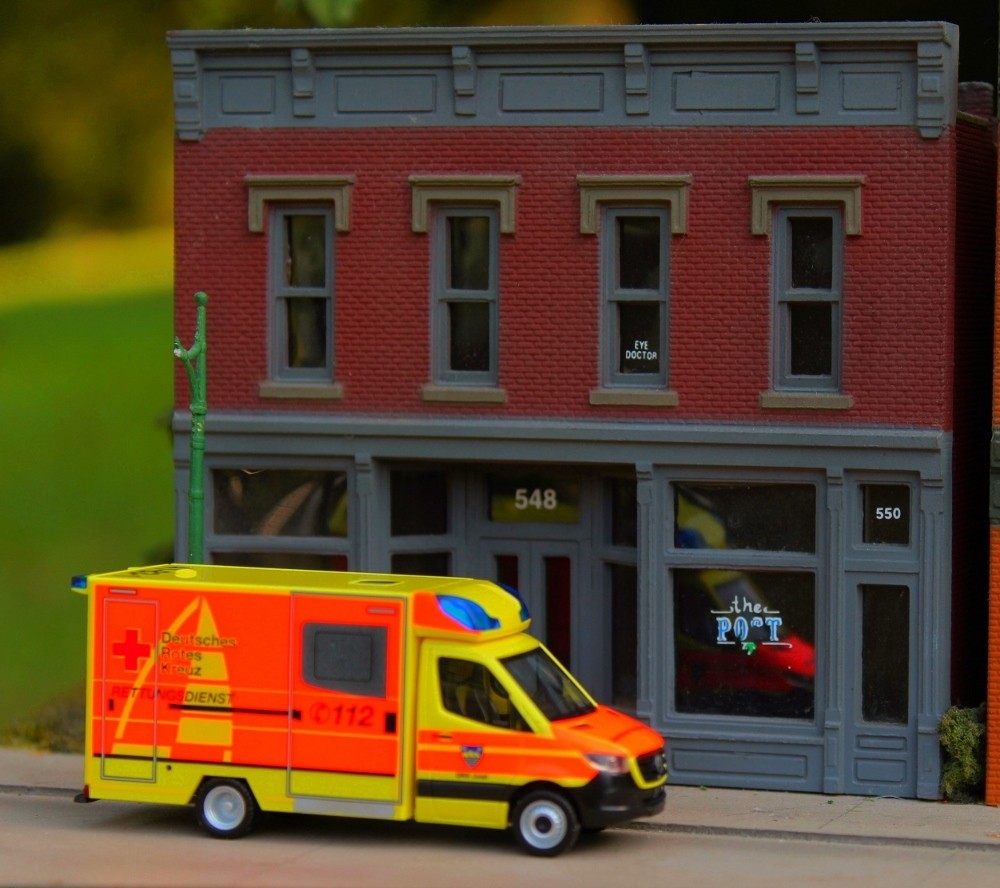 Conclusion
Whether you are a model railroader or an automobile enthusiast, Herpa's Fahrtec body Mercedes-Benz Sprinter will make an impressive presence on your HO layout or diorama. It has very good plastic detail and an amazing finish. It has a detailed underbody, lenses for driving and emergency lights, a detailed interior which is visible through the clear windows, and tire tread detail.
Models like this one are why Herpa is held in high regard and I happily recommend it.

Please remember to let vendors and manufacturers know that you saw this model here, on RailRoadModeling.
__________
References
[1] ©2018 Mercedes-Benz USA, LLC. Sprinter. [Web.] 2018.
[2] Fahrtec Systeme GmbH. Fahrzeuge. [Web.] n.d.