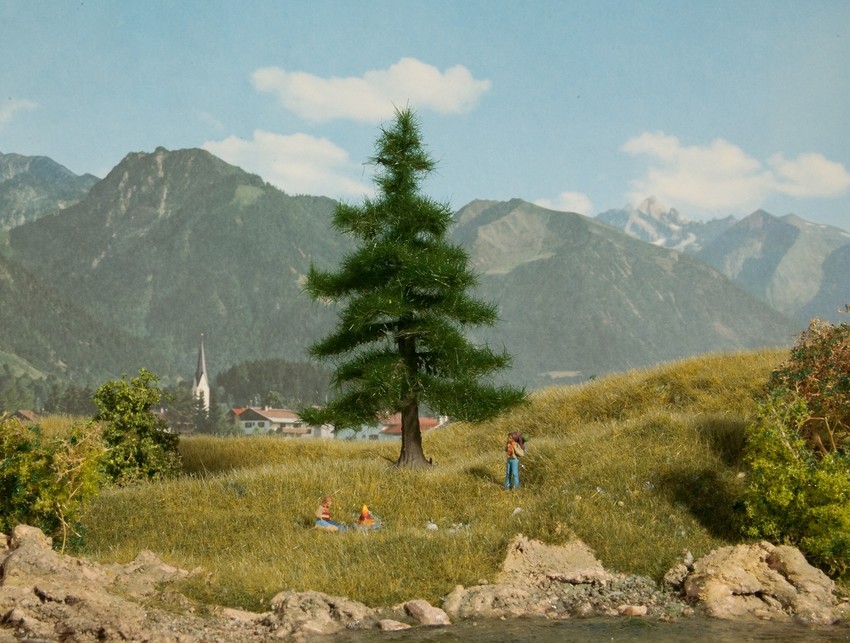 Introduction
NOCH PROFI Trees are their premier line of trees. This review looks at the 12cm/4.7" Nordic Fir, item number 21810, the shortest of three Nordic Firs models. You can view this model and the PROFI Tree range via these links:
This tree features a detailed plastic trunk and armatures covered in flocking. Intended for scales HO, TT and N, the model offers versatility for modelers.
NOCH packages these trees in a blister pack stapled to a sturdy card backing. The backing acts a a label, "box art," and informational sheet. Some of that information is a table on the back listing trees and their real life maximum heights, and what the height will be in various scales. Artwork on the front are profiles of men in each of the recommended scale below a height gradient so the modeler can visualize how tall the particular tree will be in their scale. Clever.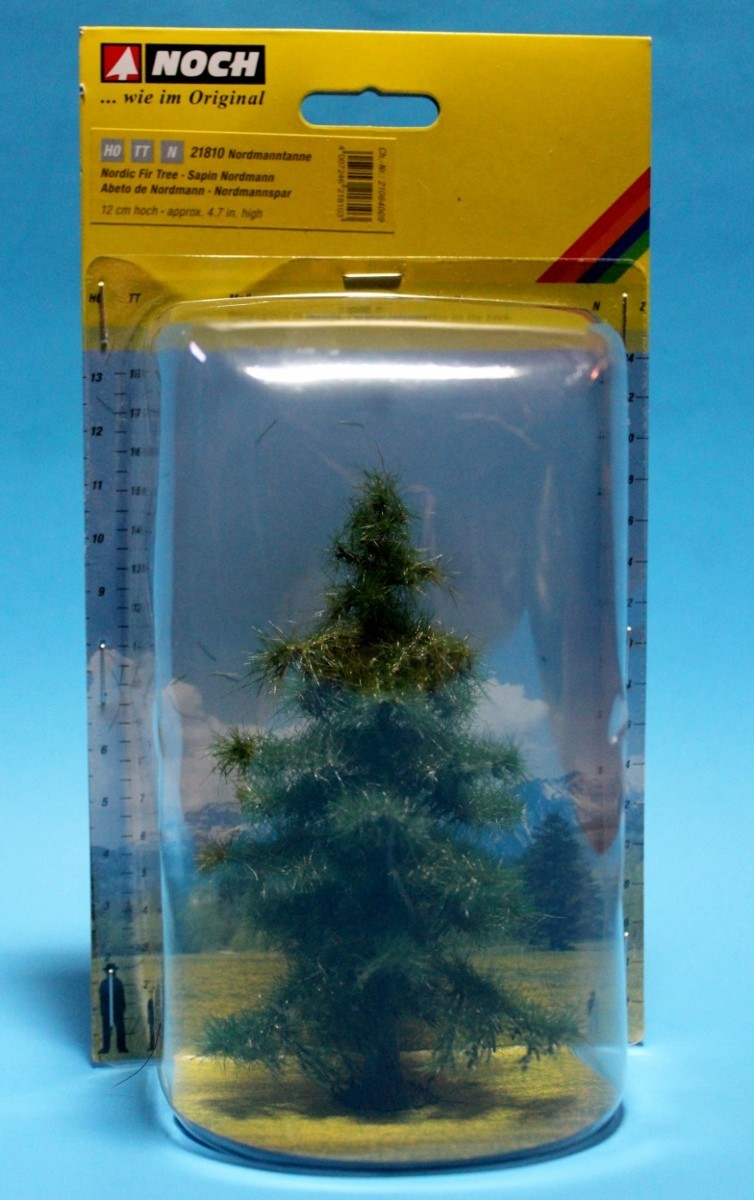 Detail
These trees have a soft fuzzy look.
Each tree is made from malleable plastic and you can slightly reposition the boughs. Each trunk is molded with bark detail. It is inserted into the base. The base is molded to resemble roots and look like fir tree roots. Brown plastic is used.

Photos of firs I looked at show a variety of shapes and leaf densities. For foliage NOCH uses medium lengths of multicolored synthetic material. The needles might be a little long. The sprinkled needles make a convincing profile. In sunlight they leave a realistic shadow. The result is a convincing tree that does not have the "cookie cutter" duplication of most mass-marketed model trees. The synthetic foliage has a slight sheen to it, but this can easily be remedied with a dulling finish.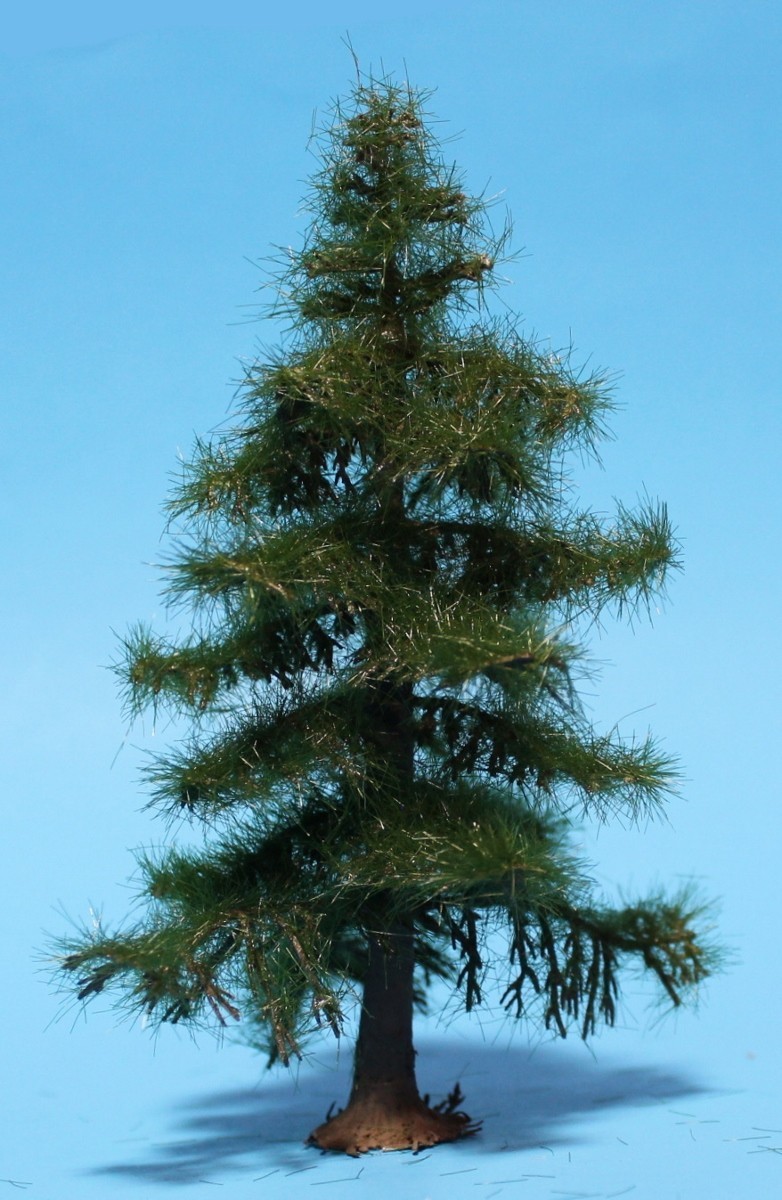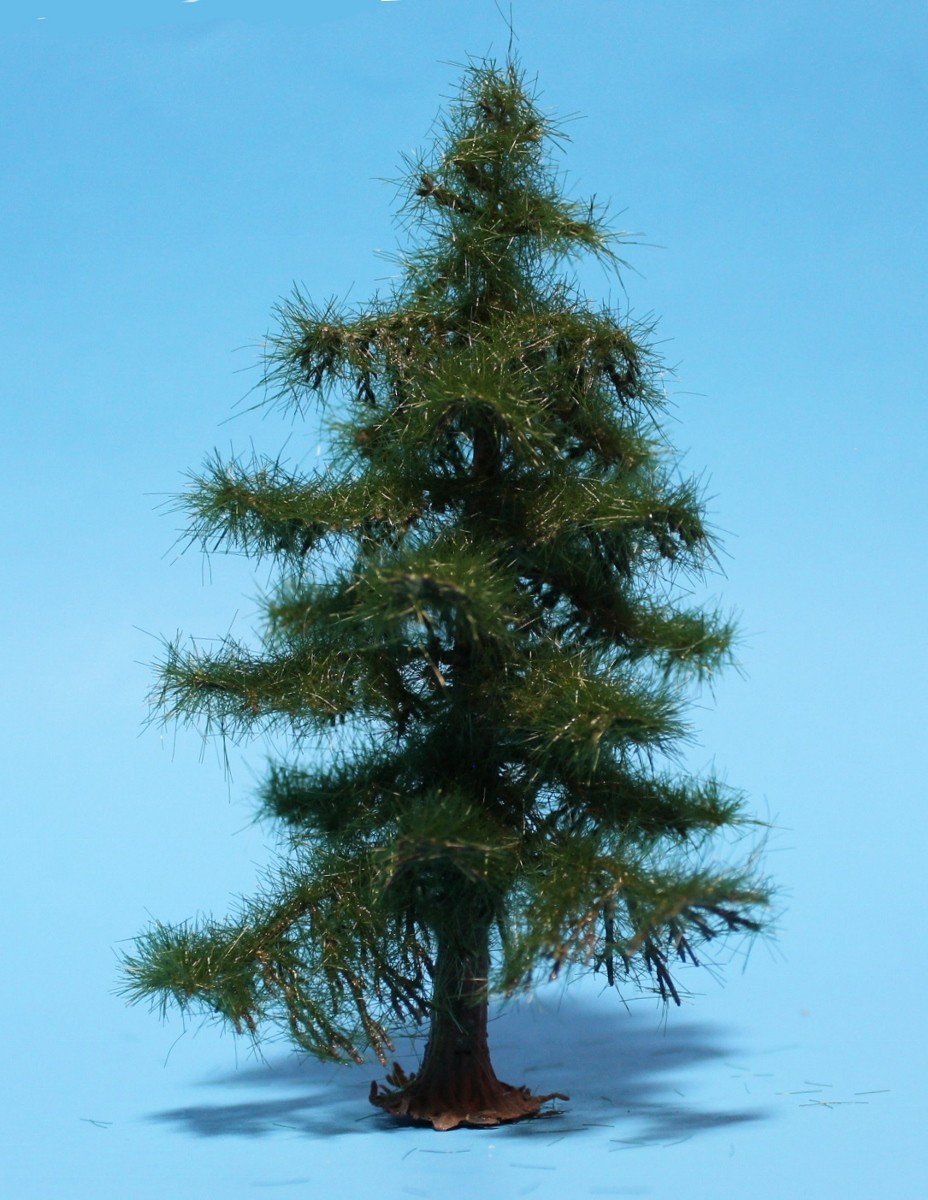 Scale Size
How tall is a 12 cm fir tree in your favorite scale?

1/32 (54 mm): 12' / 4 m
1/35: 14' / 4.2 m
1/48: 19 1/4' / 5 m
1/72: 27' / 8 m
1/87 (HO): 34' / 10.44 m
1/120 (TT): 47' / 14 m
1/144: 57' / 17 m
1/160 (N): 63' / 19 m

To help you visualize how this model fir will look with your scale, it is posed with the following scales:

1/35
O scale (1/48)

HO (1/87) including the horse
HO loco
N scale loco
N Tank cars

Conclusion
PROFI trees look good with contoured armatures, bark detail, needle detail and natural colors. The length of the needles seem long, creating "fuzzy" branches. These trees do look good and can be acceptable front row trees. Recommended.
Please remember, when contacting retailers or manufacturers, to mention that you saw their products highlighted here - on RailRoadModeling.