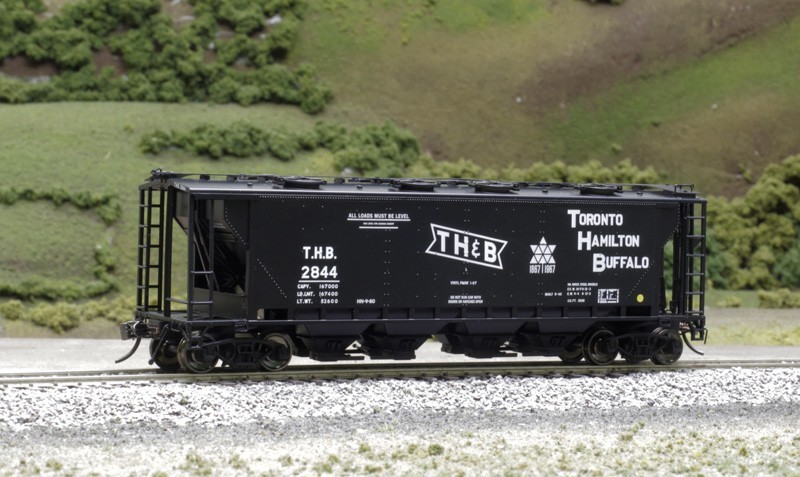 Master Line Slab Side Hopper
Atlas released their HO Master Line Slab Side Hopper in August, 2020. This review examines item no. 20 006 373, painted as Toronto, Hamilton and Buffalo Railway (reporting mark THB) No. 2845. A brief history of this hopper design is told by Atlas:
The development of the covered hopper car for the transport of bulk commodities for the agricultural, chemical, and construction industries entered a new phase in the late 1940s, when the shops of the Canadian Pacific Railroad introduced a 70-ton, 3000 cubic foot, interior braced hopper with smooth, welded sides similar in appearance to the Canadian offset side open hoppers of the era. This "slab side" design actually maximized the interior width of the car, thereby lowering the center of gravity and improving tracking stability. Cars of this design were produced from 1950-1964 by National Steel Car Company, Canadian Car and Foundry, Marine Industries, and even Montreal Locomotive Works. Over the years of production, a number of different roof hatch arrangements for product loading were available, and the openings along the side sills – an early design change made by CP to give better access to the discharge mechanisms – became standard on all cars produced after 1954. These cars were a common sight on Canadian and US rails through the late 1990s hauling grain, malt, sugar, cement, or even in company sand service. The Atlas model of this distinctive car is available in 6, 8, and 12 hatch versions, with or without the side sill openings.
Technical description is:
AAR Class: LO: A permanently enclosed car, other than a box car, regardless of exterior or interior shape, for handling bulk commodities, with or without insulation and provided with openings for loading through top or sides with weather-tight covers or doors. Car may be provided with one or more bottom openings for unloading, with tight fitting covers, doors, valves, or tight fitting slide or gate to prevent leakage of lading. Car may be provided with facilities for discharge of lading through openings in top or sides and may have one or more compartments. Mechanical or other means may be provided within car to expedite loading or unloading.
AAR Type: C112
Detail Info: Covered Hopper, Gravity Unloading, Permanent Roof, 3000-4000 cu ft capacity
This appealing model is the creation of True Line Trains of Ontario, Canada, which Atlas acquired in August, 2020.

Let's knock around this model.
Atlas packages this model in their end-opening red Master Line carton with a clear film window.  The slab side hopper is securely held in a form-fitted cradle with a clear form-fitted lid.  The two pieces snap together.  Soft plastic sheet helps protect the model from scuffing.  Warranty and registration documents are included.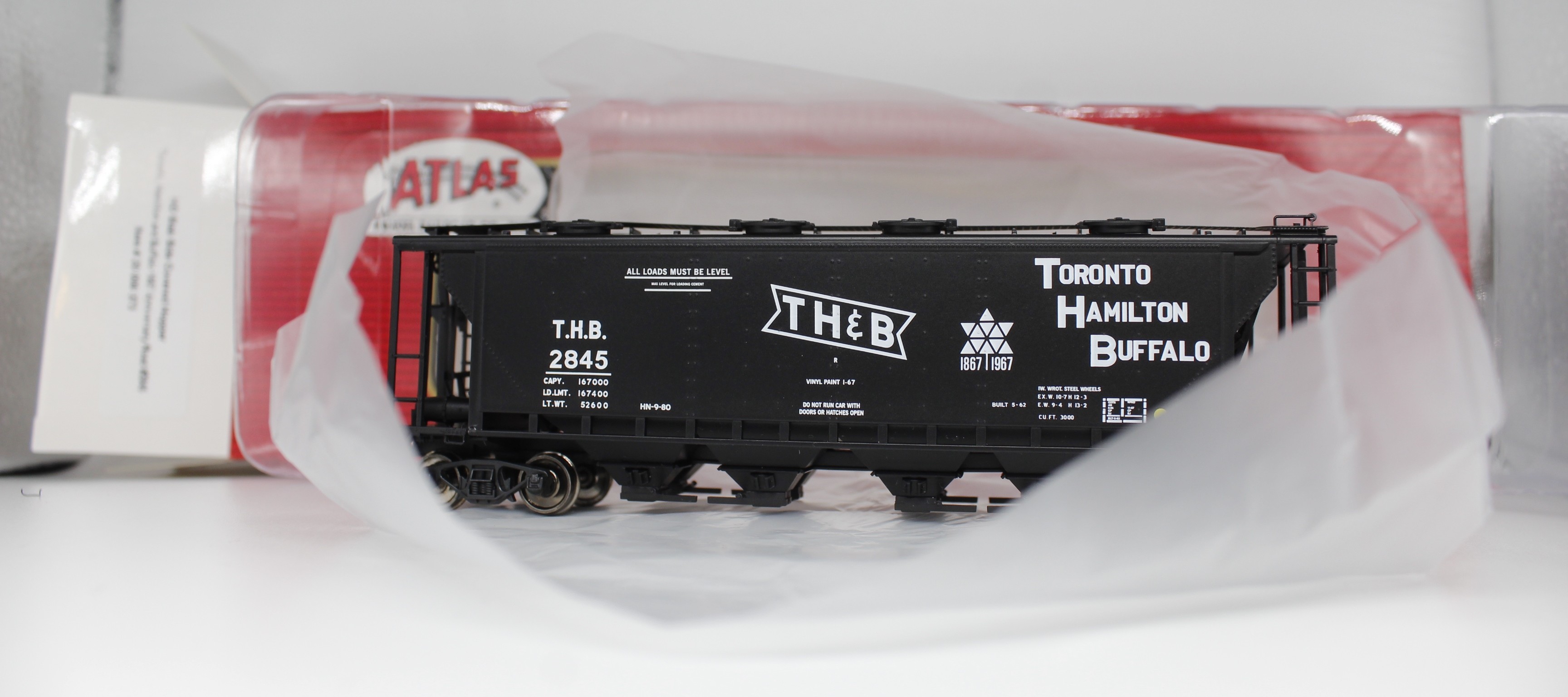 My first reaction was amazement with the printing.  More on that later.  When I first removed the model from  its packaging, I was struck by the crisp molding, metal couplers, and sharp printing.  One wheel had partially popped out of its truck but a second later it was easily reset.  Molding is top-notch with no visible flash or noticeable seam lines, and no sink marks or ejector marks.   No accidental glue smears are present, either.  This model also features metal knuckle couplers - a first for Atlas models I have examined.

I do not have a good reference for this car but physical trivia is: four large panels per side; 6-rung ladders; open grate roof walk; 14 side sill openings; racks on each discharge gate.

Detail
Plenty to be found!  Each of the hatches are separately applied.  The running board is see-through.  Wire grabs and retainers are on the roof laterals.  A well rendered air brake system is installed on the brake end  "porch" under the slope sheet.  A rod connects the hand brake wheel to the bell crank.  The bell crank should attach to the cylinder lever opposite the brake cylinder push rod but the rod is bent and the crank is displaced.   Did you notice the air hoses and cut bars next to the couplers on both ends?  The trucks are molded with brake shoes and spring detail. 

Even farther down are the discharge bins.  They each have guides for the doors, and rods for opening the doors.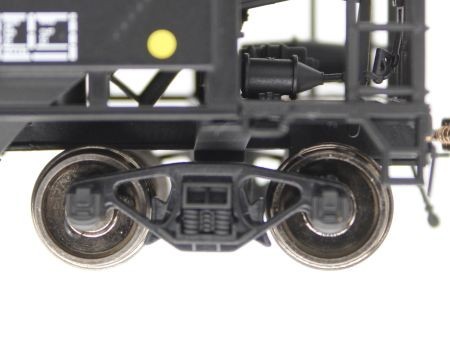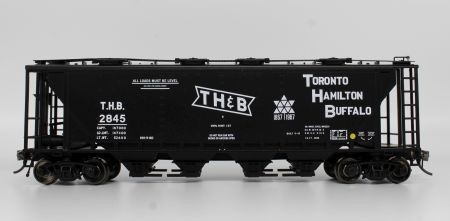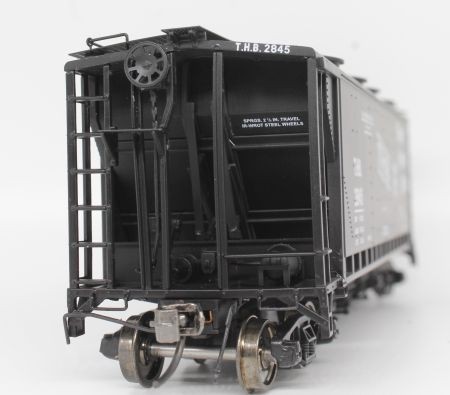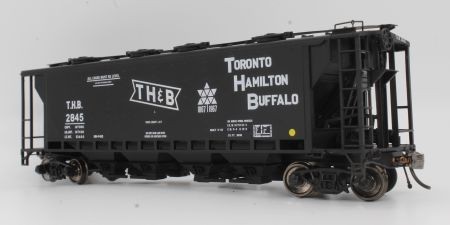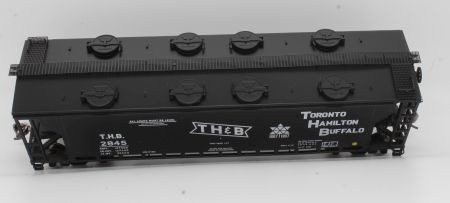 Paint and Printing
Basic black - not the most exciting paint job but undeniably authentic.  Atlas put an excellent coat of paint on this model and no detail is obscured by it.  White printing is what really makes this model stand out.  A full range of dimensional and other data stenciling and labeling is legible:  "COTS" (Clean, Oil, Test & Stencil) boxes; yellow U-1 Wheel Inspection Dots; weight data; brake application and release marks; loading and running notices.  Spring compression and wheel types is stenciled on the interior of the ends.  Two items of car data surprised me, a "L" and "R" for right ad left sides of the car, and that the car was coated with vinyl paint.   Fantastic printing - a shame to obscure that lettering with weathering.
Six road names and variants, and three undecorated models are offered:

Undecorated 12 Hatch, closed

Undecorated 6 hatch, open
Undecorated 8 hatch, round, open
CN (Delivery - 12 Hatch) (Red/White)
CN (Noodle - 12 Hatch) (Gray/Red)
CN (6 Hatch) (Gray/Red)
CP (6 Hatch) (Black/Red/White)
CP (8 Hatch) (Black/Red/White)
THB (Black/White)
Basic black or not, the paint and lettering demands attention.  Take a look and judge for yourself.  

This first release is a boon for Canadian railroad modelers.  I don't know if U.S. railroads owned these but perhaps some road names are forthcoming.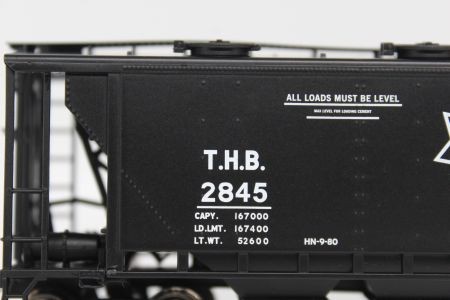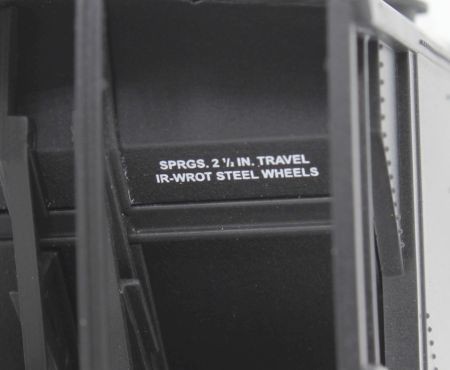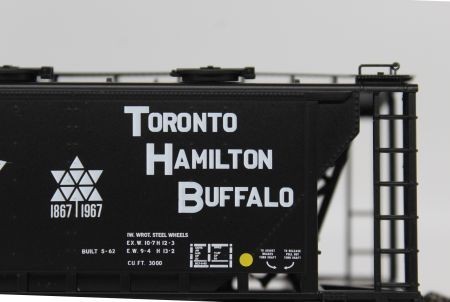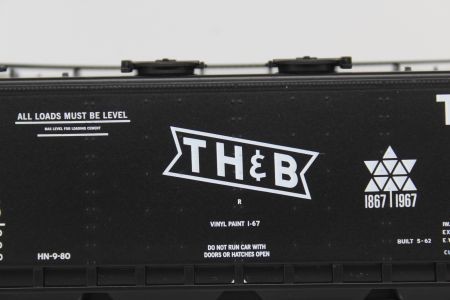 Performance
Atlas rolls this car on machined metal wheels and roll it does.   A quick check with the scale ruler shows True Line Trains did their homework and scaled this model accurately.
Conclusion
Atlas released a sharp looking and well detailed model with this HO Slab Side Covered Hopper.   Fidelity of detail, metal couplers and wheels, free rolling performance, and amazing printing rates this as a first-class model.   Two dings - the bend rod that keeps the bell crank for aligning with the brake cylinder, and a couple of hatches that are not flush with the roof. 

Regardless, the benefits of this model far outweigh those dings, and I recommend this model.
Thanks to Atlas for kindly providing this model.
Please remember to mention to vendors and retailers that you saw this model here - on RailRoad Modeling.