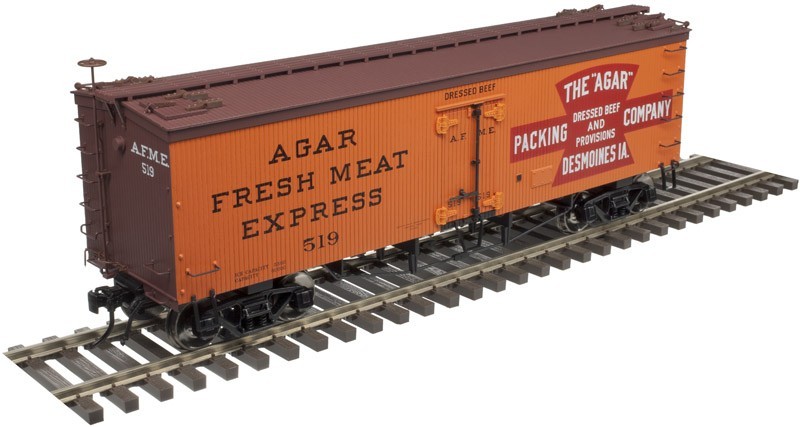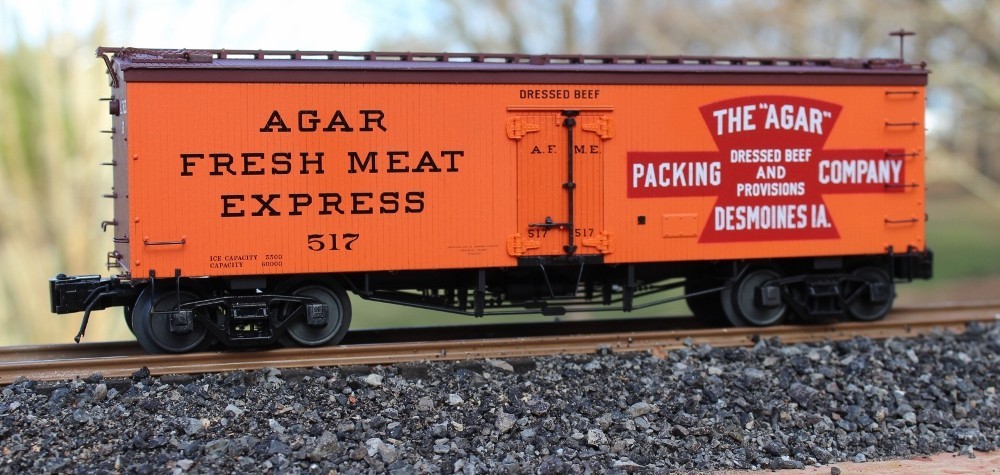 Introduction
This O 36' Wood Refrigerator Car from Atlas is a popular model, already on its 17th release since 2002. And why not? Brimming with detail and performance the model is based on billboard reefers that flashed color from trains in an otherwise smokey sooty era of brown or black rolling stock. Two- and 3-rail modelers of the 1920s-1960s can add a splash of color to their layouts with these models. Called "billboard reefers" due to the blatant advertising beyond typical railroad markings and emblems, they performed the role of billboards - mobile billboards. Non-railroad modelers can incorporate these into 1/48 scenes and dioramas.
This review knocks around a 3-rail model decorated for Agar Packing Company, item No. 3001428; No. 3002428 is the 2-rail model. I appreciate the fact that the hatches and doors can be positioned open. Photos frequently show reefers with yawning hatches - natural ventilation. These cars also hauled produce that did not require ice but needed airflow to avoid spoilage.
Atlas writes of this model;
Based upon cars built by the General American Car Company for the Cudahy Packing Co. in 1925, the 36' wood reefer is representative of the thousands of cars that transported meat, dairy, beer and food products well into the 1960's.
If you are unfamiliar with "2-rail" and "3-rail", read on for an explanation.

Packaging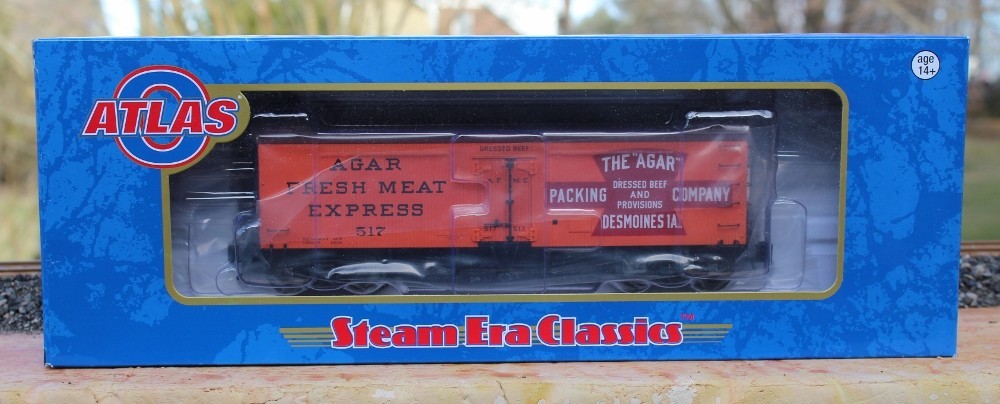 Atlas securely packs this model in a form-fitting cradle, held secure with a clear lid that snaps on. Foam inserts help keep the model from moving much, and a soft plastic sheet protects it from scuffing.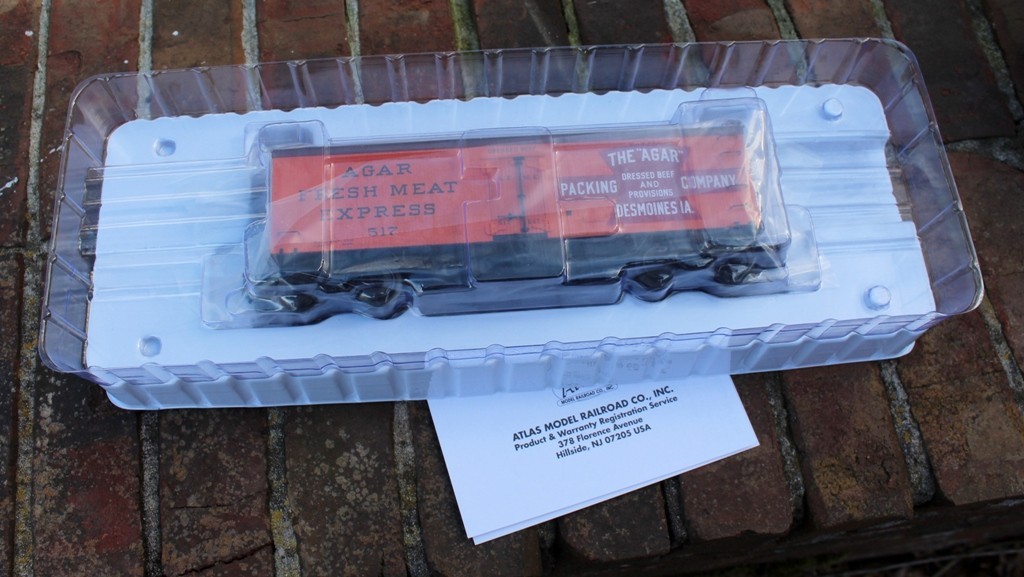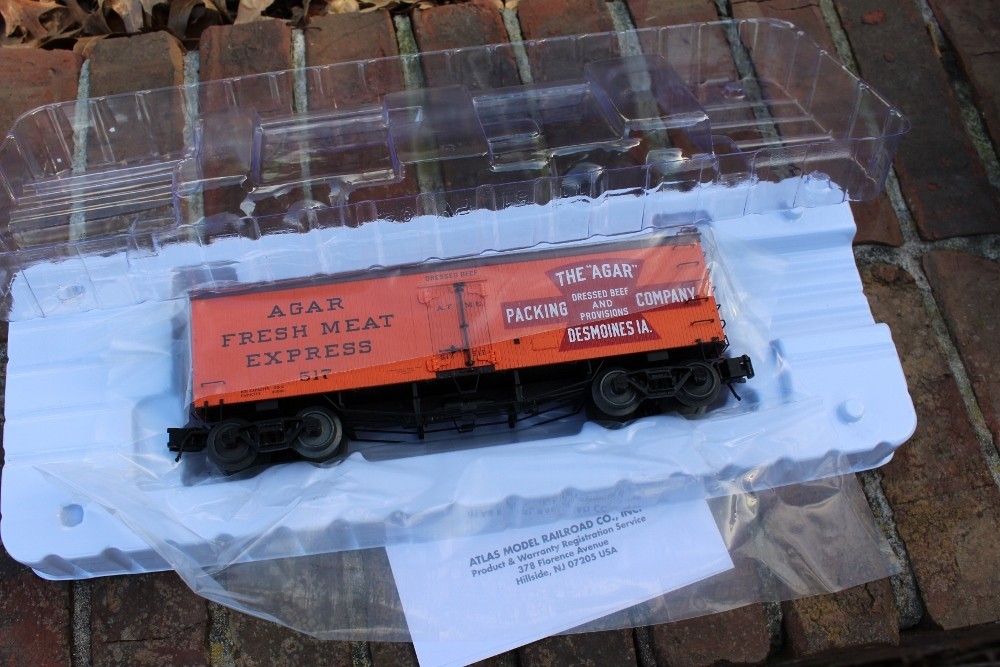 The Model
I have examined these models before and they are impressive. The body is molded with no visible flash, ejector marks, seam lines nor sink marks. Atlas assembled it to a high standard with no adhesive smears under attached parts. Atlas trumpets its features:
Accurate painting and lettering
Highly detailed ABS body
Separately-applied grab irons, ladders and stirrups

Hatch styles and truss rods appropriate per road name

Separately-applied door hardware

Opening hatches and doors

Die-cast chassis

Detailed braking system

40-ton Bettendorf-style die-cast sprung trucks

Die-cast articulated couplers (3-rail)

Die-cast scale couplers with internally sprung knuckles (2-rail)

33" scale metal wheels (2-rail)

Minimum diameter curve (3-rail): O-31

Minimum radius curve (2-rail): 24"
If you are new to the hobby, 2-rail models have finer scaled wheels and couplers than 3-rail, A.K.A. "hi-rail" models. The couplers of 3-rail cars are attached to the trucks for more swing around the often tighter curvature of hi-rail.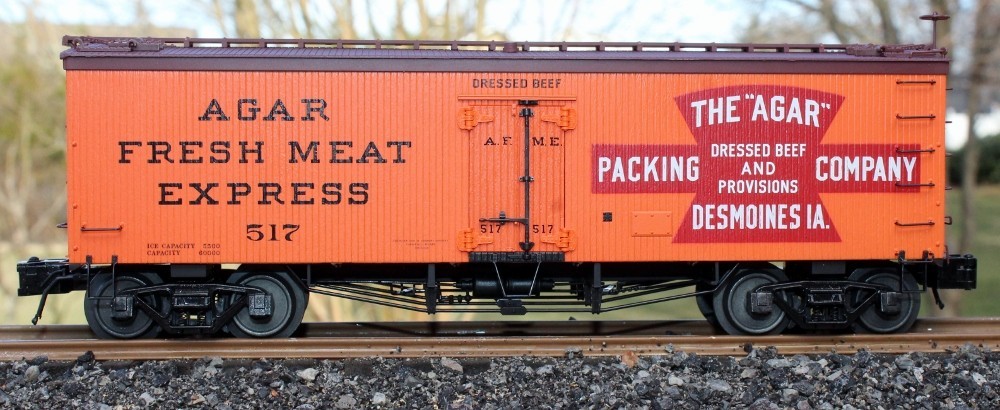 DETAIL
Plenty - let's start with the opening doors with separately attached vertical rods with horizontal handle. Use care with the door hardware and moving the doors as the hinges snap into themselves and can pop loose, as seen in he second image below (lower right hinge). Open doors and hatches positively show off the detail and engineering of this model. Hatch clasps are moveable.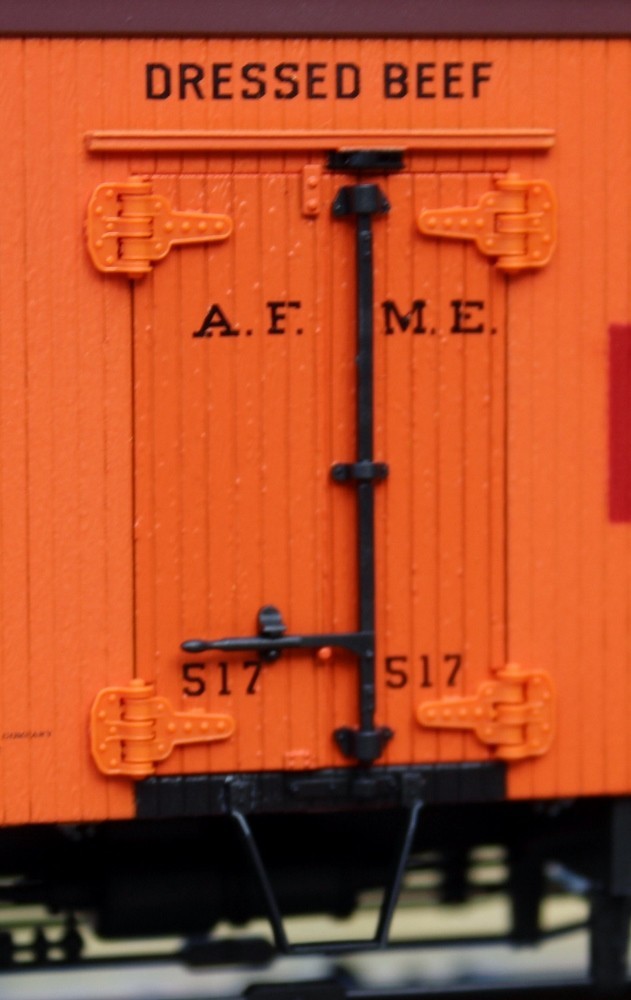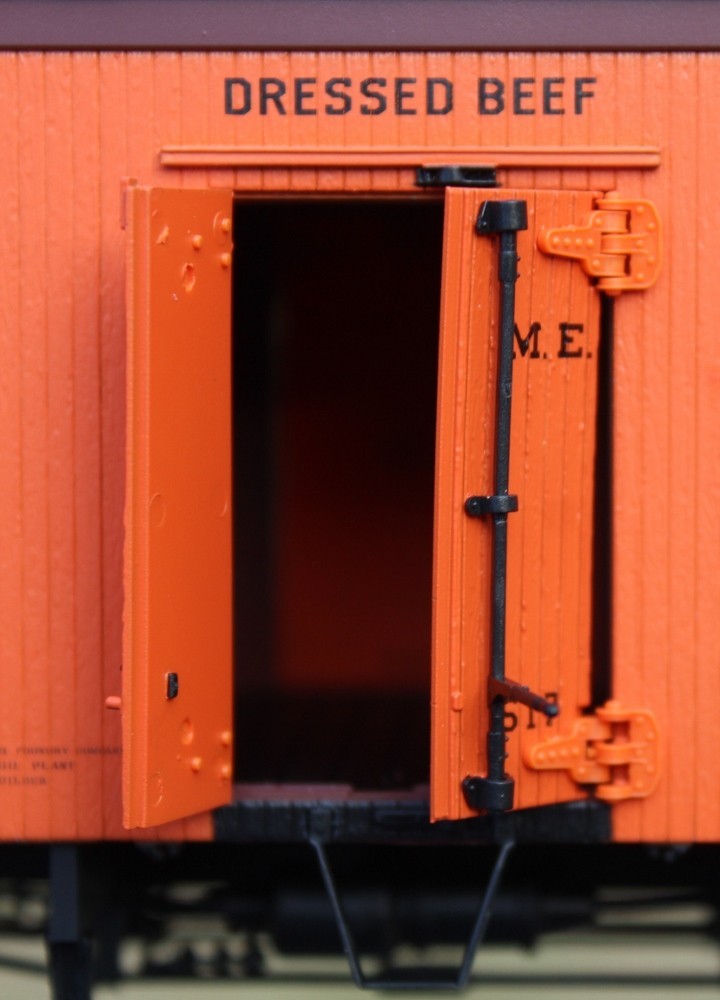 From the rails up...
...this model rides on metal wheels held by Bettendorf-style metal trucks with springs. You can see casting data on them. Rising to the car body we find separately applied stirrups, cut-bars on the ends, and air hoses next to the couplers. On the B-end is a standing brake wheel with gear between the casing and a simulated chain down towards the brake actuating rod. Separately applied wire grab irons climb up the sides and ends.
Underneath is a wood underframe strengthened with queen posts and truss rods, supporting stringers and cross bearers of the car floor. A KC brake system is reproduced with the combined (the "C" in KC) K brake cylinder (with piston rod)/control valve/reservoir, joined with piping, with rods and lever hangers and the B-end brake lever, metal hook and handbrake chain.
Body molding features fine wood grain for the wooden components. The roofwalk is supported by small tabs. You have probably already noticed the wire grabs.

Quite a bit of eye candy.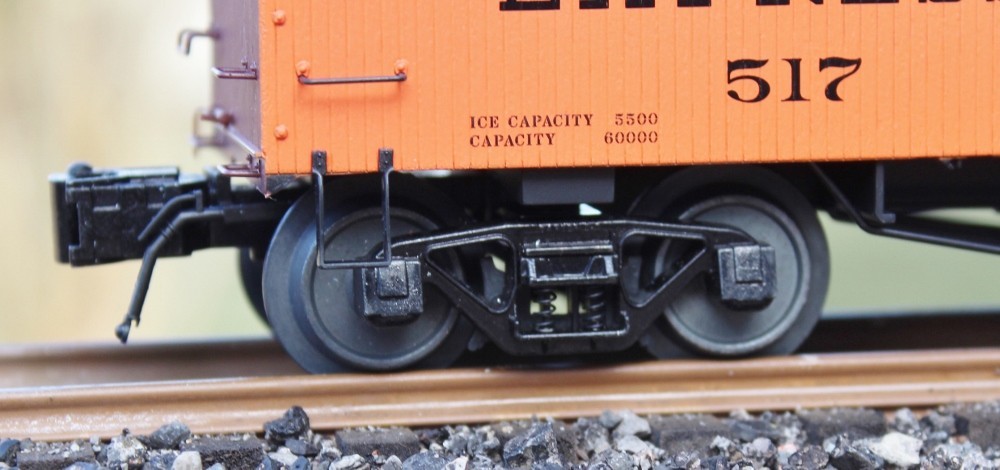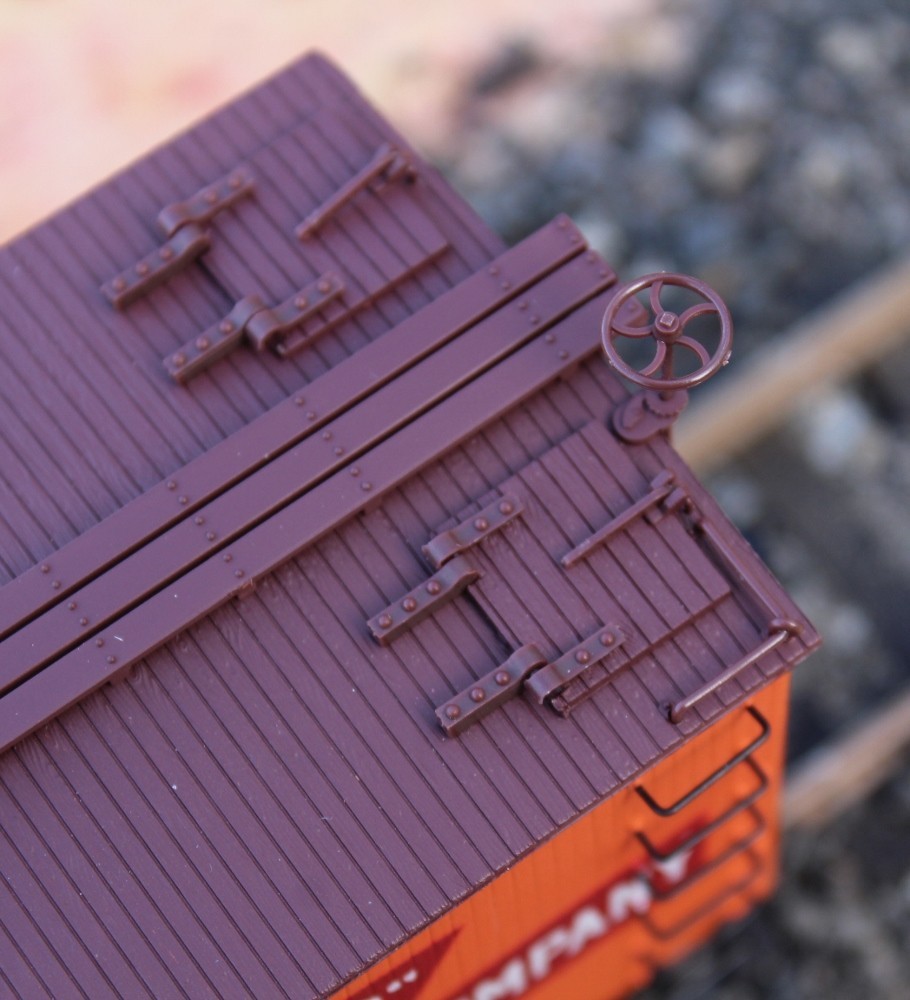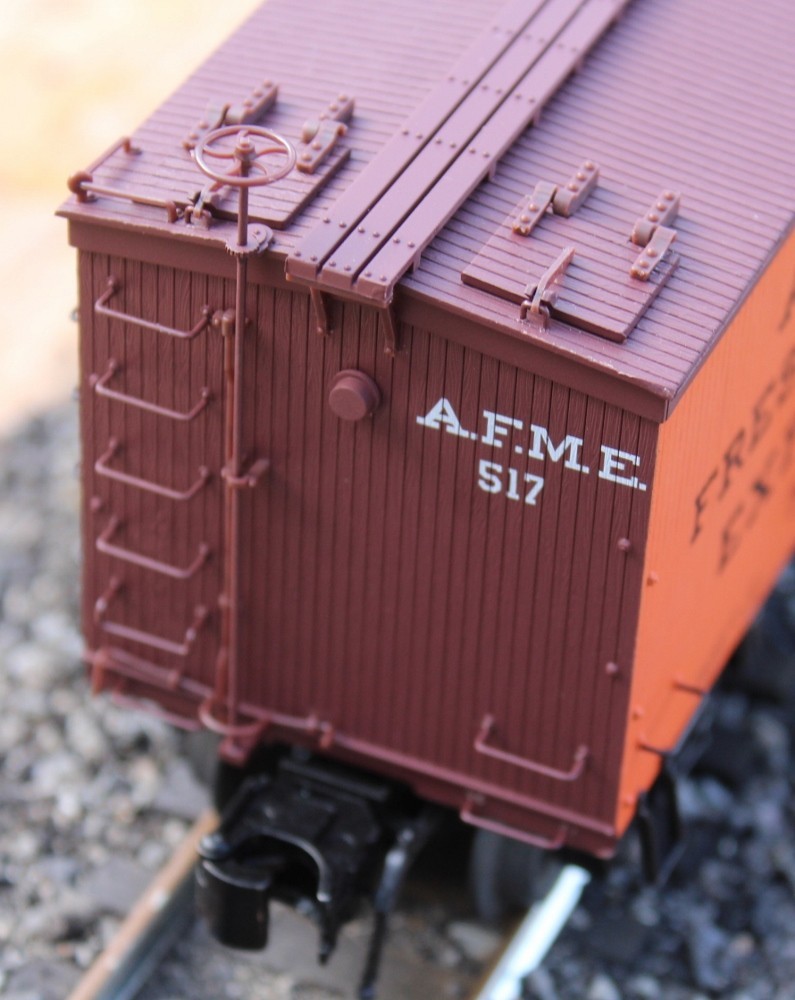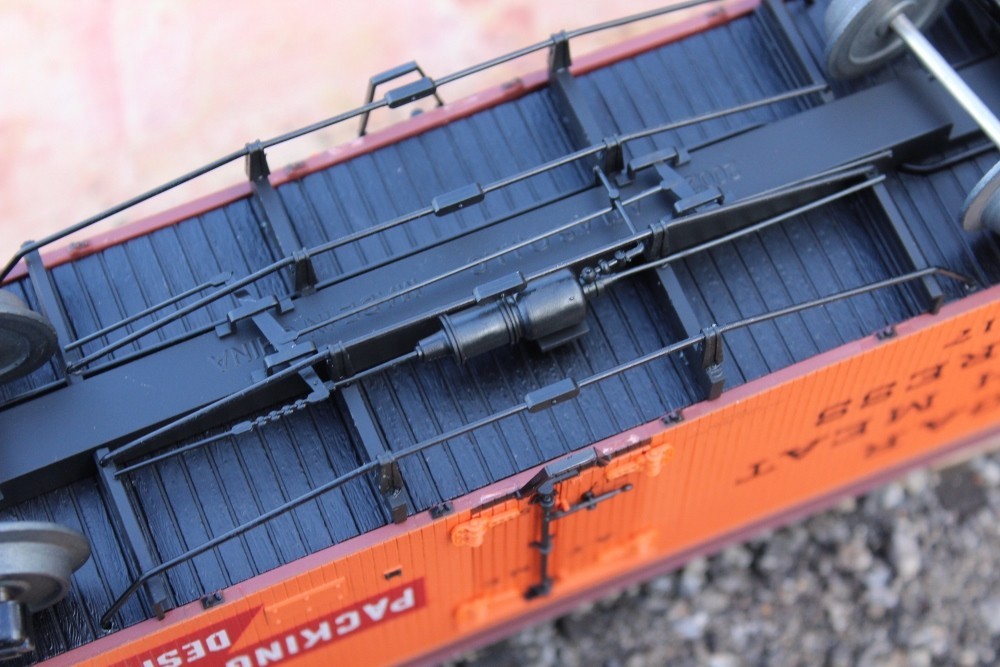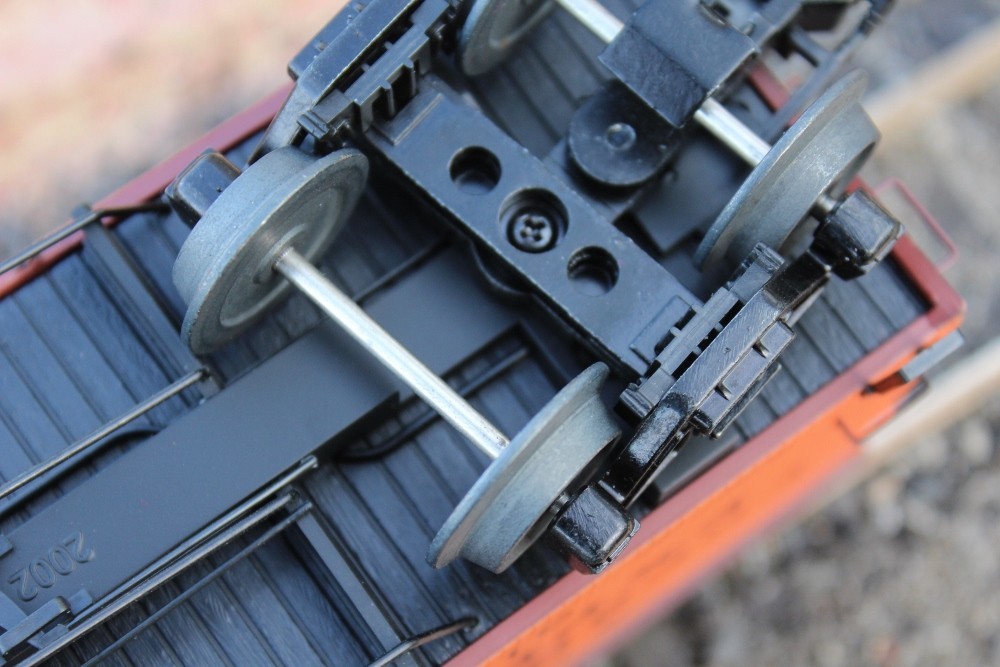 Paint and Markings
Looking at the enlarged images I note the body is molded in range. The roof and ends are painted.
Printing is excellent. Crisp and legible. Stenciling reflects the standards of the era. This release features eight road names and undecorated models:

Agar Packing Company (Orange/Red/Brown)

Dold Packing Company (Yellow/Brown)

Lange Creamery (Yellow/Brown)

Nuckoll's Refrigerator Line (Yellow/Brown)

432 New York Despatch (White/Red/Brown)

Pittsburgh Provision and Packing (Yellow/Brown)

Rex Canned Meats (Cudahy) (Yellow/Brown)

Schwarzschild & Sulzberger Lard (White/Brown)
Only one road number is available per road name.

Performance
I weighed the car at one pound and half an ounce. Per NMRA Recommended Practices RP-20.1 Car Weight the model should weigh 14 ounces. The model rolls well on the cast wheels.
Conclusion
Atlas O's model of a 36' Wood Refrigerator Car is an attractive model for O-scalers and 1/48 modelers. Available for 2-rail and 3-rail running, this model is full of detail and features excellent printing and with opening doors and hatches, it has much potential for the modeler. I do not have any meaningful complaints and believe you will be happy with a few of these on your layout or in a diorama.
Please remember to mention to Atlas and retailers that you saw this model here - on RailRoad Modeling.