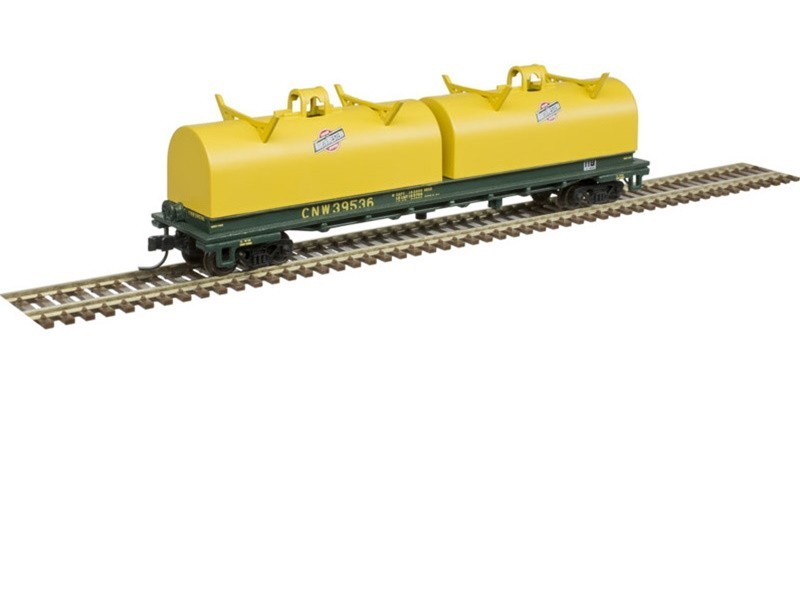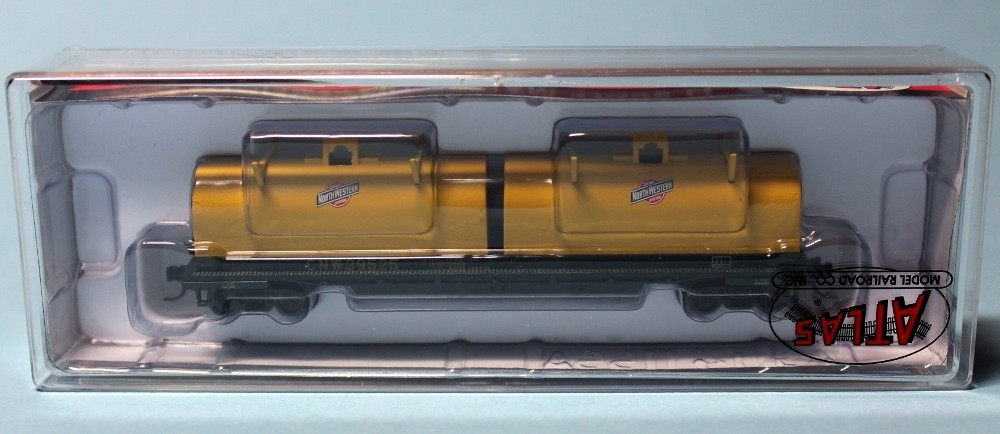 48' Cushion Coil Car
Atlas first released their N 48' Cushion Coil Car model in December 2018, and this model is one of their second release. This specific model is item 50005716: 48' CUSHION COIL CAR CHICAGO & NORTH WESTERN #39525. While I could not find a photo of the real Chicago & North Western 39525, you can see this sister car CNW 39519.
Atlas provides this history:

In the early Sixties, Evans Products saw a need for specialized cars to transport coiled steel.
The existing cars at the time were often 70-ton specially equipped mill gondolas. The new commodity-specific coil-steel car were built with a 100-ton capacity using a trough frame and body. The early designs were refined during the 1960s and eventually Evans adopted a 48-foot length as standard. Production lasted well into the 1970s.

The Atlas 48-foot coil steel car is based on the Evans design of 1967 as well as being a close
stand-in for the 1970s cars.
Prototype technical trivia:
Type: Coil Steel Car

AAR Class: GBSR: Specialty open top car, fixed sides, fixed or drop ends and solid bottom, equipped with roof

AAR Type: E440: Equipped gondola, inside length 48-52', cushioned draft gear/underframe

That data is for the 1/1 car and for this model, Atlas lists these features:
• Die-cast body
• Crisp painting and lettering
• Two removable rounded hoods with stacking frames
• Detailed wood lined trough floor
Now let's go knock 'round the car.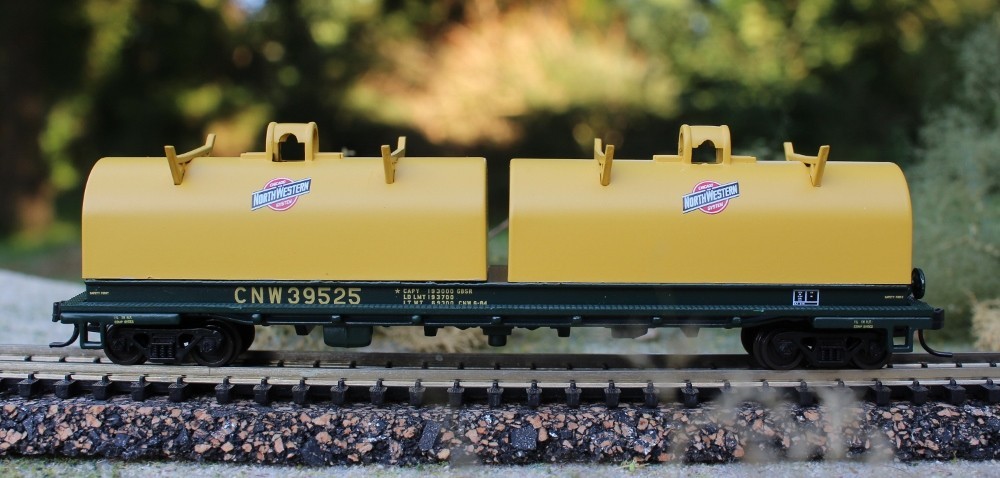 The Model
Atlas securely packages their N models in form-fitted top-and-bottom cradles that are held in a clear hard plastics cases.  They are made to stack one upon another.  "Box art" is the model itself along with a paper label; mine holds a registration and warranty information sheet.
Detail
The car body and load are die cast. Plastic trucks and wheels support the model and it is equipped with knuckle couplers. It rolls very well. Aside from the brake wheel, detail is cast on. This gives the model heft. Underside detail is cast on and soft but looks acceptable when the car is on a track.
Paint and Printing
Atlas painted the body C&NW "Apple Green" and "English Stagecoach Yellow," The paint is opaque yet does not obscure detail. It has a shine to it so it will have toned down if you prefer your equipment to look used.
Printing is sharp. You can read all of the printing. Data is stenciled on, as is a consolidated label. Each road name is released with three road numbers. Six railroads available are:

BNSF (Swoosh) (Brown/White)
C&O* (Chessie) (Blue/Yellow)
Conrail with NS Hoods (Brown/Grey)
Chicago & North Western (Green/Yellow)

Illinois Central (Black/White)
Indiana Harbor Belt (Black/Orange)
Norfolk Southern Protect II (Grey/Blue/Red)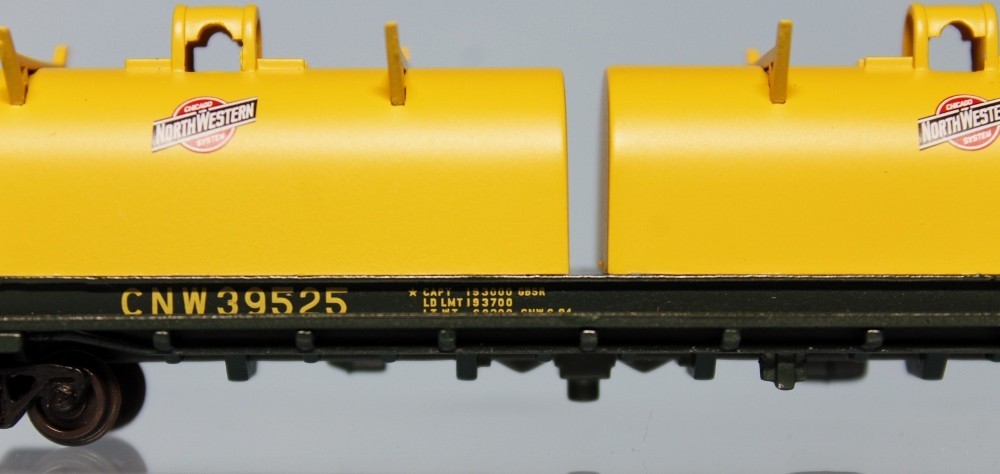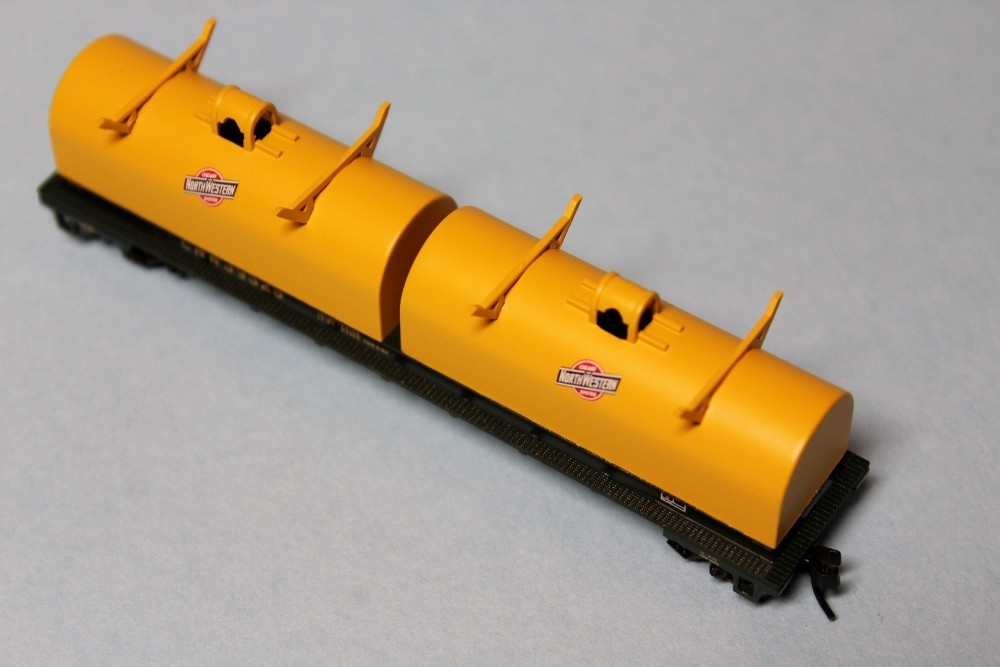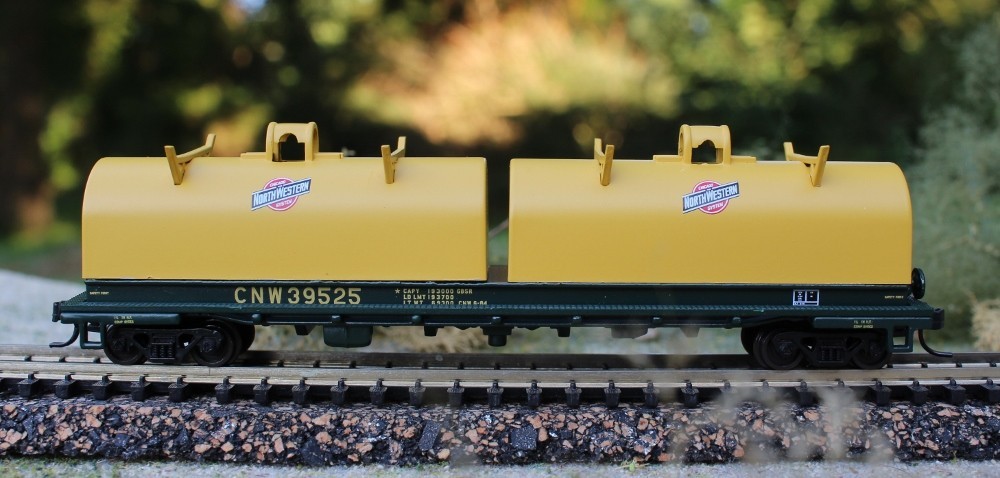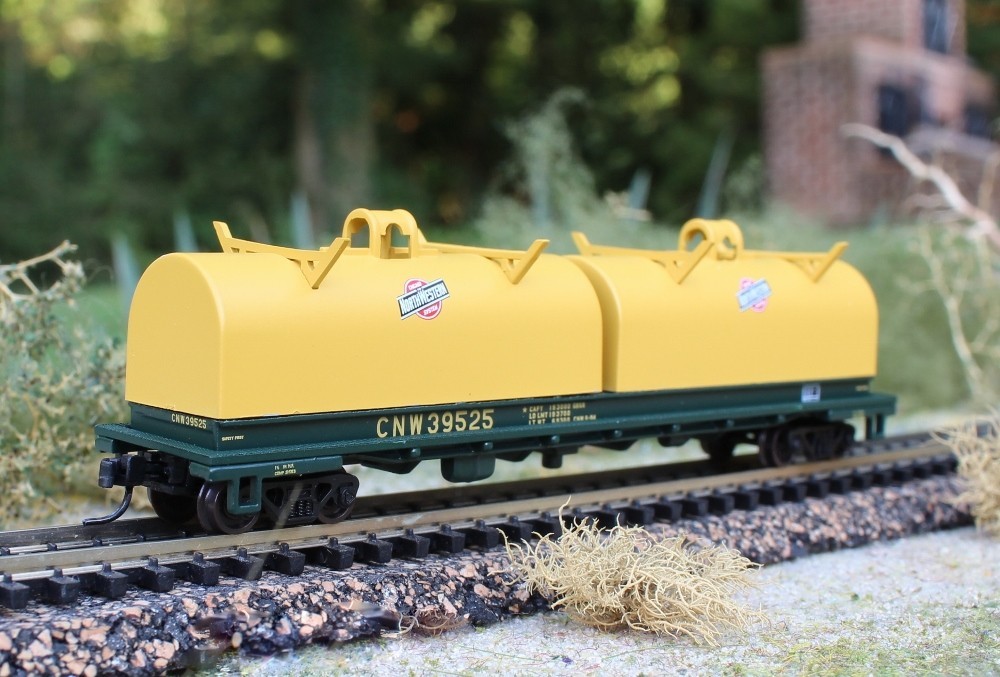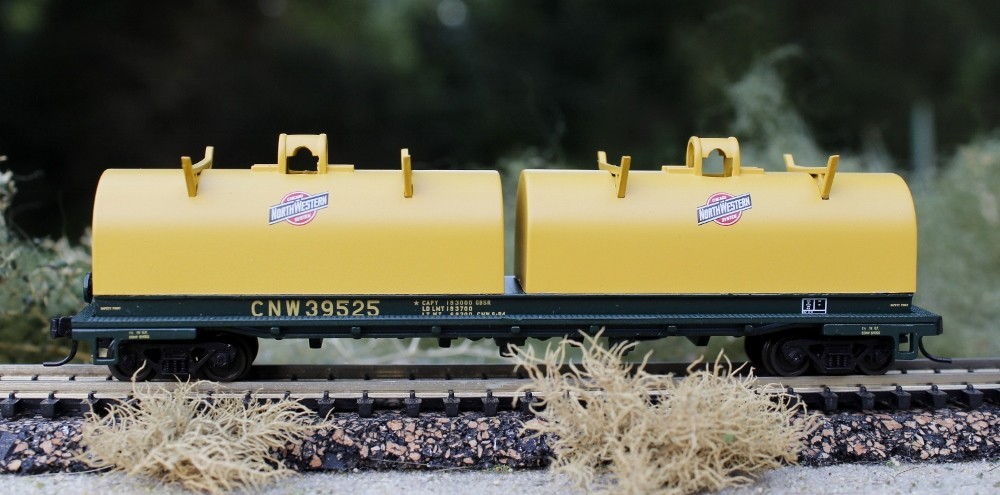 Conclusion
Atlas has created another good model with this 48' Cushion Coil Car. It's weight helps keep in to track. Printing is excellent. Knuckle couples are a must-have these days. Soft underside detail is only noticeable if you flip the car over so I can't really criticize.
Overall, I think this is a fine model of a modern freight car. Recommended.