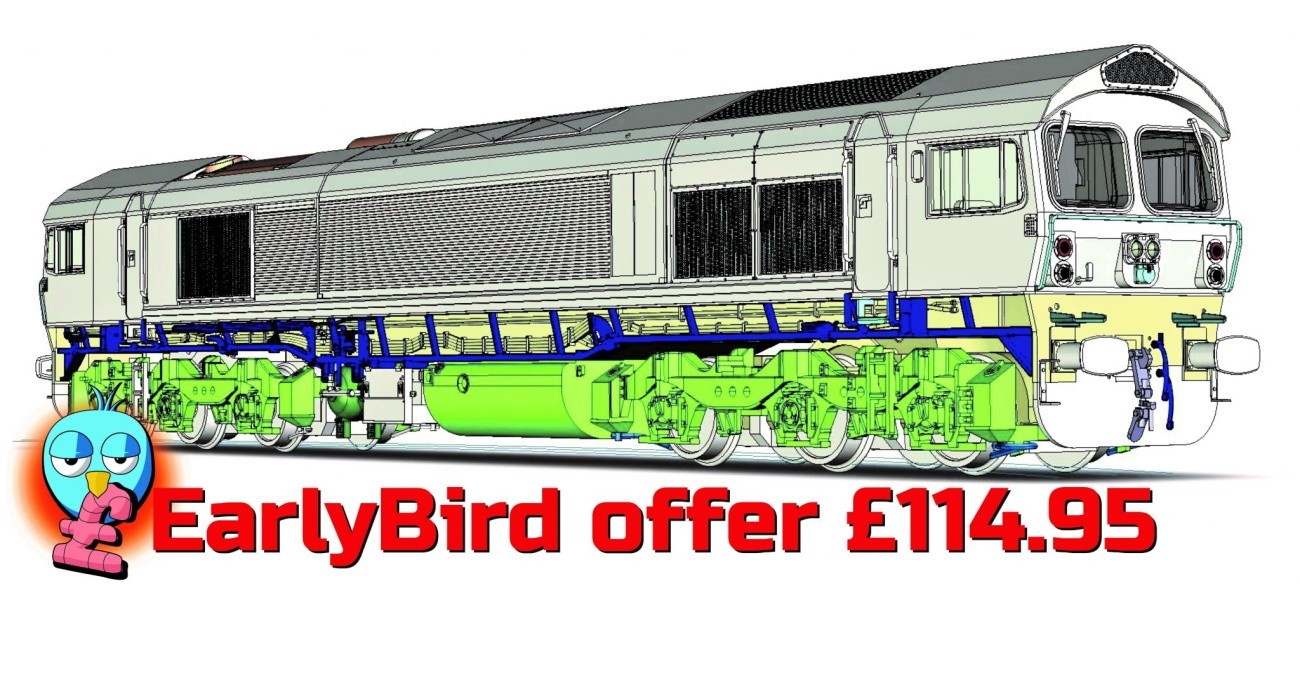 On their introduction in 1986 they heralded a revolution in traction on Britain's railways. They were the first privately owned and American-built diesels to operate in Britain and set unprecedented levels of reliability; their success led directly to the now ubiquitous Class 66 – arguably the most successful design of the modern era.
CAD is complete and the model is ready for tooling to begin. We anticipate that first moulded samples will be here in 6-8 weeks, and the model will be available to pre-order for a low Early Bird price of £114.95 with Free Postage for a short period, before moving up to the standard pre-order price of £124.95, with a subsequent MSRP after production of £150.
Revolution's tooling allows for all sub-classes to be correctly depicted, with numerous differences in lighting, roof and bogie details, and unique locomotives 59003 and 59005 are also being offered.
The Class 59 is Revolution's second N gauge locomotive, and follows on from our highly regarded Class 92 described in one review as …the best 'N' gauge model yet? We think so: nothing can match the fidelity of detail which Revolution Trains has achieved…
With the Class 59 we plan to go even better – with all grilles photo-etched, including the distinctive front air horn grille, with numerous separately fitted detail parts and supports on the distinctive solebar area, separate windscreen wipers, full interiors, photo etched lashing loops and front footsteps.

What's on offer
For a small class, the Class 59s have carried numerous liveries. Revolution has secured licences including the very latest Aggregate Industries, GBRf and Freightliner G&W schemes and these will be among the models offered.
Please note these graphics are for illustrative purposes only; some small markings are omitted, colours are representative and some details may be altered for production models. To see which models are available to order now please follow the link above to our shop.
Retailer Exclusives
Revolution is also delighted to be offering these retailer exclusives.
59003 with Rails of Sheffield.
Revolution is teaming up with Rails of Sheffield to offer GBRf's 59003 featuring all the detail amendments mentioned above. When it entered service with GBRf it featured red/blue roundels at each end, however in 2020 the locomotive was repainted and given a more standard GBRf with a rectangular centre blue panel. Both versions are being offered.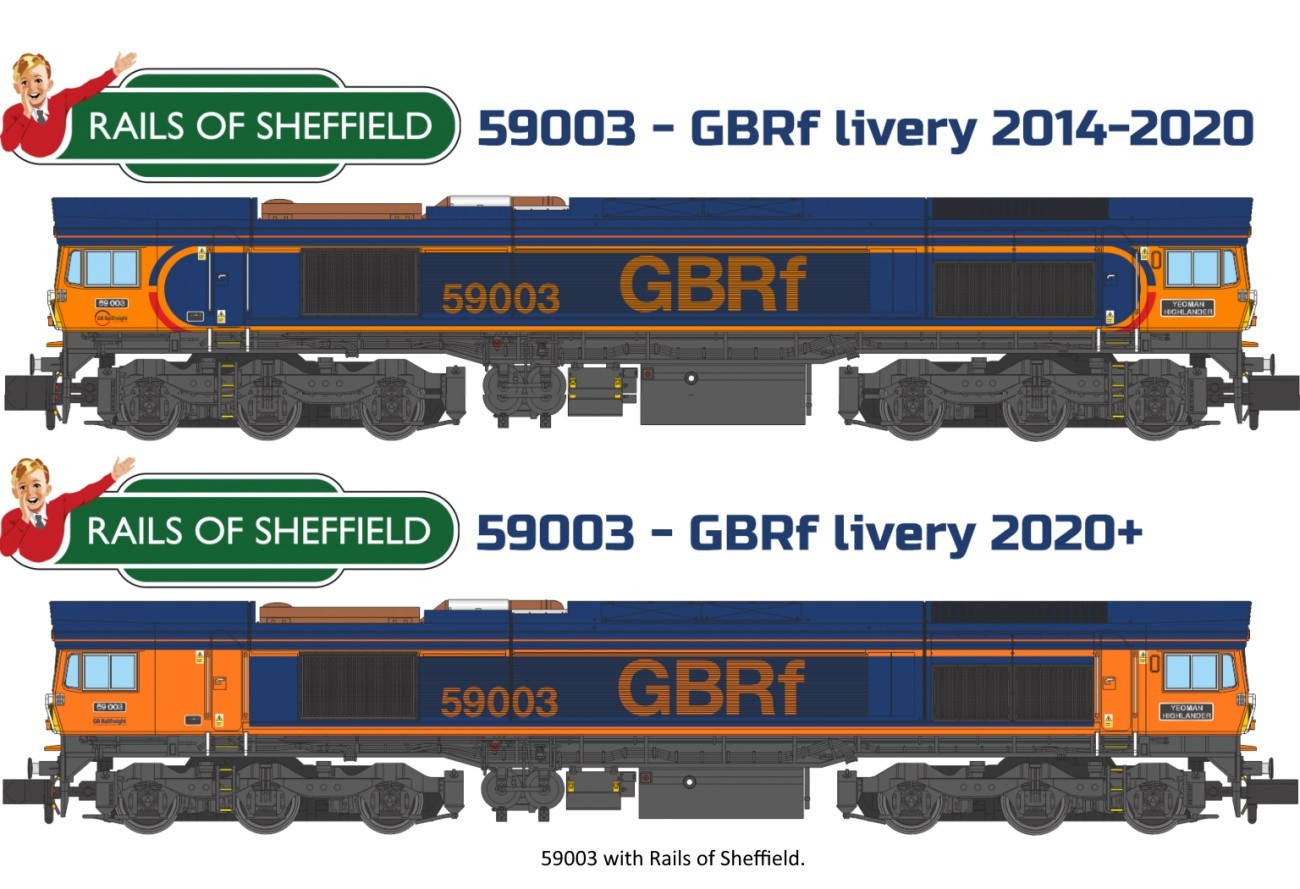 59201/59206 twin pack with Rainbow Railways.
In addition, Revolution is joining with Rainbow Railways to offer the Class 59/2's stylish original 'National Power' livery in an exclusive 'First & Last' twin pack comprising both 59201 'Vale of York' and 59206 'Pride of Ferrybridge'. Both locomotives feature prototypical variations; 59201 features the bell at the No1 end and single handled cab doors, while 59206 has twin handled cab doors and revised end air pipe positions. These models will also include cosmetic buck-eye couplers; these were removed when the locomotives were taken on by EWS.
It is anticipated that samples will be ready for testing in the next 6-8 weeks with production expected in Q2 2022.
Check out full details: https://www.revolutiontrains.com/news/
Please remember, when contacting retailers or manufacturers, to mention that you saw their products highlighted here – on RailRoad Modelling