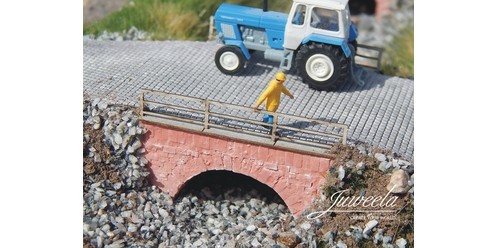 Dioramic Ceramic
Juweela presents their latest new releases, now available from vendors.  A variety of scales are offered.   
Subsequent painting is possible with any color; they can also be easily processed (sanding, sawing, etc.).

Images of the products are at the end of the descriptions.
O Scale
28mm assortment box WW 2
JUWEELINIS  "Diorama" 10er MIXTURE JUWEELA'S
 Sometimes as a model maker I don't know which material is right for my diorama.

Or for a project you don't need much, but you need a lot of different material.

Or I would like to try something first.

Or I love the variety. Or I want to give away something that is always needed.


For all these purposes we have our JUWEELINIS assortment boxes with a product mix that is always something to start with.


BECAUSE THERE IS ONLY ONE DIORAMA THAT FITS TO YOU - YOURS!
Features:
10 different articles -
debris of bricks w/ mortar 1:45/50
old wooden boxes, large dark 1:45/50
bales of raw material 1:45
old barrels rusty 1:45
metal scrap rusty 1:45/50
old tires 1:45
sandbags flexible 1:35
old wooden barrels, dark 1:45/50
debris 1:45/50
brick dark brick-red 1:48
CHECKPOINT BARRIER, MESH BASKET
LOOSE AND SEPARATE

Vehicles are to be checked at a checkpoint and stopped for this purpose - and obstacles are placed on the road to ensure that they do so. This is no different in the 1:35 model diorama.  Our mesh baskets can be processed afterwards, all painting is no problem at all. Our tip: Use strong water-based paint to achieve excellent colour gradients.
HO
1/87 A.T. OBSTACLES, COLD WAR
As secondary defenses, anti-tank barriers have appeared in many locations throughout history. This barrier protected the borders to the former Warsaw Pact in southern Europe.  These barriers can be used for historical scenarios during the Cold War, when the borders in Southern Europe were secured by mass use of these barriers. But also with other ideas these obstacles of course close everything off...

BARRELS, WOOD, LIGHT BROWN, and BARRELS, WOOD, ASSORTMENT

LOOSE AND SEPARATE
 Old wooden barrels for the transport, as barrier, for stacking, as detail, as load, for dropping down or simply for the wine transport of your minis. These barrels here are old, worn, damaged, splintered.

 Features:

Different shapes and sizes

exemplary wood structure

different shades of colors

used, worn appearance
RUBBLE IN THE BOX - BIG BOX GREY

RUBBLE, RUBBLE, RUBBLE, 700g OF RUBBLE!

For piles of debris, construction areas, demolition buildings and all other diorama ideas where even more debris is needed.  They can be painted afterwards with any color; they can also be easily processed (sanded, sawed etc.)
 Special features:
rubble medium grey 200g + grey 200g
rubble fine grey 100g + grey 100g
rubble pavers grey 50g + grey 50g
BIG BAGS

WHITE
Big bags can be found everywhere in the modern world - in agriculture, as cargo, as load carriers, even as obstacles it can be used; so masses of ideas and inspiration for the creative diorama in model making...
features:
prototypical size
prototypical woven structure
PLATFORM EDGES 38cm and 55cm

LOOSE AND SEPARATE
GREY
 To create platforms for the model railway H0 gauge. The platform edges are used as facing bricks. Thus, an optically attractive platform area and eye-catcher in the diorama can be represented quickly and easily.  The model is based on platform edges 38 cm above sea level, which represent the track-side end of the platform.  The platform edges can also be (further) treated in colour afterwards. We recommend the use of commercially available water-based paints for this purpose.
TT
1/120 BRICK BRIDGE WITH RAILING,  small grey or red

These small bridges as they can be found everywhere, serve as a crossing over a ditch or a small stream - the path can be narrow or wider.
The brick structure blends well in any diorama. Since the bottom is also bricked, many beautiful details can be represented in the modeling landscape.

Features:
2 differently structured sides
full-scale brick structure
underside structured