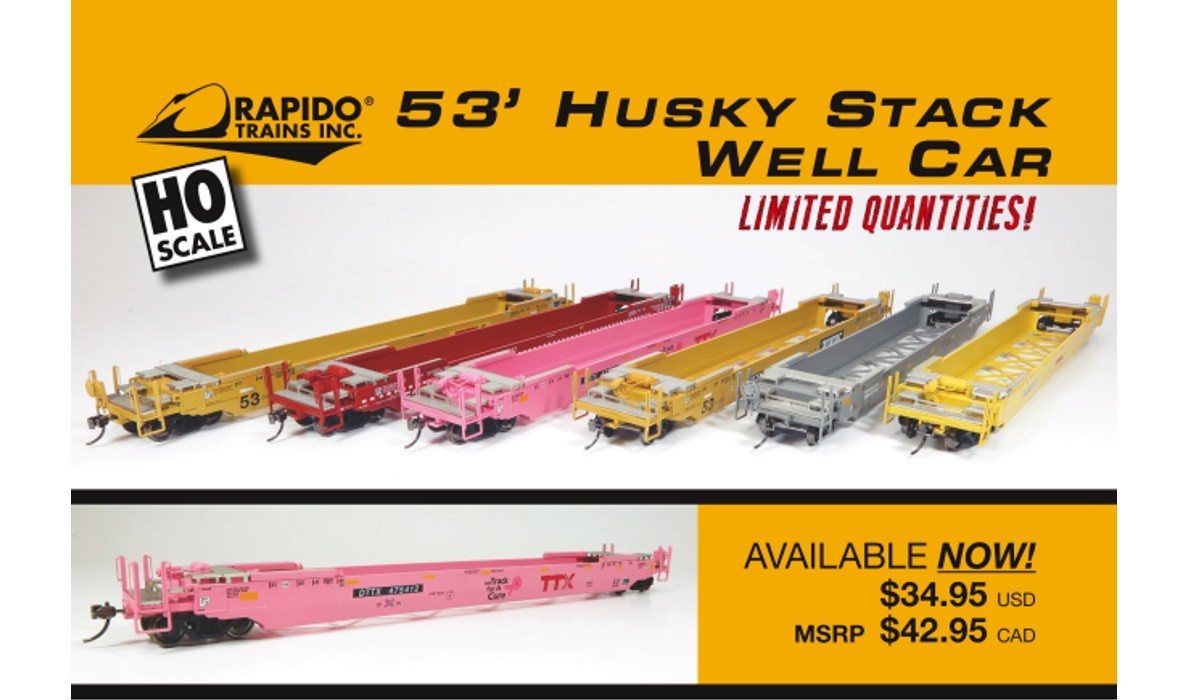 New! HO Scale 53' Husky Stack Well Cars - Surprise Run!

We've been hearing the requests for the 53' Husky Stack Well Cars. (For the sake of space in the newsletter, it's being shortened to 53' Well Cars.) And we are proud to present another run of these cars, by themselves - which means they will not feature containers. These are limited in quantity, but there should be enough for everyone if you act fast! OK, enough jibber jabber, let's take a look at the features and schemes. The Rapido 53' Husky Stack Well Car features an all die-cast body, injection molded end handrails and brake detail and a combination of etched and plastic walkways. Those trucks you see are free-rolling 70-tons,which have separate break shoe detailing. This is an all-around sturdy, yet highly detailed car that you can easily run loaded or empty!

WAIT! Did we mention we upgraded the tooling to allow the walkways to be properly see-through?
On this run of 53' Well Cars, we are offering six paint schemes; four TTX variations, Canadian Pacific and Ferromex. We should point out that Ferromex is a new scheme and has been popular in the western part of North America. This is your chance to grab a few! We are also doing the Race for the Cure scheme again.
$5 from every sale of a Race for the Cure model will be donated to Lionel Strang's One More Year campaign with the Princess Margaret Hospital Foundation to support mental health of cancer patients.
These cars won't be available for long, so make sure you grab a few ASAP! As with the B36-7, the 53' Well Cars come in limited quantities, so chances are if you wait - you'll miss out! Contact your favorite dealer or hobby shop.
Just a friendly reminder, containers ARE NOT being offered with the well cars. This offering is just the 53' Well Cars, by themselves.
Please remember, when contacting retailers or manufacturers, to mention that you saw their products highlighted here – on RailRoad Modelling