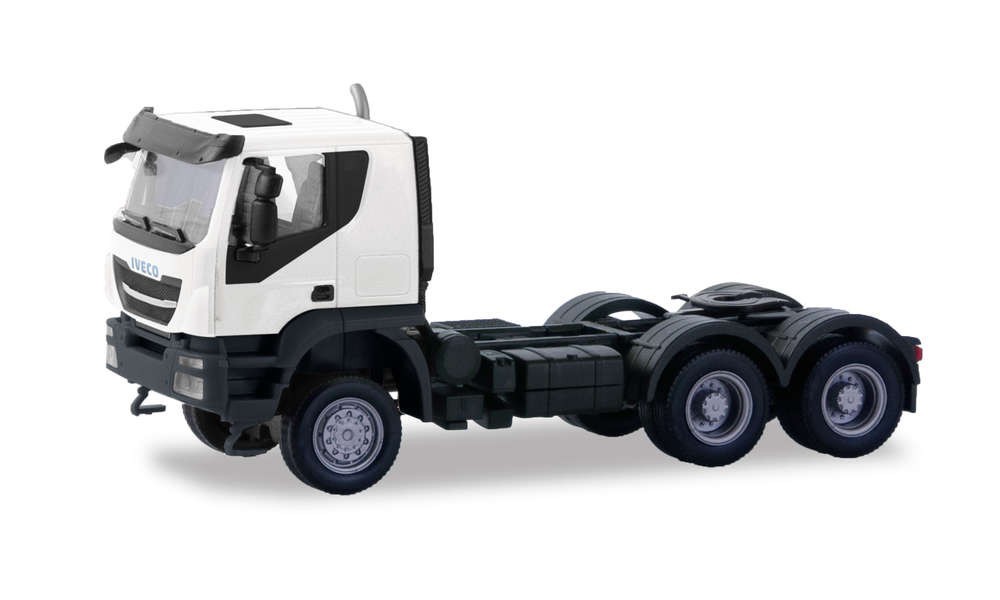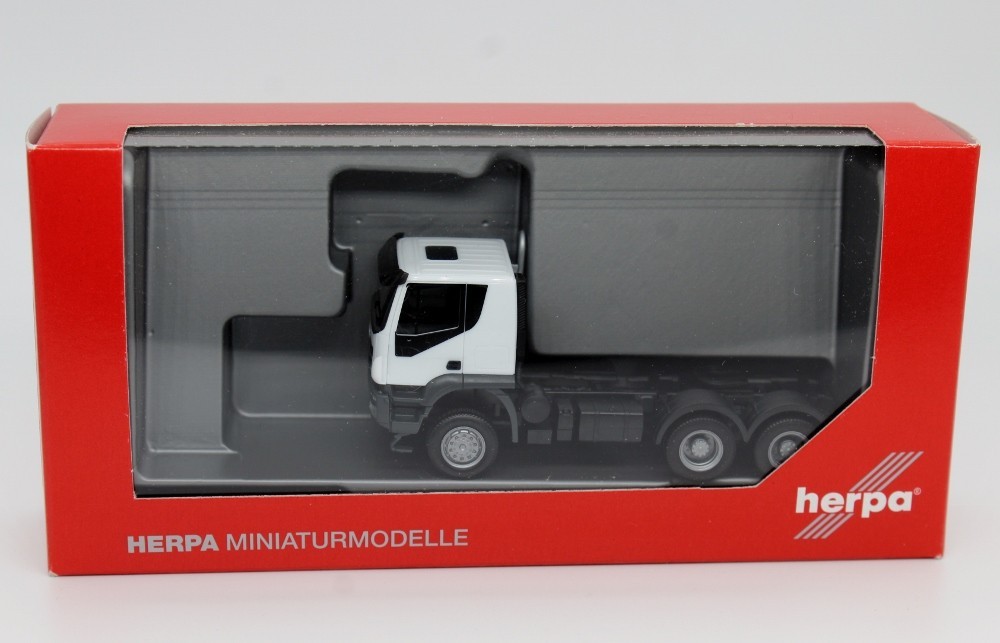 Iveco Trakker 6X6 Semi Truck
Herpa has expanded their range of 1/87 vehicles with this modern beast of burden, a 6X6 Iveco Trakker, item 310529.   These tough trucks are found in quarries and construction sites, moving the strenuous products of man's desire to build.
History

Designed for heavy duty work, the Iveco range of heavy-duty Trakker trucks debuted in 1993 as the EuroTrakker.   Trakkers are highly adaptable and configurable, Iveco's webpage listing 60 versions of trucks or tractors:
…4x2, 4x4, 6x4, 8x4 and 8x8, 14 of which were designed specifically to be fitted with cement mixers, plus 17 tractors, 4x2, 4x4, 6x4 and 6x6.[1]

On that website you can learn all manner of technical information, i.e., "The chassis of the 4x2, 6x4 and 8x4 trucks are built with constant section rails made of FeE 490 high yield steel…"  These beasts of burden boast a gross vehicle weight of 20–56 t. Iveco describes these vehicles as:
Two families of products with different engines, chassis, rear tandem and suspension systems. The first optimises the payload, strictly respecting legislation regarding maximum weights. This is why most versions are powered by the Cursor 8 engine (although the Cursor 13 is available if more power is needed) with light components. The second focuses on sturdiness, with the Cursor 13 engine and components with very high safety coefficients.[2]

Notable Trakker options include rear axle air suspension.  To power the vehicles are the Cursor engines and an option for the EuroTronic transmission:
Two six-cylinder engines from the Cursor family: the 7.8 litre Cursor 8 delivering 270, 310 or 352 Hp; and the 12.9 litre Cursor 13 which delivers 380, 440 or 480 Hp. These two engines share the same architecture, with a variable geometry turbo compressor, except for the Cursor 13-380 Hp, on which the supercharging pressure is adjusted by a waste-gate valve. The Cursor 8 and Cursor 13 have common features, which are greatly appreciated on site: high torque at low engine speeds, which is useful for hill starts; peak torque available over a widespread of engine speeds and maximum power available from intermediate speeds, which means elastic driving without jerks even on rough terrain.

- EuroTronic gearboxes (on request) with 12 speeds, clutch and automated engagement, for smooth starts and extremely rapid gear changes.[3]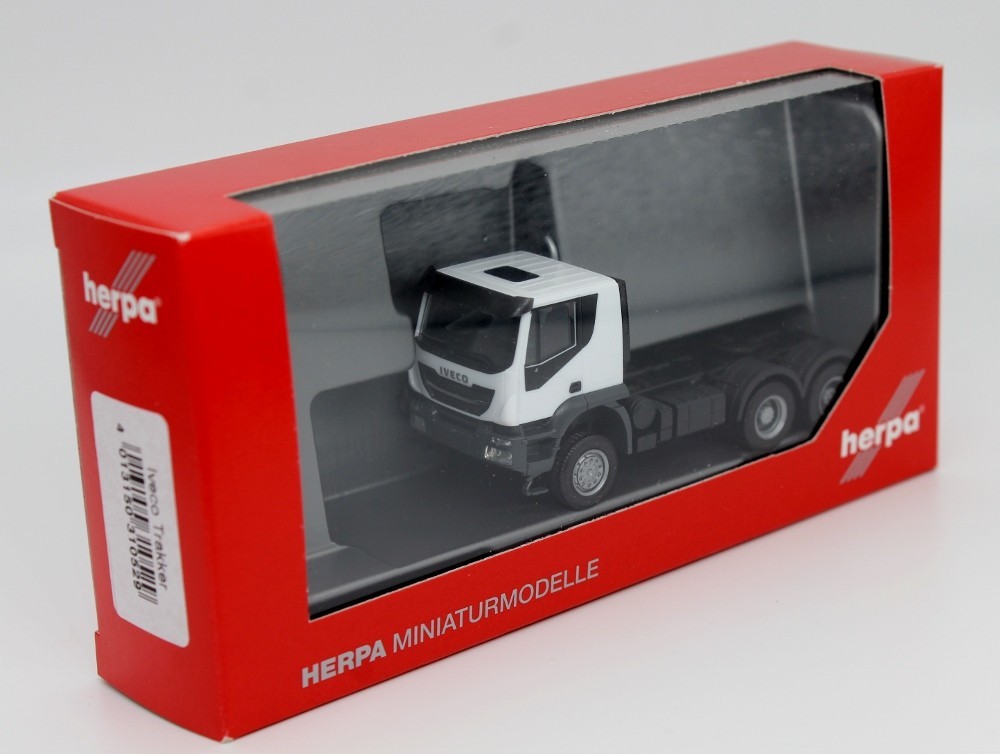 The Model
Herpa, at the time of this review, catalogues148 Iveco models, including this 1/87 Trakker semi truck.  It is packaged in a form-fitted cradle which is held inside a lightweight clear box, the model being its own box art.  This packaging is surprisingly sturdy in protecting the models from crushing by shipping services.
Fashioned from styrene parts and plastic-rubber hybrid tires, the model features crisply molded parts.  A set of separate mirrors are included if you desire to fully outfit your Trakker.  No sink holes, flash, ejector circles, no mold seam lines are visible on this precisely factory assembled model.  Detail is recessed or raised, as appropriate.  From what I saw looking at photographs of real Trakkers, surface details are accurate.
Many of Herpa's  trucks feature a tippable cab to expose the engine.  I did not try to tip or remove this cab.
Detail
Inside the cab is a nicely detailed interior.  You can see the contoured seats, steering wheel, and other items through clear undistorted plastic windows.  Models who desire to populate their cabs can slide the outer shell off and add figures and other items into the cab.
A good looking Cursor engine is partially exposed from the rear of the cab.  A detailed chassis carries the body, including a fifth wheel.  This model is equipped with tanks and cylinders and other appliances to make the Trakker go – and stop!  Underneath, the engine, transmission and drive train, universals, suspension and axles are present.  Each of the 10 tires feature tread detail, held by detailed hubs.
One of the features Herpa uses are clear parts for the headlights and other vehicle lamps.  They are clear for the headlights and tinted for brake lights and signal lights.  For some reason on this model the front signal/running lights are not tinted, although Iveco photos show yellow lenses on prototype Trakkers.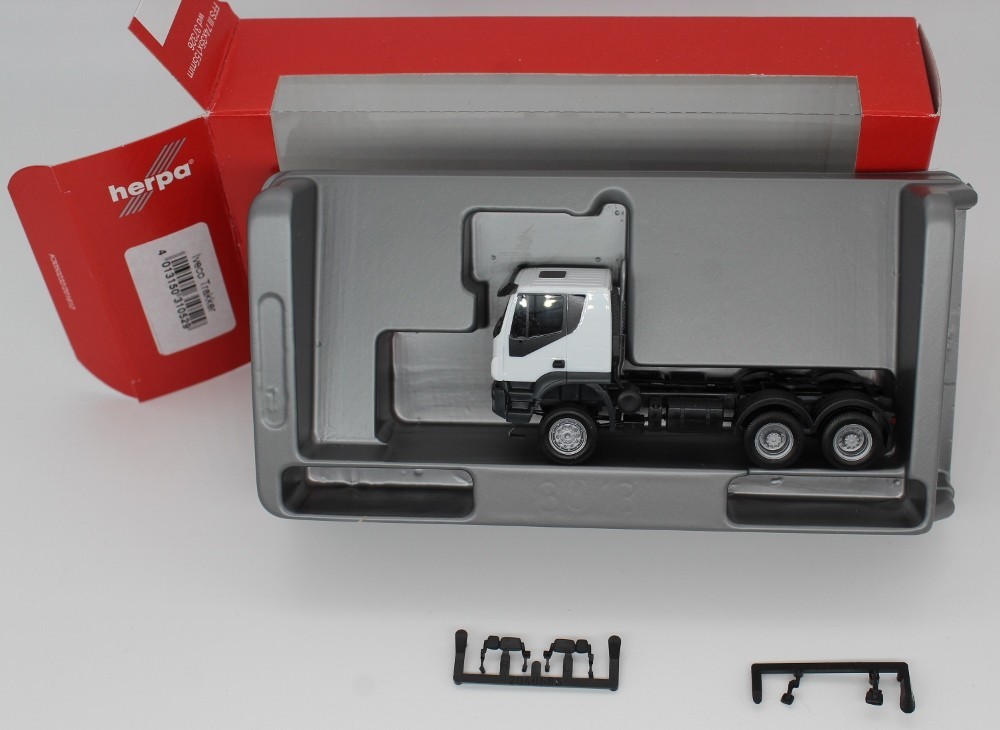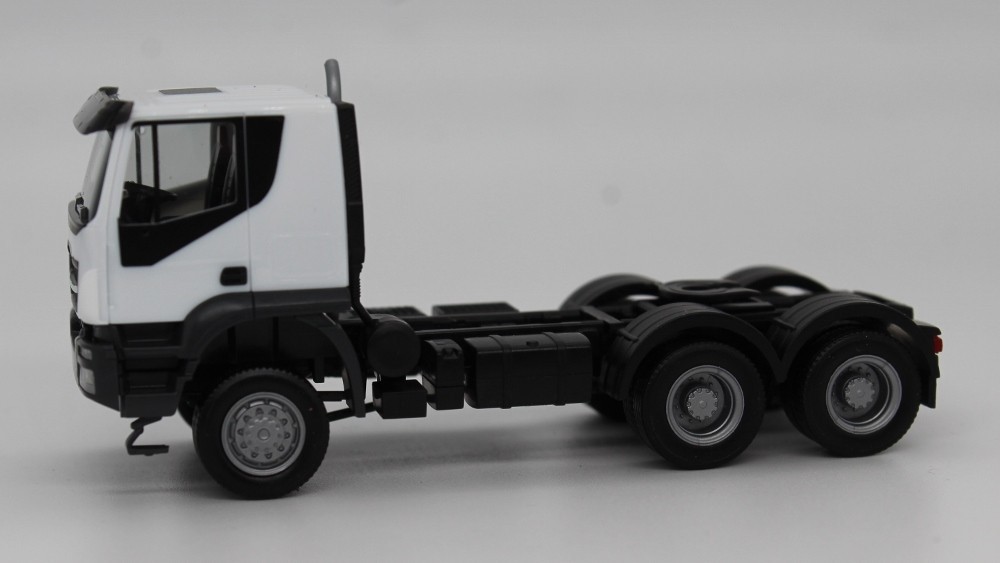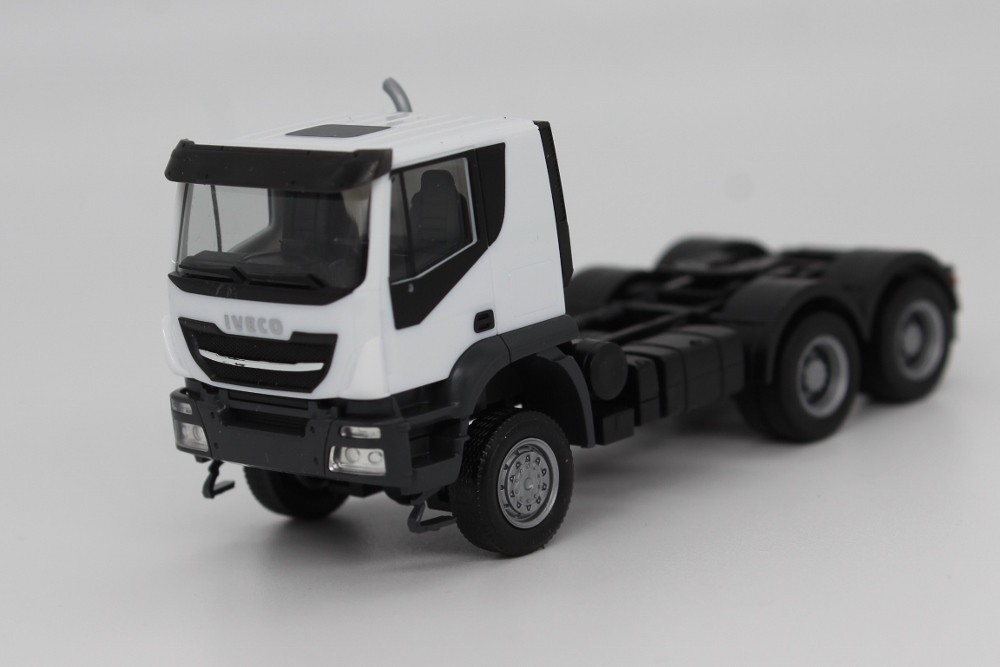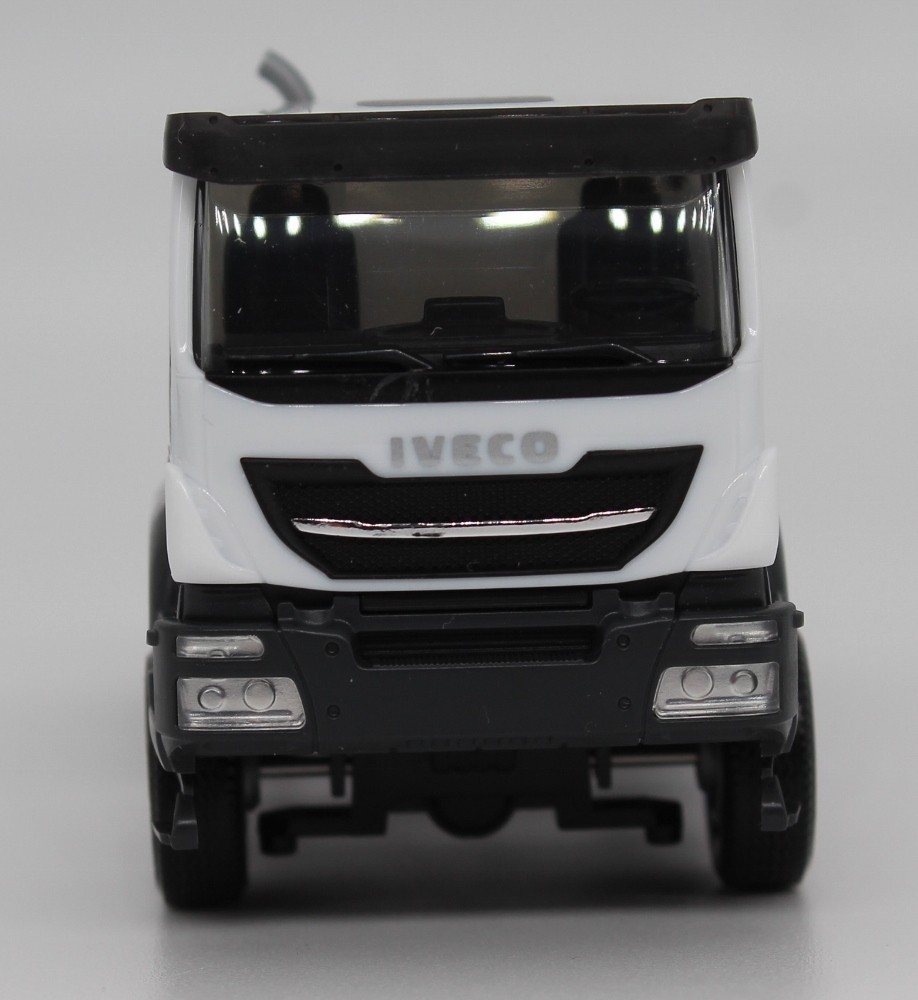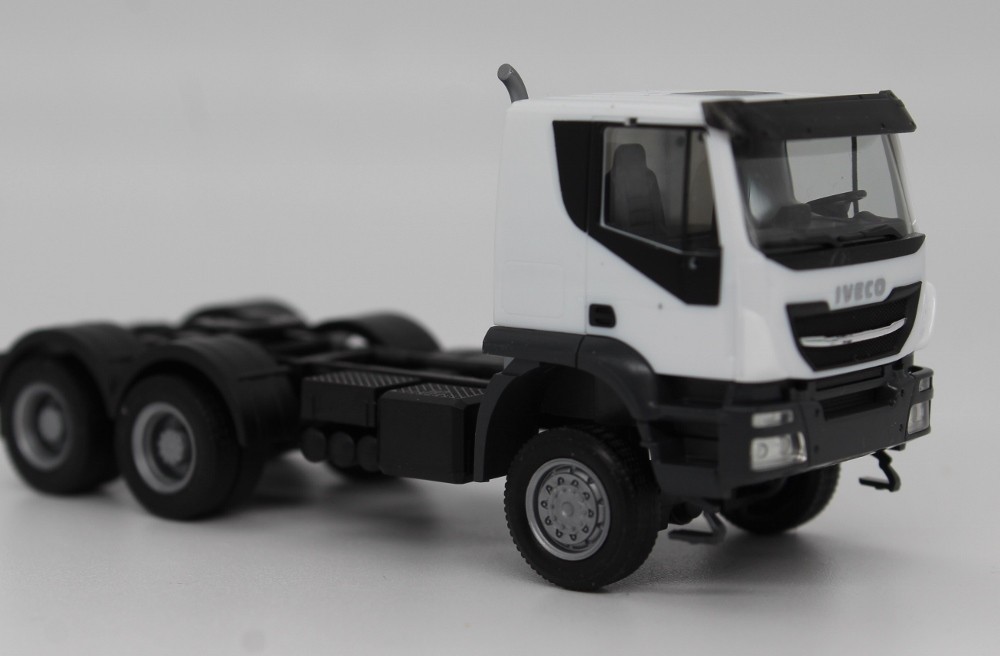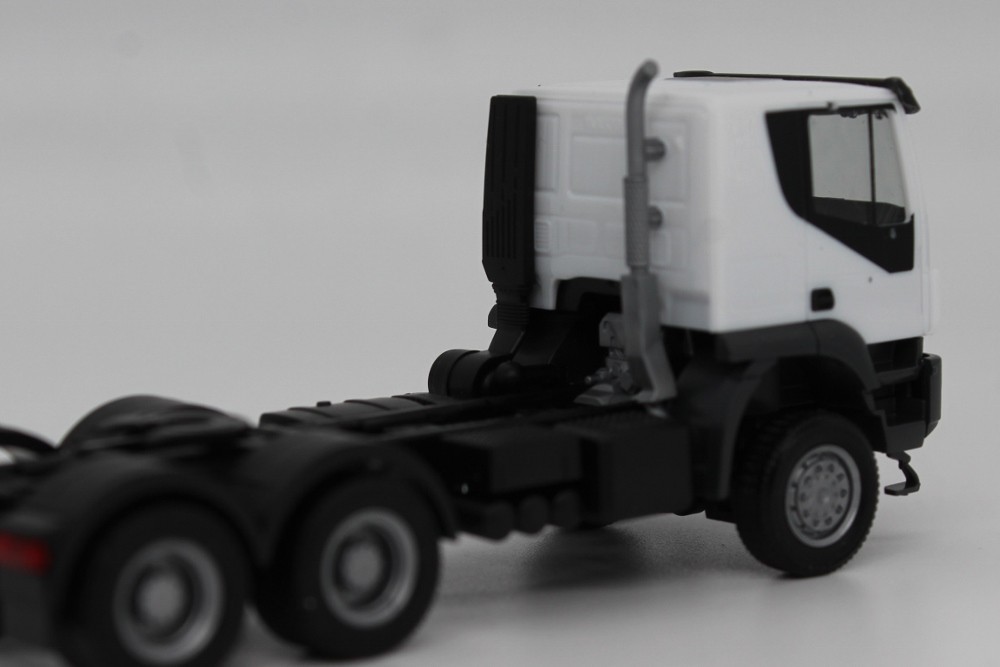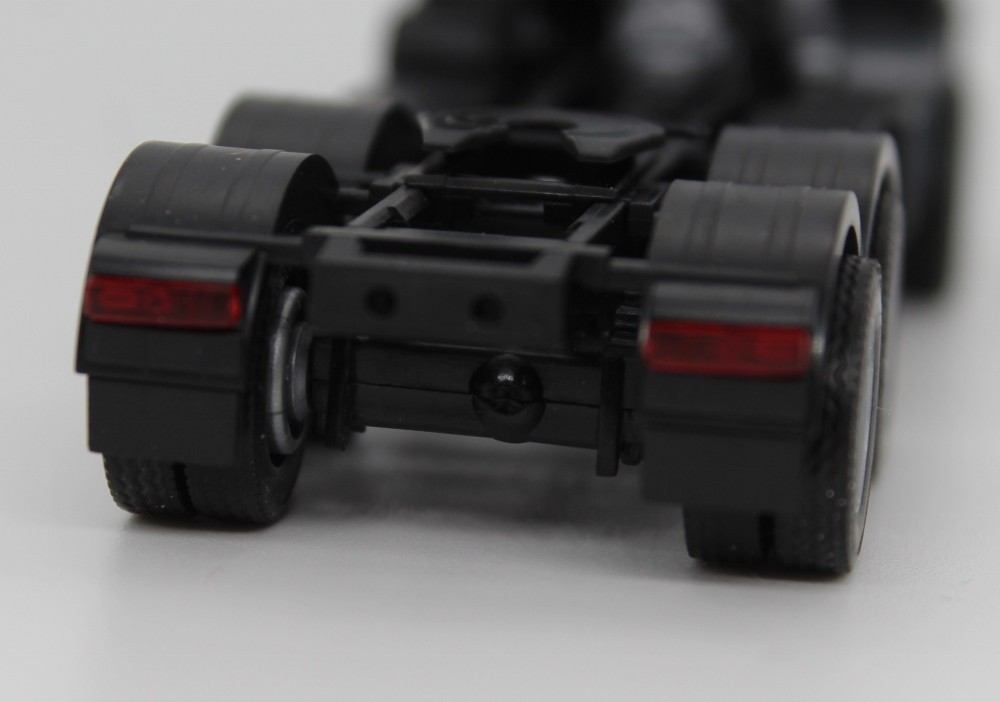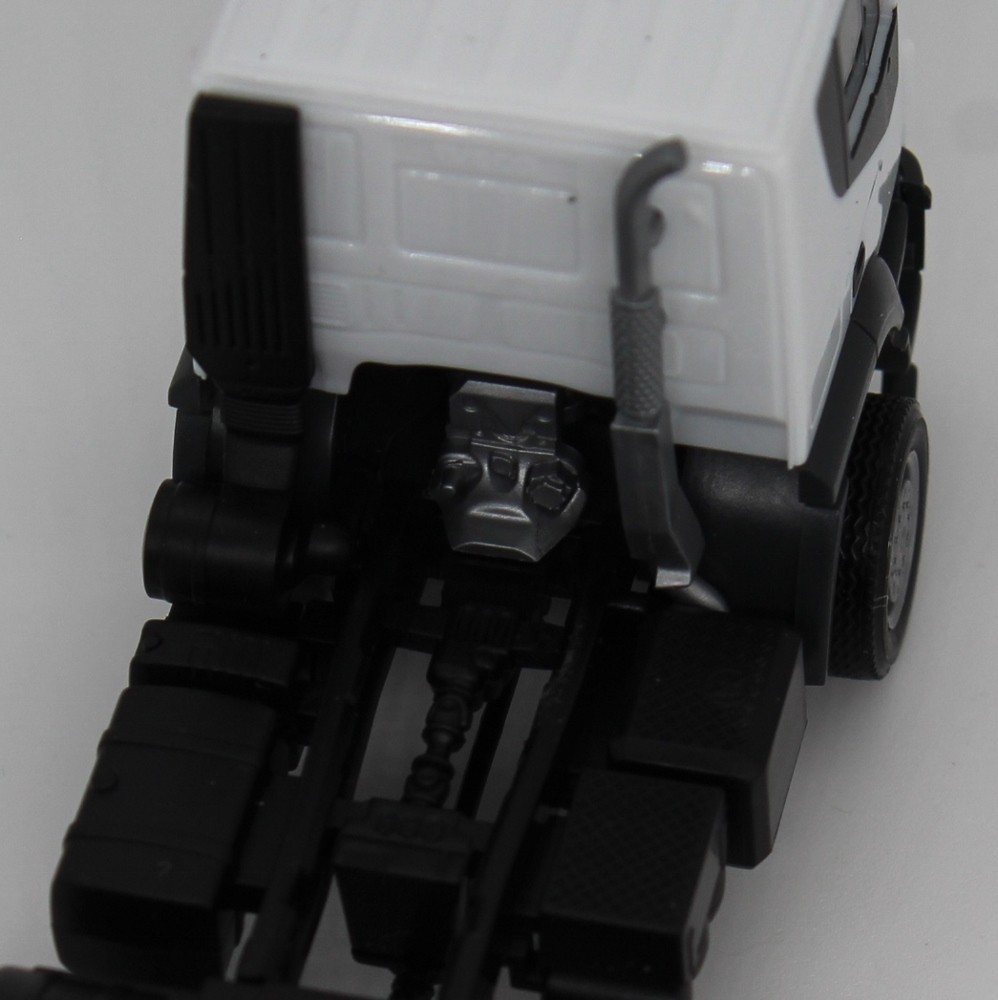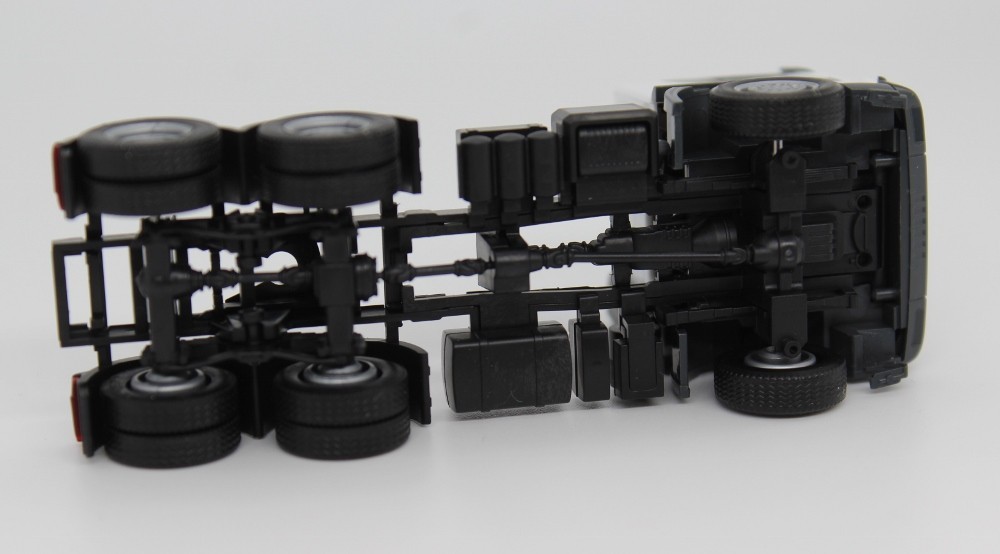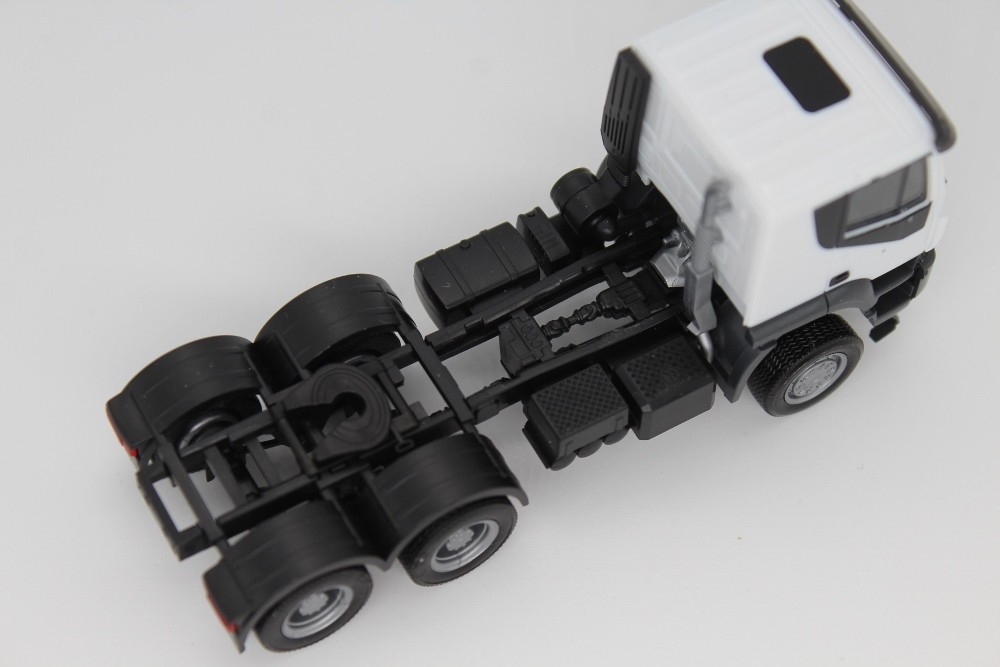 Conclusion
Herpa's Iveco Trakker is a sharp looking model.  I appreciate the level of detail.  The chassis looks good as does the interior of the cab.  I am impressed with the clear and tinted transparent lenses but am disappointed that the signal lights are not tinted.  Herpa also deserves appreciation for the separate mirrors - and pre-drilled mounting holes.
Whether you intend to use this model in a railroad layout, in a diorama, or on a display shelf, I think this is a fine model for modern era semi modelers.  Recommended.
Please remember to mention to Herpa and retailers that you saw this model here - on RailRoad Modeling.

Source
[1]-[3].  IVECO S.p.A.  The Trakker range in brief.  [https://www.iveco.com/en-us/press-room/kit/Pages/Trakker_ar_in_brief.aspx]  n.d.