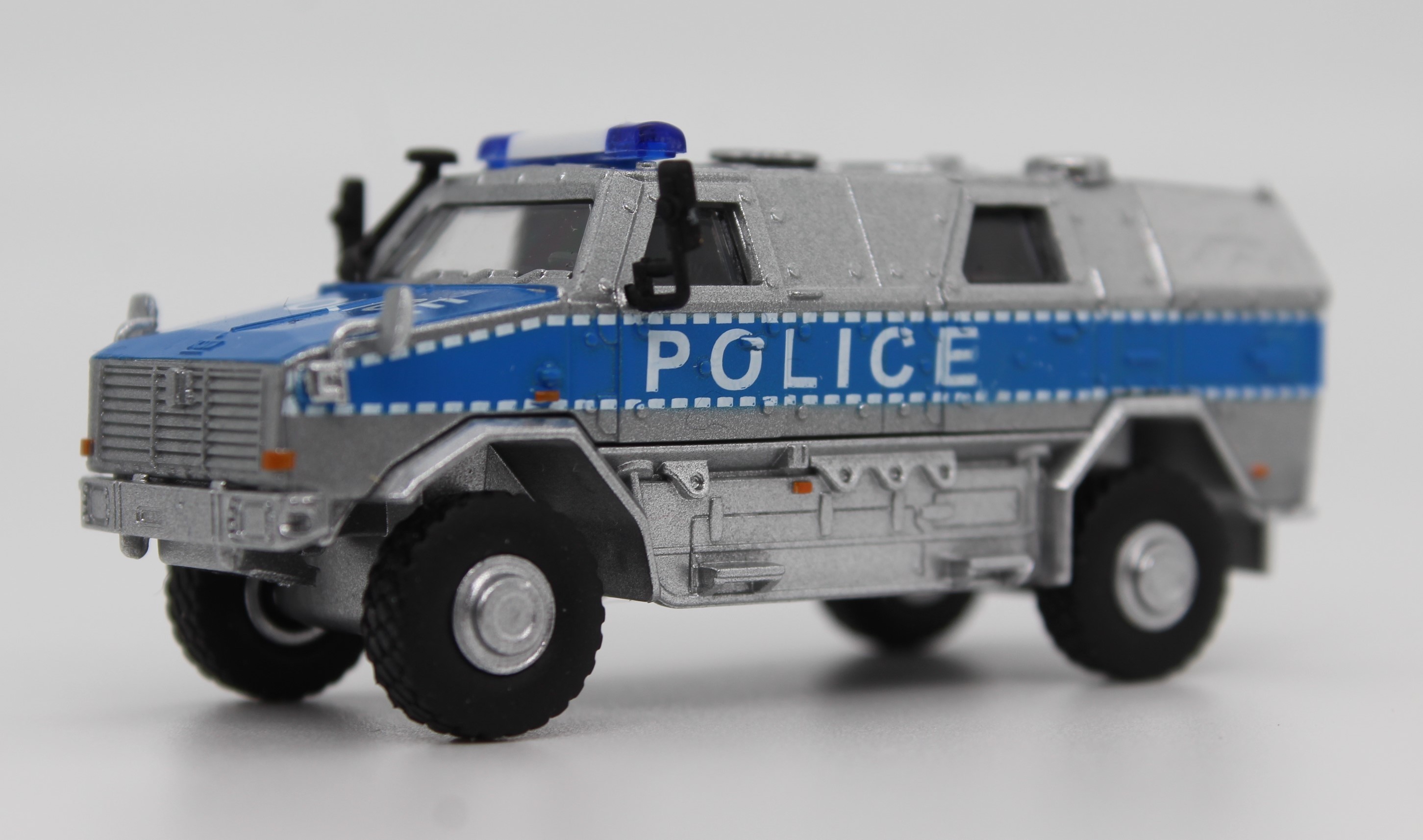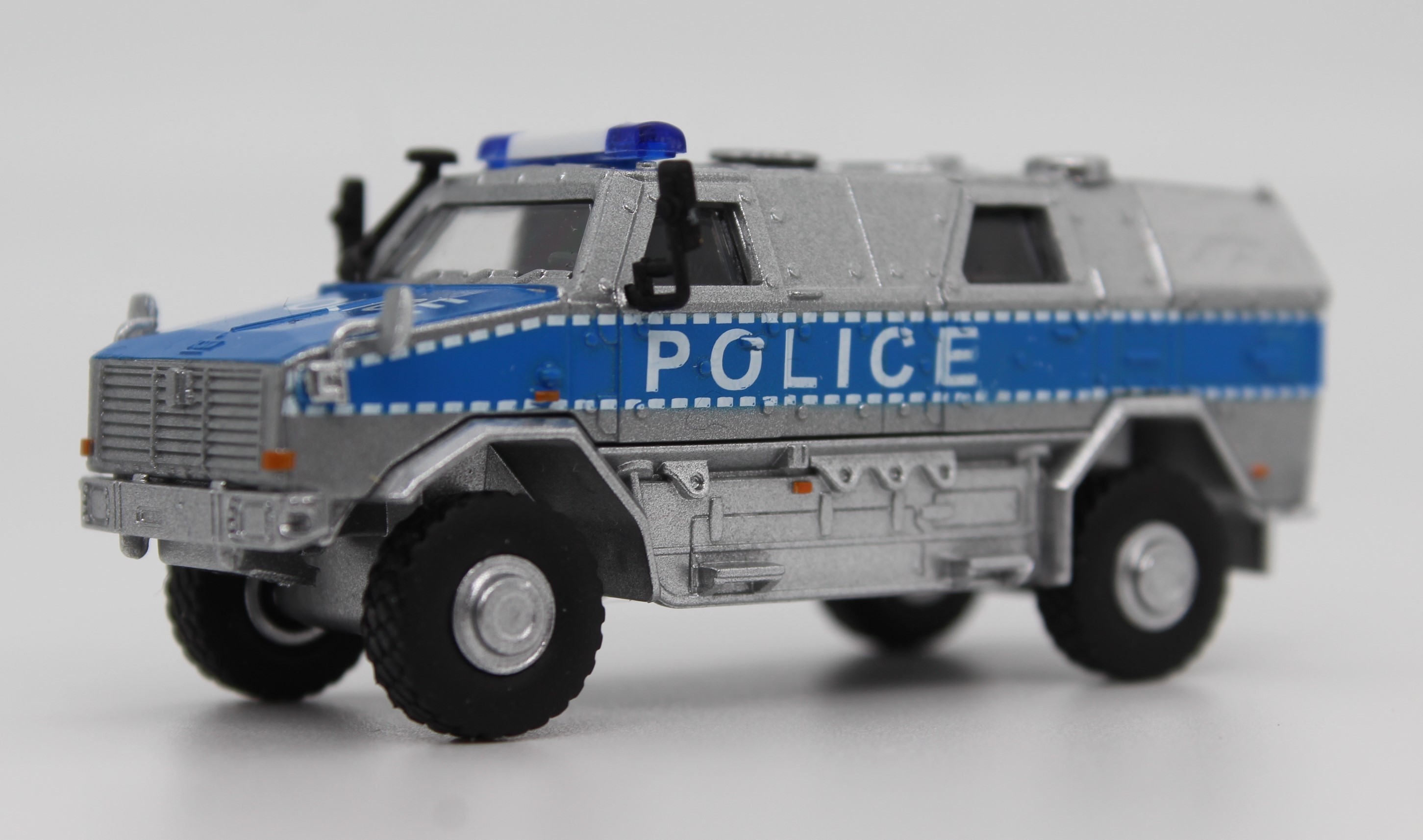 A bit of History
Germany's Krauss-Maffei Wegmann ATF Dingo 2 is a development of the Dingo 1, a vehicle designed to fit between softskins and light tanks.  It is designed for high mobility and high protection.  Protection is achieved with Modular Expandable Armor System (MEXAS), a composite armour.  The Dingo debuted in Bosnia-Herzegovina, 1996–2004.  Krauss-Maffei Wegmann currently catalogues 14 variants of the Dingo 2.  With experience gleaned from war zones, one variant is designed for police duty that protects eight police officers from IEDs, car bombs, ballistic fire, mines, and other urban threats.  It rides upon an upgraded Unimog U 5000 chassis.  Seven countries are employing over 1,000 Dingos around the world.

Technical data:
Length 6.2 m
Width 2.39 m
Height (roof) 2.54 m
Max. permissible weight up to 13.1 t
Engine performance/torque 163 kW/810 Nm
Range > 700 km
Protection Mine, ballistic, IED, NBC protection

Herpa describes this model thusly:
As a demonstration vehicle for trade fairs and presentations, the ATF Dingo 2 was designed and exhibited in a neutral police design to demonstrate the multifunctional application possibilities. In keeping with the model, the model is delivered without a weapon station on the roof.
 Herpa currently catalogues nine Dingo models.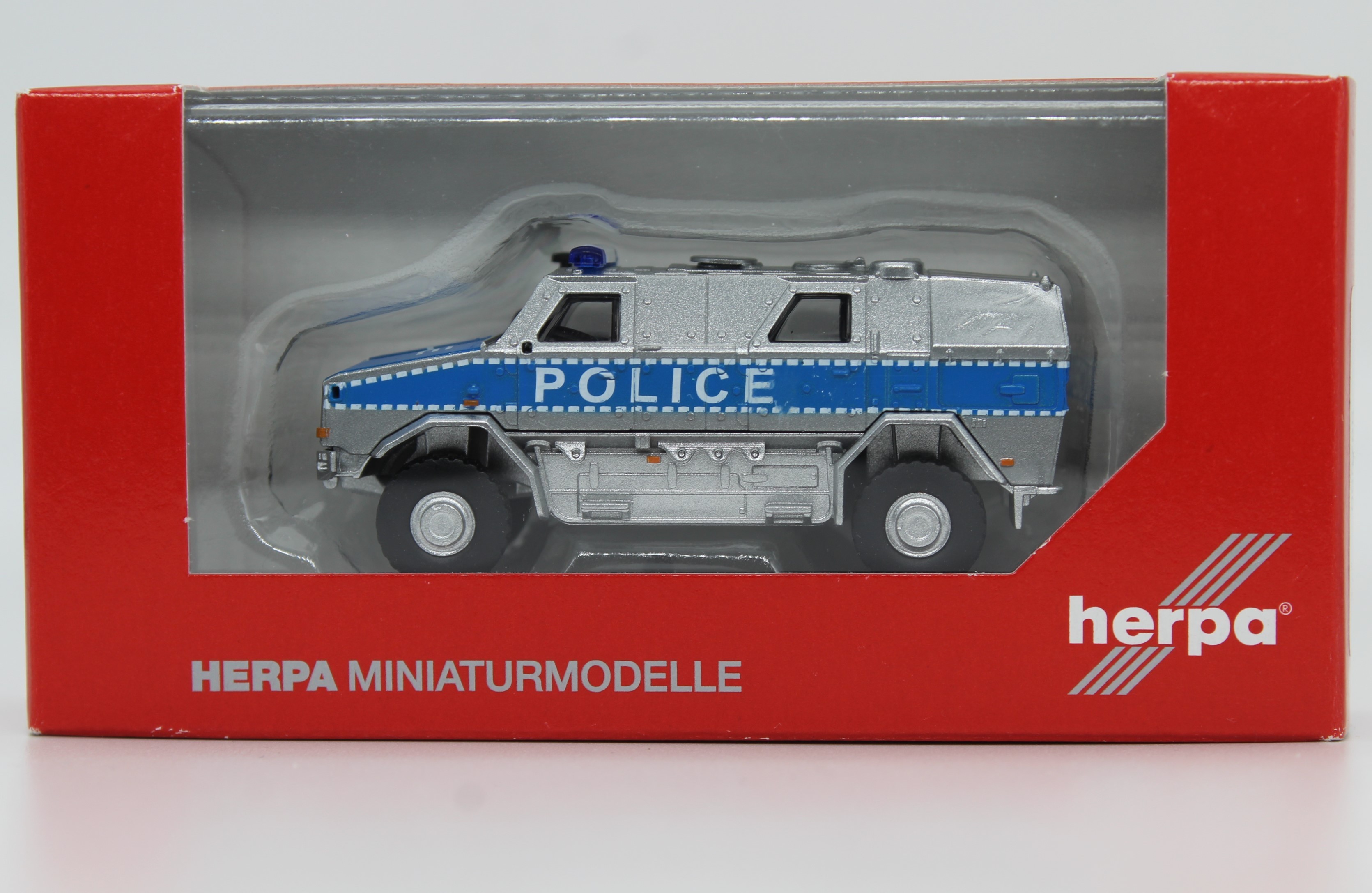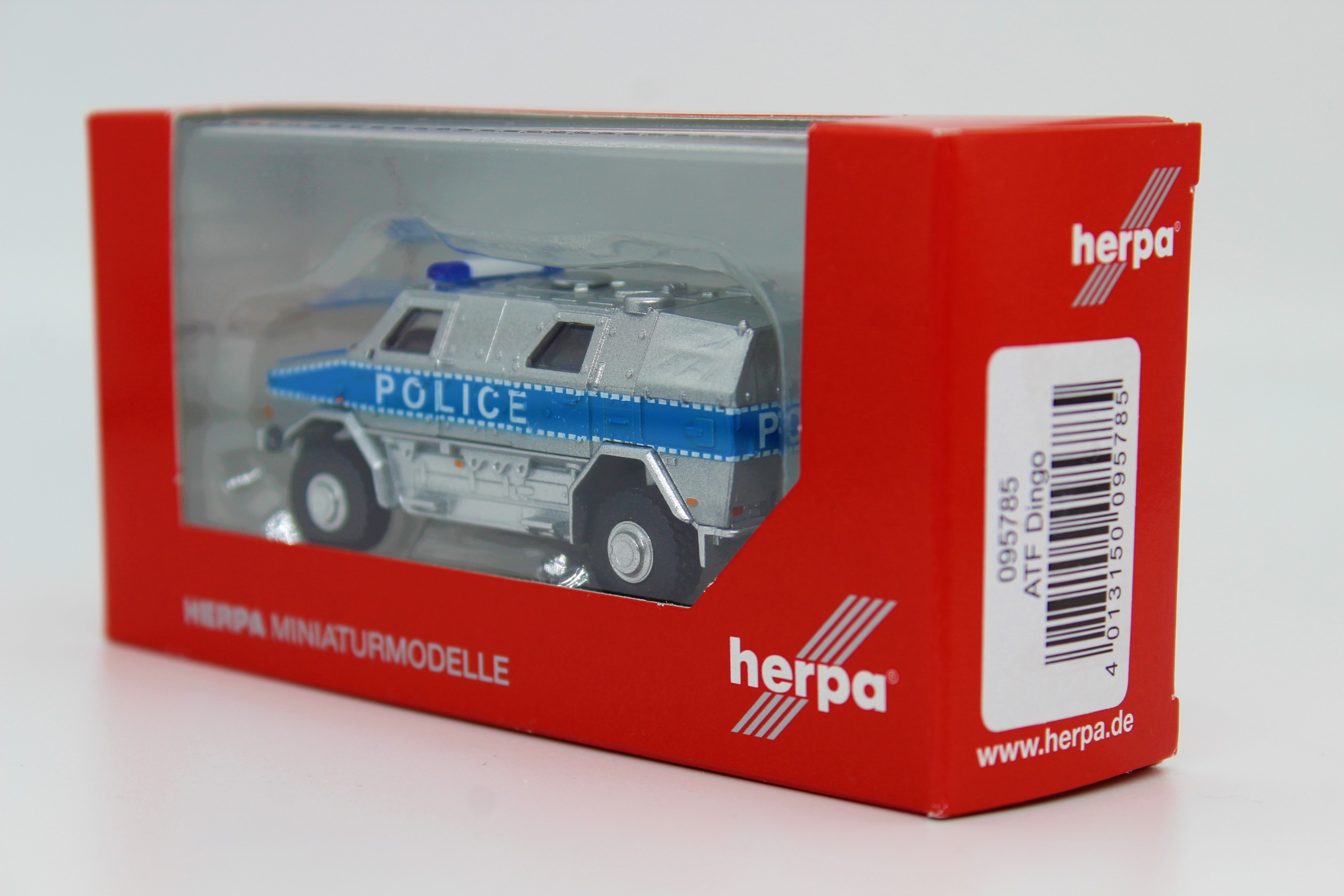 The Model
Herpa's ATF Dingo 2 "Police" is safely packaged in a custom fitted plastic cradle, held inside a light plastic end-opening carton.   The model is factory assembled except for three small sprues of optional parts: side mirrors; what I think are spotlights on sponsons; a shield-shaped object emblazoned with a "+".
Molding is first-rate, crisp with no sink marks, visible ejector marks, flash or seam lines.  The rear roof corners include open lift rings. It appears the model is assembled with a upper body that fits over a lower part; I did not try to disassemble the model.  With eight other models available, Herpa made the model modular. An opening in the roof accepts a plug for the police version or a military version.  The model is carried on soft hybrid plastic-rubber tires.  The windows are made with crystal-clear plastic.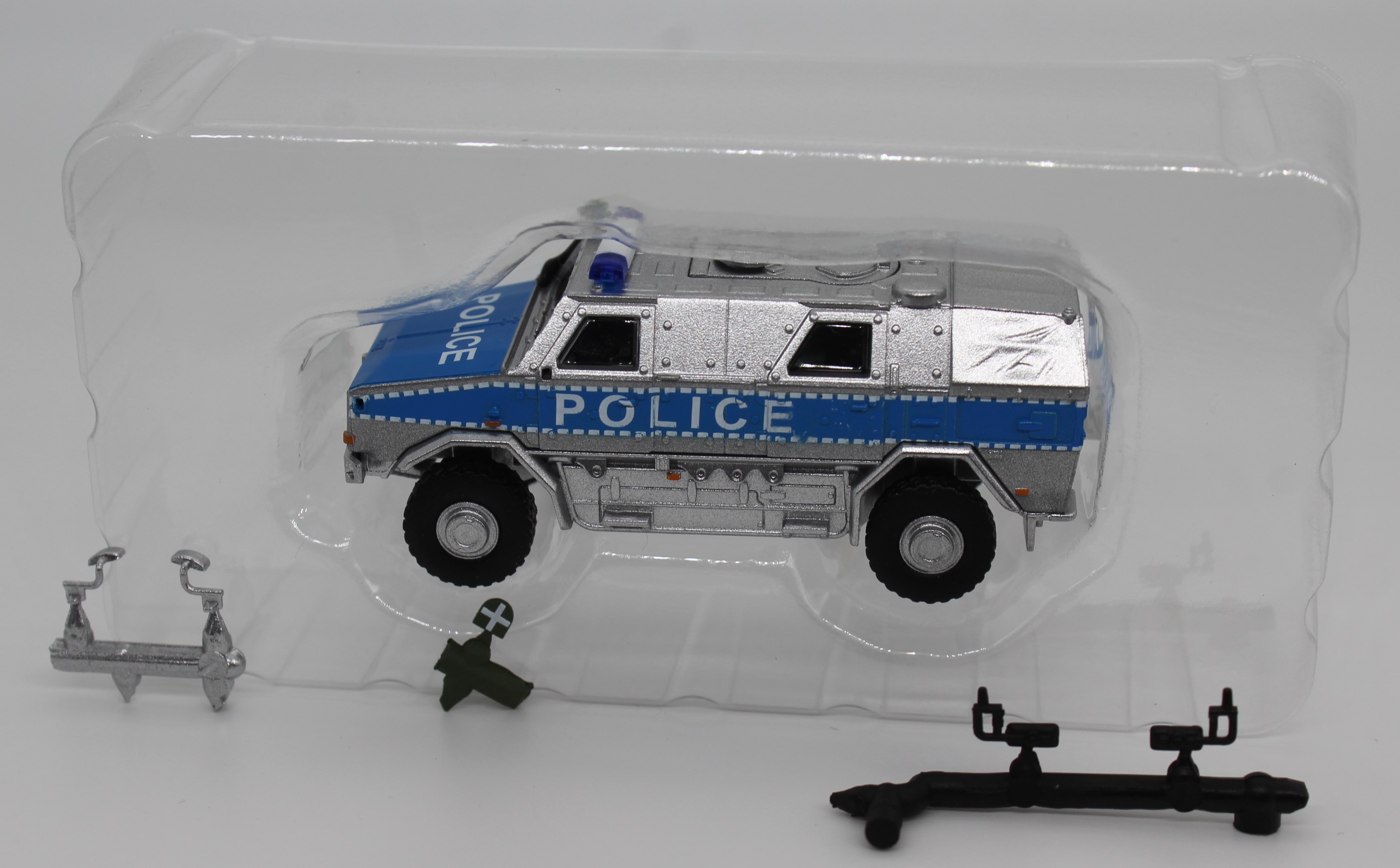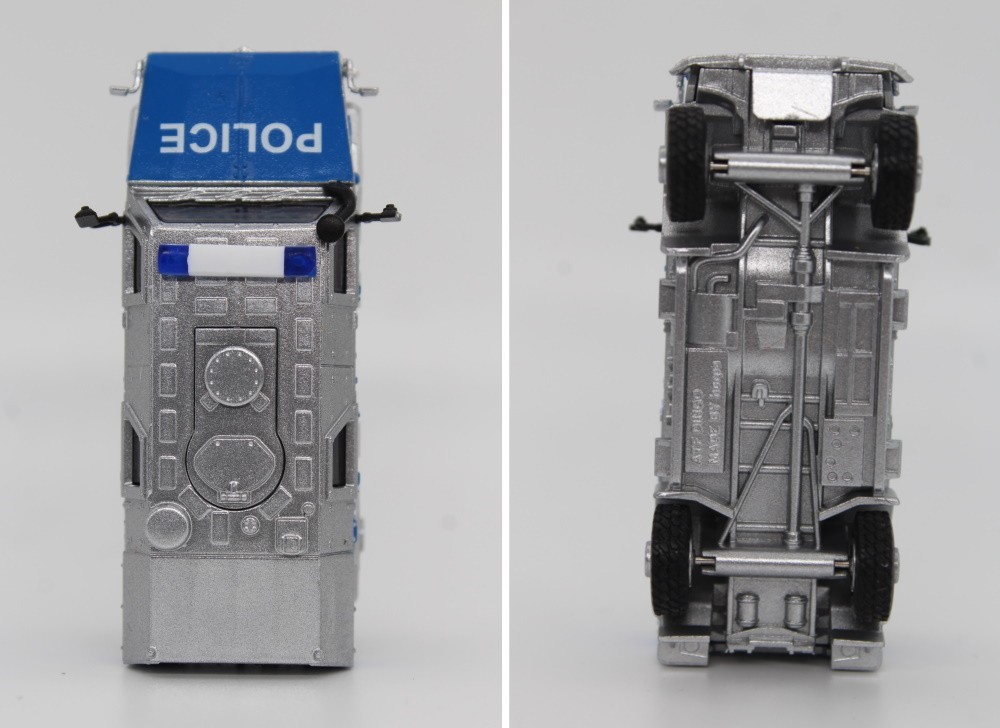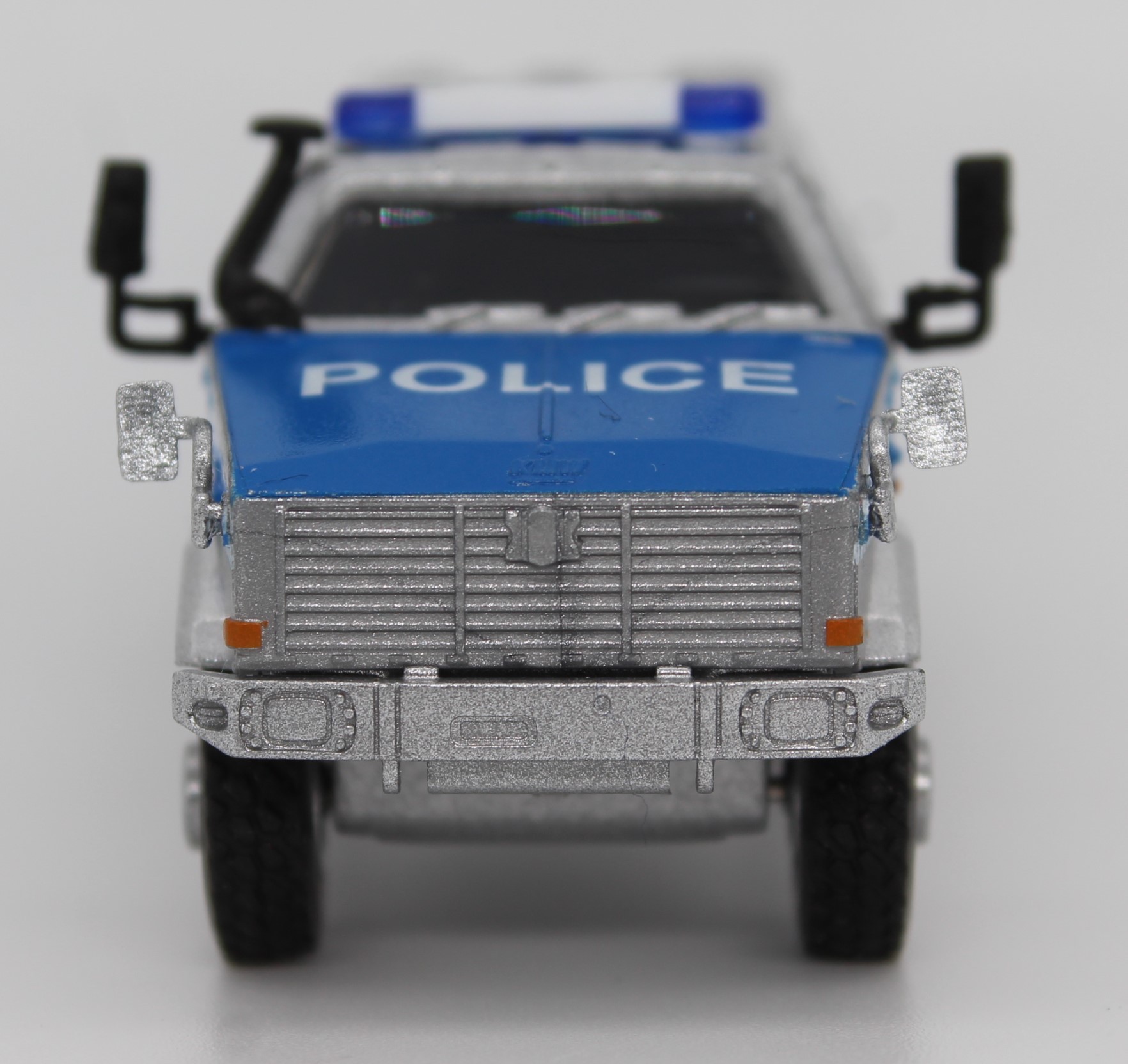 Detail
Almost all detail is molded on: windshield wipers; handles; bolts; light lenses; steps, etc.  A separate light bar is attached to the top.  Holes for attaching the mirrors are pre-molded.   Inside the vehicle, I see seats for the crew, and a steering wheel.  The windows are small but they are free of distortion and clear enough that you could see of a crew, if you so desire to add them.

Underneath the model is a respectable chassis, suspension, exhaust system, and drive shafts.  The tires feature tread detail.
The lion's share of Herpa models I have examined feature clear lenses for lights, at least for headlights.  This model has none except for the roof light bar.
A thought about the optional parts.  It is obvious where the side mirrors are mounted but not so the sponsons.  I found a photo of this model on a retail model site - the sponsons were installed incorrectly.  I used the Krauss-Maffei Wegmann website to figure out where they attach.  That shield part, no idea where it goes.  Although modelers tend to be smarter than the average bär, I suggest Herpa include some diagram showing parts placement.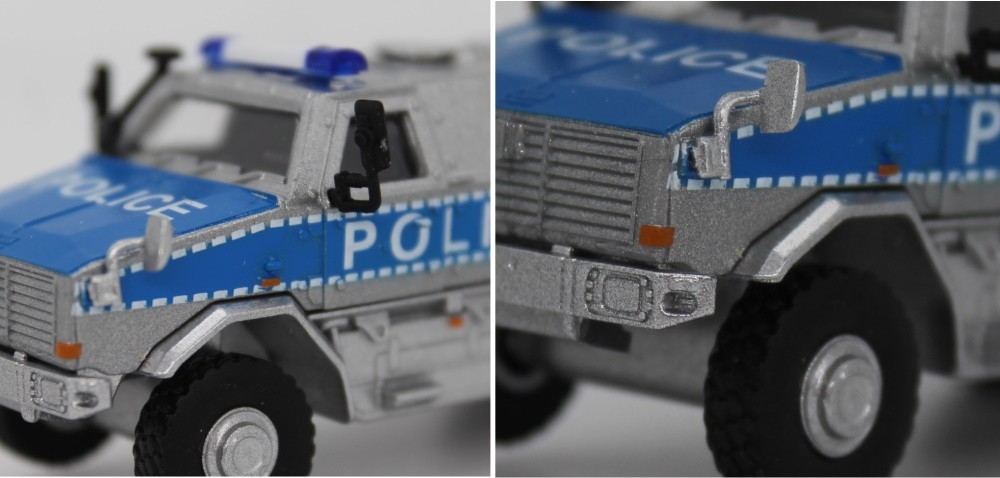 Paint and Markings
Painted in the demonstration neutral police design of silver and blue, the model displays sharp color edges and opaque colors that do not obscure detail.  Paint is used for head and brake lights, and signal lights.   The silver paint looks flaky under magnification, and better from a normal viewing distance.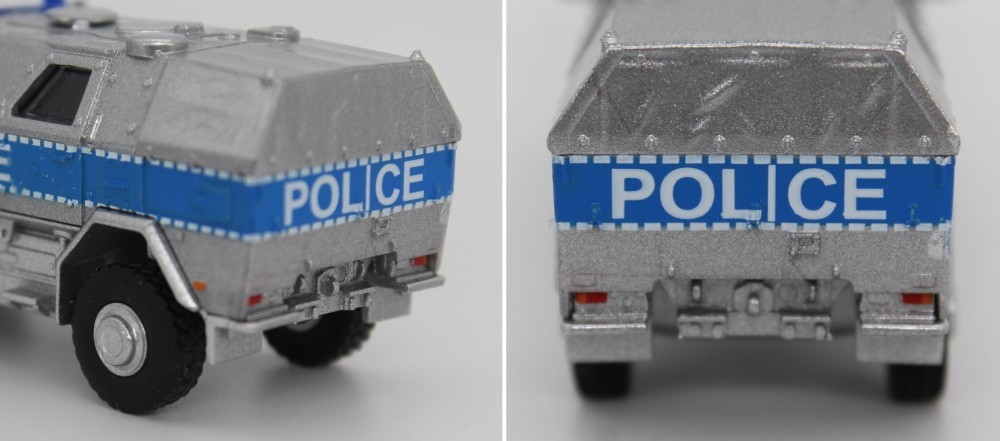 Conclusion
Herpa has created a neat model of a modern armored car for model railroaders of the present day, and for collectors of 1/87 vehicles.  A high level of detail and good paint and printing compliments each other to make an exciting ATF Dingo 2.  I would prefer the lights be clear lenses as used on most Herpa vehicles I know of but I am impressed with the underside and open lift rings on the roof.  The overall level of molded detail is first rate, too.  The optional pieces increase the value of this model although it would be nice to have guidance as to where to mount them.
I really enjoy this model and look forward to it joining my layout.  Recommended.
Please remember to mention to Herpa and retailers that you saw this product here - on  RailRoad Modeling.