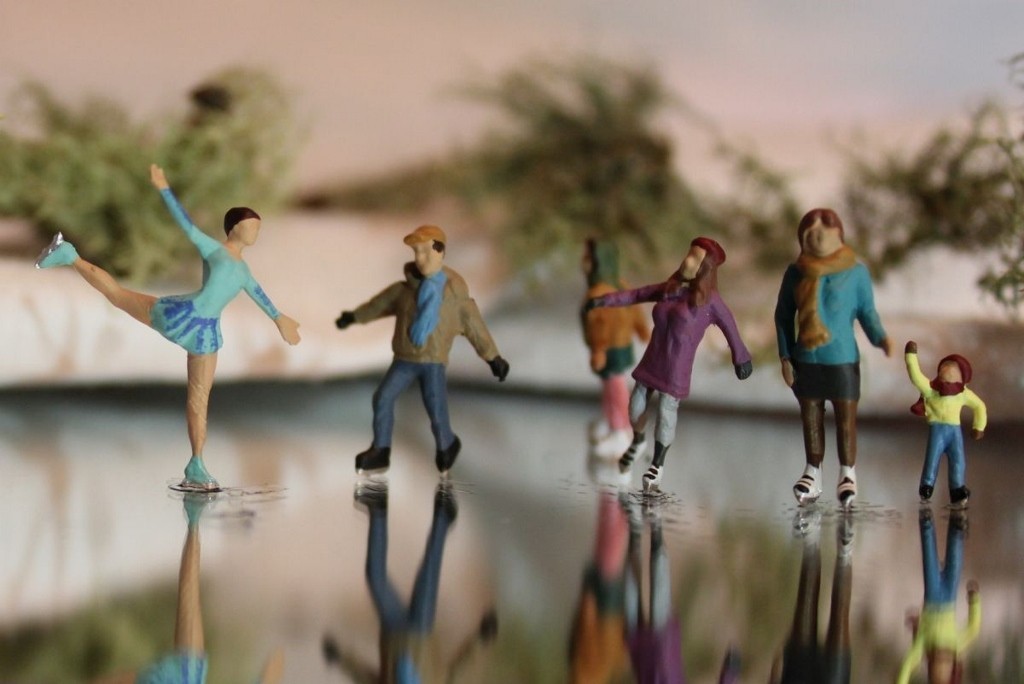 Off to the Ice!
Scenery specialists NOCH released this set Ice Skaters as a new themed figure set. Part of their Wintertime series, this HO set is catalogued as item 15824. NOCH introduces the set as:
Now, Off to the Ice!

The NOCH H0 winter figures Ice Skating should not be missing from a wintry model landscape! In winter, there are many types of sports that draw people outdoors – skiing, sledging, ice skating, snowboarding, tobogganing, snowshoeing and much more. All of these are popular winter attractions that should not be missing on a snow-covered landscape.

Ice skating on the slippery ice is fun for everyone and this joy should not be missing on a diorama during the cold season! Because it makes everyone happy.
One of the joys of model railroading is that layouts usually require a fair amount of room for the track, which equates to room for scenery, and that scenery space allows modelers to create endless eye-catching scenes, from vignettes to expansive extravagant dioramas. Ice Skaters allows modelers to create a scene that evokes joyful feelings for so many people.

This set is also available in TT and N scales.

You can view this set on the NOCH site via Ice Skaters.

Ice Skaters
Packed in a clear hard plastic two-part telescoping case, these six figures each rest in their own indention in a light plastic tray.  This protects them from damage.  The cases can be stacked or hung from a hook.   A paper envelope in NOCH's yellow packaging is the "box art."
Each figure is a single piece.  The figures are:
Graceful skilled skater
Mother and child
"Velma" in skirt, jacket, and scarf
Man in cold weather clothes
Woman in cold weather clothes
"Mother and child" are designed for their hands to fit together.  The man and woman look as though they, too, are sculpted to hold hands.
NOCH's sculpting and tooling created fine detailed injection-molded figures.  I found no flash, sink marks, noticeable seam lines, nor ejector marks on them.
Balancing the figures on a surface does not work.  Adhesive is required.

Detail
These small figures are large in detail.  Most have recognizable facial features.  Clothing is well represented with recessed and raised features.     Each figure features a convincingly natural pose suggesting balance and motion, however tentative for a couple.   While "Graceful skilled skater" is dressed in minimal skating attire which shows delicate sculpting (her ankles are very tiny), the rest of the figures are snug in bulkier clothes.  The clothes do not obscure the good posing and sculpting of the figures.  Even the skate boots vary in appearance, and you can see the blades.

Skillful painting adds to the detail.  It differentiates various articles of clothing and the various colors were applied crisply - I did not find errant color boundaries without close magnification.  The paint enhances the remarkable sculpting.
You will notice several photos that look like the same image.  To show off detail, I varied the lighting between exposures.

Conclusion
NOCH has released a smart looking set with Ice Skaters.   I think the natural poses, fidelity of detail, crisp painting, and quality molding has produced an exceptional HO set for the Wintertime series.  Modelers can enhance or modify the figures with their own paints (I usually do).  Yet, the figures look so good out of the box that it should be unnecessary.
I can not find anything significant to criticize about these figure.  They will make a fine ice skating scene.  Recommended.