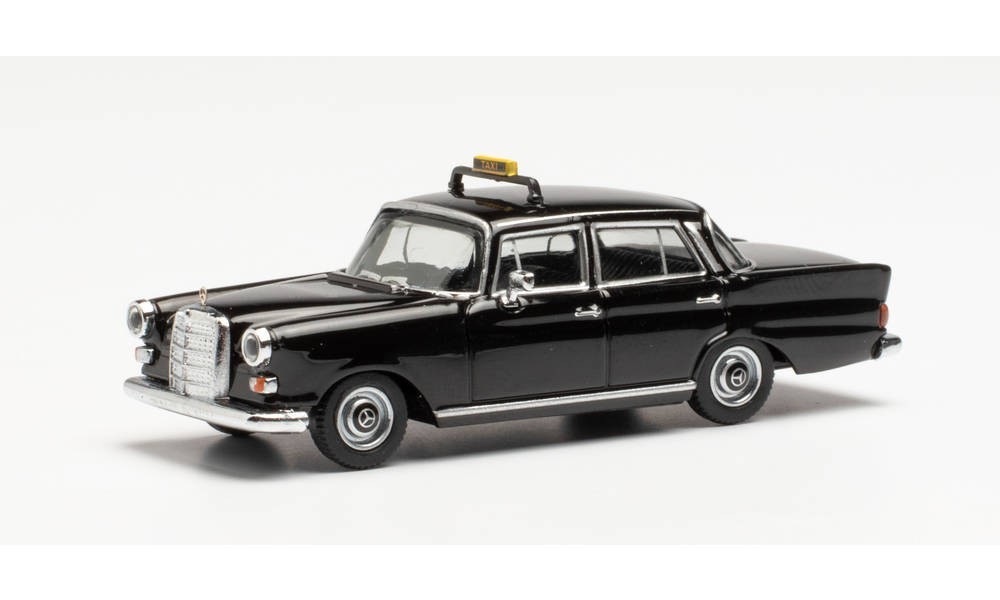 Mercedes-Benz 200 Tail Fin Taxi | AutoModeler
Herpa item 095686 is a new model of a Mercedes-Benz 200, a "tail fin Taxi" in black.  Herpa writes of their model:
Anyone travelling by taxi in the 1960s drove a Mercedes-Benz. Until 1971, taxis in Germany were still kept in black color, only then was the legal color specification changed to light ivory. Herpa will initially be realising this new car model in black colouring with a corresponding taxi sign.

Herpa currently catalogues 277 Mercedes-Benz models, four Mercedes-Benz 200s, and 33 taxis.  You can view this model on Herpa's site.


The 200-series started in 1961 as the Mercedes-Benz W110.  In 1965 it was rebranded the Mercedes-Benz 200.   A brief history states:

The W110 was Mercedes-Benz's entry level line of midsize automobiles in the mid-1960s. One of Mercedes' range of "Fintail" (German: Heckflosse) models, the W110 initially was available with either a 1.9 L M121 gasoline or 2.0 L OM621 diesel inline-four . It was introduced with the 190c and 190Dc sedans in April 1961,[4] replacing the W120 180c/180Dc and W121 190b/190Db.

The W110 line was refreshed in July 1965 to become the 200 and Diesel 200D (model year 1966 for North America); at the same time, a six-cylinder 230 (successor to the Mercedes 220) became part of the W110 line. Production lasted just three more years, with the W115 220 and 220D introduced in 1968. The W110 and the 6-cylinder W111 were the first series of Mercedes cars to be extensively crash tested for occupant safety.*

Time to look at this 1/87 (HO scale for model railroaders) model.


It arrives ensconced in a form-fitted cradle held inside a flexible plastic end-opening carton favored by Herpa; their red card former is their "box art," with the product descriptor label on the bottom or end.  This lightweight packaging system is effective and has kept models safe, even when their shipping box was crushed in transit.  A holographic licensing tag is affixed to the carton.


This model is modeled and assembled beautifully.  I found no flash, de-spruing burrs, glue smears, visible ejector marks, recesses, or mold seam lines.   It looks like the grille and front bumper are a single part.  Raised and recessed surface detail is used.  Windows are crystal clear plastic, as are the lenses for the headlights and brake lights, the latter tinted red.  Hybrid rubber-plastic tires support the body.


Plenty for 1/87.  Ground-up, tread detail on the tires.  Nicely formed hubcaps.  Intricately detailed grille.  Photo-etched Mercedes-Benz hood ornament.  (Printed one on the rear.)  Separately-applied side view mirror.  Taxi roof sign.  Underbody detail is a suggestion.

Inside, front and back seats, a steering wheel and dash, all visible through the distortion-free windows.

Herpa models are mainly snap-together so a modeler can disassemble it if they want to insert figures.

Already mentioned are the clear lenses for the driving lights.  However, parking lights and turn signal part of the brake lights are painted onto the model.


Finish is beautiful.  As you might have noticed, the paint is so smooth and glossy as to be almost like a mirror.  The chrome trim is painted on.  "Taxi" is completely legible on the roof sign.  Herpa does not use decals and the M-B logo, car type, and truck key hole are sharply printed.

An exceptional finish.


Herpa has released another excellent model with this Mercedes-Benz 200, a "tail fin Taxi" in black.  Crisp molding and first rate assembly, beautiful finish, and good detail - in and out - all create an exceptional model.

Whether you intend to use this model on a model railroad, or display it in your car collection, I think this model is a must-have for collectors of 1960s cars.  Recommended.

Please remember to mention to Herpa and retailers that you saw this model here - on AutoModeler.

* Wikipedia.  Mercedes-Benz W110.  [https://en.wikipedia.org/wiki/Mercedes-Benz_W110.]  11 November 2021, at 08:56 (UTC).