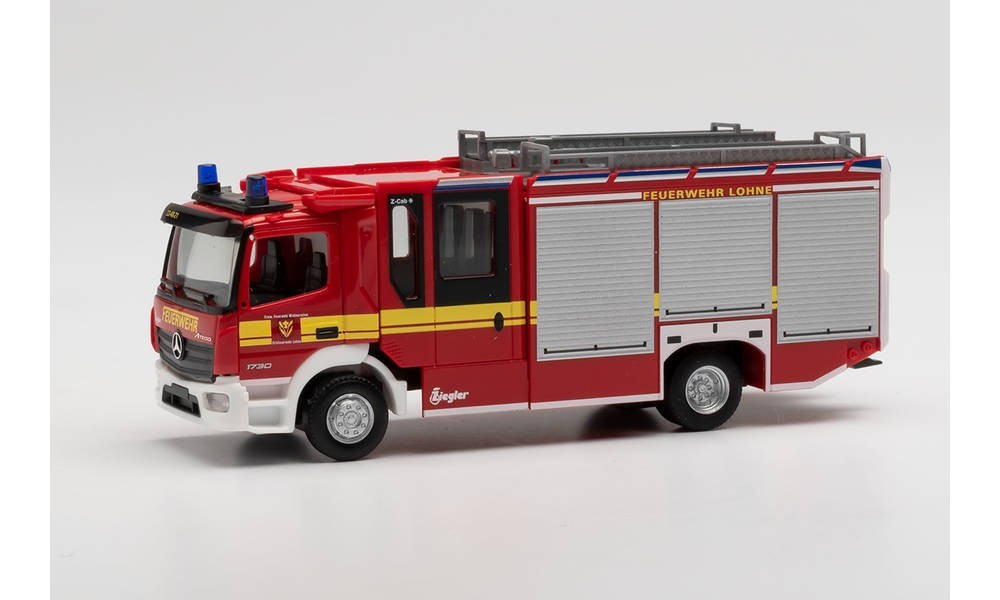 Mercedes-Benz Atego `13 Ziegler Z-Cab HLF 20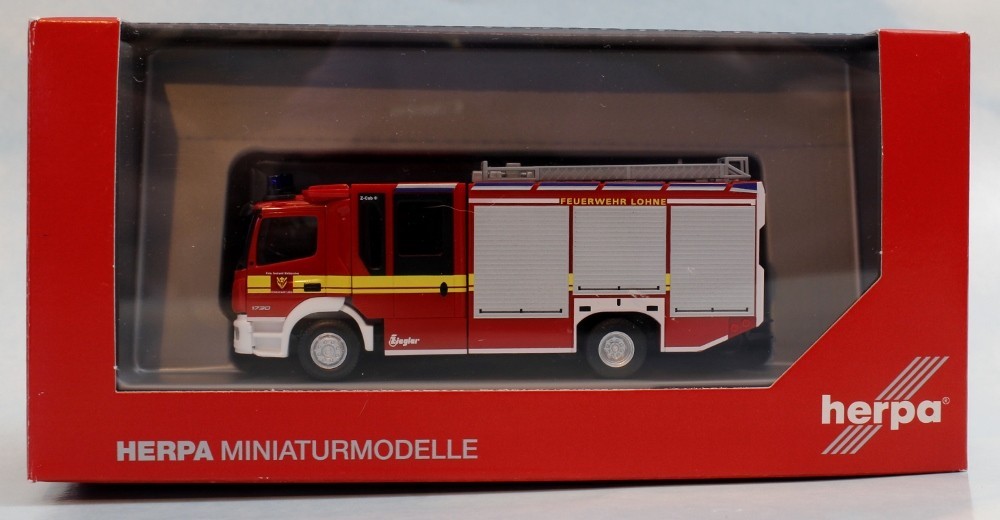 Fire and rescue vehicles, with their shrieking sirens and flashing lights, capture the popular attention and imagination of almost everyone, commanding attention in many ways. This new model of an Atego firetruck with a Ziegler Z-Cab HLF 20 is certain to be very popular. It is item 095624.

Mercedes-Benz Atego `13 Ziegler Z-Cab HLF 20
Herpa describes their model as:
In bright red colouring with rear-side warning hatching, the HLF of the Wietmarschen volunteer fire brigade in the district of Lohne near Herpa is produced as a miniature model in a unique edition.
Atego
The Mercedes-Benz Atego is a family of rigid and articulated trucks introduced by Mercedes-Benz in 1997. Originally offering light duty and heavy duty vehicles, the second generation Atego is available only as a light duty version (Gross Vehicle Weight 5,900 Kg [6.5 ton] - 13,600 Kg [15tons]. The vehicles are powered by a straight 4- or 6-cylinder engine of the 900 series generating from 90 KW (122 HP) up to 205 KW (279 HP), connected to a manual Mercedes-Benz transmission with six and nine gears. The vehicles can also be equipped with the Telligent® Schaltautomatik system. Designed to operate in close clearances, Atego combines a low framework and high payload with good road performance.
The Ziegler (H)LF 20 is a pumper and M-B, Scania, and MAN vehicles can accept the unit. Read all about it on the Ziegler site:(H)LF 20 Pumper.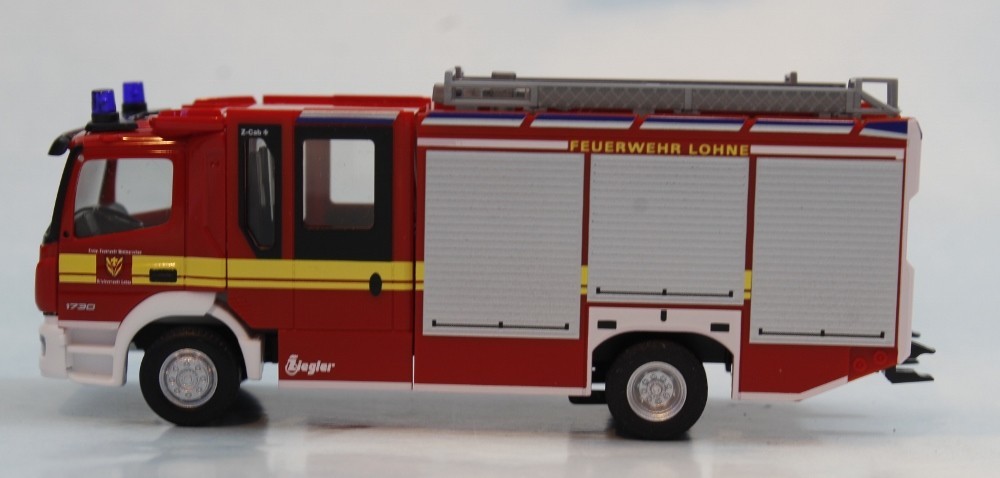 This Model
This Atego `13 Ziegler Z-Cab HLF 20 almost is fully assembled, and packed in a light plastic form-fitted tray.   Indentations hold a bag  of optional separate side view mirrors and firetruck equipment - ladders and hose caddys.   The tray is secured in a light cardboard box with a cellophane display window and opening ends. One end displays a metallic holographic license label by Daimler.

The molding is almost flawless. The exterior of the cab features fine recessed lines for doors and panels. The underbody is very well done, especially under the Ziegler body.   The chassis is detailed with the frame, a basic engine bottom and transmission, drive shaft, fuel tanks, exhaust system, differential, rear axle, and suspension.

Closeup
There's plenty to look at. First the details. Individual clear and tinted lenses simulate the headlights and signals in the grill, taillights, and emergency lights. Herpa engineered the soft plastic tires to slip over the rims. They display good detail. The front suspension is molded to accept optional steerable wheels.
The windshield wipers are part of the separate black chrome combing around the windshield. The model has slots around the cab doors where the optional side mirrors are inserted. Although the mirrors are delicate, it is a simple process. Above the windshield is mounted a tinted visor. Inside of the cab is a nicely detailed interior: bucket seats, the steering wheel, console, stick shift, and dashboard detailing.
Herpa includes a baggy of loose optional parts:
Mirrors
Ladders (two types)
Horns and spotlight (one set black, the other silver)
Two hose carts
These parts are also finely molded details. The Ziegler body has an extendable spotlight. But these parts are tied to my only criticism of the model - Herpa does not provide any instruction sheet to show where the parts should be attached. This is a recurring complaint of mine. I noticed that Herpa's product page photo does not have any of the parts attached. I figured out where the horns and spotlights go, but can not figure out where to put the carts.


Overall, this model has a goo detail of detail, both in molding of the model, and as detail parts.

Livery and Finish
Most of the model is molded in color. Emblems for Freiwillige Feuerwehr Wietmarschen / OFW Lohne are printed on the cab and around the firetruck. It amazes me how fine yet legible the printing is – please see the photos of the logos. These graphics are printed – Herpa does not use decals.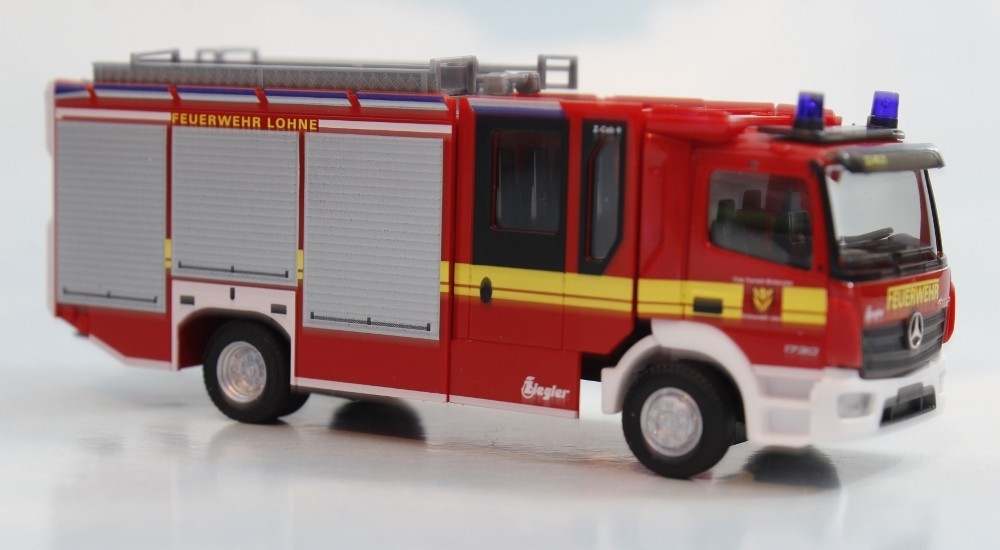 Conclusion
With their Mercedes-Benz Atego `13 Ziegler Z-Cab HLF 20, Herpa has released another interesting and eye-catching model. Overall molding and assembly is excellent. It is very well detailed with great fidelity. Clear and tinted lenses for the various lights lends to realism.

The movable spotlight is a great feature, increasing my interest in this model. These allow the modeler and collector to position the model into more than a single setting. I appreciate the extra parts. However, I think directions should be included as some of the part attachments are not readily apparent. And some moving parts, while not necessarily delicate, could be damaged if you are not-familiar with the components.

The printing-is incredibly fine and sharp, as Herpa is known for, but is not perfect. While the flaws in the side printing were not noticeable until I looked at it under magnification, the front logo is noticeable with the naked eye.

Overall, I recommend this model as a well-detailed, nicely decorated, functional model with a great deal of possibilities for collectors and modelers.