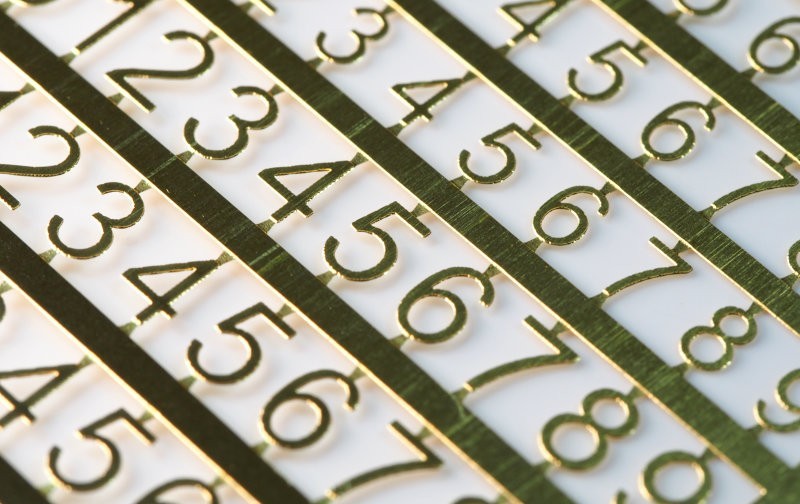 Matho Models 80006 PE Numbers: 1,5 - 2,0 - 2,5 - 3,0mm
Matho Models 80006 PE Numbers: 1,5 - 2,0 - 2,5 - 3,0mm
Matho Models products reviewed here on KitMaker Network

These P/E brass numbers are very thin - .16mm thickness.  They can be pressed to conform to rounded surfaces if necessary.   With four sizes this set is versatile.  A second set, item 80007, are 4mm - 5mm in height.
Use
Matho Models displays these numbers on a demonstration diorama as house numbers, tarnished, one dangling in disrepair.

I decided to show them in their polished glory as the engine number of a newly shopped locomotive.
This brass is so thin that careful finesse required to smooth off any burr left from removing a number from the fret.  The hook of the "9" tried to roll up on me until I used a finer sander.
Conclusion

Matho Models 80006 PE Numbers: 1,5 - 2,0 - 2,5 - 3,0mm afford modelers a good deal of versatility for enhancing model trains, building addresses, gates, road numbers - anything that people want to number with classic brass numerals.  Keep them polished, or tarnish or paint them up.
Take care in handling these numbers, o.16mm is wafer-thin.  They do look good when mounted on a model.  I am happy with them and have many projects for them, and recommend these P/E brass numbers.
Please remember to mention to vendors and retailers that you saw this product here - on RailRoad Modeling.