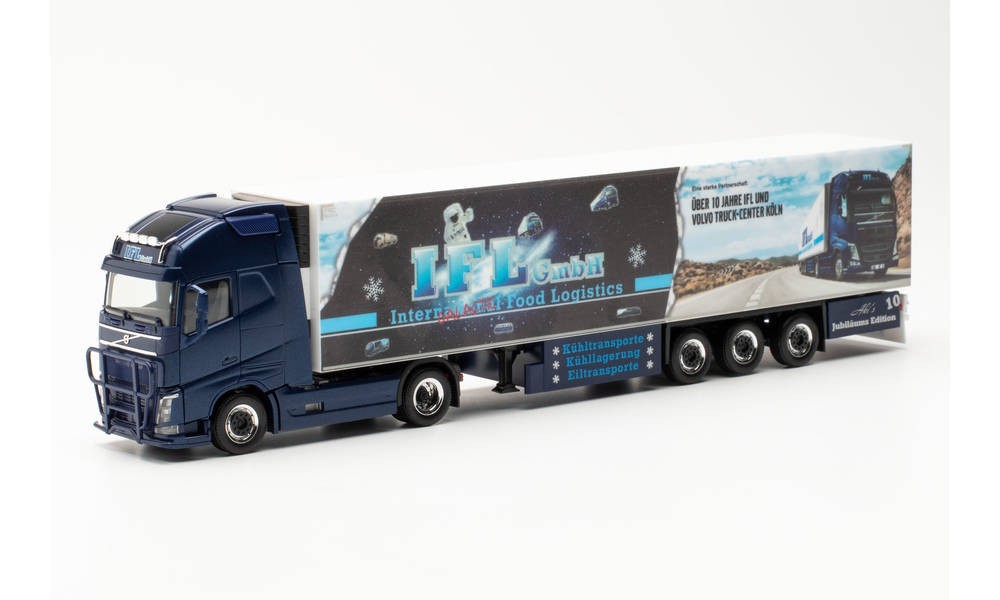 Introduction
Last summer Herpa announced this Limited Edition Volvo FH Gl. XL refrigerated semitrailer "IFL Cologne," artikel No. 314879. You can view it on Herpa's site here: Volvo FH Gl. XL Kühlkoffer-Sattelzug "IFL Köln". You can also view the brochure here: HERPA CARS & TRUCKS News 07-08 2022 brochure.
This particular model is one of 677 Volvo FH models catalogued at the toe of the review. Furthermore, it is one of 478 Kühlkoffer-Sattelzug/refrigerated semitrailer models, and one of 56 IFL Köln models. Herpa tells us;

Once again, a miniature model based on the Cologne-based transport company IFL Cologne, which is involved in the transport of food throughout Germany, complements the Herpa innovations. The tractor, painted metallic blue, pulls the anniversary trailer, which refers to the more than ten years of cooperation between IFL Cologne and Volvo.

Volvo FH semistractors are designed for long haul, regional haul transport as well as building and construction transport.[1] Some simple facts of the FH series are:
Volvo FH facts
Engines


D13K: 420, 460, 500, 540 hp

G13C: 420, 460 hp

Cabs

Low sleeper cab, Sleeper cab, Globetrotter cab, Globetrotter XL cab and Globetrotter XXL cab.
Let us look over this model.


Volvo FH Gl. XL Refrigerated Semitrailer
Herpa packaging is remarkable in that occasionally shipping boxes arrive crushed by a postal service, yet only one or two Herpa models were slightly damaged, but not ruined. This Volvo refrigerated semitruck is packed in a light weight form-fitted cradle, which in turn is held inside a red Herpa carton with a clear viewing window. The cradle even features indentions to assist in grasping the cradle for removal.

The model arrives almost fully assembled. Two sprues of four optional mirrors are provided. Their material is springy; thankfully Herpa pre-drilled the mounting holes.
The plastic model is crisply molded to a high quality. I found no visible flash, ejector circles, sink holes nor tooling seam lines. The tires are a plastic-rubber hybrid. The tractor and trailer can be detached.
This semi-truck is pulled by a 4x2 tractor. Eighteen soft plastic-rubber hybrid tires, molded with tread detail and set on chromed hubs, carry a detailed chassis and trailer. The chassis is streamlined with aerodynamic skirts and fairings.

Under the cab interior is a D13 (4 cycle / in-line six-cylinder 12.8-litre) or G13 (12.8-litre, in-line, six-cylinder gas engine) powerplant. It is molded as one part. Most Herpa trucks I have reviewed have cabs that tip to expose the powerplant. Some tip easily. Some require a great deal of removing of grille or bumper parts to release the cab for tipping. I have had only a couple of models with which Herpa included instructions.
The refrigerated box trailer has a tab that locks into the fifth-wheel. The trailer does not have any "action" parts, except the landing gear which can be extended when the trailer is off the tractor - but they are so tight they are practically glue in the tank chassis.

Detail
This tractor is a 4X2 tractor. Six detailed tires carry the chassis. That chassis is very detailed with axles, springs and shocks, fuel tanks and battery boxes, drive shaft, chromed exhaust unit, and transmission and engine parts. The front axle can be made to allow the wheels to steer with Herpa's optional steering kit. The chassis is streamlined with aerodynamic skirts and fairings. Safety tread plate spans the chassis between the cab and the rocking fifth wheel. That fifth wheel has a fine molded release handle.
Transparent and tinted clear lenses simulate the lights.
The cab body is crisply molded with smooth plastic. The grille, trim, front bumper, and light lenses are a multi-part assembly. Herpa models are designed to be assembled without glue. The parts are interlocking: the windshield clear part snaps into the cab body, held in place with help from the cab interior piece which is itself held in place by tabs that represent the door handles.
That cab interior is a piece sporting a lot of detail - seats and console, steering wheel and dash. I did not try to pop the cab off to reveal the interior.
A model D13 or G13 engine is under the cab interior. It is molded as one part. Many of the Herpa trucks I have reviewed have cabs that tip to expose the powerplant. Some tip easily but some do not at all, requiring a great deal of effort removing grille or bumper parts to release the cab for interior/engine access. For this model, I did not try to tip the cab.

Four optional mirrors can be mounted outside the truck. Herpa made mounting holes for them along the windows and under the sun shade. Their plastic is flexible and their pins are a tight fit into the truck body. They require finesse or they can be damaged.
Same as the tractor model, the wheels of the trailer are soft plastic with chromed hubs. A nice spare tire and cage are included.
Herpa has produced a very detailed truck.
[1] AB Volvo 2022. Volvo FH – the ultimate long haul experience. [Web.] 2022.

Finish
This model sports striking artwork. Herpa painted the chrome and Volvo emblems. Fine lettering is crisp and legible.
The model has a very glossy finish for the cab and skirts.
Conclusion
Herps's Volvo FH Refrigerated anniversary Semitrailer is a striking model. It features excellent detail, finish, molding and assembly. The clear lenses for the lamps and lights are great, and the optional separate mirrors afford even higher detail.
If I have anything to complain about it is the difficulty in accessing the cab interior for detailing with a driver and accoutrements. Herpa's magazine Der Mass:Stab often features articles with trucks boasting interiors highly detailed by modelers.
Modelers of modern semitrucks, dioramas, and collectors of moderns semis should be delighted with this model. It can even blend with North American trucks. Another excellent Volvo from Herpa. Recommended.
Please remember to mention to Herpa and retailers that you saw this model here - on RailRoad Modeling.