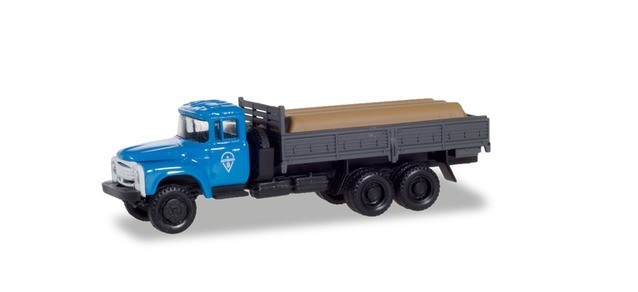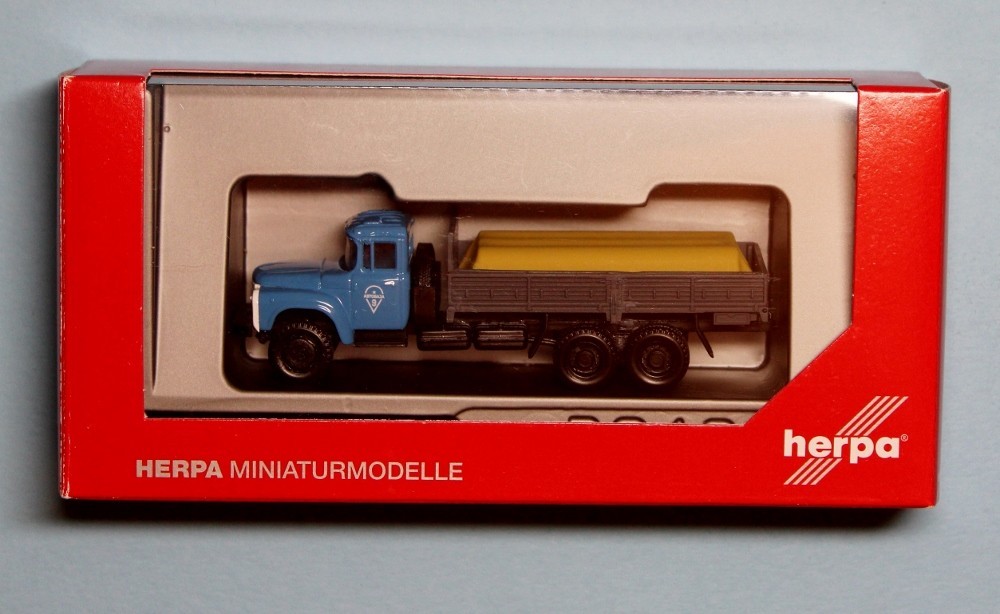 ZIS 133 G.2. Flatbed Truck With Cargo, Item No. 310284
Herpa offers several models of ZIL vehicles. This model is one of 37 products in the ZIS range of models; Herpa also catalogues 56 models in a range of Soviet ZIL vehicles. Those models are part of the Military and Former DDR Nostalgia series.
A bit of background
While perhaps not a carbon copy, Soviet trucks bear a striking resemblance to American vehicles. Considering America provided over half a million lend-lease trucks to the Soviets in World War Two, it is not surprising - the Russian colloquial for a truck is "Studebaker."

Curiously, this vehicle was actually built by (Zawod Imeni Lichatschowa) and designated the ZIL133; it appears ZIL was slit off from ZIS c.1955. A bit of history:
The ZIL-133 which were constructed for special operational purposes like Fire engines, cranes and agricultural vehicles. The ZIL-133G was a further development of the ZIL-133 version with a longer base, one fuel tank and a platform with two side boards

ZIL-133G1 – unified modification of ZIL-133G with two fuel tanks, three side boards and maximal pay loads of 8 tons.
ZIL-133G2 – improved ZIL-133G1 with a payload of 10 tons and full weight of 17,1 tons. They were equipped with a 110 kW V8 petrol-engine and produced from 1977 to 1979*
Herpa offers this truck ("LKW" in German lexicon) in HO scale. It is an all plastic model (except for metal axles) and factory-assembled. You will find it packaged in Herpa's red carton featuring a clear display window in the front and top. The carton holds a form-fitted light plastic cradle securely holding the model. This packaging is surprising durable as several I have received were badly handled by postal services - crushed and torn - and yet the only damage to a model I recall was dislodged side mirror.

* Wikipedia. ZIL-133. https://en.wikipedia.org/wiki/ZIL-133. 19 June 2021, at 08:03 (UTC).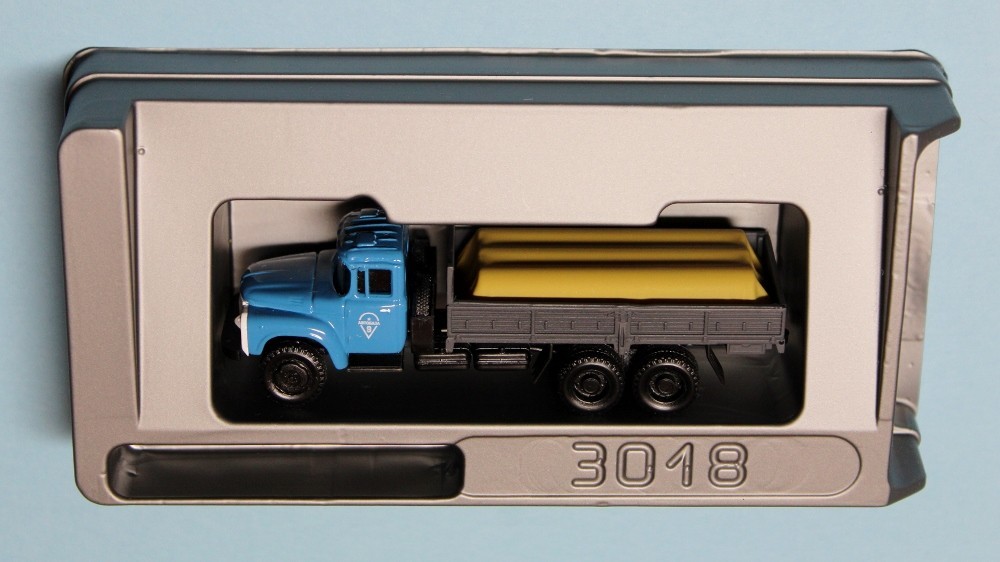 The Model
First impressions are of a high-quality model. Molding is good, as is assembly. Most of the parts show crisp molding with recessed or raised detail, as appropriate.

The chassis and truck bed feature the typical crisp molding I am familiar with by Herpa. But I have to wonder, did Herpa tool the cab? It looks nice from the "3-foot rule" but up close, I am sorry to report, it is not up to Herpa's usual quality. The panel lines are broad, shallow and soft. There is an open seam along the front of the cab roof and windshield where the pieces do not quite fit, and the contours of the grill do not match the contours of the fenders and hood. The worst blemish is above the quarter glass on the driver side, some rough blemish of deformed gnarled plastic. Compared to other Herpa models I have examined, molded detail such as the door hinges and handles, and Clearance and Identification lights on the fenders and hood are too small and softly formed. My final "ding" is the window piece. It is cloudy - uncharacteristic for a Herpa model.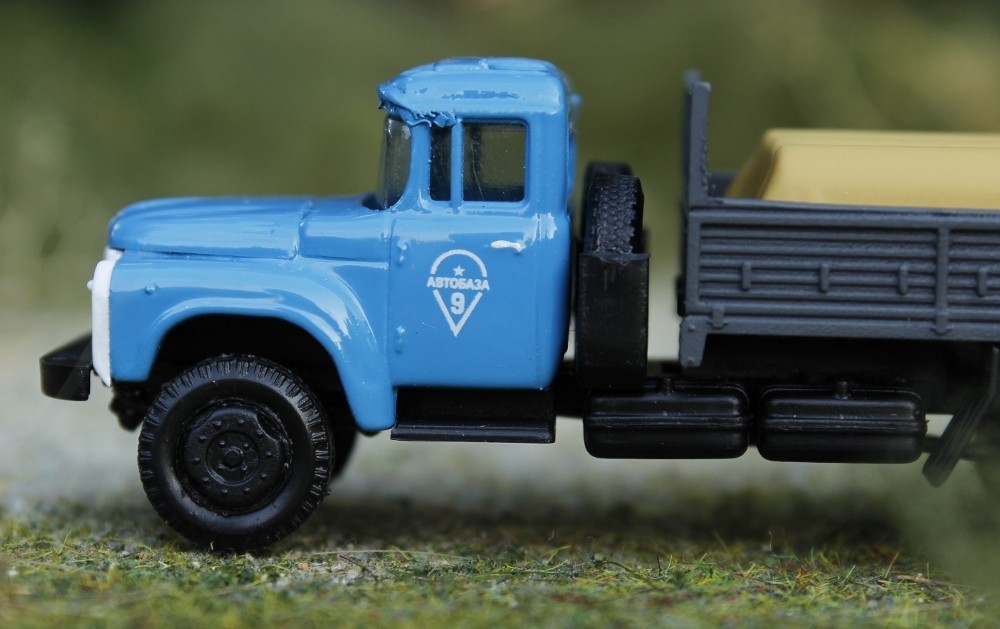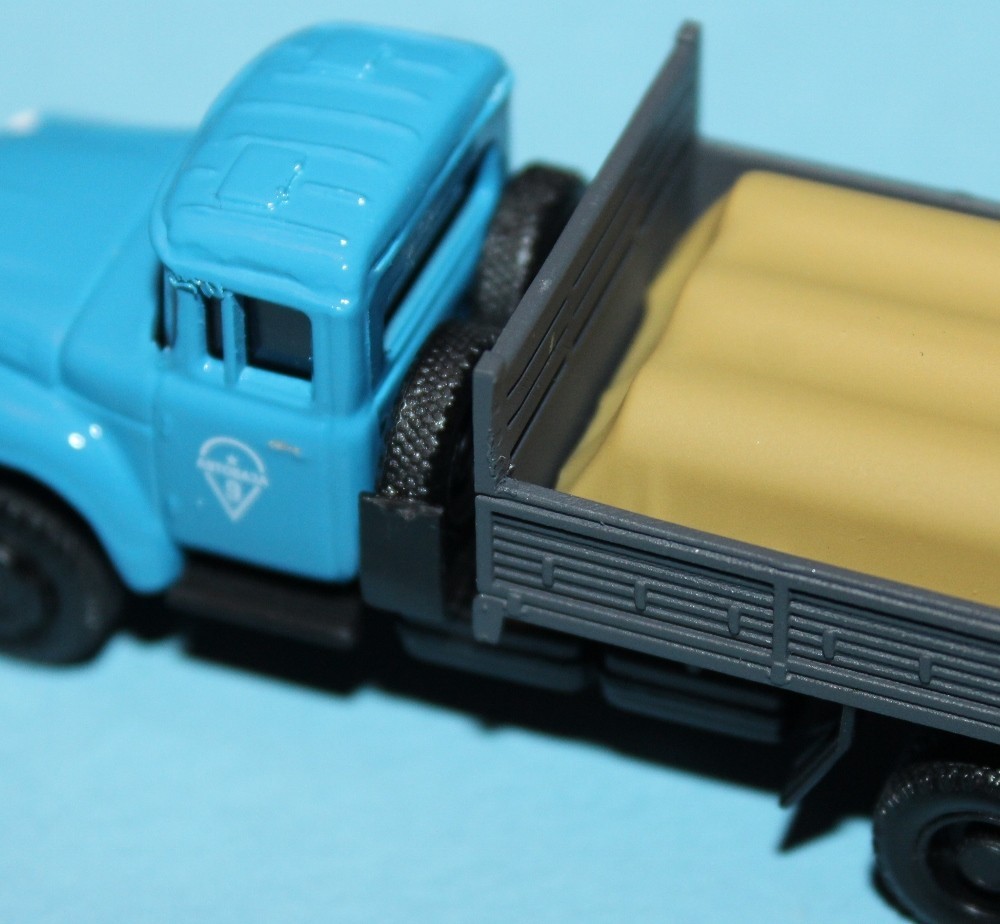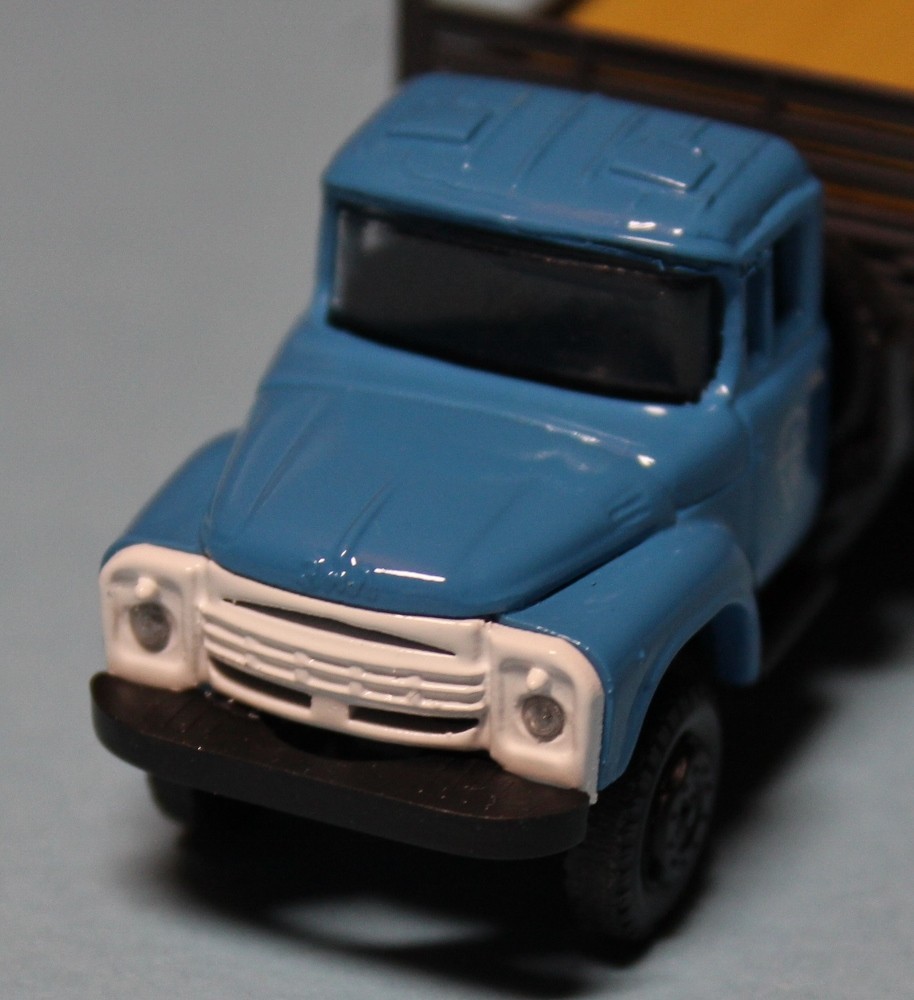 Detail
Happily, I can say that the rest of the model is very good with crisp molding components scaled well. Detail is good, too. The tires have full tread detail. The hubs and rims have good detail. They hold up a chassis with a well detailed underside. Multiple drive shafts, springs, exhaust system, differentials, and axles. Mud flaps and fuel tanks. Spare wheels between the cab and the bed.

Clear lenses are used for the headlights but I can't find tail or brake lights. The grill looks authentic and even features the company logo on the nose of the hood.

I do not see any cab interior or windshield wipers. The cab walls are thick so it would take a lot of effort to squeeze a driver into it. Herpa usually includes side view mirrors and the real ZIL/ZIS 133 had prominent mirrors, but none are included with this model.

This model comes with a vacuformed load covered by a tarp. It can be removed with no fuss.
Despite the disappointing cab, the model looks good.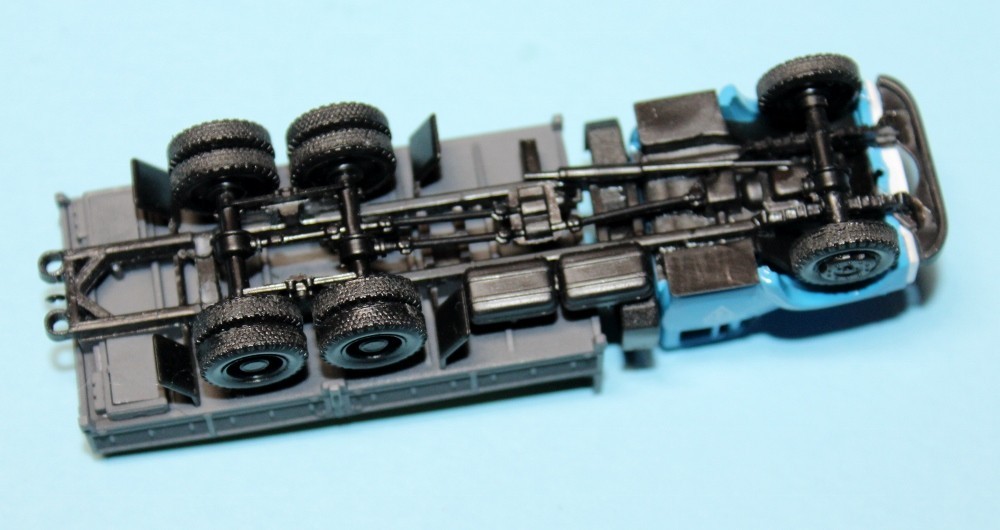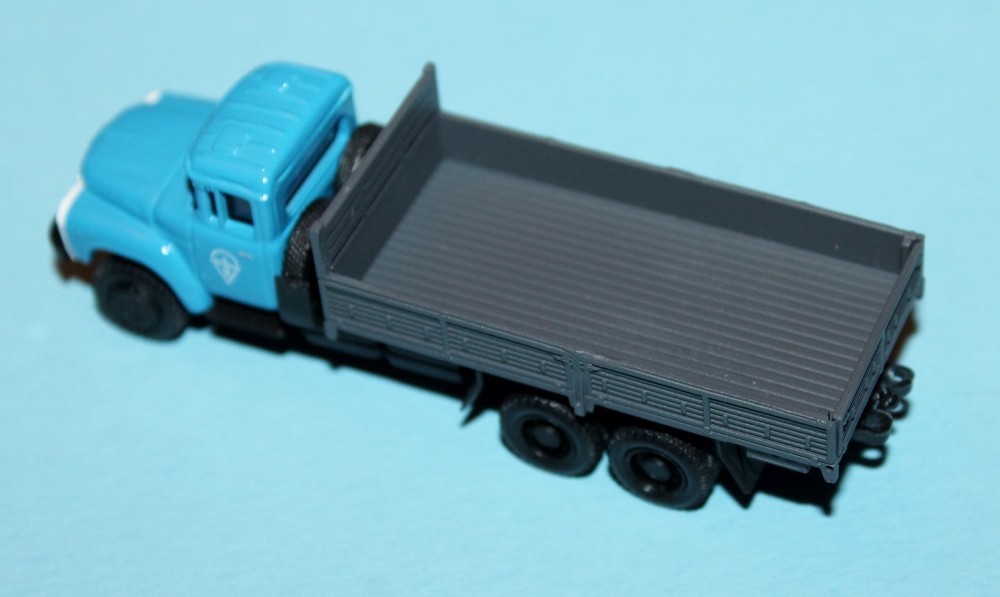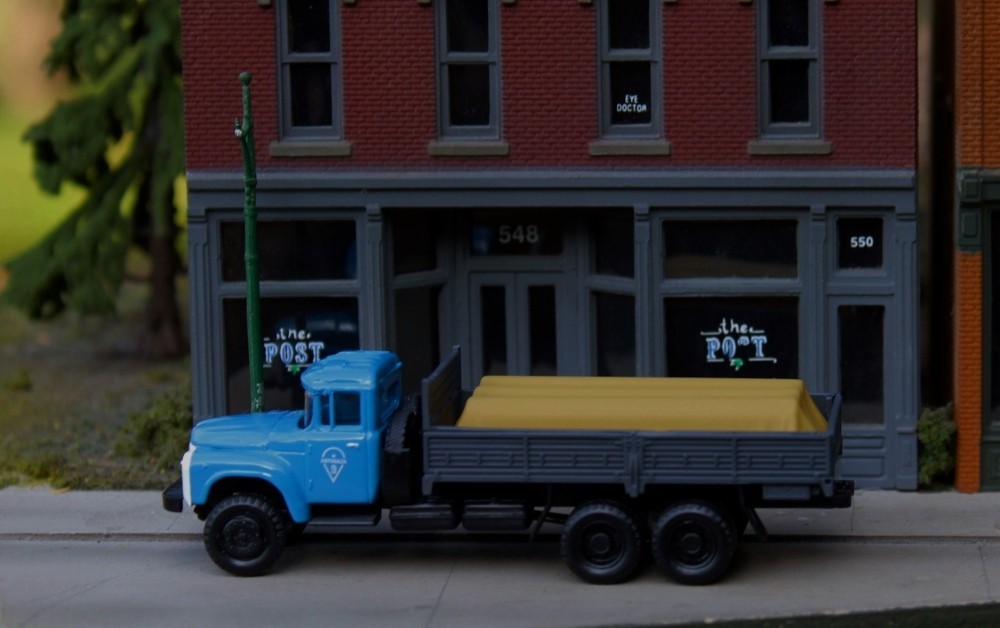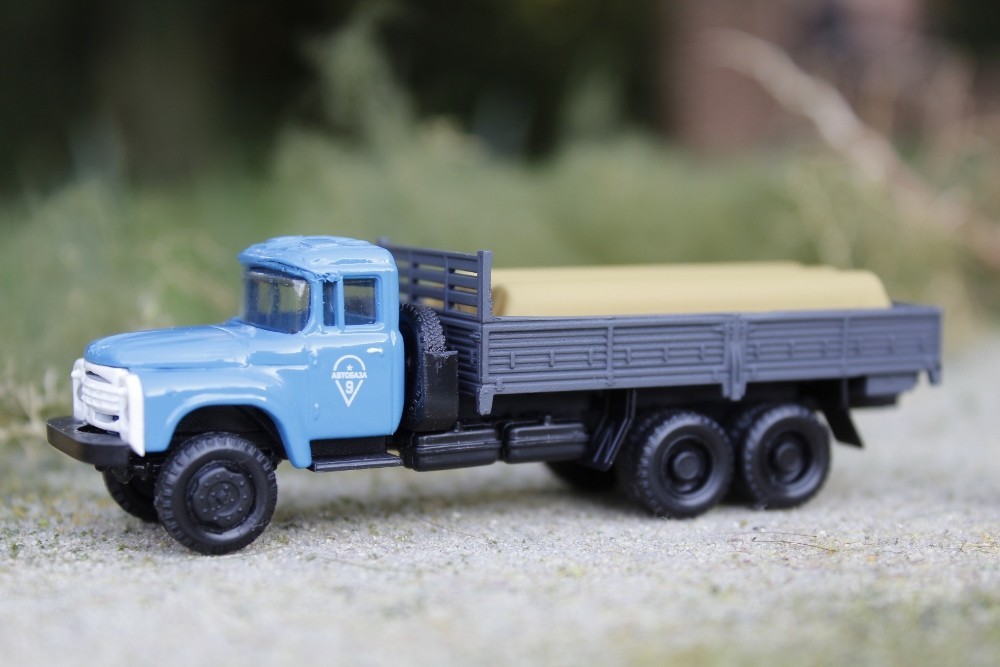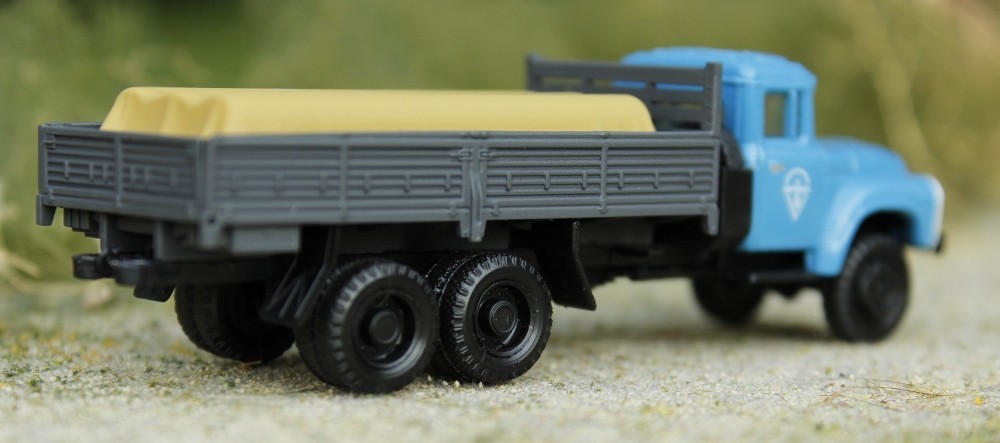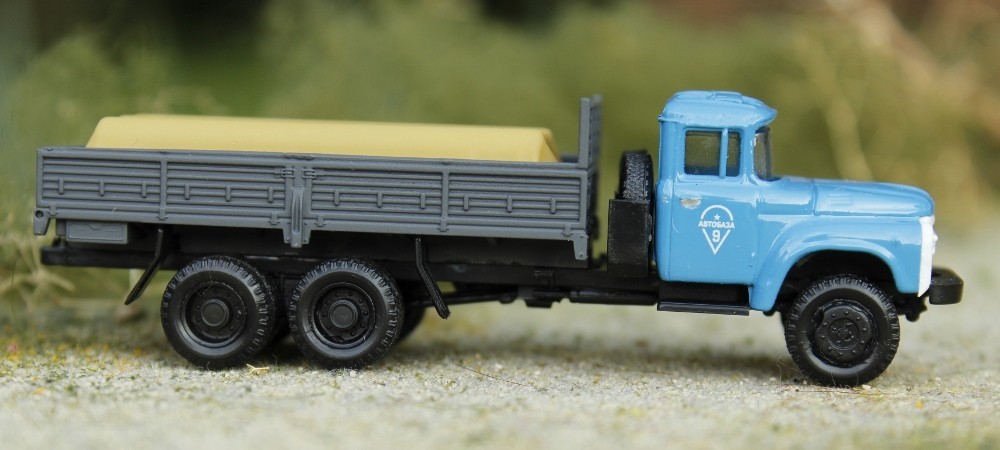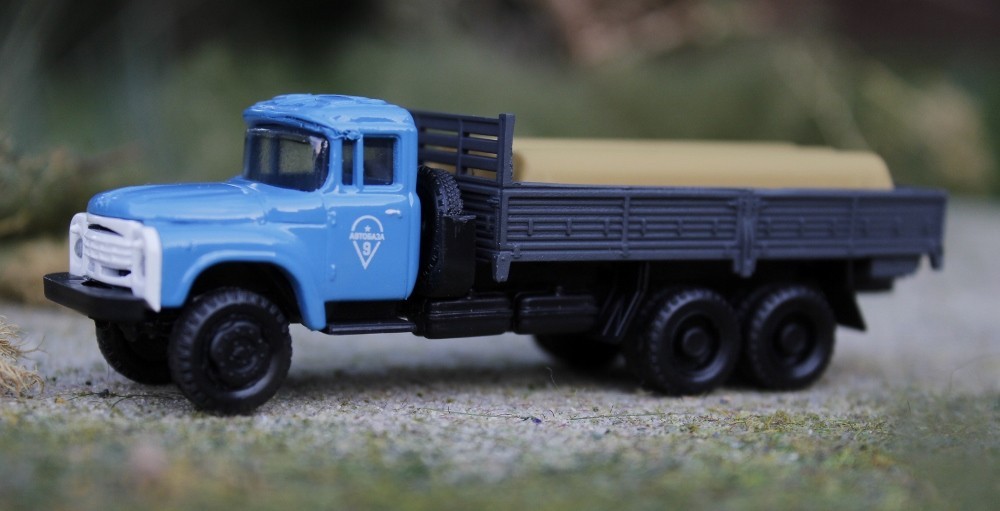 Paint and Markings
Most of the model is molded in color but I can't decide if the cab is, too, or if it was dipped into a thick blue paint. The emblem on the door is sharply printed. The cab is very glossy.

Conclusion
ZIS 133 G.2. Flatbed Truck With Cargo, Item No. 310284 is a nice looking model. The cab is not up to the quality I am used to from Herpa but if you don't look too close, you probably can't tell. The rest of the model is well formed and assembled. It sports a good deal of detail, especially under the truck. I appreciate the treads on the tires and clear lenses for the headlights. Printing is first-class.
HO modelers of subjects behind the Iron Curtain from the late 1970s through today could use at least one of these models. Unless you look closely at the cab, this is a good looking heavy flatbed and I feel comfortable recommending it.
Please remember to mention to Herpa and retailers that you saw this model here - on RailRoad Modeling.